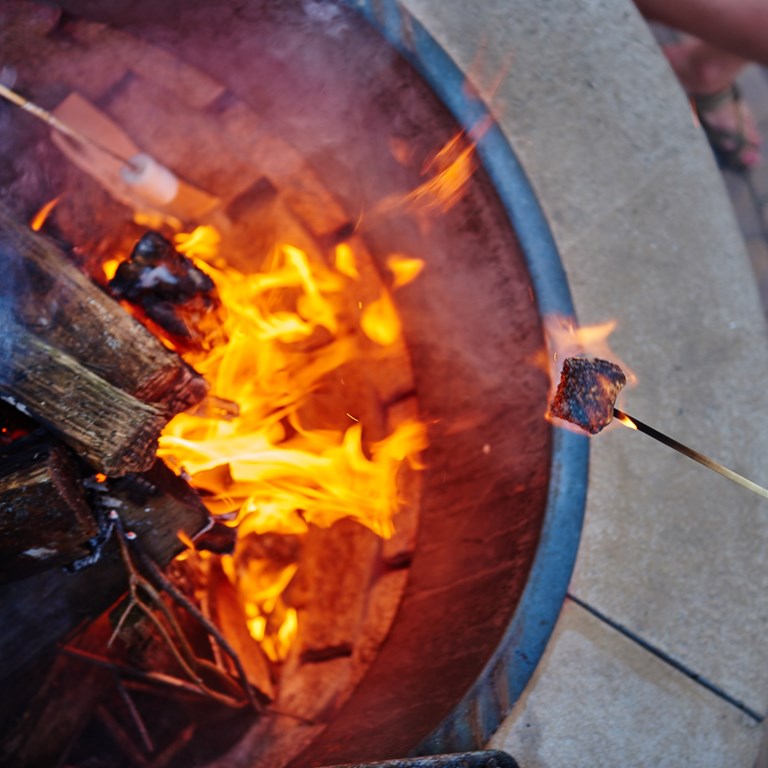 Lebanon KOA on Salmon Falls River Reviews
Book your fall escape today!
Directions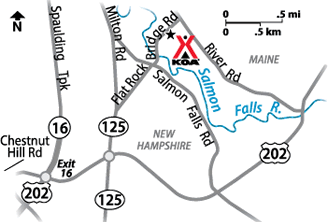 From Boston: Take Route 95 North to Portsmouth, New Hampshire. Go left at the split (Exit 4), which will put you on the Spaulding Turnpike (Route 16 North) toward New Hampshire. Follow the Spaulding Turnpike to Exit 16 and follow the signs to Route 125 North toward Milton. Go one block and take your first right onto Flat Rock Bridge Road. At the stop sign, cross Salmon Falls Road and continue driving straight over the bridge to the campground entrance.
Get Google Directions
Aug 19, 2020
New slide was not working during our visit, pool had been booked up for 2 days along with rope corse. Not much to do around the area. We went to this location last year beginning of spring and decided to try again during middle of summer this year. Plan on not coming back any time soon
Aug 19, 2020
I have to say, "my stay the other two times at Flat Rock was a better experience ". Even with all the adjustments fir COVID19, (which I am well aware if I work ICU). The staff was not friendly, One wasn't very kind, (manager of pool) and the campground was super loud at night even after 11:00pm. My grand nieces had fun that's what I was happy about. It's all about them.
Aug 19, 2020
Visited with family- we stayed in an RV rental by the river, while our family tented on the playground side. Our side was quiet, however the tent area was very noisy, even well beyond quiet hours. We enjoyed the many amenities, especially the lazy river, and the RV was outfitted with all we needed. We were able to take advantage of the locals discount, which was a nice perk. We'll be back
Aug 18, 2020
Some of the staff where unprofessional. Our trailer was not cleaned properly or cleaned at all. We had to clean it. As in wiped and senatized all areas of the trailer, dishes where dirty. Portch and outside furniture where filthy. Our trailers septic was cleaned out twice properly by only one staff thats did his job correctly. We think his name was (Terry) guy with curly hair. Hopefully this helps
Aug 18, 2020
2 adults 2 kids; CONS: golf carts & vehicles drive too fast through campground, pools not great, trash along the river edge, workers are young and don't appear to have work ethic re grounds control. PROS: fun river, decent entertainment, river sites nice If camping in a group, customer service credited $ for negative experience, Select staff initiated a positive difference, a.m trash p/u
Aug 18, 2020
We weren't able to use the pool or the ropes course we were told all different times for sign up seems like not a single person knew the same thing You go to the ropes course and ask names for time slots they had not a clue what names were signed up You look at the pool and see 6 people yet it's fully booked Tried to get in with 15 people in the pool and still denied Cornhole bag shredded JOKE
Aug 18, 2020
I've been visiting this campground since I was a kid and have been back 5 times as an adult bringing my own children now. I am disappointed we were not allowed to choose our site. We hated the campsite we had and the dust from all the cars and golf carts was just awful. Also, finding out the North Pool was closed only a few days before our stay was disappointing. Otherwise we do love this place!
Aug 18, 2020
We enjoyed our stay in our RV rental. Had fun on the ropes course, golfing, fishing and floating down the river. Opportunities: big pool had a torn liner & water slide was closed. The site we reserved was given to someone else. The RV rental had a broken blind, food bits in microwave, food stuck on utensils & dirty mattress pads on beds.Sheets were clean& bagged. RV Definitely Not covid clean. :(
Aug 18, 2020
We had fun, but disappointed that the waterslide and big pool were not available.
Aug 18, 2020
We were very disappointed. We felt lied to + told 1/2 truths starting with your web site that says you have 2 pools, activities + following CDC rules. Ck in person told us to sign up for pool in am.+ it was filled that night by 6:05, both days! Movie, bingo, sundae night didn't happen cuz you didn't know how to do them outside- tell us at check in, or at least take activities off web site.
Aug 18, 2020
We booked just for 1 night. Took 40 minutes to check in. Never were notified that pool slide and adventure course all need reservations. After check in went right to pool sign up. Was told was totally full. Kids and I were very disappointed. No slide or pool on our stay. Adventure course was closed til 5. Walked back over to be told was booked also. Wish we were told in advance about reservations.
Aug 17, 2020
Ran into a few issues during this trip which is not the norm for this campground. We have been coming here for quite a few years now and love this place. The KOA has made some great changes and additions. We did not have cable TV in the South area. Maintenance was helpful initially but never followed up with the issues of electrical outages. Tough to sleep when your camper power is turning off/on.
Aug 17, 2020
Our stay was so awful that I've had to contact the corporate office and voice my concerns. This was our 3rd year in a row camping here n honestly might be our last
Aug 17, 2020
I was really disappointed the campground stopped recycling. The northern cabins would benefit from some shelves and hooks and locks on the bathroom doors. I'm not sure why we paid a resort fee when there was only one pool available and we could only make 1 hr reservations to use it.
Aug 17, 2020
Considering the changes with covid19, everyone was wonderful, the staff was friendly, polite and very helpful. We had a wonderful time! Can't wait to come back next year... we've been coming for a few years now and things are even better as a KOA...thank you and see you next year ���
Aug 17, 2020
Positive: The rope course and mini golf where nicely done. The three staff working the course were all incredibly accommodating and very helpful. The mini golf was super clean and a very fun experience. Negative: Not enough staff, not sure I saw more than 4 adults overseeing things, check-in process was very time consuming. The water slide was damaged, there is little to no security on premise
Aug 17, 2020
Way below standard. lost my golf cart reservation which was made in February. The website said the sites were gravel... I did not have any gravel, mine was very dry and dirty. Everything was covered in dirt. Water trucks are NEEDED to control the mess. We were given a calendar of events and the 2 we went to were cancelled. Golf carts going way too fast, way above 5mph, The staff was very nice
Aug 17, 2020
I love staying at this campground! I am only rating it a 4 because the RV that we rented had a horrible smell coming from the bathroom. We did have someone come over and check it out and we were told that whoever had winterized the RV this last winter did it wrong, and that the smell was normal. It smelled like a dead animal coming from the toilet. We ended up using the bath houses, very clean!
Aug 17, 2020
Great people, very friendly, climbing corse staff Where a pleasure.
Aug 17, 2020
The staff if very friendly but.. The water slide was closed for repair which was upsetting for my kids but the zero communication to guests as to when and if it was being fixed upset us. The other things cancelled with no notification were, the band, paint night, teen bounce, and what ever else we didn't try to go to that was planned. Also the river has trash everywhere including used toilet pap
Aug 17, 2020
Will probably be back but most everything was broke the slide and pool heater and other pool was down also. The reservation times for pool were not offered to late arrivals we got their at 8pm and found out my kids could not use pool Saturday. Then they had it Sunday morning but it was 62 degrees. Definitely should not have added rope course or mini golf.
Aug 17, 2020
Lack of communication between staff within also with staff and current campers which needs improvement. We unknown of any new policies and cancellations of events until we physically showed up. An viral email or facebook update would do to inform current campers of any changes.
Aug 17, 2020
We had a great time! The only thing I'd recommend is staying longer than we did!!
Aug 17, 2020
Suggest making miniature golf 13 and under with an adult. There were more than a few kids that were out of control on the course. They needed adult supervision.It's a nice, new course, it should taken care of and respected. Quiet time wasnt quiet till hours after. Other than that great staff and facility.
Aug 17, 2020
They need to better manage their amenities so that every person that stays w them gets a chance to go to the pool play mini golf go on the rope course jump on the pillow and use the water slide. I know it's hard w vivid right now but we were very upset we never got a chance to use any of it not ok at all!!!!!!! And I've stayed here before and never had a problem this was rediculous
Aug 17, 2020
The sites are very dusty and everything is covered in a fine dust. We have camped in over 15 campgrounds this summer and this was among the worst. Golf carts flying down the road kicking up dust, KOA rules specify no golf carts, not sure how they get away with it. Checkin wait time was very slow, no paperwork ready upon check in. Parking lot packed, line out to the road. Will never come again.
Aug 17, 2020
The sites are great. Friendly staff. The river was gross. It smelled like sewage. Everything else was good besides the people camping next to us that thought it was appropriate to go to the bathroom behind there camper after we asked them not to because we had children that saw them doing it.
Aug 17, 2020
The amount of amenities at the campground are great- a ropes course, mini golf, 2 pools, arcade, the river. You will not be bored. The comfort stations were clean. But the sites are too small and too close together. In some sites, your tent or RV is barely off the road. My family's nickname for this place became "Tent/RV City". "Quiet hours" seemed to be more of a suggestion, than a r
Aug 17, 2020
I have emailed both the info email address and the one attached to the managers welcome email and gotten no response from either. I also responded on Facebook to a post to them and gotten no response. The most disappointing camping trip we have ever taken and we have been camping for 20 years. We were given false information from the moment of check in.
Aug 17, 2020
Very expensive, one pool was closed, the slide was closed when we had our pool reservation. Too much dust everywhere. The gray tank from the RV fills up way too fast, only once a day it's emptied out, but to be emptied a second time on that day, then we'd have to pay extra. Ridiculous!!!! Checking in took forever. To purchase something on the store, I had to wait in line for a long time as wel
Aug 16, 2020
Excessive noise. I've never seen so many flies and odor. It was like a golf cart race track. One even crashed in to the dumpster. Policy change mid-week. Level site. Nice patio. Open the laundry room please. Store staff very nice.
Aug 16, 2020
A lot of restrictions with covid. Pool was dirty. We were told their would be ice cream sundaes, The lady said she would be back with the stuff and cancelled. The beds were so hard we took the cushions from the seat and put then under the mattress. We camp here every year. This is our last time.
Aug 16, 2020
There were way too many people in the pool ! I understand one pool was down, however, with covid 19 there should have been a time limit and person limit at the pool for safety reasons. That is the reason for a 4 out of 5. We did have a great time and def would return.
Aug 16, 2020
We had a great stay. I just wish there was more communication. We understand there would be Covid restrictions but no one informed of of changing policies until it happens. Like the jumping pillow was closed for a couple days and the pool got new restrictions, like have to sign up for a one hour spot. I wish someone told us all of this when we checked in. Also a list of events would be great.
Aug 15, 2020
It's a great campground. Safari tents were amazing. Would have been nice to have the 2nd pool open. The consistency with rules was not there. Pool rules should haven been in place already it should not have taken the cdc visit to make sure the pool and mask rules where in place. When you create activities for the week you should make sure you have the supplies. No volley ball. No softball etc
Aug 15, 2020
We had a wonderful time until someone left a stupid mask remark on social media. Then it was a pain to explain to my littles that they couldn't go on the bounce pillow and only could swim for 1 hour daily. They were also freaked by all the maskers. The staff was excellent and promptly took care of any questions or needs we had. We can't wait to go back next year if this masks are done.
Aug 15, 2020
Negatives- camper beds, one pool closed, one pool disgustly dirty, river low, campsites too close. Positives- very friendly staff, good respomse time, great ropes course.
Aug 15, 2020
We arrived at 2:47 and were told we couldn't check in before 3. They even radioed to ask and were rudely reminded it wasn't 3 yet over the radio. Descriptions of the RV rentals not accurate, no bathroom supplies provided as website said, the grill is actually a grate on the fire pit. Big pool closed, small pool you needed reservations for an hour of swim. No hot tub. Rude staff poorly run.
Aug 14, 2020
The most dust I've ever seen in a camp ground. No one, including staff, drove the 5mph. We were amazed at how fast the golf carts could go. No one enforced quiet hour... as the group behind it s partied until 2-230am.
Aug 14, 2020
Bad experience!!! Manager was rude and unprofessional.
Aug 14, 2020
We had an awesome time. Place is very clean. Mini golf was fun. Campsites are good size. We will definitely be back again.
Aug 14, 2020
It was awesome! Until we had to put on masks to go to the pool. just keep on updating Things it will be a fun place for kids
Aug 14, 2020
Great site. Glad to see the mini golf open. Lots on the schedule to do throughout the week. Having hot water in the shower was definitely a plus. It is too bad the pool was limited but understandable. Too many people using the lazy river as a swimming hole. All in all a very good stay. Will be back again.
Aug 13, 2020
Everything was very clean and lots of fun things to do for the kids. We do think that an 11am check out time is way too early. It made it very difficult to get everything packed up in time. We would recommend a 1pm check out for people who stay at an RV or tent site, since there in minimal cleaning that needs to be done to get ready for the next camper.
Aug 13, 2020
need more evening shows for kids like in the past. Party at rec center was poor. Handed out vampire teeth and glow bracelets. It was more like an invitation to the arcade . Other wise all was enjoyable.
Sep 14, 2020
It a fun camp ground i made lot's of friends there and everyone there is very friendly
- Andrea WallSanchez on Google
Sep 06, 2020
Great facilities and the new management is doing an excellent job!
- Damian Watson on Google
Sep 05, 2020
We LOVE this campground and have come back the last couple years. We are foster parents in NH and they partner with an organization called FARE each year to support us by offering discounted rates. We cannot express how amazing it is for us and our kids to have time to reconnect and check-out of the day-to-day stress. THANK YOU!
- Erin Faith Page on Google

Lebanon KOA on Salmon Falls River
Open July 1 - October 12
21 Flat Rock Bridge Road
Lebanon, ME 04027
Check-In/Check-Out Times
All Sites
Check-in: 3:00 pm, Check-out: 11:00 am
Lebanon KOA on Salmon Falls River
Get Google Directions

© 2020 Kampgrounds of America, Inc.