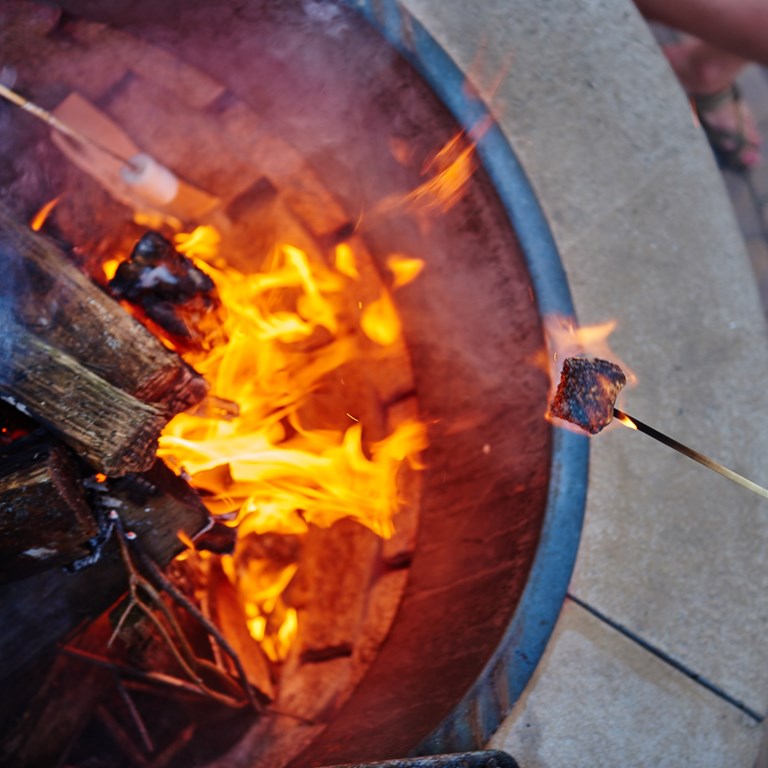 Lebanon KOA on Salmon Falls River Reviews
Book your fall escape today!
Directions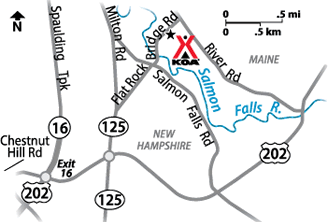 From Boston: Take Route 95 North to Portsmouth, New Hampshire. Go left at the split (Exit 4), which will put you on the Spaulding Turnpike (Route 16 North) toward New Hampshire. Follow the Spaulding Turnpike to Exit 16 and follow the signs to Route 125 North toward Milton. Go one block and take your first right onto Flat Rock Bridge Road. At the stop sign, cross Salmon Falls Road and continue driving straight over the bridge to the campground entrance.
Get Google Directions
Aug 30, 2020
Very clean attentive friendly staff good activities
Aug 30, 2020
Alot to do to keep the kids busy.
Aug 29, 2020
It was good. Hope the other pool gets fixed.
Aug 29, 2020
In general I felt the rules were reasonable and easy to accommodate for COVID. We have always loved to stay at the Koa. We had an amazing man help our children named Randy at the ropes course. He is by far the best employee I have ever had interaction with at any campsite I have ever stayed at. He deserves a raise! Other than that I felt the other employees acted bothered and lacked enthusiasm.
Aug 28, 2020
Pool girls at the giant slide need to brush up on customer service skills- Justin(groundskeeper) is on top of the game with customer service and goes out of his way to help- All in all we would definitely make a return trip to your park-
Aug 28, 2020
Everyone was so friendly. Due to the covid virus they had to schedule many of the activities. They did such an amazing job making sure everyone had their turn to enjoy all the amenities they have. Very clean. The kids had something to do all the time and had a blast. Definitely going back.
Aug 28, 2020
I loved it and so did my family ! It was a bit annoying that we had to make reservations for about every other activity but it's obviously not there fault. The staff was always friendly and the community there is awesome I wish I could live there forever ! I hope to make it back next year to add to memory Lane �
Aug 27, 2020
The location of the arcade and welcome center was disappointing. The signage in the P area is confusing. Your staff agreed. The Band Saturday was outstanding. First band ever at the Campground. Tell your staff it is OK to smile and say hello. Some did. We will come back and hopefully on site N61, our old seasonal site. We had a good time. Should be better after COVID. Stay SAFE!
Aug 27, 2020
This was our first time visiting and I was unsure how things would be during the pandemic. I have to say that we were pleased at how all of the restrictions were handled. Most of the staff were very friendly, there were a few teenagers who were working that could've used a little more training, but all in all everyone was great! Everything was clean and we look forward to coming back!
Aug 26, 2020
The RV we rented was dirty and smelled bad. I'm pretty sure it was not cleaned thoroughly after the last occupants left. We tried to sign up for a slot to use the pool and were unable to use the one open pool due to other campers reserving multiple slots through out the days we were there. Very unfair system and should be offered to all campers at least once through out their stay.
Aug 26, 2020
Really enjoyed our stay and to learn the lay out of the land! Jessica Brewington is a great pioneer with all visions she had for this campground and so excited to see what is to come in upcoming years. The property has improved so much just over past 2 years I would continue to come back.There is plenty of natural landscaping along with the river to keep you from the heat and give the camping fe
Aug 26, 2020
Campground was over capacity, considering that people are supposed to social distance and have fewer people use pool and other amenities. Lack of masks, distancing. Pool was absolutely disgusting. Was not properly cleaned in between time slots. So many things closed for so many people at campground. Area across the street had pond of water that looked like sewer. Needs work all around!
Aug 26, 2020
Jess Was AMAZING ! Our Family had a wonderful time!
Aug 26, 2020
Sites on top of each other, not clean, fireworks going off on campground, dogs not leashed, no directions on in/out, no one escorted to site, no wood delivery, no ice delivery, overly dusty, loud sites and confusing traffic flow.
Aug 25, 2020
We Had a great time even with the Covid restrictions! We enjoyed swimming in the pool, the kids loved the water slide, and we spent a lot of time tubing down the river. Our "COVID Clan vacation 2020" was a great success and we will be back next summer!
Aug 25, 2020
The stay was good even with the covid 19 restrictions. The only complaint I had is the teenage staff were not helpful - answered with I don't knows or they don't tell me those things instead of finding out the answer Nicole the event coordinator was awesome. My kids really enjoyed the ropes course, mini golf and slide/pool. Not really any kid activities going on this year but thats covid
Aug 25, 2020
Hard he large pool wawn't open and you can only book the small pool/waterslide once per day, though I do understand covid restrictions and appreciate trying to keep everyone safe. We got caught in the river tubing in a thunderstorm. The shuttle was no where to be seen. There was a team member driving a golf cart in the "pit" and never even offered to get us out of the rain with our 3 small kids.
Aug 25, 2020
The pool manager was very friendly and upbeat.. The staff running the slide was not, and on her phone most of the time, Also, the pool could have been better maintained. Why isn't it being skimmed? There is so much stuff floating in there. The river was fun. but there is a lot of garbage at all the entry points. I suggest a garbage bin that is regularly emptied to fix that problem.
Aug 25, 2020
This was our 3rd year. Your improvements are fantastic! Can't wait to see what you have in store for next year. Keep up the great job.
Aug 25, 2020
So much to do and everyone was very friendly!
Aug 25, 2020
Our stay was amazing! The safari tents were wonderful!! Bed were very comfortable. They provided a small coffee maker, refrigerator, bedding and a small fan. We brought an extra fan and a griddle to help cook. Can't wait to make it an annual trip!! Thank you again Lebanon KOA for an amazing weekend and memorable weekend trip. We will see you next year!
Aug 25, 2020
Campground is a dust bowl, with sites right on top of each other. Paid for a premium site, but our neighbor's sewer hose was right next to our breakfast table. This is a rowdy drinking place complete with amateur fireworks. Returned from dinner to find 4 vehicles on our site, had to track down the owners to park our own car. 100 people at band concert with no social distancing. Never coming back.
Aug 25, 2020
I am trying to be patient ; but, it tough when things don't seem to be improving. I was out on a site that is not on you map, then told I would have to find it, after a look of disbelief I was offered to have someone help me find the site. The site wouldn't fit my rif without damage. Given another site, cable inop, no full hook up, wifi poor, amenities broken, still charged a resort fee though.
Aug 25, 2020
Many amenities were down with no ETA of fixing. Was not listed online.
Aug 25, 2020
All the staff were very nice....our campsight was spacious and clean...lots of activities for the kids
Aug 24, 2020
We booked a 4 night stay in a rental trailer. Upon arriving, we noticed the bathroom had a foul odor. We had an employee try to correct the problem and couldn't fix it. The 2nd day we started to notice ants. By the 3rd day the bathroom was infested with them. We had notified the office and they sprayed. We ended up leaving a day early. The staff was great but the stay was unpleasant.
Aug 24, 2020
The staff was very friendly and helpful, beautiful campground with lots of activities
Aug 24, 2020
It was a good and bad stay some things were disappointing and others were great.. having the big pool, and hot tub closed should be advertised you can't be charging people full price.also the river needs to be cleaned weekly a staff member needs to clean river entrance and exit and pull the tires out of the river if your going to push floating as part of an attraction. Golf and ropes are awesome.
Aug 24, 2020
Very disappointing. In fairness, COVID was the biggest culprit. We were so looking forward to this trip but cut it short. With all the activities around, our kids we're unable to do any of them because all the time slots were filled. We called about visitors but were not told the 6 per site included any visitors so my niece and her son couldn't join us for the day.
Aug 24, 2020
The new amenities are great but they don't have the staff to keep them open for use so we are paying full price for amenities that we can't even use. The arcade had a bunch of games that were down and hardly any prizes for tickets. The one pool that was open was very dirty and not heated like in the past. The grounds are very run down and need some maintenance TLC.
Aug 24, 2020
6 adults, ages23 -61...we all had a ball! Thank you SO much fun, Floating, dancing! The band Was great!!! Staff were all awesome!!! We hope to return next year to stay longer. Same spots would be great!!!!
Aug 24, 2020
this was the worst camping experience i have ever had!! we went so my kids would have things to do and that did not happen. by the time we checked in on friday there were no slots open on the roaps course. Pool slots were also full and down to only one pool. i paid extra to stay in a cabin next to a so called fishing pond that was dried up and nothing more than an west nile breading grounds
Aug 24, 2020
Great camp ground! Even during covid! Yes you needed a slot for the pool but the river was fun too!! The bathrooms could of used a little more cleaning, my husband used the bathroom all the way in the back and said there was no where to put clothes or towel. Over all will defiantly Love to come back next year!
Aug 24, 2020
Understandably things were different because of Covid, but one pool was closed, my kids waited at the jump pad almost all day during the posted hours of operation and no one came back to open it. So much Marijuana smoking in the majority of the campground was a complete turn off and not family friendly. Lots of public intoxication, not to mention hearing about an altercation that took place Friday
Aug 24, 2020
During this Covid 19 time my wife and I were a little surprised that their were so many kids in the playground at the same time not wearing masks. Not social distancing, of course, as they were all playing together and interacting with each other. The stay itself was pleasant. We were RV-ing for the first time. I wasn't sure what the LOUD bangs (like canon fire) were on Saturday evening.
Aug 24, 2020
Great welcome staff and great maintenance staff
Aug 24, 2020
It was "just ok". I lnow a lot of restrictions are in place because of covid. But the river was dirty and full of trash and tires. The open pool was not being heated as I had heard it was in previous years, and the other one was closed. No real activities were run for younger kids. And the people in the site next to us were hacking up a lung and shouldn't have been camping.
Aug 24, 2020
The activities for the kids were great, I.e. the pool and slide, the ropes course, mini golf etc. We understand the many restrictions that have come about as a result of COVID . I would like to tell you the things that we noticed that caused our low rating but I've run out of characters already. Please email me if interested.
Aug 24, 2020
Great staff. The rec staff was awesome. So many activities. Kids had a great time and never bored. Kudos to you staff..
Aug 24, 2020
I made reservations online. I arrived at the campground and registered. COVID-19 signs were clear and informative. Plenty of staff to help with the customers. The girl we had was super polite and new what she was doing. The camp ground manager actually introduced himself, which was nice. The site was clean, raked and we had plenty of room. Easy to back in and out. Nice staff and quiet camping.
Aug 23, 2020
I am giving you a 4 based on the fact that I've been there in previous years, during normal times. This year was very different because of covid. Rules changing daily, and lots of amenities closed because of lack of staff. We tried making the best of it, but were disappointed at times. Overall, the kids had fun but the lack of activities was a let down. Hope things are back to normal soon!
Sep 14, 2020
It a fun camp ground i made lot's of friends there and everyone there is very friendly
- Andrea WallSanchez on Google
Sep 06, 2020
Great facilities and the new management is doing an excellent job!
- Damian Watson on Google
Sep 05, 2020
We LOVE this campground and have come back the last couple years. We are foster parents in NH and they partner with an organization called FARE each year to support us by offering discounted rates. We cannot express how amazing it is for us and our kids to have time to reconnect and check-out of the day-to-day stress. THANK YOU!
- Erin Faith Page on Google

Lebanon KOA on Salmon Falls River
Open July 1 - October 12
21 Flat Rock Bridge Road
Lebanon, ME 04027
Check-In/Check-Out Times
All Sites
Check-in: 3:00 pm, Check-out: 11:00 am
Lebanon KOA on Salmon Falls River
Get Google Directions

© 2020 Kampgrounds of America, Inc.