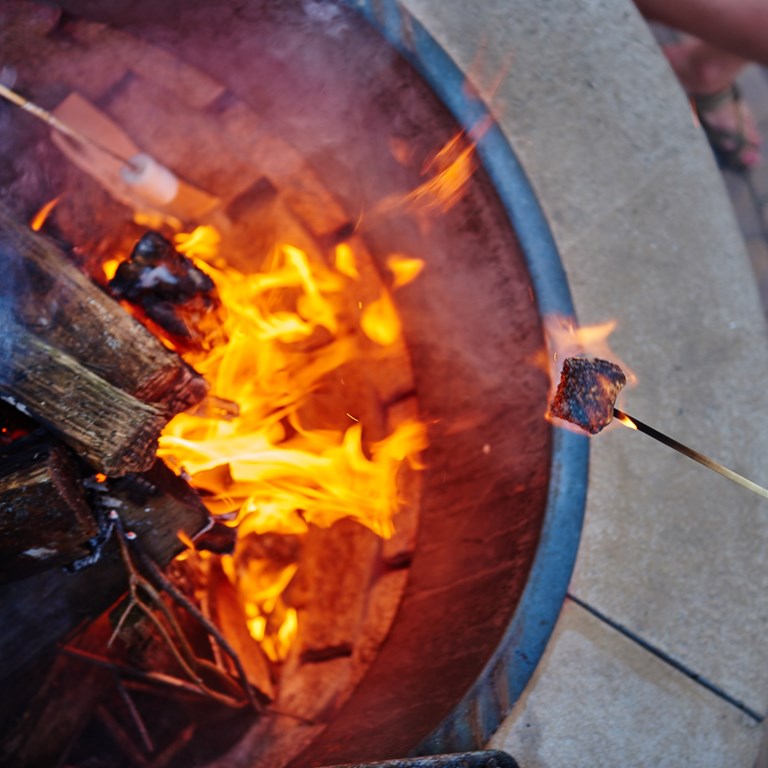 Lebanon KOA on Salmon Falls River Reviews
Book your fall escape today!
Directions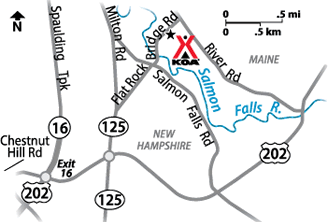 From Boston: Take Route 95 North to Portsmouth, New Hampshire. Go left at the split (Exit 4), which will put you on the Spaulding Turnpike (Route 16 North) toward New Hampshire. Follow the Spaulding Turnpike to Exit 16 and follow the signs to Route 125 North toward Milton. Go one block and take your first right onto Flat Rock Bridge Road. At the stop sign, cross Salmon Falls Road and continue driving straight over the bridge to the campground entrance.
Get Google Directions
Sep 08, 2020
Lack of supervision for kids was terrible. No one i at jump pillow. Kids running into each other on slide because person at top kept telling them to go before other person was off slide. I will say that Kathy and Ryan working at the pool were fantastic. Activity director (I think Heather was her name but not sure), was very rube and should not be in that line of work, dealing with paying guests.
Sep 08, 2020
We stayed at campsite E5, it was a nice big site. Carolyn at check in was very nice and informative. The only thing that wasn't good was 4 guys on a rental golf cart number 40 kept going by very fast. We reported it and they did slow down. Enjoyed our stay.
Sep 08, 2020
Unbelievably loud. I am a lifetime camper, I understand partying with friends while camping, so if the campground had even a semblance of enforcing quiet time it'd be acceptable. Literally the only time this campground was quiet is between 3-5am and I'm talking loud music being allowed to play all night. 3 stars bcuz The amenities were nice for kids who get bored easy and no mosquitoes at all.
Sep 08, 2020
Already wrote into corporate. Still no response. Terrible experience.
Sep 07, 2020
Worst experience. We left the morning after we arrived. It was dirty, people unhelpful and pool was impossible to get time for.
Sep 07, 2020
We rented one of the trailers. Loved it. The only tiny thing that was mildly disappointing was that on the one night it rained, we were gonna go the movie house to see the film and for whatever reason (on the schedule it was to start at 8) it had started an hour early at 7 - so much of it was over by the time we got there. But - everything else was great!
Sep 06, 2020
Impressive activities offered, but the down side was the slots were always filled making the activity unavailable.
Sep 04, 2020
We had a wonderful time ! The staff is super. The amenities are outstanding! We are hoping to become seasonal campers there!
Sep 03, 2020
This was the 8th year at the campground and there were many positive improvements this year. The ropes coarse and miniature golf were great. Sadly the staff wasn't overly friendly. My only real complaint was that after 8 years the waterslide pool has never really been clean, the water has always been cloudy and dirty. Either the chems are off or the filter is too small for the size of the pool.
Sep 02, 2020
the pool very cold, the RVs with some spoiled things, no activities
Sep 02, 2020
Me and my family had a great time will tell other people to go there. The staff and the camp ground was great.
Sep 02, 2020
Lebanon KOA did a great job accommodating guests while following Covid protocols and guidelines. Next year I hope to get there sooner when the river is flowing and tubing fun can be had!
Sep 01, 2020
A lot of change. Good for most but really need to fix hot tube and pools
Sep 01, 2020
This is the 2nd year we checked in, and our original site was given to someone else. The wait time to get another site, takes a long time. The slide attendee was on his phone the entire time, and did not pay attention to the children going down the slide. The pool seemed to never be skimmed, and you swam through bugs. The same attendee "skimmed" the pool. The rest of the staff were wonderful.
Sep 01, 2020
Stayed three nights in an RV rental. Enjoyed ourselves, only downside was the beds were rock hard. Would recommend letting people know so they can bring air mattresses.
Sep 01, 2020
My children (14 and 9) and I had a nice time. We were able to use all the facilities that we wanted to use ie. ropes corse, pool and water slide, mini golf and arcade. All the facilities were clean and sanitized on a regular basis. Our site was the perfect size for our camper and was also on the river so my so could fish. Everything worked out great. The staff was wonderful, helpful and smiling.
Sep 01, 2020
Very friendly atmosphere. Nice employees and campers. Very clean and a lot to do for family.
Aug 31, 2020
I stayed in a delux cabin. The cabins are nice but I will say that the pull out bed in the living room is the most uncomfortable thing I have ever slept on. It's so thin and the springs dig into your body everywhere. It was horrible. Also since they moved the cabins around to face a different directions the decks are so crooked and barely attached that it doesn't even look stable. Very poorly
Aug 31, 2020
I called regularly to see what would be open and I was told that the pools, ropes course and mini golf would be open. I changed the our arrival date but when we arrived they had not corrected it on their end. I realize it was opening weekend with COVID but multiple people were told multiple different answers. They were lying and telling everyone something different. VERY DISSAPOINTED.
Aug 31, 2020
The staff were very friendly and helpful. Campground was pretty clean and updated. Upon arrival we found that the site we booked was switched back to the wrong site, the site we did switch to was already taken by another camper so we were stuck with our original booked site. The shower pressure is awful even with nobody in the bathroom, the second pool was closed, hot tub was closed with no notice
Aug 31, 2020
It was rainy most of the weekend but the staff was very friendly and welcoming! We ended up needing a couple extra supplies and the store had everything we needed! We wish we could have tried the ropes course but we will definitely be back soon!
Aug 31, 2020
We loved our stay! Only complaint is bathrooms were not kept up with! Girl product disposing things were overflowing and not changed the entire time we where their
Aug 30, 2020
It was different this year because of Covid - we usually have our grandkids come to camp with us. They couldn't - We understand this years issues. It was quiet - nice site
Aug 30, 2020
Was there for a week. Did not like the pool sign up daily. Not fare the weekend people got most of the pool time. We were 4 seniors 1 handicap. Should be first come first serve. Was not told when making my reservation about the golf carts and how to reserve. Only got one on the day it rained due to cancellation. On a good note. Loved all the positive changes.
Aug 30, 2020
its was lovely the trailer was very clean as was all of the bathrooms buildings activities etc great job, all of the staff was very helpful and friendly! my only concern is that but there were many stumps in the ground, it was very hazardous causing us to trip getting in and out of our trailer and car. my daughter got a very nasty cut on the top of her toe, actually slicing the top skin off,
Aug 30, 2020
Very clean attentive friendly staff good activities
Aug 30, 2020
Alot to do to keep the kids busy.
Aug 29, 2020
It was good. Hope the other pool gets fixed.
Aug 29, 2020
In general I felt the rules were reasonable and easy to accommodate for COVID. We have always loved to stay at the Koa. We had an amazing man help our children named Randy at the ropes course. He is by far the best employee I have ever had interaction with at any campsite I have ever stayed at. He deserves a raise! Other than that I felt the other employees acted bothered and lacked enthusiasm.
Aug 28, 2020
Pool girls at the giant slide need to brush up on customer service skills- Justin(groundskeeper) is on top of the game with customer service and goes out of his way to help- All in all we would definitely make a return trip to your park-
Aug 28, 2020
Everyone was so friendly. Due to the covid virus they had to schedule many of the activities. They did such an amazing job making sure everyone had their turn to enjoy all the amenities they have. Very clean. The kids had something to do all the time and had a blast. Definitely going back.
Aug 28, 2020
I loved it and so did my family ! It was a bit annoying that we had to make reservations for about every other activity but it's obviously not there fault. The staff was always friendly and the community there is awesome I wish I could live there forever ! I hope to make it back next year to add to memory Lane �
Aug 27, 2020
The location of the arcade and welcome center was disappointing. The signage in the P area is confusing. Your staff agreed. The Band Saturday was outstanding. First band ever at the Campground. Tell your staff it is OK to smile and say hello. Some did. We will come back and hopefully on site N61, our old seasonal site. We had a good time. Should be better after COVID. Stay SAFE!
Aug 27, 2020
This was our first time visiting and I was unsure how things would be during the pandemic. I have to say that we were pleased at how all of the restrictions were handled. Most of the staff were very friendly, there were a few teenagers who were working that could've used a little more training, but all in all everyone was great! Everything was clean and we look forward to coming back!
Aug 26, 2020
The RV we rented was dirty and smelled bad. I'm pretty sure it was not cleaned thoroughly after the last occupants left. We tried to sign up for a slot to use the pool and were unable to use the one open pool due to other campers reserving multiple slots through out the days we were there. Very unfair system and should be offered to all campers at least once through out their stay.
Aug 26, 2020
Really enjoyed our stay and to learn the lay out of the land! Jessica Brewington is a great pioneer with all visions she had for this campground and so excited to see what is to come in upcoming years. The property has improved so much just over past 2 years I would continue to come back.There is plenty of natural landscaping along with the river to keep you from the heat and give the camping fe
Aug 26, 2020
Campground was over capacity, considering that people are supposed to social distance and have fewer people use pool and other amenities. Lack of masks, distancing. Pool was absolutely disgusting. Was not properly cleaned in between time slots. So many things closed for so many people at campground. Area across the street had pond of water that looked like sewer. Needs work all around!
Sep 14, 2020
It a fun camp ground i made lot's of friends there and everyone there is very friendly
- Andrea WallSanchez on Google
Sep 06, 2020
Great facilities and the new management is doing an excellent job!
- Damian Watson on Google
Sep 05, 2020
We LOVE this campground and have come back the last couple years. We are foster parents in NH and they partner with an organization called FARE each year to support us by offering discounted rates. We cannot express how amazing it is for us and our kids to have time to reconnect and check-out of the day-to-day stress. THANK YOU!
- Erin Faith Page on Google

Lebanon KOA on Salmon Falls River
Open July 1 - October 12
21 Flat Rock Bridge Road
Lebanon, ME 04027
Check-In/Check-Out Times
All Sites
Check-in: 3:00 pm, Check-out: 11:00 am
Lebanon KOA on Salmon Falls River
Get Google Directions

© 2020 Kampgrounds of America, Inc.