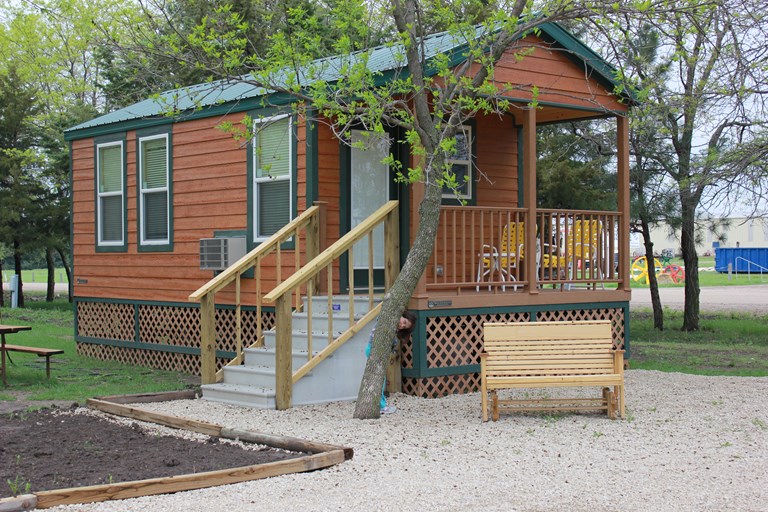 Local Area Attractions Near Salina KOA Abilene & Smoky Valley Railroad Excursion Train
There are many steam trains that run across the Untied States for the enjoyment of tourists and history buffs. This train consists of a vintage diesel-electric locomotive, a century-old wooden sided passenger/diner, open air observation cars and a caboose, the excursion train travels through the Smoky Hill River Valley between historic Abilene and Enterprise, a ten mile round trip.
The Train travels at a leisurely 10-15 miles an hour, so there is plenty of time for passengers to take pictures, and visit with the other passengers or train crew. Special charter trains available. Dinner trains in the spring and fall.
Location: 200 SE 5th, south of the Eisenhower Presidential Library & Museum, Abilene, KS 67410
Phone (785) 263-1077
Toll Free : (888)426-6687 ; Email asvrail@gmail.com
200 SE 5th
Abilene, KS 67410 Museum of Independent Telephony
The Museum of Independent Telephony, located at The Heritage Center, was established in 1973 to honor the men and women whose early efforts developed the independent telephone industry. 412 S Campbell, Abilene, KS 67410, (785) 263-2681
 Hours:
Monday-Friday 8:30-4:00
Saturday- 10am-5pm
Sunday- 1pm-5pm

Admission:
Ages :
2-5 yrs- $2.00 plus free ride on Carousel
16-61 yrs - $6.00
62+ yrs -$5.00
Adult Carousel Ride $2.00 each
Call for Group Rates of 8 or more
412 South Campbell
Abilene, KS 67410 Brookville Hotel
The Brookville Hotel is owned and run by fourth generation and is still serving their famous Brookville family style fried chicken. 
Hours:
Monday and Tuesday -- CLOSED
Wednesday- Friday - 5pm-7:30pm
Saturday-- 11:30am-7:30pm
Sunday-- 11:30am-6:30pm
105 E. Lafayette Ave
Abilene, KS 67410 Seeley Mansion
Enjoy a tour of  the Mansion, Gardens, and Museum, The Seeley Mansion is one of the finest historic homes in Kansas.
A New York architect designed the new home in Georgian style for the Dr. and Mrs. A.B. Seeley in 1904. It was built in 1905 at a cost of $55,000. The mansion contains the original furniture and Edison light fixtures. In this Kansas attraction, you will tour 25 rooms, including eleven bedrooms, ballroom, bowling alley, and kitchen areas. Special items of interest are the beautiful dining room, music room with gold French furniture and Steinway grand piano, library, and the Tiffany-designed fireplace in the grand hall.
The Patent Medicine Museum has many artifacts of the A.B. Seeley Medical Company. Founded in 1890, more than 100 products were sold over a 14-state area. See the elegance of the early 20th century architecture and furnishings when you visit this historic mid-western home.
Hours: 
Monday-Saturday 10am-4pm
Sunday- 1pm-4pm
Extended Hours in the Summer
Adults - $10.00
Ages 6-16 - $5.00
1105 N. Buckeye
Abilene, KS 67410 C.W. Parker Carousel
The Parker Carousel located at the Heritage Center was made in Abilene in 1901 and has 24 hand-carved horses, 4 chariots and is operated with electricity on special occasions. It is powered by its original steam engine. www.heritagecenterdk.com Open Memorial Day - Labor Day: Monday - Friday 9:00 a.m. - 4:00 p.m., Saturday: 10:00 a.m. - 8:00 p.m., Sunday: 1:00 p.m. - 5:00 p.m. 4125 Campbell, Abilene, KS 67410 (785) 263-2681
412 S. Campbell
Abilene, KS 67410