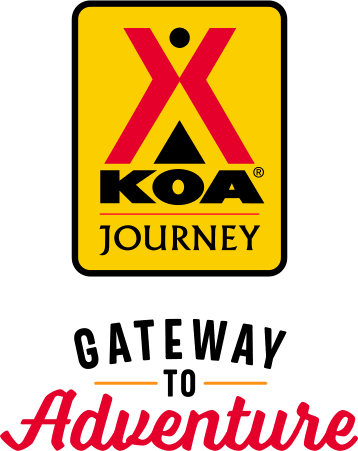 KOA Journey Campgrounds
KOA Journey campgrounds are the perfect oases after a day on the road. Whether it's along the way or a quick getaway, they've got you covered. Located near the highways and byways of North America with long Pull-thru RV Sites, they deliver convenience to the traveling camper. Pull in, ease back and take a load off.
KOA Journeys Feature:
Pull-through RV Sites with 50-amp service
Premium Tent Sites
Well lit after hours check-in service
Directions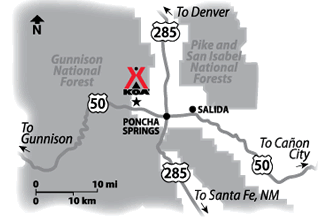 Located on Hwy 50: Approximately 6 miles west of the Hwy 50 / Hwy 285 intersection. GPS: N38.537883, W106.17463
Get Google Directions
Jan 16, 2021
My husband and I had a great stay here at this KOA. We were actually not planning on staying in an RV park or anything close to, we usually boon-doc. We had a fantastic 3 day stay here, everyone was so helpful, kind and flexible with our situation. They let us stay past the 11 am checkout so we could wait for our water to unfreeze in our pipes. Fantastic staff, accommodations, price, etc.
Jan 12, 2021
Easy to reserve our RV spot. Staff was polite and welcoming. Kenny is available and helpful with any site needs. Views are wonderful, showers hot and bathroom clean.
Dec 27, 2020
Jimmy was a great host! A cabin with an indoor kitchen and bathroom would have been a nice touch.
Dec 19, 2020
Kenny is a hard worker! He is friendly and helpful and up early making sure the roads are good for everyone to get out. Keep him!
Dec 10, 2020
No one wears masks in bathroom, even when they can-not brushing teeth ect. They allow non residents to use facilities inconveniencing guests and it's very expensive compared to other koas
Dec 08, 2020
Refrigerator in office not working (no cold drinks, etc.). Unfortunately hard to find warm between scalding hot and freezing in bath house. Clogged drain resulting in 2 inches of water for a 5 minute shower.
Nov 30, 2020
Great facility with incredible views of the Rockies. Camp host Kenny was friendly and helpful!
Nov 29, 2020
Kenny was very helpful and the campground is really well maintained! We enjoyed it's location - view of the mountains was amazing - and we couldn't have asked for better! It was great!
Nov 10, 2020
Location was great, but the mens bathroom needs some TLC or remolding. I was tent camping, good spot, but was awaken by guest at 4am using fowl language and then dogs started barking, had to end my trip early because of this.
Nov 07, 2020
Even though this is a new KOA, converted from a non-KOA campground, everything was to KOA standards. KOA staff member, Kenny, was exceptional. Friendly, prompt, helpful just as I expect at KOA. It was a long way (relatively) from the bath/shower house to my. I realize this is because it was converted from another campground. Appreciated being able to plug in my diesel pickup at adjacent campsite.
Nov 03, 2020
Campground is the minimum you would expect from a KOA, all the basics you need but no frills. We had a cold few nights at the campground so appreciated how toasty warm the bathrooms and laundry room were! Staff were friendly.
Oct 30, 2020
Thanks for a clean, quiet, and complete camping experience.
Oct 29, 2020
The park was good the front office staff was very friendly and good with us.
Oct 29, 2020
We stayed in late October, still several campers there. We arrived after hours, everything was easily accessible, check in went smoothly. We were checked on by the staff several times during our stay to make sure we were doing ok and that if we needed anything just let them know. Great facility, we will be back, next year!
Oct 28, 2020
I like the authentic setting and secluded tent sites. A microwave in the club house would be a good addition.
Oct 24, 2020
Wonderful staff and beautiful surroundings.
Oct 21, 2020
Second time we've stayed there this season. Improvements are dramatic and while restrooms need updating/remodel they are SOOO much cleaner. Grounds are really coming along. We'll be back!
Oct 19, 2020
Beautifully located campground in a easy to access location. The main issues are the tightness of the campsites and the tiny roads connecting them. It was very difficult to maneuver a good sized RV on them. Playground was extremely tiny and not well maintained. Overall, the views and location make up for the shortcomings. Just a few minor improvements and this would be a 5 star!
Oct 15, 2020
It has such a beautiful backdrop and everyone was very friendly and helpful. We'll be back!
Oct 14, 2020
Clean and efficient operation.
Oct 13, 2020
Very enjoyable. Campground is still being developed. Close to Salida, and lots of beautiful scenery.
Oct 13, 2020
weather was cold. Office only open till 4PM.
Oct 12, 2020
Rather poor location for a campground.
Oct 11, 2020
This is a work in progress, getting better.
Oct 11, 2020
Looks like the new ownership is really trying to improve the sites. We were in an original area but could see the work being done on the renovation sites. The location is great for both Salida and Buena Vista. Keep up the good work!
Oct 11, 2020
Convenient spot, very accessible, decent bathrooms and showers, tent spots a little too secluded in the back near the woods, but good. Overall, good experience.
Oct 10, 2020
I understand that you are new owners of the campground, it needs upgrading to 2020 modern camper standards. My site was not level, the water pressure was a poor 25 LBs. Modern travelers want to stay at camps with WiFi throughout (no signal at my site G3). Having cell reception at least in an emergency and TV reception via cable or over air would be desirable. Best wishes for an improved future.
Oct 10, 2020
Had a great one night stay, Thanks!
Oct 08, 2020
This KOA is definitely improving with landscaping, new cabins, Even in its current state, we thoroughly enjoyed our stay. There is plenty of sight-seeing, hiking, mountain climbing, fishing. etc right in the area, There seem to be plenty of sites of all types. WIFI needs to be improved significantly.
Oct 06, 2020
Lovely place, nice staff. We were very happy with our stay at this lovely KOA.
Oct 05, 2020
Enjoyed our stay
Oct 03, 2020
Really enjoyed this KOA, due to the location in the mountains. There is a highway right next to it but it's very low volume. I wish there was there past 4pm for check in to greet and we really wanted to see more items in the gift shop (there was nothing there but very minimal stuff) such as stickers of the KOA or surrounding places. Overall I would definitely be back!
Oct 01, 2020
Staff was friendly. Older KOA, sights are very tight with narrow road access. Not a big rig friendly park (we're a 37' motor home with 4 slides).
Sep 30, 2020
All was good
Sep 30, 2020
I considered a lower star rating however this is a relatively new KOA Park and they are working hard to bring their standards up to what you expect from a KOA franchise. Very friendly and helpful. Quiet-set back from the road and good spacing between tiered sites.
Sep 29, 2020
Happy to have found an open spot at this nice, clean KOA. Very nice staff taking reservation, RV hookups well placed, laundry was a welcome sight after 10 days of boondocking. Short drive to Salida restaurants & shops, good access to local trails & fishing.
Sep 28, 2020
Not sure why you close at 4pm, that's a little early. This kampground does have a lot of potential and was adequate for our stay. We did see at least 3 real fires during a statewide burn ban which seemed strange plus we never saw the hosts makes me wonder how much they're really around.
Sep 28, 2020
Seems to be in a state of renovation, but it was nice to have the community room to get out of the rain and play cards. A bit unusual to have the office only open from 10 to 4 and to charge us a bit extra because we asked for spaces close together. Other than that we enjoyed our stay.
Sep 28, 2020
Nice people!!
Sep 28, 2020
Positives: Grounds and bathrooms/laundry room were clean. Negatives: Bathrooms located by entrance. Not convenient to those who would use them the most, like cabin occupants and tent campers. Locks on exterior bathroom doors were broken. Wi-fi offered but not strong enough to connect.