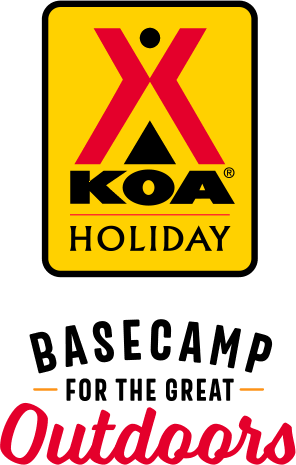 KOA Holiday Campgrounds
Whether you're exploring the local area or hanging out at the campground, KOA Holidays are an ideal place to relax and play. There's plenty to do, with amenities and services to make your stay memorable. Plus, you'll enjoy the outdoor experience with upgraded RV Sites with KOA Patio® and Deluxe Cabins with full baths for camping in comfort. Bring your family, bring your friends, or bring the whole group – there's plenty of ways to stay and explore.
KOA Holidays Feature:
RV Sites with a KOA Patio®
Deluxe Cabins with full baths
Premium Tent Sites
Group meeting facilities
Directions
I-95/ME Turnpike to Saco Exit 36 (I-195). Go 1 mile on I-195 and take Exit 2B. This merges onto Rt 1 North (Portland Rd). Go 1.6 miles and turn left at KOA sign, entrance is 100 yards on right.
GPS: N43.534904. W70.426625
Get Google Directions
Jun 17, 2021
Great location in a tucked away location. Access to highway very convenient. Staff was friendly and helpful.
Jun 17, 2021
as always it great here, staff and site excellent
Jun 17, 2021
The people were excellent to work with us. We had a family emergency and had to change dates twice. They were kind and professional. Once we arrived we requested to change sites and again they were helpful and kind. We absolutely loved our time in Maine, largely due to the suggestions from the workers at KOA. The park is very clean, showers are fabulous and the laundry room is the best ever!!
Jun 17, 2021
very nice park and very friendly staff.. thank you, earle
Jun 17, 2021
Enjoyed the clean park and spacious sites. Staff were friendly, and helpful. Sunday breakfast at the Moose Shed was not open as promised in brochure. My wife and I booked two additional stays, one in August and another in September.
Jun 16, 2021
This was a great campground. Wooded, private and quiet with great amenities for the kids. Bathrooms and laundry were clean! It was the ambiance we look for when camping and would definitely return.
Jun 16, 2021
Campground was very clean. Everyone's very friendly. Very relaxing and enjoyable stay
Jun 16, 2021
This was the first time I stayed at a KOA, and I had a great experience. I can't wait to do it again. I hope to return to this KOA and try out others.
Jun 15, 2021
Our stay was enjoyable. Except the Merry Moose needs more staff. We went for breakfast on Saturday morning and there were only two people working and the wait to even order was so long we left without eating after 30 minutes of standing in line.
Jun 15, 2021
A very nice place and a pleasant experience. Thank you
Jun 15, 2021
The campground was clean, fun, and safe for the family!
Jun 14, 2021
I was a little disappointed that Merry Moose was closed on Sunday morning. Also, we bought firewood from you and it didn't stay lit was very hard to keep a fire going with your wood.
Jun 14, 2021
We were impressed with the KOA campgrounds, however the friendliness and helpfulness of the staff was above and beyond what we expected. Thanks for making our stay so wonderful.
Jun 14, 2021
We had a great stay. Campground was very clean. Staff very friendly. A lot of campsites with unattended barking dogs. Kids unsupervised and rowdy at pool and minors in the hot tub.
Jun 14, 2021
Great clean place and lots to do
Jun 14, 2021
We just had a one night stay and it was very pleasant. The staff was very good NA the site was good.
Jun 14, 2021
very clean campground, helpful staff, activities for kids, nice pool and hot tub.
Jun 14, 2021
It wasn't long enough! Beautiful area and well maintained campgrounds. Great location too.
Jun 13, 2021
Everyone was so kind and caring. We had just had our camper sideswiped by a car jacker and the crew here was amazingly helpful and supportive. I felt like family during a very stressful time. The sites were very well maintained and the area was super kid friendly. A wide variety of amenities for every type of vacationer. Highly recommend this KOA.
Jun 13, 2021
We had a wonderful time again at this KOA campground. Everything was there and convenient. Very comfortable and so much to offer if we forgot anything. Thank you for another wonderful stay, we will be back for sure!!!!
Jun 13, 2021
WiFi very weak. Need to upgrade.
Jun 13, 2021
Amazing staff, beautiful park. Only negative is from our side, the trash and showers was a walk. Need accommodations on both sides of the grounds.
Jun 12, 2021
Will definitely come back to stay
Jun 12, 2021
All the employees were very helpful and friendly!
Jun 12, 2021
Very nice and quite. Very clean campgrounds
Jun 10, 2021
Louann was very gracious and accommodating and provided a great check in service experience and overall our family was super happy with our stay.
Jun 09, 2021
The weekend was rainy but we still enjoyed our stay.
Jun 09, 2021
Nice campground. Well run and will stay there again.
Jun 09, 2021
Stay was great! We were able to try the potato donuts upon arrival! Everyone was very friendly!
Jun 09, 2021
It was a great stay. Probably our favorite camping trip ever. The campgrounds are so well kept. The staff is very friendly and helpful. We got a one room cabin for myself my hubby and our 2 girls (4 and 15 yrs old). We had more than enough space. The porch swing was a favorite. We felt safe which was #1.
Jun 09, 2021
great. had to extend my stay by 2 days due to automotive issues and everyone was so helpful. my only issue was the showers were ice cold. do they turn the heat off in the afternoon?
Jun 08, 2021
Friendliest staff, super clean, excellent location, and easy check in and check out process. We have stayed here a few times and will be back again.
Jun 08, 2021
Couple issues. 1. Ants all over the cabin, once I swept it improved but did not disapear - you can tell cleaning of the cabins is not being taken seriously even during COVID times. 2. LOTS of ticks - this was something we always prep for when camping, just a little suprised. 3. We were put on the ungated side of the campground - I can only assume bc of the rental we chose. This should communica
Jun 07, 2021
Absolutely wonderful stay. Everyone was friendly and helpful. Planning on returning later this summer for another stay.
Jun 07, 2021
Helpful staff, clean facilities, pool and hot tub in great condition. Good place to stay.
Jun 07, 2021
Amazing stay. Staff super friendly and grounds very clean. So worth the stay.