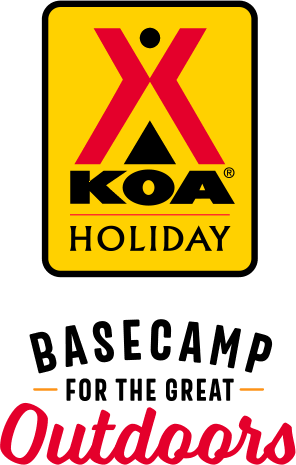 KOA Holiday Campgrounds
Whether you're exploring the local area or hanging out at the campground, KOA Holidays are an ideal place to relax and play. There's plenty to do, with amenities and services to make your stay memorable. Plus, you'll enjoy the outdoor experience with upgraded RV Sites with KOA Patio® and Deluxe Cabins with full baths for camping in comfort. Bring your family, bring your friends, or bring the whole group – there's plenty of ways to stay and explore.
KOA Holidays Feature:
RV Sites with a KOA Patio®
Deluxe Cabins with full baths
Premium Tent Sites
Group meeting facilities
Directions
I-95/ME Turnpike to Saco Exit 36 (I-195). Go 1 mile on I-195 and take Exit 2B. This merges onto Rt 1 North (Portland Rd). Go 1.6 miles and turn left at KOA sign, entrance is 100 yards on right.
GPS: N43.534904. W70.426625
Get Google Directions
Nov 16, 2020
We loved our trailer and enjoyed our stay the week we were there. Thanks for making it great.
Nov 05, 2020
Great location, convenient to lots of places in SW Maine coastal area. Sites are somewhat close together but hookups are good and site was mostly level.
Nov 02, 2020
The staff are wonderful folks and this is a very well maintained KOA. The "Pay & Play" rate was a perfect way for us to enjoy an extended camping season in New England at a reasonable cost. We hope this KOA is open until November 1st again next year. This KOA is now a permanent addition to our North/South travels in our Newmar Ventana Class A motorhome.
Oct 31, 2020
Workampers stayed entire season. COVID taken very seriously so felt safe. Next year will be even better. This is an exceptional KOA. Definitely try it if you get to Maine.
Oct 31, 2020
We will probably always be off-season campers but thoroughly enjoyed the dense trees and that the camp hosts abided our request for a more remote site, very nice!
Oct 27, 2020
It was relaxing. I just wish that people were not allowed who they were voting for. As a family of color. It was scary to see Trump flags etc.
Oct 26, 2020
The deluxe cabin was great just the right size for us for a two night stay
Oct 26, 2020
Very clean campground, easy check in, nice staff over all a great stay
Oct 26, 2020
I love KOAs- stay at them quite often mostly tent camping and some cabins when tent sites are unavailable. Checked in late at night and when I entered the cabin there was mouse droppings all over the bed and pillow there. Also mouse droppings on the lower bunk. The floors were still dirty as well. With the age of Covid I figured it would be clean! I get that they're cabins but super dirty
Oct 24, 2020
Excellent in every respect. Staff was friendly and helpful. Accommodations were outstanding.
Oct 22, 2020
Excellent facility, very clean and the staff was outstanding answering all our questions. Definitely A+++
Oct 20, 2020
This was an overnight stay for us. The site was very nice and level and did accommodate our big rig. We have a 42 ft 5th wheel with a 6 ft platform extension on the back that hauls our motorcycle. We fit nicely on the site and were also able to park our tow vehicle on the site.
Oct 19, 2020
Office closed early when I arrived. No late night envelope. Hard to get get information.
Oct 19, 2020
Beautiful grounds. Spacious lots. Splurged on the fire pit and deluxe patio. Soooo worth it. Very helpful and friendly staff.
Oct 17, 2020
Very quiet and very clean. I will normally only use the bathroom in my camper. This campground was an exception. Staff were cleaning the bathroom and showers by 7am and then again during the day. Staff were very friendly.
Oct 16, 2020
Love KOA Saco! We fell in love the first time we stayed and will continue to return for our camping trips!
Oct 15, 2020
Very nice campground and friendly staff. Only reason I can't give five stars is the front section that we stayed in was close to a busy road. Very nice sites, but next time will request the larger rear section.
Oct 15, 2020
Our stay at your campground was wonderful. The main reason for our trip was to see the leaves changing which I haven't seen in a very long time (live in Florida). Your place was very clean and the space we were in was great. If we are ever in the area again (which we hopefully be) we will definitely come back to this KOA.
Oct 15, 2020
Had a good site. Campground was clean and quiet. The dog park is a good size and in a good part of the park.
Oct 15, 2020
We had a great time as always are were so happy we got to come up from MA this season!
Oct 15, 2020
Deluxe Cabin was awesome and super clean. Loved the fire pit area and screened in porch. Also central air (for heat) was great during October.
Oct 14, 2020
Campground , bathrooms, and laundry all kept clean. Staff friendly and helpful. Located close to highway makes it a good option for a short stay.
Oct 14, 2020
fantastic site and staff was extremly nice
Oct 14, 2020
Very accommodating! Donna was very helpful & kind..I enjoyed my extra night stay. Maintenance staff very efficient! Steve came with portable heater & solved heat issue.. Will return.
Oct 14, 2020
Very good site. Water pressure a bit low. Enjoyed ourselves!
Oct 14, 2020
This was my family and my first time camping and it was amazing. The staff was super friendly and very helpful. The site was very clean and in the perfect spot. My family and I can't wait to come back.
Oct 14, 2020
The best yet, koa. Brand new area with everything you need. Will come back again. Friendly and courteous.
Oct 14, 2020
The cabin was amazing! So cute, comfortable and everything we needed for a relaxing weekend.
Oct 13, 2020
Lots of rude teens running through campsites, throwing footballs by the cars, loud music, but we had a nice relaxing weekend despite that. It is hard to believe we are barely off the highway. Everything is clean, well maintained, and organized!
Oct 13, 2020
It was our second year visiting KOA Old Orchard Beach - we are already planning our next trip. Great time, clean, roomy cabins... kids loved it!
Oct 13, 2020
Extremely clean and quiet, but fun!! Cabin was awesome!!
Oct 13, 2020
Employees were friendly and diligent. I was located next to the showers and bathrooms. They stank. It was a busy weekend. MY site was so small I couldn't even tie up my dog without having her be in the roadway,
Oct 13, 2020
Great time over Columbus Day weekend. Our cabin was clean and we appreciated the paper supplies provided. We would definitely come again.
Oct 13, 2020
Great time!!!!
Oct 13, 2020
Nice quite stay. Nice space. Grandson liked bicycling around. We liked the proximity to other attractions such as Old Orchard Beach. The staff was excellent.
Oct 13, 2020
Very smooth and easy chech-in/out, very friendly and professional staff. We had everything we needed. The only minor issue was that our particular Cabin site couldn't reach WiFi that was provided. Not a big deal.