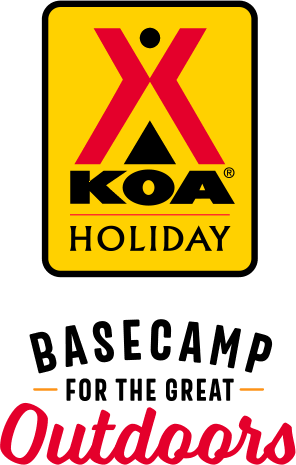 KOA Holiday Campgrounds
Whether you're exploring the local area or hanging out at the campground, KOA Holidays are an ideal place to relax and play. There's plenty to do, with amenities and services to make your stay memorable. Plus, you'll enjoy the outdoor experience with upgraded RV Sites with KOA Patio® and Deluxe Cabins with full baths for camping in comfort. Bring your family, bring your friends, or bring the whole group – there's plenty of ways to stay and explore.
KOA Holidays Feature:
RV Sites with a KOA Patio®
Deluxe Cabins with full baths
Premium Tent Sites
Group meeting facilities
Directions
Eastbound or Westbound: Exit 11A off I-280, 1 mile to Andalusia Rd (third traffic light), turn left, 1 mile to entrance on left.
Get Google Directions
Oct 12, 2021
We stayed at this KOA over Columbus Day Weekend. The amenities were nice (clean bathroom/showers), boating available on their lake, Movie Night, Kids Halloween Weekend Theme (fun to watch), pumpkin painting, Fishing was fun. The only negative was the tent site sizes. The Covered Pavillion was a lifesaver when it began raining.
Oct 10, 2021
Clean quiet and staff very friendly
Oct 09, 2021
The staff, and the grounds were so nice! The restrooms especially were very clean, and maintained. The only problem we had was that our campsite was near train tracks that were really loud, and kept us up most of the night.
Oct 05, 2021
Had a great stay. Staff was very nice. Grounds and restrooms were clean and well kept.
Sep 28, 2021
Staffs are very nice, and my daughter's favorite is very Clean and well maintain bathroom/ Shower. Will definitely come back again next year.
Sep 28, 2021
Great time as always great staff
Sep 27, 2021
Very beautiful campground, had a good time. Besides the cabin next door thought that they had access to our spot and our patio. Was frustrating having them walk through our site and using our patio. We didn't say anything because they had small kids with them. Lack of privacy.
Sep 23, 2021
Maybe blow out the motorcycle area other then that. �ϋ��
Sep 18, 2021
Staff was super nice! Quiet campground!! Super clean!!
Sep 13, 2021
Wonderful property ran by kind folks. Clean and spacious. Will stay again.
Sep 13, 2021
Very spacious tent site, had a nice sturdy dock. Will definitely come back.
Sep 07, 2021
The lady at the desk was very rude to myself as well as my guest told me my birthday party for a 3 year old with his cousins was very frowned upon just rude in general need someone at the desk with better customer service skills. I am not happy with my stay at all
Aug 24, 2021
The man working on the swimming pool was rude. Our tent site was NOT flat and nowhere was suitable for level tent setup. We slid across our tent floor all night both nights because of the slant at our site. Nobody slept well because we had to constantly rearrange to avoid damaging our tent. The fence between the playground and highway should be more secure to ensure safety of the children.
Aug 23, 2021
We really enjoyed all that the campground had for us. Downside was the train horn in the middle of the night and people driving with headlights on in middle of night past our tent.
Aug 21, 2021
Easy, convenient, pleasant staff and lot's of extras.
Aug 16, 2021
We loved our time staying here! Everyone was very helpful in the office, so accommodating and friendly. The pool and splash pad were wonderful and our kids loved that, as well as the free paddle boats. Bath houses were clean. Mini golf needs repairing, but our campsite was clean and right on the lake with a small dock. The covered patio with picnic table rocked! Will be coming back. Thanks!
Aug 14, 2021
We stayed at the motorcycle inn campsite. We had to borrow a broom to clean our campsite before we could use it. Staff was dismissive and had many excuses for the campsite to be unkempt. After an hour of cleaning we set up camp. The showers were clean and well maintained.
Aug 12, 2021
To much noise from the road so close, and nearby railroad tracks. Not great tent camping.
Aug 08, 2021
Not very nice employees there. They made mistakes and got angry when I asked them to switch sites. The sites by the "lake" are nasty gross, not well taken care of, no green grass at all (couldn't put a tent down to stay),and there were permanent rv's next to the lake by the tent sites also.Not comfortable.Especially w/loud trains&sirens.scary.koa is way too expensive for this level of campgrounds.
Aug 07, 2021
My boyfriend and I had an amazing time camping at your KOA. The bathrooms were kept very clean and the grounds themselves were amazing. The staff were very helpful and very nice. Thank you so much for a great get away.
Aug 07, 2021
Beautiful old growth trees and bushes. And the lake or river to paddle in. I got lots of beautiful plctures.
Aug 04, 2021
Always enjoyable.
Aug 03, 2021
There were pros and cons to our stay. We did text camping. The pros were big camping sites. Being close to the play ground. Clean bathrooms. The staff was very nice and helpful. Cons were hidden costs. The campground was a bit rundown. Everything in the camp store was at a premium price.
Jul 30, 2021
Staff was amazing, so clean, so much for the kids to do!
Jul 25, 2021
Clean..great place to stay. Friendly staff.
Jul 23, 2021
Although we had awful neighbors. Koa was very accommodating and understanding. I would go back anytimr
Jul 23, 2021
The camp site, the service, and the price couldn't have been better for our group!
Jul 22, 2021
As always great time restrooms clean friendly staff. And a great relaxing time
Jul 22, 2021
Stayed at a tent site, all day and night you hear vehicles go by. Most sites/cabins are parallel to the road. My dock at my camp site was partially submerged and trees were over grown I couldn't cast to fish off dock. Bathrooms and showers were well kept and everything else was nice.
Jul 21, 2021
Very small tent sites and very noisy the site is located right by a main road , very dirty
Jul 20, 2021
The pool and hot tub are well maintained. The campsite and lake activities were excellent. The WIFI kept disconnecting and on the second day it said I was at my limit. Otherwise, we had a great time!
Jul 14, 2021
Lovely waterfront view tucked away in the back of the KOA. We had a very nice, much needed relaxing weekend staying here. The road getting to our site was a bit narrow, maybe consider adding a 1- way in and out to make it easier for large vehicles. Lots of amenities for families and an overall great place to stay. Beats going to a hotel any day!
Jul 13, 2021
All though it rained, the site was awesome. I hope to stay again
Jul 01, 2021
The camp seemed under maintained and understaffed. The splash pad was closed and the jumping pillow was not inflated. Our camp area had a lot of garbage around and was dirtier than other KOAs. The road was very loud near out tent but that was OK. The dock stairs were slippery with moss and the dock itself seemed to be falling apart. The bathrooms were very clean and the staff very friendly.
Jun 25, 2021
The best on our 21 day trip!
Jun 23, 2021
Overall we had a good stay. The showers were very nice and clean. The bathrooms were not always clean or stocked with toilet paper. The splash pad was not working, which was a disappointment for my young children, but they finished installing a new playground for younger children on our last day, which was a hit. The jump pad was fun. Our tent site was very nice and spacious. Overall, I recommend!
Jun 22, 2021
Tent site was nice and shaded. Bathrooms were excellent. Nice warm showers, great water pressure, very clean. Road noise kept waking us up. Overall, very nice campground. Lots of amenities. Good fishing.
Jun 21, 2021
The regular tent sites are so close together. There is no privacy. The pool was over crowded. The RV sites are even close together. We didnt like how close everyone was together. We only return if we can get lake tent site.
Jun 17, 2021
The staff was friendly. The bathrooms and pool were clean. I would give it 5-stars but most the docks need to be cleaned and repaired. Which makes it hard to fish.
Jun 15, 2021
Camp site was great. Bathrooms/shower area very clean. Many things to do. Very quiet. The only issue is the fishing docks need to be updated.
Jun 15, 2021
The staff was courteous. Campsite was in good condition and the play equipment & restrooms were well-maintained.