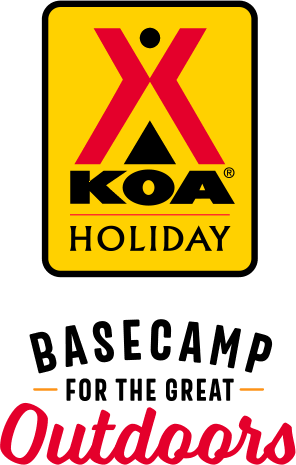 KOA Holiday Campgrounds
Whether you're exploring the local area or hanging out at the campground, KOA Holidays are an ideal place to relax and play. There's plenty to do, with amenities and services to make your stay memorable. Plus, you'll enjoy the outdoor experience with upgraded RV Sites with KOA Patio® and Deluxe Cabins with full baths for camping in comfort. Bring your family, bring your friends, or bring the whole group – there's plenty of ways to stay and explore.
KOA Holidays Feature:
RV Sites with a KOA Patio®
Deluxe Cabins with full baths
Premium Tent Sites
Group meeting facilities
Directions
Eastbound or Westbound: Exit 11A off I-280, 1 mile to Andalusia Rd (third traffic light), turn left, 1 mile to entrance on left.
Get Google Directions
Oct 14, 2021
It's always a pleasant experience. Very peaceful and friendly. I'm looking forward to my next stay.
Oct 14, 2021
We had a wonderful, fun weekend. The cabins were clean and met all expectations! We are making this an annual family weekend!
Oct 12, 2021
We stayed here on our way to visit family in western Iowa rather than at a motel. Even though it was near major highways, it still gave a sense of being secluded. The staff was very helpful and courteous. The one suggestion I have is it would be helpful to have a ceiling fan in the cabins to move air without turning on the larger ac unit.
Oct 11, 2021
We had a wonderful time at the Rock Island KOA! Plenty to do for kids and we enjoyed the Halloween parade & festivities they put on for their guests. It was quiet and relaxing. Other than one of the beds mattresses needing replaced (it was very hard) and fish restocking being necessary; we have no complaints & we would definitely stay again.
Oct 11, 2021
Our cabin was clean and comfy. Check in and check out were simple. Plenty of activities for the kids; the jumping pillow, merry-go-round, and tetherball were favorites. We happened to stay during a weekend that included Halloween festivities, and my children have already asked to book for the same weekend next year!
Oct 09, 2021
Very clean and cozy cabin. Had a wonderful stay...
Oct 09, 2021
We loved our cabin location. everybody was friendly. We enjoyed kayaking on the lake. The only thing we wish was different was the train blowing their horns at night and the traffic on the interstates. But that's nothing you can control, we very much enjoyed our stay.
Oct 09, 2021
First night air conditioner leaked all over my bed. Got no sleep because of the leak and wet bed. Found the dishwasher full of dirty dishes from the previous guest. This means the cabin cleaners never checked the dishwasher before we checked in. The floors were extremely dirty which showed the cleaners swept the floor, but did not wash them. It all shows poor housekeeping and poor maintenance.
Oct 04, 2021
Problems with one ac which caused the cabin to be stuffy.
Sep 27, 2021
The staff member with the colored hair was the only pleasent staff member. Most employees were rude. This KOA is mostly permanent sites. And $95 for golf cart rental is highway robbery. While staying at a KOA In Branson, the rental was $45. Will never stay there again.
Sep 27, 2021
Facilities were updated, definitely need a good deep cleaning. Cabin full of cob webs and stuffy. Bathrooms shower floor mats could use a pressure washer.
Sep 22, 2021
Very nice cabin and staff very helpful.
Sep 14, 2021
Had a great time!
Sep 09, 2021
Very clean and well-marked sites. Bathroom facilities are updated and kept clean and stocked. So many planned activities during the weekend. The pool, playground, fishing lake, and other amenities were well-kept.
Sep 08, 2021
Was greater warmly and processes were fast. Great tent site and cabin for my mother. Very clean bathrooms and showers. Lots to do for kids of all ages.
Sep 02, 2021
Beautiful place! Staff were friendly and helpful.
Sep 01, 2021
Very friendly staff and extremely clean cabins!
Aug 31, 2021
Bed bugs and didn't even comp the stay or called me back to confirm that's what it is
Aug 30, 2021
Bed bugs and would like a refund.
Aug 26, 2021
Stayed in a camping cabin for one night along our route. The exterior of the cabin was covered in cobwebs and hadn't been cleaned or dusted in months. The inside was OK. The swimming pool was crowded but refreshing. More than half of the camp was living there full time. We had an unchained dog of a full-timer harass our dog on our walk.
Aug 24, 2021
There was no propane. There was no grill scraper. I got put into the wrong deluxe cabin I didnt stay in the one I paid for.
Aug 24, 2021
It was a shame that the pool is so small it was filled to capacity when we were there and we werent able to use it.
Aug 23, 2021
We stayed in the deluxe cabins, they were excellent. The quality and thought put into the layout was impressive
Aug 23, 2021
The luxury cabin was very nice, new, and clean.
Aug 21, 2021
Had a good time. Had problems one night. Other then that we had good stay
Aug 18, 2021
Good location No sheets/towels Pools are wonderful Generally it looks neglected but at one time was fantastic
Aug 17, 2021
Staff very friendly and helpful, very clean park
Aug 16, 2021
Enjoyed stay,everyone was very nice and professional.
Aug 16, 2021
We stayed in a cabin. Our cabin floors where very dirty.The cabin had a unpleasant odor. We have camped at many KOA campgrounds over the years & have never had anything stolen that was sitting on our patio when we left for several hours & upon returning we had a cooler missing. Not happy at all will not return in the future.
Aug 13, 2021
Friendly, clean, great fishing & wonderful pool.
Aug 12, 2021
property is not kept up. we were only feet away from two permanent campers , no shade, weeds everywhere. My son in law is disabled and I was shocked that they do not have special rates for those with disabilities for golf carts. They need to change their policies and take better care of their property. My grandkids all loved the pool, and jumpy mat. They had a good time so that is was counts.
Aug 12, 2021
It was great. Clean. The showers and restrooms in the main building were spacious.
Aug 11, 2021
Absolutely loved this place!!! The bathrooms were sooo nice and clean. My kids loved the pool and splash pad. Friendly staff! Highly recommend!
Aug 07, 2021
Great location, very clean, but the proximity of the restrooms to the kabins presents a challenge if you don't plan in advance. It's a bit of a trek in the dark of night or in the light of day for that matter.
Aug 04, 2021
Stayed a week. Deluxe cabin, comfortable bed, very clean, little touches like hand towels, soap. Drain clogged and they fixed it immediately. Kids loved boats and pool, seasonal guys took time to throw the football with the kids. Other seasonals complain with kids splashing like it is their personal pool. Cabin was supposed to be non smoking but there was a smoke smell from AC. Still would revisit
Aug 04, 2021
Our party of 5 was quite comfortable in our deluxe cabin on our 3 night trip. The campground is clean and well maintained and the staff is great.
Aug 03, 2021
The free canoe/paddle boat rentals were a great plus!