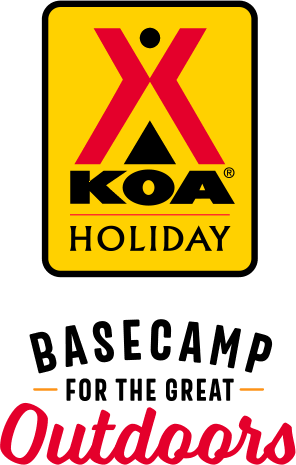 KOA Holiday Campgrounds
Whether you're exploring the local area or hanging out at the campground, KOA Holidays are an ideal place to relax and play. There's plenty to do, with amenities and services to make your stay memorable. Plus, you'll enjoy the outdoor experience with upgraded RV Sites with KOA Patio® and Deluxe Cabins with full baths for camping in comfort. Bring your family, bring your friends, or bring the whole group – there's plenty of ways to stay and explore.
KOA Holidays Feature:
RV Sites with a KOA Patio®
Deluxe Cabins with full baths
Premium Tent Sites
Group meeting facilities
Directions
Eastbound or Westbound: Exit 11A off I-280, 1 mile to Andalusia Rd (third traffic light), turn left, 1 mile to entrance on left.
Get Google Directions
Sep 03, 2021
Access roads in the park are very narrow with tight curves
Sep 03, 2021
Very clean. A nice picturesque location. Staff super friendly. Restrooms and pool area very nice. WiFi too slow to stream and the super loud trains in the middle of the night were a bit of a surprise. Would definitely stay here again
Sep 02, 2021
Always Excellent! Friendly staff, very clean and well maintained. Everyone is always willing to help you with any questions you may have. I am looking forward to coming back, I have been to many different campgrounds, but I have to say that this is the best one. I hope it will be here for a long time!!!
Sep 02, 2021
Beautiful place! Staff were friendly and helpful.
Sep 01, 2021
Very friendly staff and extremely clean cabins!
Sep 01, 2021
The site they put us on did not fit our camper. Our KOA profile clearly describes our camper specs and that we have 3 slide outs. I went to the office and the older lady was very rude, grouchy, and had terrible customer service. I offered a solution to switch with our friends site, she reluctantly agreed. She then hopped on her golf cart and grouched more at the site. Unlike any KOA typical srvice
Sep 01, 2021
Tired travelers would love to be greeted by cheerful staff instead of feeling like they have put you out somehow. Back in spots were a little tight which made for feeling like neighbors were right on top of you.
Sep 01, 2021
Would never go back. Not in a nice area. Nothing is maintained and it's dirty.
Sep 01, 2021
KOA needs a rate for a simple overnight where the only items used are hookups. There was lots to do here if you have a family with kids. We were down by the creek (totally covered in green gunk with trash on the top) and didn't even have a sewer hookup and still paid around $50 for one 12-hour stay. Not worth it! Airport nearby, so some noise with that.
Aug 31, 2021
Bed bugs and didn't even comp the stay or called me back to confirm that's what it is
Aug 31, 2021
The site was great. We had a concrete slab and a patio. Wonderful view of the pond, great sunsets, walked the Beer Belly Blvd and showers were spotless. WiFi was VERY weak. �
Aug 30, 2021
Nice concrete pads and patio. Friendly and helpful staff.
Aug 30, 2021
One issues that was extremely rude was we were not given a copy of the campground and I had to ask for one and was told a text would be coming shortly. I am not one that does cell phone for anything other than getting telephone calls! I asked for it to be emailed so that I could print out a copy, was told it would, but never came in an email.. Was this done because it was only a 1 night stay?
Aug 30, 2021
Bed bugs and would like a refund.
Aug 30, 2021
Great �
Aug 30, 2021
Very nice facilities and staff. Everything was well kept and clean. Will return for another visit in the future for sure, lots to do in the area
Aug 30, 2021
After loading tha cable channels to our TVs we couldn't find Fox News. We asked the lady at the front desk for a guide and she said they don't have any. I asked her what channel was Fox News and she said we don't have Fox News because nobody wants it we have CNN i stead and the owner is a member of the Democratic Committee. I told her I want Fox or give me a refund. Please call me 402-690-6101
Aug 29, 2021
Typical KOA! Sites were very close together. No grass. Dirt site. We were supposed to have a lake view but it was so overgrown and weedy we couldn't see the lake at all!
Aug 29, 2021
Recently returned from a cross country trip staying at KOA,s all the way. This location does not live up to KOA standards. The Women who check us in should not be in a public facing position. Not a smile, a hello or a welcoming attitude. She was less than helpful with other issues we had. Unfortunately this forum does not allow enough space to go into details. We will look for a Good Sam next time
Aug 28, 2021
Couldn't walk my dogs for goose crap everywhere; attendant was curt about wearing face mask although hers didn't cover her nose.
Aug 27, 2021
The grounds have potential to be beautiful, but everything felt very unkept and neglected. There was dog doodoo everywhere!
Aug 27, 2021
The campground was sufficient. Roads could use some gravel in the low spots. Front desk person didn't seem to enjoy her job, but the young lady who led me to my spot was quite cheerful. Pool was nice. Quiet campground with nice lake.
Aug 27, 2021
Great place and great staff.
Aug 27, 2021
We were there for just one night. It was quiet, clean and our dog loved the play area! It was great that you picked up the trash at the campsite so we didn't have to cart it anywhere.
Aug 27, 2021
A nice campground, nice, clean restrooms. There were a couple of piles of old dog poop in our site - we had to be careful where we stepped. Better policing of sites before new guests arrive is suggested.
Aug 26, 2021
Was real disappointed with the ADA shower. Was not truly ADA! Lady was rude when I tried to check in. Screamed at me to put on a mask. Not professional at all.
Aug 26, 2021
Was NOT ADA complaint. Supposed to be roll in shower had a 2 inch tile lip. THATS NOT ROLL in! My husband is in a power chair and these questions were asked when we made reservations. We left 1 night early and they refused to refund our money.
Aug 26, 2021
Only comment is about the unleveled sites. It's a misconception that the "levelers" are jacks. The levelers are not intended to lift an RV, only stabilize it keeping all tires on the ground.
Aug 26, 2021
Stayed in a camping cabin for one night along our route. The exterior of the cabin was covered in cobwebs and hadn't been cleaned or dusted in months. The inside was OK. The swimming pool was crowded but refreshing. More than half of the camp was living there full time. We had an unchained dog of a full-timer harass our dog on our walk.
Aug 25, 2021
Stayed two nights. It was too hot to enjoy everything outdoors.
Aug 25, 2021
Nice and quiet as always.
Aug 25, 2021
Rundown, our neighbors experienced a blatant racist attack on Asian children at the pool by a white male adult that left us disgusted in ways we have heretofore not experienced. A managed fire on the property was being used to burn materials like plastic and other items that should not be converted to carbon. The staff was less than welcoming and the experience was sub par for KOA
Aug 25, 2021
Sites need a bit of attention. Even if the area is all dirt it can looked better. Surprisingly the concrete pad was not very level.
Aug 25, 2021
Very nice place well run in a great location.