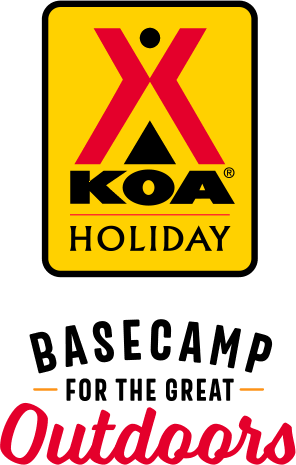 KOA Holiday Campgrounds
Whether you're exploring the local area or hanging out at the campground, KOA Holidays are an ideal place to relax and play. There's plenty to do, with amenities and services to make your stay memorable. Plus, you'll enjoy the outdoor experience with upgraded RV Sites with KOA Patio® and Deluxe Cabins with full baths for camping in comfort. Bring your family, bring your friends, or bring the whole group – there's plenty of ways to stay and explore.
KOA Holidays Feature:
RV Sites with a KOA Patio®
Deluxe Cabins with full baths
Premium Tent Sites
Group meeting facilities
Directions
Eastbound or Westbound: Exit 11A off I-280, 1 mile to Andalusia Rd (third traffic light), turn left, 1 mile to entrance on left.
Get Google Directions
Sep 13, 2021
Wonderful property ran by kind folks. Clean and spacious. Will stay again.
Sep 13, 2021
Second time at this camping and both times we left disappointed. Most recently we did not get a site in the area we booked. First time the water was not turned on, but no-one cared to let us know before setting up the camper. Camping has decent wifi and pool. The minigolf course is quite poor though. Sites are very close to each other, but mostly level.
Sep 13, 2021
Visited in 41' Class A, towing. The Narrow entrance with metal guardrails on both sides require sharp turn made impossible by a vehicle leaving the park so had to stop on busy street. Large site with gravel and grass and very heavy wooded. Unable to use Dish Satellite, distance of water from my coach required I guy a second 25' fresh water hose. Ok park.
Sep 13, 2021
Very spacious tent site, had a nice sturdy dock. Will definitely come back.
Sep 12, 2021
Staff was nice. Clean campgrounds. Easy to book online.
Sep 12, 2021
Nice place, bigger than I thought, Lady at the reception desk could be a little friendlier, but I know good help is hard to find.
Sep 12, 2021
Just stayed overnight.no problems.Everyone was friendly and professional
Sep 11, 2021
Dusty, intermittent WiFi and no TV reception and no one to tell you how to use it. Nice laundry
Sep 10, 2021
Disappointed, everything about the campground is done via email and text, no printed map or rules provided, We like the printed map to keep record of our stays and location. This campground will easily be forgotten. The staff was less than enthusiastic. The facility had a lot to offer for play. Gravel sites could use a little attention, to maintain level. Rental $$$ high symptom of KOA
Sep 10, 2021
Camp site was adequate and camp ground was clean. Staff was not always pleasant but were accommodating.
Sep 09, 2021
A bit pricey for a one night stay, but it was convenient on our route. Also it was clean and friendly
Sep 09, 2021
Very clean and well-marked sites. Bathroom facilities are updated and kept clean and stocked. So many planned activities during the weekend. The pool, playground, fishing lake, and other amenities were well-kept.
Sep 09, 2021
The KOA itself was very nice and clean. The staff was not friendly, helpful or knowledgable. It was as if I was bothering them.
Sep 08, 2021
We had an amazing time - beautiful views, great fishing location, fun in the pool/splash pad/hot tub. Definitely will be returning!
Sep 08, 2021
Very nice stay. Only issue is the sites are so close together we couldn't open our awnings to stay out of the sun. We have a mesh mat that allows water and sun through but were told we couldn't use it. So we essentially had no shade in our spot. Not sure if you stock the 2 fishing ponds, but not many people were catching fish. My husband loves to fish, why we booked here. We would stay again.
Sep 08, 2021
Was greater warmly and processes were fast. Great tent site and cabin for my mother. Very clean bathrooms and showers. Lots to do for kids of all ages.
Sep 08, 2021
The campground has good Intentions however the merry-go-round did not spin and the bounce pad had rocks all over it the two main things my kid wanted to play on the sites are extremely close together your best bet would be to find one on the end where there's no camper in front of you. If you go during the hot season they do have a very nice pool and splash pad and giant movie screen
Sep 08, 2021
We had a quick overnight stay but will be coming back many more times as our son plays football for a Augustana College. Easy in and out, full hookup without any issues. Park offers many amenities and activities although we didn't get to enjoy all of them this time. See you again soon.
Sep 07, 2021
One if the cleanest, best maintained campgrounds I've ever been to. There are tons of things for kids to do! This place is truly top notch!
Sep 07, 2021
Excellent location, place, and activities. Only complaint is the people who do not follow the quiet hours. I was in site 46. Site 47they were up between 5:30-6 am each morning and were extremely loud
Sep 07, 2021
The lady at the desk was very rude to myself as well as my guest told me my birthday party for a 3 year old with his cousins was very frowned upon just rude in general need someone at the desk with better customer service skills. I am not happy with my stay at all
Sep 05, 2021
Great campground. A plus.
Sep 04, 2021
Clean campground convenient to interstate. Friendly staff. Nice store.
Sep 04, 2021
We only stayed for one night, but loved the layout of the campground. Two lakes - Wish we'd had the time to rent one of your watercraft! Loved walking through the campsite that evening. I was amazed at the variety of lawn games that were available. Terrific! This would be a great place for an extended stay!
Sep 04, 2021
I have been to this camp several times over the past 8 or so years. It is a fine place to park for the night but as a camp ground starting to look very tired. I'm sure the last year with Covid has not helped with business but this camp will soon need a freshen up.
Sep 04, 2021
We were taken to our sit and then later someone came around handing out doggie treats. Very nice and clean place to stay
Sep 03, 2021
There is a train track right by this campground. ALL NIGHT LONG- BLOWING HIS WHISTLE! It was HORRIBLE! If not for this- it would have been a nice place. It kept us up all night
Sep 03, 2021
Access roads in the park are very narrow with tight curves
Sep 03, 2021
Very clean. A nice picturesque location. Staff super friendly. Restrooms and pool area very nice. WiFi too slow to stream and the super loud trains in the middle of the night were a bit of a surprise. Would definitely stay here again
Sep 02, 2021
Always Excellent! Friendly staff, very clean and well maintained. Everyone is always willing to help you with any questions you may have. I am looking forward to coming back, I have been to many different campgrounds, but I have to say that this is the best one. I hope it will be here for a long time!!!
Sep 02, 2021
Beautiful place! Staff were friendly and helpful.
Sep 01, 2021
Very friendly staff and extremely clean cabins!
Sep 01, 2021
The site they put us on did not fit our camper. Our KOA profile clearly describes our camper specs and that we have 3 slide outs. I went to the office and the older lady was very rude, grouchy, and had terrible customer service. I offered a solution to switch with our friends site, she reluctantly agreed. She then hopped on her golf cart and grouched more at the site. Unlike any KOA typical srvice
Sep 01, 2021
Tired travelers would love to be greeted by cheerful staff instead of feeling like they have put you out somehow. Back in spots were a little tight which made for feeling like neighbors were right on top of you.
Sep 01, 2021
Would never go back. Not in a nice area. Nothing is maintained and it's dirty.
Sep 01, 2021
KOA needs a rate for a simple overnight where the only items used are hookups. There was lots to do here if you have a family with kids. We were down by the creek (totally covered in green gunk with trash on the top) and didn't even have a sewer hookup and still paid around $50 for one 12-hour stay. Not worth it! Airport nearby, so some noise with that.