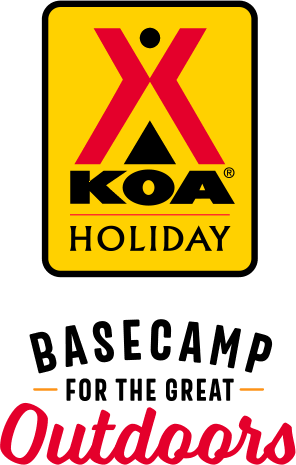 KOA Holiday Campgrounds
Whether you're exploring the local area or hanging out at the campground, KOA Holidays are an ideal place to relax and play. There's plenty to do, with amenities and services to make your stay memorable. Plus, you'll enjoy the outdoor experience with upgraded RV Sites with KOA Patio® and Deluxe Cabins with full baths for camping in comfort. Bring your family, bring your friends, or bring the whole group – there's plenty of ways to stay and explore.
KOA Holidays Feature:
RV Sites with a KOA Patio®
Deluxe Cabins with full baths
Premium Tent Sites
Group meeting facilities
Directions
Eastbound or Westbound: Exit 11A off I-280, 1 mile to Andalusia Rd (third traffic light), turn left, 1 mile to entrance on left.
Get Google Directions
Sep 26, 2021
Campsites are a little close to each other. Super organized, nice staff
Sep 26, 2021
The bathrooms were clean, the people at the desk and around the campground were pleasant and helpful.
Sep 25, 2021
Nice and clean showers and rest room. Staff was great. Sites are a bit snug but very well maintained.
Sep 25, 2021
Quick to get us to our site
Sep 25, 2021
Could be a pretty setting, but water was stagnant and green and mosquitoes were terrible, plus goose poop was all over the grassy areas. Maybe it was just because it was the end of the season. I would look elsewhere next time we are passing through.
Sep 25, 2021
very nice staff, well kept campground.
Sep 24, 2021
We enjoyed the Campground, there was plenty of room to maneuver into the sites. We were impressed with how nice the staff was and for sure will be back.
Sep 23, 2021
Really clean facilities. We enjoyed the park! Our site was beautiful with a nice view of the water. The staff was really nice and helpful. We would definitely return!
Sep 23, 2021
Maybe blow out the motorcycle area other then that. �ϋ��
Sep 23, 2021
Such a beautiful site we had, by the fishing pier. A very nice view, and our site had plenty of space and nice grass. Would definitely stay again.
Sep 23, 2021
This is the best KOA camp. The pavilion is awesome for sitting by the lake and just enjoying the nature. Great setup for fishing in two lakes. Just beautiful! And what awesome friendly people.
Sep 22, 2021
Loved our site across from Gazebo. Very clean restrooms, friendly & helpful staff.
Sep 22, 2021
Very nice campground. Staff was friendly and helpful.
Sep 22, 2021
Very nice cabin and staff very helpful.
Sep 22, 2021
Great showers nice laundry staff was friendly
Sep 21, 2021
Great clean sites and friendly staff.
Sep 21, 2021
This is our 2nd time staying here & it is a great location to visit all areas of the Quad Cities! Will stay again on a next trip to Iowa.
Sep 21, 2021
Very helpful reception. Clean bathrooms and showers. Our dog loved the fenced in dog park.
Sep 21, 2021
Friendly staff slots are a little small and close together but other than that this is a great location
Sep 21, 2021
Excellent stay as always! We stay a Rock Island KOA at least once a year but normally it is more than that. Great folks at the front desk and very hospitable and will give us info on any place we might want to go to such as food establishments, fuel fill up and area places to see.
Sep 21, 2021
Great property. However, did not receive WiFi password via text as promised. Called the office to get it but they were closed.
Sep 20, 2021
No map of park with rules and locations of dump. Dump is poorly located and would block traffic if used.
Sep 20, 2021
Campsites were clean and the campground was quiet very peaceful
Sep 20, 2021
this park is very well located for anything you want to do in quad cities. However, customer service and overall attitude by the front desk was grouchy at best. Literally 1st time in 35 years of camping that i was being kicked off my campsite @ 11AM SHARP. owner was gracious to allow us to stay until noon. raw sewage in ditch adjacent to our site was concerning as well. truth = sorry
Sep 20, 2021
We enjoyed our stay very much. only wish the back in sites were wider.
Sep 20, 2021
The campground was nice but the employees just weren't
Sep 19, 2021
Great place to stay clean well-kept campground
Sep 19, 2021
Nice park, clean friendly
Sep 19, 2021
Repeat customer. Friendly staff, clean and well kept facilities, nice setting to walk after a day of driving
Sep 19, 2021
Check in process was very slow due to the fact that only one person was working the entire campsite. She was working front desk and showing people to their sites. She was not very friendly at all when she returned to the office to check me in. Told me I had to wear a mask to enter store but when she waited on me at walk up window she was not wearing her mask!? Not likely to return.
Sep 18, 2021
Nice place . Quiet . Helpful and friendly staff.
Sep 18, 2021
The lady at the desk was warm and welcoming. The woman who escorted us not. When I told her we had bought wood she made a discussed face face. Once at our sight she went to the back of the sight, when I needed to pull forward and re align she again made a discussed face,she directed me in then walked up and said your in and walked off I would have my slide over the neighbors table. Trash all ove
Sep 18, 2021
Staff was super nice! Quiet campground!! Super clean!!
Sep 17, 2021
While we only there one night, the campground was in excellent shape. The staff was very helpful and cheerful. The sites were large and we actually had a deck instead of a patio. It was different but nice.
Sep 17, 2021
Great place. Large site overlooking the water there. Currently have road work going on outside of camp & it woke us at 6am. Only downfall, but not KOA's fault. Absolutely beautiful.
Sep 17, 2021
Very friendly staff, gave us a great recommendation for breakfast at a small local restaurant excellent. We will see you again on our next trip west.
Sep 17, 2021
Best dog park we've ever seen at a KOA very nice park