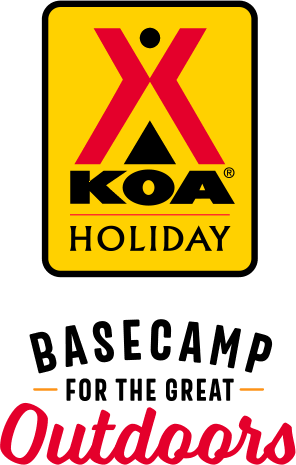 KOA Holiday Campgrounds
Whether you're exploring the local area or hanging out at the campground, KOA Holidays are an ideal place to relax and play. There's plenty to do, with amenities and services to make your stay memorable. Plus, you'll enjoy the outdoor experience with upgraded RV Sites with KOA Patio® and Deluxe Cabins with full baths for camping in comfort. Bring your family, bring your friends, or bring the whole group – there's plenty of ways to stay and explore.
KOA Holidays Feature:
RV Sites with a KOA Patio®
Deluxe Cabins with full baths
Premium Tent Sites
Group meeting facilities
Directions
Eastbound or Westbound: Exit 11A off I-280, 1 mile to Andalusia Rd (third traffic light), turn left, 1 mile to entrance on left.
Get Google Directions
Oct 04, 2021
Problems with one ac which caused the cabin to be stuffy.
Oct 02, 2021
The park is nice. My one concern about all KOAs is the WiFi. It is advertised as free WiFi, but in most KOAs I was kicked off constantly even if Icould get on in the first place.
Oct 02, 2021
Wonderful experience.
Oct 01, 2021
Quiet and clean campground. All the amenities you need. Look forward to staying again.
Oct 01, 2021
Very clean and pleasant campgrounds. Only stayed the one night but if needed would stay longer. Great to have a pool and very nice showers.
Oct 01, 2021
Great campground. Nice grounds. Nice pool. Extended season due to 91 degree weather. So great that they considered the comfort of their guests. I will definitely return to this KOA next summer!
Sep 30, 2021
Clean, modern and good customer service.
Sep 29, 2021
One night stay while transitioning home. Nice RV park. Would stay again.
Sep 29, 2021
Nice camp site however you need a better map or signage. We checked in after midnight and left at 7am in the morning. It was a cross country pit stop to rest. We used night check in but couldn't find our RV spot in the dark. We ended up parking where we could.
Sep 29, 2021
Enjoyed our stay and found the site excellent all the around. Very friendly staff and very informative. Will definitely stay again and will tell others. I highly recommend this site
Sep 28, 2021
Staffs are very nice, and my daughter's favorite is very Clean and well maintain bathroom/ Shower. Will definitely come back again next year.
Sep 28, 2021
Noisy area. Very industrial. Not a camping experience, just a place to stop overnight. Left 1 day early with no refund.
Sep 28, 2021
Great time as always great staff
Sep 27, 2021
We have stayed here before and always enjoy our stay? I love walking around the lake! The dog park is awesome! Only thing I would change is a later check out time. We love our mornings.
Sep 27, 2021
The staff member with the colored hair was the only pleasent staff member. Most employees were rude. This KOA is mostly permanent sites. And $95 for golf cart rental is highway robbery. While staying at a KOA In Branson, the rental was $45. Will never stay there again.
Sep 27, 2021
very clean, hospitality and "friendliness" is not the best, they are not the most welcoming management team we have stayed at. however, sites are nice and it is a typical KOA, nothing special.
Sep 27, 2021
Facilities were updated, definitely need a good deep cleaning. Cabin full of cob webs and stuffy. Bathrooms shower floor mats could use a pressure washer.
Sep 27, 2021
We loved the campground! It was our first night in our new camper and it was wonderful! Showers and bathrooms were immaculately cleaned!
Sep 27, 2021
The bathrooms and showers were excellent. The staff is very helpful. I wish the fish were biting better. I'll get 'em next time.
Sep 27, 2021
I gave it 2 stars because the campground is beautiful and well maintained, but the staff behind the desk was awful - curt, abrupt and unpleasant. (Not only my reaction but others). Upon checking in I was made to return to my rig to put on a mask, and a neighbouring camper had no such request. Not only sid they not bother with my special request, they didn't even know about it. A shame ….
Sep 27, 2021
Very beautiful campground, had a good time. Besides the cabin next door thought that they had access to our spot and our patio. Was frustrating having them walk through our site and using our patio. We didn't say anything because they had small kids with them. Lack of privacy.
Sep 26, 2021
Facilities were great. Not so much camping neighbors. Midnight is past quick hours.
Sep 26, 2021
Staff wasn't very friendly….. park was nice and clean
Sep 26, 2021
We were just passing through looking for a place to get off the road for the night, get a shower, and sleep. The staff was very helpful in finding a spot to fit our needs - we were able to pull in and didn't need to unhook our camper from our truck which made for a convenient, quick exit in the morning. The showers were great - large, clean, great water pressure.
Sep 26, 2021
Campsites are a little close to each other. Super organized, nice staff
Sep 26, 2021
The bathrooms were clean, the people at the desk and around the campground were pleasant and helpful.
Sep 25, 2021
Nice and clean showers and rest room. Staff was great. Sites are a bit snug but very well maintained.
Sep 25, 2021
Quick to get us to our site
Sep 25, 2021
Could be a pretty setting, but water was stagnant and green and mosquitoes were terrible, plus goose poop was all over the grassy areas. Maybe it was just because it was the end of the season. I would look elsewhere next time we are passing through.
Sep 25, 2021
very nice staff, well kept campground.
Sep 24, 2021
We enjoyed the Campground, there was plenty of room to maneuver into the sites. We were impressed with how nice the staff was and for sure will be back.
Sep 23, 2021
Really clean facilities. We enjoyed the park! Our site was beautiful with a nice view of the water. The staff was really nice and helpful. We would definitely return!
Sep 23, 2021
Maybe blow out the motorcycle area other then that. �ϋ��