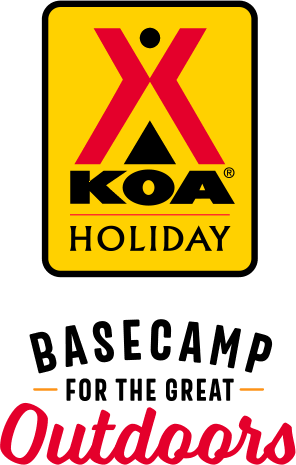 KOA Holiday Campgrounds
Whether you're exploring the local area or hanging out at the campground, KOA Holidays are an ideal place to relax and play. There's plenty to do, with amenities and services to make your stay memorable. Plus, you'll enjoy the outdoor experience with upgraded RV Sites with KOA Patio® and Deluxe Cabins with full baths for camping in comfort. Bring your family, bring your friends, or bring the whole group – there's plenty of ways to stay and explore.
KOA Holidays Feature:
RV Sites with a KOA Patio®
Deluxe Cabins with full baths
Premium Tent Sites
Group meeting facilities
Directions
Eastbound or Westbound: Exit 11A off I-280, 1 mile to Andalusia Rd (third traffic light), turn left, 1 mile to entrance on left.
Get Google Directions
Oct 19, 2021
This was my husband's and my third trip here in two years. We really enjoy the amenities, the location and the friendliness of the staff and fellow campers. We look forward to returning once more!
Oct 19, 2021
Pretty sites, beautiful views of the lakes, best shower facilities EVER!!
Oct 19, 2021
Narrow camp sites and narrow access roads. The staff indicated how inconvenient it was for them to fill the propane on the motorhome.
Oct 19, 2021
Great campground with lots of clean common areas and nice walking paths. We stayed a couple years ago on a holiday and did not enjoy the crowd, but really liked the campground. Much nicer and quiet this time in the off season. If you want enjoy the property to it's fullest I recommend the off season. Very nice check in and great staff.
Oct 18, 2021
This KOA is situated on a beautiful lake. We enjoyed hiking around the lake. This KOA is also close to many Quad Cities attractions! The campground staff were exceptionally friendly and helpful, even during the busy weekend check-in time. They made sure we had everything we needed, from helping us mail our postcards to picking up our trash bags quickly. We love Camelot Rock Island!
Oct 18, 2021
We had a great site overlooking the lake. Staff is very friendly and helpful. Wifi was very bad, had to use my phone as a hotspot to work. Other than the wifi, loved the campground!
Oct 18, 2021
Excellent as always!!!
Oct 14, 2021
It's always a pleasant experience. Very peaceful and friendly. I'm looking forward to my next stay.
Oct 14, 2021
We had a wonderful, fun weekend. The cabins were clean and met all expectations! We are making this an annual family weekend!
Oct 12, 2021
Very well kept place, the Manager was very friendly an helpful. We were only passing thru so left next morning but very nice place.
Oct 12, 2021
We stayed at this KOA over Columbus Day Weekend. The amenities were nice (clean bathroom/showers), boating available on their lake, Movie Night, Kids Halloween Weekend Theme (fun to watch), pumpkin painting, Fishing was fun. The only negative was the tent site sizes. The Covered Pavillion was a lifesaver when it began raining.
Oct 12, 2021
We stayed here on our way to visit family in western Iowa rather than at a motel. Even though it was near major highways, it still gave a sense of being secluded. The staff was very helpful and courteous. The one suggestion I have is it would be helpful to have a ceiling fan in the cabins to move air without turning on the larger ac unit.
Oct 11, 2021
The site was great, staff was very friendly and helpful! We are hoping to return in the summer
Oct 11, 2021
Always a great place to camp! Glad we could make it back for the Halloween special events.
Oct 11, 2021
We had a wonderful time at the Rock Island KOA! Plenty to do for kids and we enjoyed the Halloween parade & festivities they put on for their guests. It was quiet and relaxing. Other than one of the beds mattresses needing replaced (it was very hard) and fish restocking being necessary; we have no complaints & we would definitely stay again.
Oct 11, 2021
Our cabin was clean and comfy. Check in and check out were simple. Plenty of activities for the kids; the jumping pillow, merry-go-round, and tetherball were favorites. We happened to stay during a weekend that included Halloween festivities, and my children have already asked to book for the same weekend next year!
Oct 11, 2021
Our stay was fine. The facility itself does not measure up to KOA standards.
Oct 10, 2021
Rude reception. Won't be back or recommend to anyone.
Oct 10, 2021
Damaged fire ring and picnic table at site. There was dog waste on the ground in several locations; other KOAs have waste drop stations with bags, might help. Transition from gravel to grass was poor; seemed like gravel was used to fill bare spots of grass. Sites very close to each other. We've been to several KOAs this year and this was by far the one we liked the least, especially for price.
Oct 10, 2021
Clean quiet and staff very friendly
Oct 10, 2021
Good customer service
Oct 09, 2021
The staff, and the grounds were so nice! The restrooms especially were very clean, and maintained. The only problem we had was that our campsite was near train tracks that were really loud, and kept us up most of the night.
Oct 09, 2021
Very clean and cozy cabin. Had a wonderful stay...
Oct 09, 2021
We loved our cabin location. everybody was friendly. We enjoyed kayaking on the lake. The only thing we wish was different was the train blowing their horns at night and the traffic on the interstates. But that's nothing you can control, we very much enjoyed our stay.
Oct 09, 2021
First night air conditioner leaked all over my bed. Got no sleep because of the leak and wet bed. Found the dishwasher full of dirty dishes from the previous guest. This means the cabin cleaners never checked the dishwasher before we checked in. The floors were extremely dirty which showed the cleaners swept the floor, but did not wash them. It all shows poor housekeeping and poor maintenance.
Oct 08, 2021
Great place to stay
Oct 08, 2021
Deb at check in was not happy to see us. She was brusque, rude and unsmiling -Not the usual reception we see at a KOA. Your nice patio sites are raised with loose soil banked against it. Ankle turning every time you step off the pad. Texting the map to a tiny phone screen is nuts. I gave up trying to find anything. Remembering BOTH your id and password to constantly sign in to WIFI is ridiculous.
Oct 08, 2021
The staff at this location are just super! We weren't there long enough to enjoy all the amenities but will visit again. THANKS
Oct 07, 2021
Very nice facility and the staff was great!
Oct 07, 2021
They closed and drained the pool during our stay even though they said it was open
Oct 07, 2021
We had a great time. It was disappointing that the jump pad wasn't available to use the three days we were there.
Oct 07, 2021
Overnight but very nice . Would stay again
Oct 06, 2021
Friendly staff and great spot.
Oct 06, 2021
ANY KOA TODAY MUST HAVE HI QUALITY WIFI, THIS PARK DOES NOT THEREFORE IT WOULD NOT STAY HERE AGAIN