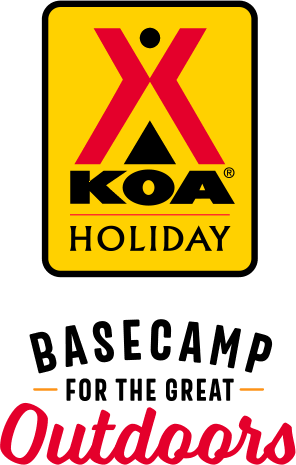 KOA Holiday Campgrounds
Whether you're exploring the local area or hanging out at the campground, KOA Holidays are an ideal place to relax and play. There's plenty to do, with amenities and services to make your stay memorable. Plus, you'll enjoy the outdoor experience with upgraded RV Sites with KOA Patio® and Deluxe Cabins with full baths for camping in comfort. Bring your family, bring your friends, or bring the whole group – there's plenty of ways to stay and explore.
KOA Holidays Feature:
RV Sites with a KOA Patio®
Deluxe Cabins with full baths
Premium Tent Sites
Group meeting facilities
Directions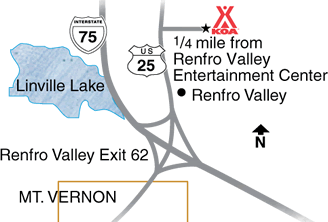 Renfro Valley Exit 62 off I-75. Proceed North on Hwy 25 for 1.5 miles (just past the Kentucky Music Hall of Fame and Museum).
Get Google Directions
Jan 04, 2021
We booked last minute in our travel and were grateful for the accommodations. The bathrooms were clean. We arrived late and had no problems finding our campsite and map that was left for us. We definitely would stay here again and plan to come back to stay longer to experience all that Renfro Valley has to offer.
Jan 03, 2021
They were great. Very helpful to get us parked safely. Definitely will come back ..
Dec 30, 2020
Very nice. Very low water pressure but everything else was nice
Dec 29, 2020
Nice KOA. We only stayed 1 night and we were texted several times to ask how we were doing or if we needed anything. Very pleasant stay.
Dec 29, 2020
This park is very tight for large rigs. Water pressure is a trickle at best. One positive note, the wifi is fast. 100mbps.
Dec 28, 2020
The stay was good, what surprised me was the steep hill on the way in
Dec 25, 2020
Very friendly. Nice place to stay. Great service!
Dec 22, 2020
Great sites, not too close together. Staff was awesome! The park was clean and in a great location. Dog park was clean and well maintained. We will be back!
Dec 20, 2020
Very short. Arrived about 5:30 and left at 8, give or take. Since we had no intention of benefitting from any amenity (although the site was quite nice) we felt it was pricey. $52.00?
Dec 19, 2020
Just an overnight stay with cool weather but nice friendly people that took care of us.
Dec 15, 2020
We love this campground for quick weekend getaways! the owners are quick to respond to every request and make you feel very welcome. The bathrooms are the cleanest I've seen!
Dec 10, 2020
It's winter camping with Covid. Stay was ok
Dec 05, 2020
We really enjoyed our stay. Very friendly staff, campground well kept nice surroundings, clean restrooms. Definitely plan on returning to your Koa in the near future.
Dec 01, 2020
You had very nice bath facilities. We didn't enjoy the snow much, but you had nothing to do with that! I think it would be a really fun place in warm weather!!
Dec 01, 2020
Just an overnight stay, but the staff had our information prepared and our site was great. We had a pull-through on the end of the row so our dogs had some space to play in the grass. Easy in and out. Will add to our list of places to return to.
Dec 01, 2020
Very friendly staff, we have stayed here 3 times on our way to Florida.
Nov 30, 2020
Nice clean campground. Would stay here again. Only problem we had was low water pressure and the sewer hookup was slightly uphill from our camper. Makes it very difficult to empty tanks and hoses.
Nov 30, 2020
The owners were fantastic. We had a mishap with our RV as we pulled in and the went above and beyond to help us. The campground is nice and our stay was great. We hope to return!
Nov 28, 2020
Very nice and quiet. Perfect for our stopover point heading south. Water pressure is a little low, but no big deal.
Nov 23, 2020
The stay was extremely nice the all of the staff we talked to were super helpful and the bathrooms were nice and clean.
Nov 23, 2020
We absolutely love the Renfro Valley KOA. The campground is very family-friendly and the owners are always present around the campground. The communication is beyond what anyone could ask for and did I mention they have some wonderful wifi.
Nov 22, 2020
Lack of water pressure was unacceptable, staff was very friendly and helpful. Dog park was nice.
Nov 22, 2020
Just an overnight stay (been here twice before for longer stays and had great times/experience). Nice to see the improvements going on (upgraded wifi, new dog run). Campground was clean as it has been in the past. Was given a call and asked if I could move to 30 amp due to a large rig next to my planned space that be uncomfortable so liked being consulted first. Post connection was loose so 4 star
Nov 22, 2020
Nice easy to access park. Contactless check in with Covid virus in process.
Nov 18, 2020
Just for over night stay. Very friendly and prompt service
Nov 15, 2020
This was a great place to stay as it was convenient for us. The staff was very friendly and helpful. One of the staff members went out of his way to get us pizza for our dinner because the 5th wheel had a broken landing strut and we couldn't unhook from the truck. This is a very nice place to stay and they made us feel very welcome.
Nov 14, 2020
Short hours for the store.
Nov 13, 2020
We onlly stayed overnight, heading for Asheville NC. The campground wasn't bad, except for the very low water pressure.
Nov 13, 2020
A quick overnight on our way home. Staff was friendly and provided firewood. Clean bathrooms.
Nov 11, 2020
Facilities are always spotless and clean.
Nov 10, 2020
Enjoyed it but because of COVID nothing really open. But it was our first time there would definitely come back
Nov 10, 2020
Was only able to stay one night this time but the service is wonderful and the staff are so courteous and helpful. Can't wait to cone back and spend more time.
Nov 09, 2020
Checked in Wednesday afternoon ; and we were able to find our site without difficulty. The area was very neat and clean. The host and hostess were cordial and accommodating. We did many trips around the area including Ft Harrod and Cumberland Falls . Trash was picked up daily. The only minor issue was water pressure was low so we had to use our pump . Over all I would recommend this facility.
Nov 09, 2020
Just an overnight stop. Average KOA, up a pretty steep hill to get there. The roads between sites and sites themselves were eroded asphalt and washed out gravel, very bumpy and unlevel. Restrooms were in good condition. This is listed as a resort, but the amenities are somewhat lacking for that designation.
Nov 09, 2020
It was terrible , the koa staff was rude from the time we got there till the time we left as well as rude to our guest
Nov 09, 2020
Not too thrilled about site set up. Most of the sites are set up to face your neighbor. No privacy. Awnings practically touching
Nov 09, 2020
We throughly enjoyed our stay at Renfro Valley! The site was very well maintained! Thanks to Kevin & Susan for making our stay enjoyable!
Apr 26, 2021
Staff were very friendly and accommodating. They waited for us to get there a bit late so we could fill our propane tank in order to have heat for the night (first trip of the season). Bath house was clean. The only complaint we had was the lack of grass/gravel at our site. It rained one day and our site was very muddy. Still recommend this campground. We will be back!
- Kristen O'Neill on Google
Apr 25, 2021
Excellently maintained campground with plenty to do for the entire family. Staff was very friendly and went above and beyond with helpfulness. 5 stars!
- Rhonda Burkhart on Google
Apr 18, 2021
Seem like a nice place. We are on the way back from Tennessee and stopped her for the night. Cool amenities like a pet pen for a few sites and a community kitchen. The sites seemed nice and spaced out. Playground is cool for the kids and overall would like to see it during the season. Our site had its own propane grill and swing set.
- Joseph Powell on Google