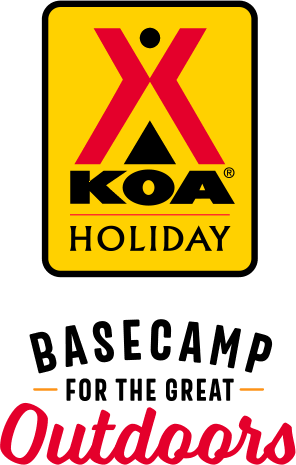 KOA Holiday Campgrounds
Whether you're exploring the local area or hanging out at the campground, KOA Holidays are an ideal place to relax and play. There's plenty to do, with amenities and services to make your stay memorable. Plus, you'll enjoy the outdoor experience with upgraded RV Sites with KOA Patio® and Deluxe Cabins with full baths for camping in comfort. Bring your family, bring your friends, or bring the whole group – there's plenty of ways to stay and explore.
KOA Holidays Feature:
RV Sites with a KOA Patio®
Deluxe Cabins with full baths
Premium Tent Sites
Group meeting facilities
Directions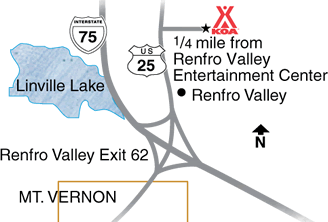 Renfro Valley Exit 62 off I-75. Proceed North on Hwy 25 for 1.5 miles (just past the Kentucky Music Hall of Fame and Museum).
Get Google Directions
Mar 31, 2021
It was a late last minute stop over and they made it easy to book over the phone and had site info by the office for us to pick up
Mar 28, 2021
Renfro Valley KOA is in a beautiful location and easy access to the Interstate and amenities. The accomodations and grounds are well kept and the staff are welcoming and caring. We felt right at home and enjoyed every minute of our stay. We are looking forward to more vacations at Renfro Valley so we can enjoy more of their history and local attractions.
Mar 28, 2021
Super friendly staff. Love that texting was a communication option. Nice location.
Mar 28, 2021
It was nice but very small. Restrooms and showers very nice! I will say things were not fully open so it would probably be much nicer during IN season.
Mar 28, 2021
Truly a home away from home. We loved our time in Kentucky and didn't want to go home! Normally after a few days, I'm counting the days "just 2 more nights and I can go home". This trip it was " only 2 more nights and we have to go home".
Mar 26, 2021
It was so nice and relaxing. The staff was wonderful!
Mar 25, 2021
Awesome way to start our camping season. At our favorite campground. The Campground looks great with awesome new spots and a renovated camp store.
Mar 25, 2021
Outstanding customer service at check in.
Mar 25, 2021
Leveling the rig was difficult. The gravel was sparse in places and side to side leveling was a challenge. The campground was not full so we are puzzled why we were assigned to a site needing repair. Staff were very friendly, we felt welcomed.
Mar 24, 2021
Easy late checkin Very clean
Mar 23, 2021
Stopped for two nights on our way through on a family vacation. Employees were great and helped out when I had an issue. Only thing, wish the water pressure was a little better.
Mar 22, 2021
I could not have picked a better place to start the camping season! Renfro Valley KOA treats you just like family, it was just like staying with your favorite cousins! Cannot wait to be back! See you soon!
Mar 22, 2021
Wonderful as always! The campground is so nice and has great amenities, clean bathhouse, and remodeled office w/ store. Owners Kevin & Holly Richard are wonderful hosts. can't wait to get back in May!
Mar 22, 2021
Very peaceful overnight stay! Thank you!!
Mar 22, 2021
We were only there one night, but the check in was easy and the people were for nice and helpful. The camp store was great.
Mar 22, 2021
We had a wonderful time!
Mar 18, 2021
We absolutely loved our stay here. The owners, their kids, and the park itself were all outstanding. Clean bathrooms, laundry facility and store. Great place all around!! We will definitely be coming back!!!
Mar 18, 2021
* Very low water pressure. * escort was a grouch and not helpful * Patio was was not cleaned off, rocks, grass, etc. * road conditions were not good. * Neighbor that came in after hours was put in a site that he could not even open slides.
Mar 18, 2021
Was a welcome sight for our late arrival. Only thing I would suggest would be some way to tell guest which sites to use. Kind of hard to tell in the dark. Lol
Mar 16, 2021
We enjoyed a nice quite weekend at Renfro Valley KOA. We arrived at dark and the site was very easy to locate with the map provided as well as having the streets marked. Our site was nice and clean and we certainly enjoyed the concrete patio. We ordered fire wood via text message while we were in Berea having lunch and it was at our site when we returned.
Mar 13, 2021
You have a very nice campground however, I was disappointed that you did not accept travel certificates. Workampers are an important part of the operations of KOA and travel from one place to the next is a must for us. Those certificates help us alot.
CAMPGROUND RESPONSE / COMMENTS:
We absolutely accept KOA workcamper travel vouchers! These vouchers should be redeemed at the time of registration.
Mar 08, 2021
Great Staff! Nice Store. We really enjoyed our stay and will return.
Mar 06, 2021
Great park. Love the spacious and convenient kamp kitchen. Nice walking trail and bark park. Convenient to bluegrass music venue, good food, vineyards, and distilleries. We will be back soon and often.
Mar 05, 2021
We were a after hours Check in. The process was very easy and convenient. The Showers were very clean and warm. The Campground offers all the hookups we needed. I would like to visit again when we can stay longer.
Mar 02, 2021
Stayed overnight while traveling. Easy access from I75. Clean restrooms even though we had lots of rain.
Mar 01, 2021
It was after the snow melted so a little muddy. We only stayed one night on the way back from Fl. would definitely stay again management was very helpful.
Mar 01, 2021
Super friendly and helpful staff!
Feb 28, 2021
Very nice place and great people!!
Feb 26, 2021
Overnight stay only but staff goes above and beyond!
Feb 18, 2021
During an Ice-snow Winter Storm, we were kept updated, and informed of weather, road conditions, and availability of supplies (propane). They went out of their way to find us other accommodations. Couldn't ask for better service during such a difficult weather situation.
Feb 18, 2021
Should have off season rates when everything at campground is closed
Feb 15, 2021
We enjoyed our visit very much and will return soon
Feb 11, 2021
Great overnight stay, didn't unhook, nice staff!
Feb 09, 2021
The site and campground was clean and had all the needed amenities. Checking in and out was easy and kept us on the road while enjoying our stay.
Feb 07, 2021
Great koa, will be back!
Feb 06, 2021
It was good, but the site was very muddy around the pedestal. The site was so unlevel my right side wheels were off the ground. This was a pull through and we were only there one night. The staff communicated well and there was alot of ammenities. Overall, a good stay.
Feb 05, 2021
My wife and I checked in with your KOA and we were able to request assistance in finding a resturant for dinner. They recommended the Limelite Grille....more than a family style envoirment!!! The park was well equipped even when it was cold out. They owners answered all our text questions and made us very happy that we stayed with them even as a winter visit. Thank You again for the pleasure.
Feb 01, 2021
Very nice clean restrooms. We arrived late and had no problem with anything. But we did not have access to the WiFi. We were told in our welcome brochure that we could find it in our welcome email. But did not receive that email. Other than that it was fine. It was just a quick stop for us.
Jan 21, 2021
Very brief, but when I asked for help learning how to dump tanks the hosts were right on it. Very helpful.
Jan 07, 2021
It was very nice.
Apr 26, 2021
Staff were very friendly and accommodating. They waited for us to get there a bit late so we could fill our propane tank in order to have heat for the night (first trip of the season). Bath house was clean. The only complaint we had was the lack of grass/gravel at our site. It rained one day and our site was very muddy. Still recommend this campground. We will be back!
- Kristen O'Neill on Google
Apr 25, 2021
Excellently maintained campground with plenty to do for the entire family. Staff was very friendly and went above and beyond with helpfulness. 5 stars!
- Rhonda Burkhart on Google
Apr 18, 2021
Seem like a nice place. We are on the way back from Tennessee and stopped her for the night. Cool amenities like a pet pen for a few sites and a community kitchen. The sites seemed nice and spaced out. Playground is cool for the kids and overall would like to see it during the season. Our site had its own propane grill and swing set.
- Joseph Powell on Google