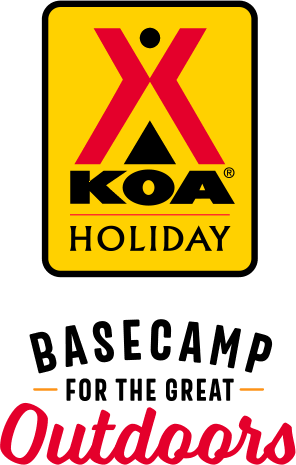 KOA Holiday Campgrounds
Whether you're exploring the local area or hanging out at the campground, KOA Holidays are an ideal place to relax and play. There's plenty to do, with amenities and services to make your stay memorable. Plus, you'll enjoy the outdoor experience with upgraded RV Sites with KOA Patio® and Deluxe Cabins with full baths for camping in comfort. Bring your family, bring your friends, or bring the whole group – there's plenty of ways to stay and explore.
KOA Holidays Feature:
RV Sites with a KOA Patio®
Deluxe Cabins with full baths
Premium Tent Sites
Group meeting facilities
Directions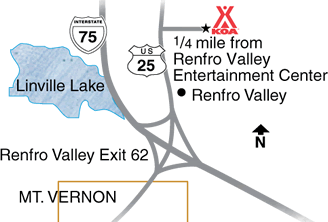 Renfro Valley Exit 62 off I-75. Proceed North on Hwy 25 for 1.5 miles (just past the Kentucky Music Hall of Fame and Museum).
Get Google Directions
Apr 25, 2021
This absolute gem cut into the hills of Kentucky is gorgeous. From the remodeled office/store to the landscaped immaculate grounds, there are attractions in the park for everyone. Stay here. It's wonderful; and, It has friendly helpful staff.
Apr 25, 2021
We reserved a 80 foot long sit and it was not 80 foot. My class A and tow dolly with my car is 70 foot long and I couldn't park straight. Had to leave my car off angle from where I parked.
Apr 24, 2021
Only stayed one night. Never had a bad experience at any KOA. Like the escort to your site. I only wish someone would have told us about the pet paws next to some of the sites. We have 3 large dogs. Will return in the future.
Apr 24, 2021
Very friendly and helpful staff. One staff member picked up our propane tank, filled it and returned to camper which was much appreciated. There were only two things that were a problem...the road noise from the interstate was very loud, and the smell from the dog park. However, the dog park must have been cleaned as the smell subsided. Good location for the historical sites visited.
Apr 22, 2021
We enjoyed the very friendly staff. They answered all our question as well as our needs.
Apr 21, 2021
The drain didn't have vent so had trouble draining rv
Apr 20, 2021
This is our second stay at this campground this year and everything and everyone was great and very helpful. Looking forward to staying here again next year.
Apr 19, 2021
We really enjoyed can't wait to come back when the weather is warmer!!
Apr 19, 2021
Great staff. Even entertained us by putting up their first TP. Site was very nice. Store was one of the best. Great bath house. Loved the stay!
Apr 19, 2021
We were only there for one night but we were really impressed with the cleanliness and the really nice people who manage the park and their very helpful employees. The young man who showed us to our site was very pleasant and most helpful. Unfortunately we won't be pulling our camper back and for to Florida but we will highly recommend your park to friends who do pull their campers back & forth.
Apr 19, 2021
The staff was very helpful and friendly. We stayed over a weekend and the events scheduled for the children on Saturday were exceptional. Our grandson particularly enjoyed the playground and we enjoyed the peace and quiet. The grounds were clean and well kept - we will be back.
Apr 19, 2021
This is our 3rd time staying here. We absolutely love it! The best part is they plan several activities for the kids on the weekends and my kids love doing them! The owners are super nice as well as the employees! We will continue to come back!!
Apr 19, 2021
It was very clean and quiet. Nice spaces
Apr 19, 2021
We stayed in the little cottage and it was so clean and nice, bed was comfortable, check in after 9PM was very easy, we will definitely be back again! Very pet friendly also which is important to us!
Apr 19, 2021
Staff was very friendly and helpful. Escorted to campsite and delivered wood. Campsites clean. Bathrooms clean and modern. Thanks for a great stay on our first night of motorcycle camping.
Apr 19, 2021
The site was terrific. I would stay there again.
Apr 18, 2021
All the personnel that I spoke to were extremely welcoming. All expressed their concern that if I need anything just give a call. My stay was excellent although I did have a dilemma upon leaving. My neighbor's truck was parked in such a way that I would not make the immediate right hand turn needed to access the exit. I had to go through an empty campsite that would allow me to exit.
Apr 18, 2021
I would rate the people there are great.I would rate the people 10. The park it self I would rate 7.Need work on.The site need work on.I still love the people
Apr 17, 2021
We overnighted on our way to Florida and were happy with the accommodations.
Apr 16, 2021
Very clean nice campground
Apr 16, 2021
Not a good spot. We hoped for a better pull thur. Not muddy.
Apr 15, 2021
Stayed two nights service was very good very clean sight.
Apr 15, 2021
No thank you
Apr 15, 2021
New to camping, our stay at Renfro Valley Holiday KOA was only our second camping trip. The staff was extremely helpful and courteous. In addition to answering all questions from new campers, the staff made a point to check on us numerous times just to see if we were okay or if we needed anything. Renfro Valley Holiday KOA is on our absolute re-visit list!
Apr 15, 2021
We love this campground! They have made great improvements, and there are more on the horizon. The staff members are all very friendly and helpful. They take great pride in making sure your stay is the best that it can be! We cannot say enough good things about the facility and those that keep it running!
Apr 14, 2021
Friendly staff willing to go above and beyond to assist. Clean facilities. Clean campground.
Apr 14, 2021
was told the only site available was a deluxe site for $67.00. Parked next to our site was a motorhome that had mold and mildew on the entire front and high weeds surrounding it. Don't know if it was occupied or abandoned or what. Not good when you pay the top dollar.
Apr 13, 2021
This place is very clean. The people go out of their way to help you. All the people that works there are very friendly, they will stop and talk to you. Great store. The bathhouse is very clean.
Apr 12, 2021
Everything was absolutely wonderful, the only negative thing I have to say was there was security light that shines directly on the private fire pit and it made it hard to enjoy the fire. I understand needed security but the sensitivety was too high and a leaf would trigger it. The staff was amazing and very helpful, it was very clean and I would recommend it even with that small complaint.
Apr 12, 2021
Love this place, staff is super friendly and helpful and spots are well taken care of spacious. Staff is always improving facilities and putting a lot of work into the grounds.
Apr 12, 2021
Clean! Super staff! Everything delivered to your site! We will be back!
Apr 12, 2021
We had a great stay! Campground was clean and all of the staff was friendly and helpful. Lots of kid oriented things to do., which was good for us and our grand baby. We knew the pool would be closed since it was early April, but we are already looking forward to coming back at a time when we know the pool will be open. I have no problem at all recommending to stay at this campground.
Apr 12, 2021
Very steep hill to get into and out of park. Sites were very un-even. Very little room to maneuver. Some sites had drop offs that you can not pull forward to leave-had to back up to get out. Only 1 RV could fit past office to get in and out. For the price, definitely not worth it. Try one down the road.
Apr 11, 2021
We stayed with you for three nights to be closer to some of the state parks for camping. The staff was very friendly as were the other campers. It looks like you are starting the season with several projects to continue to improve your campground.
May 10, 2021
Very nice place to take kids lots of things to do for all ages. They had a ball. Before we left they said they had to come back.
- VICKI WOODS on Google
May 10, 2021
We LOVE Renfro Valley KOA Holiday. The owners and staff are wonderful. It doesn't matter what the question or need is the staff are willing to help. This is our second trip this year and we are looking to schedule another trip soon. I highly recommend this campground.
- Jaime Lunsford on Google
Apr 26, 2021
Staff were very friendly and accommodating. They waited for us to get there a bit late so we could fill our propane tank in order to have heat for the night (first trip of the season). Bath house was clean. The only complaint we had was the lack of grass/gravel at our site. It rained one day and our site was very muddy. Still recommend this campground. We will be back!
- Kristen O'Neill on Google