Local Area Attractions Near Quechee / Pine Valley KOA Holiday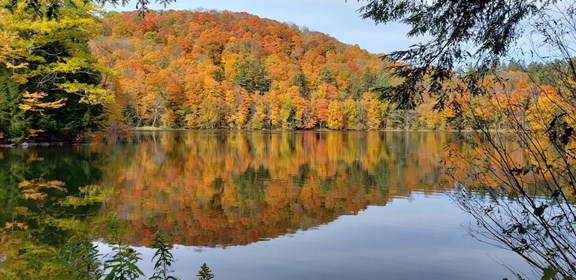 Vermont's Only National Park! The Marsh-Billings-Rockefeller National Historical Park
The only National Park in Vermont, The Marsh-Billings-Rockefeller NHP offers day hikers nearly 20 miles of scenic carriage roads and trails.  The only National park to focus on conservation history and the evolving nature of land stewardship in America.
Photo is of "The Pogue" a 14 acre pond located in the Mt. Tom forest inside the National Park.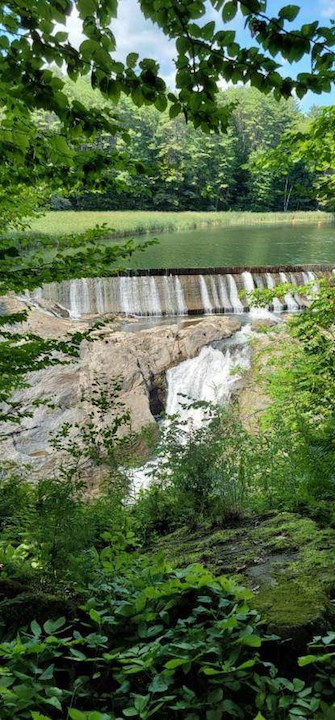 Hiking the Quechee Gorge Trail
A beautiful view of the waterfall from the Quechee Gorge Trail near Dewey Mills Pond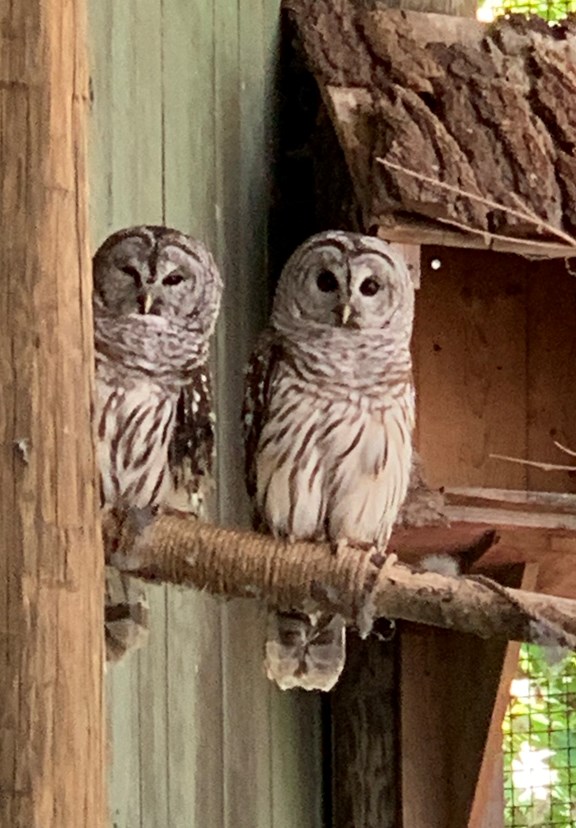 Vermont Institute of Natural Science (VINS) Nature Center
Get up close to eagles, falcons, owls and more! More than 40 raptors call the VINS Nature Center home. These avian predators have sustained injuries and conditions that prevent them from ever living in the wild again. The permanent residents are featured in exhibits at the nature center as well as in public educational presentations, serving as ambassadors for their species. http://www.vinsweb.org/index.php/home
The Appalachian Trail
http://www.appalachiantrail.org/site/c.mqLTIYOwGlF/b.4805427/k.732F/Explore_the_Trail_Vermont.htm
Balloons In Vermont
Take a memorable hot air balloon ride over the Quechee, Vermont area.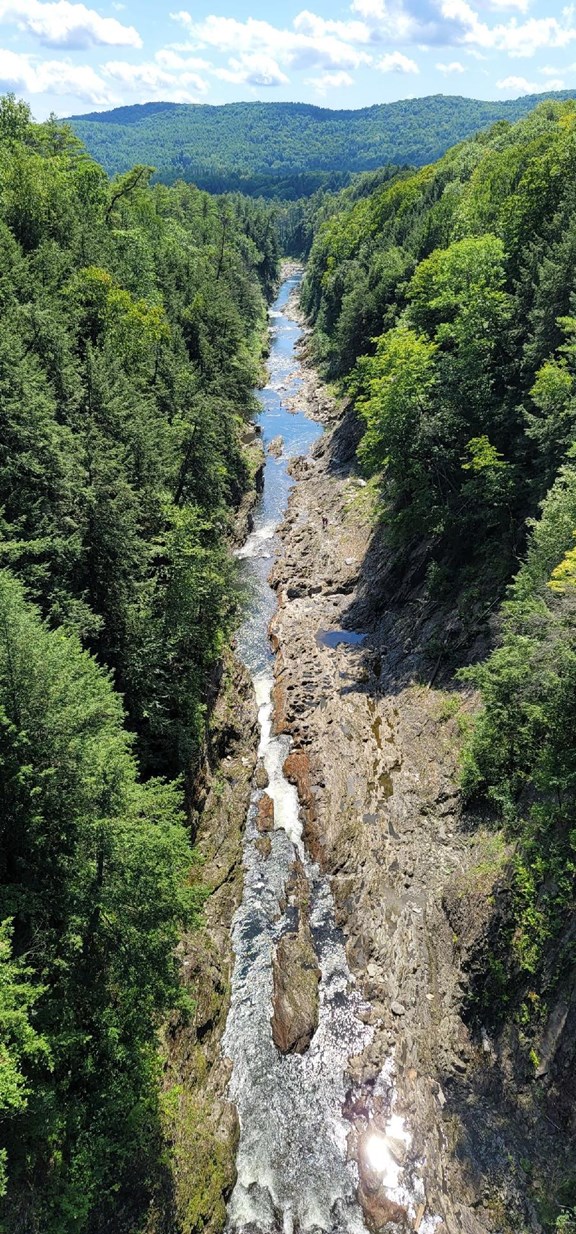 The Spectacular Quechee Gorge
The entire gorge can be viewed from the Route 4 highway bridge. From the bridge, it is a spectacular 165 feet to the river below. Quite a scenic view of the shallow valley that the Ottauquechee River has cut through.
There are also various sets of small cascades within the gorge. A favorite area attraction for sure!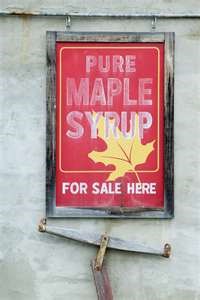 Sugarbush Farm
The Sugarbush Farm family is famous for its excellent waxed cheeses and Pure Vermont Maple Syrup made on the hillside farm. Savor the free samples of 14 varieties of cheese, Pure Vermont Maple Syrup and Vermont made foods. http://www.sugarbushfarm.com/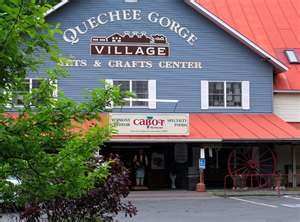 Quechee Gorge Village
Something for Everyone! Quechee Gorge Village is located in the heart of the Quechee Gorge. The village features antiques, collectibles, and craft dealers as well as the Cabot Cheese Store, Vermont Toy & Train Museum. On Route 4 you'll find Glassblowing Studio and Vermont Country Iron.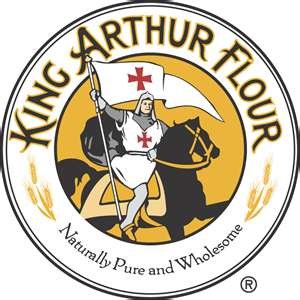 King Arthur Flour Store, Cafe, Bakery & Education Center
Making naturally pure and consistently performing flour for over 200 years. King Arthur Flour "seeks to expand all aspects of baking by being the highest quality product, information, and education resource for, and inspiration to, bakers worldwide." Norwich, VT http://www.kingarthurflour.com/ Neighboring Breweries
Long Trail Brewery: Bridgewater Corners VT http://longtrail.com/ Harpoon Brewery: Windsor VT http://www.harpoonbrewery.com/
Saint Gaudens National Historic Site
Discover the beautiful home, studios and gardens of Augustus Saint-Gaudens, one of America's greatest sculptors. Over 100 of his artworks can be seen in the galleries, from heroic public monuments to expressive portrait reliefs, and the gold coins which changed the look of American coinage. http://www.nps.gov/saga/index.htm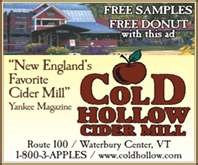 Cold Hollow Cider Mill
Cold Hollow does it the old-fashioned way, making pure cider with a traditional rack and cloth press built in the 1920s — you can even watch it being made. You'll also be lured by the warm aroma of the legendary Cold Hollow Cider Donuts. Gourmet magazine called 'em one of the country's top four donuts." They press year-round, and are open seven days a week, from 8 a.m. till 6 p.m. (7 p.m. in the summer months). http://www.coldhollow.com/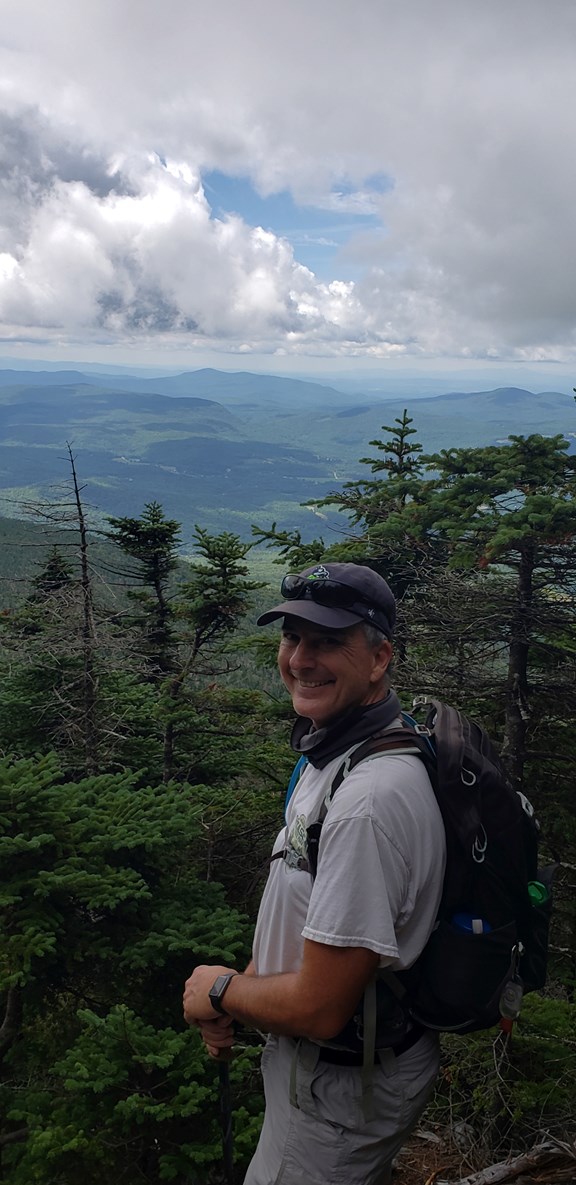 World Famous Long Trail Of Vermont
https://www.greenmountainclub.org/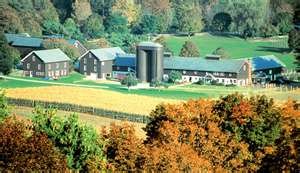 Marsh Billings Farm
Laurance S. Rockefeller's legacy is reflected in Woodstock and its environs. Here, he applied his belief in conservation, sustainable land use, and heritage as values that are essential to culture, community, and the human spirit. This is a working dairy farm. http://www.billingsfarm.org/ Vermont Marble Museum
Learn the history of marble. From fascinating ways of quarrying it to famous places Vermont Marble is being used. http://www.vermont-marble.com/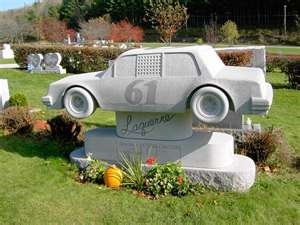 Hope Cemetary: Barre Vermont
Yes, we said cemetery! Take a minute and check out the website of amazing photos. Seeing is believing. Located on a small hillside in Barre, VT, the "Granite Capital of the World", the Hope Cemetery stands as a magnificent tribute to the stone cutters and artisans peacefully interred amongst their very own creations. Truly one of a kind. http://www.seacoastnh.com/dct/barrecemetery.html http://www.vermonter.com/hopecemetery.asp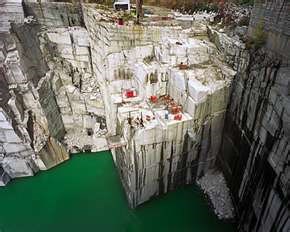 Rock of Ages- Barre Vermont
Tours to an active granite quarry nearly 600 feet deep, as well as tours of a 160,000 square-foot factory. Watch cutting, polishing and sculpting of granite. Popular destination. http://www.rockofages.com/en/gift-shop-a-tourism

Green Mountain Rock Climbing
Vermont's best indoor climbing experience; Green Mountain Rock Climbing Center is located on Woodstock Ave., (Rt. 4) in Rutland, Vermont. Rutland Vermont http://www.vermontclimbing.com/Home.html