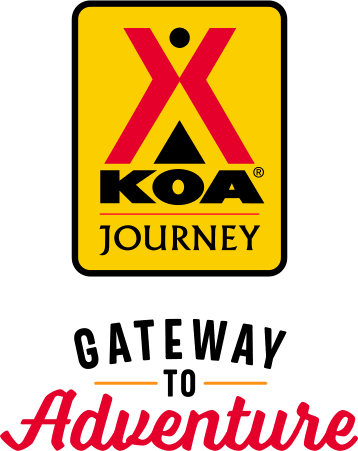 KOA Journey Campgrounds
KOA Journey campgrounds are the perfect oases after a day on the road. Whether it's along the way or a quick getaway, they've got you covered. Located near the highways and byways of North America with long Pull-thru RV Sites, they deliver convenience to the traveling camper. Pull in, ease back and take a load off.
KOA Journeys Feature:
Pull-through RV Sites with 50-amp service
Premium Tent Sites
Well lit after hours check-in service
Directions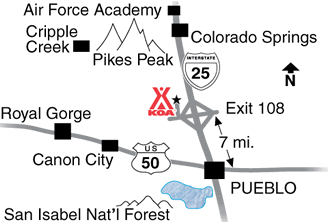 7 miles north of Pueblo at Exit 108. Take road next to Southbound exit ramp. Do not rely on GPS to find us.  Call or use these GPS coordinates: N38.40952, W104.61642
Get Google Directions
Sep 08, 2020
Wonderful people
Sep 08, 2020
It was an excellent stay. Everything was clean and nice. Hosts were super! Thanks for everything.
Sep 08, 2020
Noisy due to freeway. Should have more detailed directions to avoid the 13' 3 tunnel. Too many large rocks lining sites. Had to back out of pull through in order to make turn with larger 5th wheel due to rocks. Positives: Good staff.
Sep 08, 2020
Hot tub wasn't open. We asked about it and was told it would be open the next day. We were there 3 days and it never opened. Other than that it was ok. Did use laundry room. It was clean.
Sep 08, 2020
A very nice and clean campground with a pool that we were happy to use. And the staff were super friendly!
Sep 08, 2020
All was great KOA's always usually are. Staff great, only thing I've never had a cabin without a fire pit and grill. I didn't have either one, and had to borrow from KOA a small grill, and pay to rent fire pit. Small showers, I have never been charged per pet, when I reserve cabin I said pets YES, and never been asked how many and charged more (a chiweiny and a chihuahua.) Still had a great time.
Sep 07, 2020
Great campground. Very clean and the staff is very friendly.
Sep 07, 2020
We loved the Deluxe Cabin; might consider providing dish cloth & dish towel in mini kitchen.
Sep 04, 2020
Very accommodating. We were having MH trouble and it was a last minute stop as we waited for parts. They have great ice cream cones in the evening too.
Sep 03, 2020
Have stayed at a lot of KOA's. Have never had one that listed in all caps "be out by 11AM or we will charge you for another day".They may have thought they were being funny. They were not. And there no mention of a tunnel at 13' 3" , maybe that was correct? That should have been in their information.
Sep 02, 2020
Beautiful scenery - outstanding water pressure- friendly helpful staff - love they will pu propane bottles at RV site, fill and return them for a fair price - fun gift shop- food delivery to the RV a huge plus. Will definitely stay again
Sep 01, 2020
In for overnight pull through was large level and well maintained. They offer pizza and salad on site yummy. Will be back for sure
Sep 01, 2020
Every one is very kind and professional. Always working to keep the campsites and grounds clean. The Pizza was great!
Sep 01, 2020
Only stayed one night. Super friendly super clean.
Sep 01, 2020
Easy check in drive up service. Personable and friendly staff, clean cabin and proximity to shower/bath house was just fine! Would stay again.
Aug 31, 2020
Easy friendly courteous check-in. Neat well cared for KOA,
Aug 31, 2020
Friendly and courteous and the pizza and wings were great
Aug 31, 2020
Very nice facility, beautiful scenery, very pleasant stay. Thank you
Aug 31, 2020
The staff were fantastic and the facilities were clean and well maintained. We rented a the basic Kabin and it suited our needs perfectly. And to top things off they deliver pizza and wings.
Aug 31, 2020
Great Stay, Super Clean, Super Friendly Staff!!!!
Aug 30, 2020
Great Campground! Beautifully kept grounds, friendly staff, all around great trip for us! Thank you!
Aug 29, 2020
The staff were very friendly, helpful and welcoming
Aug 28, 2020
Great staff and nice place!
Aug 28, 2020
Arrived 10:47 am. Staff told me my reserved spot was occupied so we had to go away until 1 o'clock. I saw 4 empty spots directly in front of our rig. Parked in walmart until 1. Returned to rv park and staff led us directly to one of the spots that we noted as empty earlier. Not a big deal but not very accommodating. Mostly nice staff but man that rakes the gravel was rude and aggressive.
Aug 27, 2020
The grounds were kept neat and clean. Staff was friendly and helpful. I think the bathrooms could use an update and a better locking mechanism on the shower stalls.
Aug 26, 2020
New gravel site with patio, fire ring and bbq. Overpriced but nice...
Aug 24, 2020
We really like the Pueblo KOA. The people are nice and the park is really well kept. Our patio site was long and level with a large patio area. We didn't need to unhook our Jeep from our 45 ft motorhome. The exit from the interstate is really funky but that wouldn't keep us from staying at the Pueblo KOA again.
Aug 24, 2020
We made a last-minute reservation at the Pueblo KAO. The owner was very helpful in meeting our need for a one-night stay. The campground is a few miles outside of Pueblo so if you need any supplies it is best to pick them up before heading to the campground.
Aug 20, 2020
Very clean and tidy.
Aug 19, 2020
Everything was perfect The staff was very friendly and went out of their way to make us feel welcome. Nice big sites. Really enjoyed our time there.
Aug 19, 2020
It was a very nice day and your staff are very friendly thank you again
Aug 18, 2020
The sites are huge and accommodate the big rigs with no problem. The staff were so friendly and the grounds were so clean and well kept. The obvious results of all the hard working staff that were ever present.
Aug 17, 2020
Was a convenient stop for us, just overnight. Lot of traffic noise from Hwy 25 & train noise from the tracks next to the hwy. Was windy, so dusty. All staff was very friendly. Liked that they had a small dinner menu to order from. Appeared to be several families utilizing the pool & some of the other amenities. Not a place we would stay for any length of time, but appreciate it was there.
Aug 17, 2020
Excellent host's! Everyone was so friendly. Grounds were impeccable and pool was delightful. Ice cream in the hot afternoons was the best. Bring your own shade, and be ready to have a great time.
Aug 16, 2020
The people who run the keyway are very welcoming and friendly. They went above and beyond to make sure that we were happy. Although very hot the pool was refreshing. Restrooms or very clean and lots of amenities. The sunsets are amazing!
Aug 16, 2020
Very friendly and helpful staff!!! We were only there for a few hours overnight, but a very cool place to visit in the desert.
Aug 15, 2020
We stayed in the deluxe cabin. Perfect for our non-camping family of 4.
Jan 01, 2021
Very nice place to stay by stayed in cabin for New Year's Eve it was very nice. This park is very well kept and the people are very nice here. Very welcoming. They had a very nice bonfire for New Year's Eve. Watched the fireworks from Pikes Peak and had chili. I will stay here again😁
- Ryan Wilcox on Google
Dec 07, 2020
Clean park friendly service
- Denise E Ortiz on Google
Oct 10, 2019
Nice camp ground centrally located and the amenities you could want.
- Jessica Nation on Google