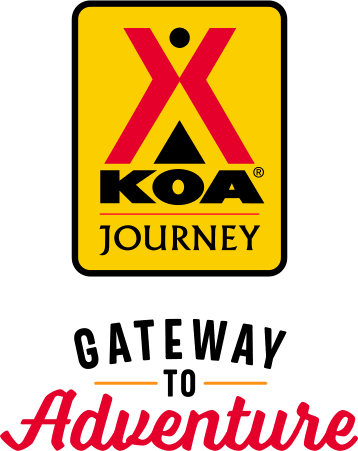 KOA Journey Campgrounds
KOA Journey campgrounds are the perfect oases after a day on the road. Whether it's along the way or a quick getaway, they've got you covered. Located near the highways and byways of North America with long Pull-thru RV Sites, they deliver convenience to the traveling camper. Pull in, ease back and take a load off.
KOA Journeys Feature:
Pull-through RV Sites with 50-amp service
Premium Tent Sites
Well lit after hours check-in service
Directions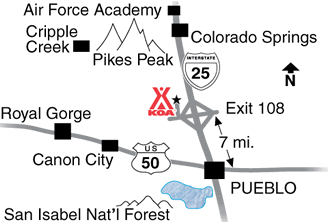 7 miles north of Pueblo at Exit 108. Take road next to Southbound exit ramp. Do not rely on GPS to find us.  Call or use these GPS coordinates: N38.40952, W104.61642
Get Google Directions
Sep 28, 2020
I had a very nice time and the facilities were clean. However, I found it unnerving that none of the staff in the main office (there were 4 of them there) wore a mask. It was my understanding that it is state mandated to do so inside due to COVID.
Sep 27, 2020
Very comfortable and great price!
Sep 26, 2020
Staff was very friendly and very excited to help in any way. Camp sites were very clean. Easy to get in and out of, the space you were assigned
Sep 26, 2020
Noisy..traffic on I-25 all day and all night! Reasonable. Sites easy access full hookup sites. Gravel needs to be added. Dusty. Clean, social distancing, masks, well maintained tables. Trees with shade in the afternoon on sites. Owners friendly and efficient. Pizza and wings delivered to site. Cheesy, but o.k. Did not use restrooms due to Covid. Difficult to access with a tunnel
Sep 25, 2020
Terrific hosts! Clean campground. Great facilities. Wonderful welcome upon arrival. The pool and hot tub areas were very clean and welcoming. Food and ice cream available for order. Short stay but I definitely would go back.
Sep 25, 2020
State mask mandate but the two women checking in weren't wearing masks. They also held a conversation for several minutes before acknowledging me and checking me in. The site is next to a very busy freeway and trains run all night very nearby as well. It was a place to stay but I'd never go back voluntarily.
Sep 25, 2020
Loved this campground! Sheri and Frankie were awesome at check-in. All staff was friendly. Campground was clean and well maintained. Would stay here long term and plan to stop here again.
Sep 25, 2020
Almost damaged our RV on that u turn off the freeway & into the campground driveway. A new staff member made a mistake by one day & then Lied to cover herself. Camper next to us had the backend of his camper ripped out as another camper rear ended Him while he watched TV. Rocks are used for spacIng & if your not careful you could do real damage to your car. Will not stay here again.
Sep 25, 2020
We stayed two nights on our way to California. Very well maintained campsite. Close to Pueblo and the highway. Great staff.
Sep 25, 2020
It was just over night but was very impressed and would stay again if I were out that way. Carolyn from Louisiana
Sep 24, 2020
Friendly, helpful staff; well maintained location; clean, level pad with trees. Restrooms were clean and WiFi worked well. Overall, a pleasant stay.
Sep 24, 2020
Lots of freeway noise
Sep 24, 2020
Staff there were awesome and caring. Only thing we did not like were the large rocks dividing spaces. It was to easy to hit them.
Sep 23, 2020
Great facilities! Would stay there again!
Sep 23, 2020
The staff were friendly and helpful the sites were clean and level
Sep 22, 2020
We loved it! The park, bathrooms, showers, laundry room are kept clean. Everyone is friendly. We always enjoy are stay. See you next year!
Sep 22, 2020
Big rig accessible, beautiful views, well maintained and the staff is wonderful. See you next year!
Sep 21, 2020
the people that run the place are excellent. VERY CLEAN campground and facilities. The only negatives are road noise from the interstate and the regular RV sites are packed VERY close together. No room to stretch out between the RV's, unless you stay in the more expensive deluxe sites, which looked awesome. Next time we are down there, those are the only sites I would look at.
Sep 21, 2020
We had a tent site with no electricity but they were kind enough to find a spot without a reservation. Clean bathrooms, nice location - would definitely stay there again but with reservation next time!
Sep 20, 2020
Nice park during the current situation. Staff very friendly. Pizza they sell is great for a quick bite. Was just there for 1 night. It
Sep 20, 2020
Lovely area with great staff
Sep 19, 2020
Very helpful staff, clean campground.
Sep 18, 2020
Everything was great. I love that they fill your propane tanks and deliver them back to your site.
Sep 15, 2020
Great stay! The staff was friendly and helpful. The only real issues were the lack of water pressure in the women's shower and toilets being clogged. Men's shower/water pressure was apparently ok. We'd stay again.
Sep 15, 2020
Enjoyed our stay at the private fenced patio. Worked out great for our dogs and us. Exceptional staff.
Sep 15, 2020
We've stayed there many times. Always A+! Clean, great staff, beautiful gift shop.
Sep 15, 2020
Nice large sites. Pizza, wings, salads available for delivery to your site. Easy on off 25 southbound. Train and traffic noise only downside.
Sep 14, 2020
Great overnight stay. Right off the highway, but be careful if you are going north on 25 to get there. There is a bridge that is very low, you need to go to the next exit and come back south. It is a clean and quiet park. People running it are very nice.
Sep 13, 2020
Very helpful and polite. Very clean facility and needed a few supplies which they had and priced right. Thanks and will stay there again if passing thru,
Sep 12, 2020
Clean park. Nice long wide sites. Super friendly accommodating staff!!
Sep 11, 2020
We stayed at this KOA for a week. It is a great campground and the owners & staff are superb! Right from the start, they were super helpful. The campground is very neat and you can see they take pride in their place! Doggy bag deposit containers are spread around the perimeter. Awesome pizza and wings delivered right to our site! Great view of Pikes Peak. Would definitely camp here again!!
Sep 10, 2020
Amazing sites and growing so it should be great location with great ability for growth.
Sep 09, 2020
It's a KOA. I'm just glad we weren't going north when we left (or coming from the south). We'd hated to have to take our rig through that one-lane tunnel.
Sep 09, 2020
Love the staff and everything is always so clean and great view to the west
Sep 09, 2020
We loved the small cabin. Number 6 had the perfect view of the sunset
Sep 09, 2020
Everyone is do helpful. Just not the checking in part of it.. All around. Not sure he's name.. My bad. But he drove us right to the spot.. Bob D
Jan 01, 2021
Very nice place to stay by stayed in cabin for New Year's Eve it was very nice. This park is very well kept and the people are very nice here. Very welcoming. They had a very nice bonfire for New Year's Eve. Watched the fireworks from Pikes Peak and had chili. I will stay here again😁
- Ryan Wilcox on Google
Dec 07, 2020
Clean park friendly service
- Denise E Ortiz on Google
Oct 10, 2019
Nice camp ground centrally located and the amenities you could want.
- Jessica Nation on Google