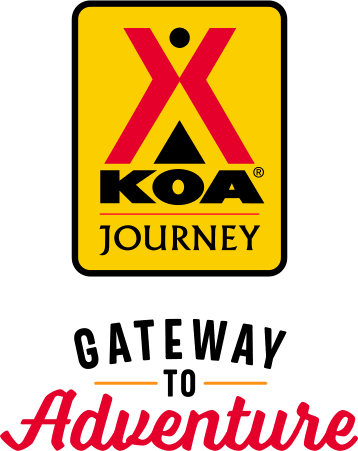 KOA Journey Campgrounds
KOA Journey campgrounds are the perfect oases after a day on the road. Whether it's along the way or a quick getaway, they've got you covered. Located near the highways and byways of North America with long Pull-thru RV Sites, they deliver convenience to the traveling camper. Pull in, ease back and take a load off.
KOA Journeys Feature:
Pull-through RV Sites with 50-amp service
Premium Tent Sites
Well lit after hours check-in service
Directions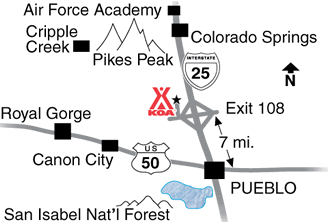 7 miles north of Pueblo at Exit 108. Take road next to Southbound exit ramp. Do not rely on GPS to find us.  Call or use these GPS coordinates: N38.40952, W104.61642
Get Google Directions
Sep 14, 2018
Tent camping with no shade is ruff, but they treat you right when there is no other choice!!
Sep 14, 2018
The restrooms were great, but the cap to the whole place was the heated pool and hot tub.
Sep 13, 2018
Friendly staff.... very clean.... everything we could want to do.... My kids & I had a blast!!!!! Thank you!!
Sep 12, 2018
Very clean and great service- loved the southern style wings!
Sep 11, 2018
A Labor Day ritual to stay at Pueblo KOA; weather not conducive for pool or soaking sun but so many other things to do! On Monday when we got ready to leave our large slide would not retract. Spent 2 add'l days till repairs were made & our Hosts were so gracious with our delays.Pool will be closed & no more pancake breakfast served by the time we make perm repars & get back but we will be back!
Sep 11, 2018
As always great stay. We came in with our new RV and had a great stay.
Sep 10, 2018
When we arrived I found out that the date we reserved was a year later. However the gentleman did everything that he could and got us a spot for two nights. We can't say how much we appreciate it we will definitely come again next year. The workers are very nice.
Sep 10, 2018
Friendly staff and a very well kept park. Sites are good for Big Rigs. Had a very pleasant stay....
Sep 10, 2018
Always a great place to stay when in Pueblo Colorado. I come down about 4 times a year and would never consider stay anywhere else. Every time I've stayed there I have enjoyed myself and the staff is great there.
Sep 07, 2018
Very friendly staff, AM trash pickup at site, graveled sites leveled with tractor, out in country but near a highway so there is some traffic, watch for low underpass at intersection if your rig is very big
Sep 05, 2018
It was an ok stay. Sad that we had to rent fire pits instead of them being available at each campground. Campground sites are super close to each other.
Sep 05, 2018
Not our best KOA experience. The campground is spotless but runny unfriendly, paranoid people. We were watched constantly by the golf cart police. They circled and circled and harassed our kids. It was a huge bummer. Unfortunately it didn't make us feel welcome or relaxed. Our boys used the pool only once because they were harassed about their ages. (14 and 16). Won't be back.
Sep 04, 2018
Campground and cabins were clean, and staff friendly. We enjoyed the pizza and ice cream, pool and hot tub. The dog run was nice and big, and the dogs had fun too!
Sep 04, 2018
I find it difficult when I rent a campsite and then I have to rent a fire pit when other campsites at this same location have a firepit built into the site.
Sep 04, 2018
It was very friendly and accommodating, we had a great time there
Sep 03, 2018
The park was nice, but noisy due to proximity to highway and railroad. Wifi was also unreliable as it kept cutting out.
Sep 03, 2018
As always a great stay at reasonable prices.Great pancake breakfast .Will continue to use camping cabins during all vacations and travel.Always nice clean reasonably priced without all the extra bullshit you pay for at big hotels and motels.Always run into nice people at Koas and get to talk and visit with them while everybody is travelling That never happens at motels or hotels.
Sep 03, 2018
Staff was friendly, bathrooms were clean but the pool needs some attention. Trees need to be trimmed back to resolve the leaves and bird poo in and around pool. But in all good stay.
Sep 03, 2018
We thoroughly enjoyed our deluxe cabin.
Sep 03, 2018
Very thankful that they worked us in. Friendly and efficient staff. The pull through was pretty level and long. The tree needed trimming to clear the roof more easily. Good stay.
Sep 02, 2018
Friendly staff, clean restrooms and showers. Generally, a nice place to stay.
Sep 02, 2018
Good pizza and clean place
Sep 01, 2018
I enjoyed the Kabin. It was perfect for my travel needs. All staff were great. They were friendly and helpful.
Aug 31, 2018
Great park. Good cable TV that doesn't require a box. Good internet. Nice staff.
Aug 29, 2018
everyone was great, kept the place really clean and loved the dog park, thank you for the stay
Aug 28, 2018
Great little cabin, nice KOA with amenities. We didn't use all the amenities but it was all was very nice and inviting. We did use the enclosed dog area and took the little nature walk. Super dog friendly, which is the most important thing to us. Thanks for everything! We are looking forward to another trip to Southern Colorado next year.
Aug 28, 2018
The scores above are not indicative of my stay. I cannot honestly rate my stay as the weather in AZ,NM and CO prohibited me from making it to Pueblo that night and we were forced to stay in Trinidad CO that night.
Aug 28, 2018
Great location. Great hosts. Very windy.
Aug 27, 2018
Great place loved the tiny home
Aug 27, 2018
Hot tub was a god sent. Kids loved to pool and the parks
Aug 26, 2018
We had a wonderful stay. Rented a cabin on our way home from a family emergency due to having our dogs. Couldn't have been better. Pizza was amazing and delivered to our cabin. Everything was very clean including the 8000sq. ft. dog run.
Aug 25, 2018
It was our 2nd stop on our trip up to Cheyenne Wyoming. We stayed 2 nights and the park was absolutely great. The only problem was the dog run. There was zero grass and it wasn't kept cleaned up. The staff was great and very helpful when we were delayed departing due to auto problems.
Aug 25, 2018
It is always fun to stay at the Pueblo KOA! It gets better and better every year! Already mad reservations for next year!
Aug 25, 2018
The campground was very difficult to get into from the north on I25 a sharp turn with a motorhome almost impossible without proir knowledge of area. The directions need to give this information. Otherwise the people were friendly and the grounds were clean and maintained well.
Aug 25, 2018
Very outdated, could be cleaner, noisy, camp hosts only moderately helpful, no ice machine, rattlesnake on site--dangerous!!!
Aug 24, 2018
Stayed 2 nights and it was fine
Aug 23, 2018
I realize it's a desert, but even those little shrubby trees are better than nothing. I'm glad I moved my site to the one tree on the grounds. There was a great view of the surrounding desert. There seemed to be a great variation of amenities, something for everyone wanting cush camping. The lights were left on all night bright as the sun, that sucked.
Aug 23, 2018
The Pueblo KOA is Looking Good! We've stayed here many times, and always enjoy it. My only request/recommendation would be to implement RECYCLING! I now have 5 bags of recyclables in my car. KOA could take a real leadership role in promoting recycling!!
Aug 23, 2018
Too many flies
Jan 01, 2021
Very nice place to stay by stayed in cabin for New Year's Eve it was very nice. This park is very well kept and the people are very nice here. Very welcoming. They had a very nice bonfire for New Year's Eve. Watched the fireworks from Pikes Peak and had chili. I will stay here again😁
- Ryan Wilcox on Google
Dec 07, 2020
Clean park friendly service
- Denise E Ortiz on Google
Oct 10, 2019
Nice camp ground centrally located and the amenities you could want.
- Jessica Nation on Google