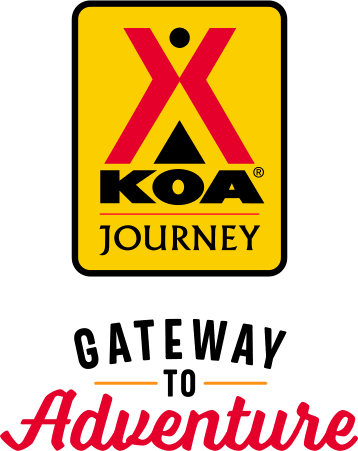 KOA Journey Campgrounds
KOA Journey campgrounds are the perfect oases after a day on the road. Whether it's along the way or a quick getaway, they've got you covered. Located near the highways and byways of North America with long Pull-thru RV Sites, they deliver convenience to the traveling camper. Pull in, ease back and take a load off.
KOA Journeys Feature:
Pull-through RV Sites with 50-amp service
Premium Tent Sites
Well lit after hours check-in service
Directions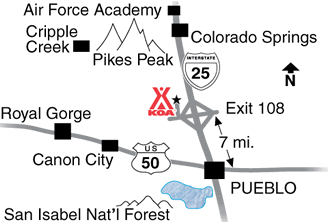 7 miles north of Pueblo at Exit 108. Take road next to Southbound exit ramp. Do not rely on GPS to find us.  Call or use these GPS coordinates: N38.40952, W104.61642
Get Google Directions
Oct 21, 2020
Beautiful desert location, friendly staff, clean park, close enough to city to catch the sites. Would defiantly stay again.
Oct 20, 2020
Stayed four days to watch grandson play baseball, great park and very clean.
Oct 20, 2020
Verry attentive to any needs I had.Clean and well organized Team. Like to lift up Mike Carolyn, and Jane,fantastic folks. Food delivery was great.
Oct 18, 2020
The private patios are wonderful!
Oct 17, 2020
We've been here 5 weeks now, we love the climate and the people in Pueblo. This is by far the best run campground we have stayed in, staff is very friendly and they work hard! There's lots to do and see in this part of Colorado, and it seems that everything is less expensive here, from groceries to oil changes for my truck. We will be back!
Oct 17, 2020
Brief, but pleasant. I enjoyed the sunsets especially.
Oct 17, 2020
The customer service was awesome! From check in to check out it was consistently awesome. We had trouble with TV hookup and Richard was so helpful. We learned a lot about our new travel home TV system from him! Thank you to him for all his help and support. The store was the best stocked and set up of all the campgrounds we had stayed.
Oct 17, 2020
This place was clean, great location, excellent sites! Also great walking trail around campground!
Oct 16, 2020
Loved the stay, it is a wonderful campground. All the employees were very pleasant.
Oct 16, 2020
Very clean, everything as advertised. Wi-fi very weak and unstable in cabins. Had to sit in pavilion in order to get stable wi-fi.
Oct 16, 2020
Really nice folks, very helpful and welcoming.
Oct 15, 2020
Loved everything, but the dust. Perhaps paving the road would help. Will definitely stay here again.
Oct 14, 2020
Hosts were great. Space was good. Clean park with plenty of walking areas.
Oct 14, 2020
Very peaceful and quiet.
Oct 13, 2020
The campground is very close to the interstate & our campsite did not allow us to escape the noise when outside. The fenced in patio area was great. I couldn't hear my music over the interstate traffic noise at all when using the patio area. The view from the campground was also good.
Oct 13, 2020
It was very enjoyable! Everyone was very helpful. The facility was very clean. Reservation was very easy. Thank you!!
Oct 13, 2020
Only one night. Great laundry facilities! Nice staff
Oct 12, 2020
Very well cared for and great sites. Pull troughs were big and plenty of room in between.
Oct 09, 2020
It was a one night stay but the campground was very nice, well set up.
Oct 07, 2020
The sites are too close together compared to other KOA locations. The greeter was nice but when I went into the office the lady hardly acknowledged me. I am used to KOA staff being very friendly and strong customer service.
Oct 06, 2020
I hated the cabin 3 cause of the bed bunk bed above sucked for a 63 year old people running most excellent service and polite. I would rent cabin with restroom next time for my husband with bad hip, thank you very much, Cindy Sword
Oct 06, 2020
Very nice campground, well maintained. We stayed 3 nights. Close to Colorado Springs and Garden of the Gods. We would recommend this KOA.
Oct 06, 2020
Stayed early October 2020. Stayed in cabin Tuesday night. Staff and very clean. On a motorcycle tour. Stayed Friday and Saturday night on my return home. Highly recommend this KOA.
Oct 05, 2020
The KOA is right next to I-25 so there is constant noise. I expected to get some work done but the WiFi was completely useless.
Oct 05, 2020
We enjoyed our stay. The sites were large and everything worked well. We had a lovely view from our site. We fed the bunnies and saw a pair of Roadrunner's. We'll stay there again!
Oct 05, 2020
Easy to locate. Very clean and staff was friendly.
Oct 03, 2020
Staff was excellent. Camp ground was very clean and comfortable.
Oct 03, 2020
Great place all around, we had a great visit!
Sep 30, 2020
My first Stay, everything worked, clean and friendly staff
Sep 30, 2020
Nice friendly staff, clean campground. Love the pizza delivery to site.
Sep 30, 2020
We stayed one night, rest rooms clean, we walked around the entire camp, this is where we saw the mountains for the first time on this trip. The employees were very friendly. Only suggestion we have is that it should be mentioned somewhere that one of the ways in, the bridge is only 13 ft. 3 inches into the park. even as a reminder. Even when a client calls in making a reservation. Thank you.
Sep 29, 2020
In a nutshell, everything was perfect.
Sep 29, 2020
Very quiet and clean camp ground. We only stayed a night. Wifi worked great which is necessary now a days.
Sep 28, 2020
I really enjoyed the big private patio & the campground was clean.The internet could be better. I did have an altercation with other camper taking my clothes out of washer during pandemic. Clothes were in washer 1 min as I time it to comeback. Signs should be posted not to touch other peoples clothes. No one was wearing masks in building mandated by state. Road noise was a little too much.
Sep 28, 2020
Friendly staff. clean park.
Sep 28, 2020
This was my first stay at a KOA. With my first travel trailer people were very nice and very helpful! The KOA was very well-maintained I was impressed by the bathrooms very nice clean the whole placeWas very well-kept and clean I will returnThank you
Sep 28, 2020
Great place if you are on the road traveling and need a place to stop. People are very nice and they have a small kitchen that will deliver to your door. Spots are large. They are on a strict water restriction so be sure to read the rules. A little loud at night as the highway is adjacent to the park.
Jan 01, 2021
Very nice place to stay by stayed in cabin for New Year's Eve it was very nice. This park is very well kept and the people are very nice here. Very welcoming. They had a very nice bonfire for New Year's Eve. Watched the fireworks from Pikes Peak and had chili. I will stay here again😁
- Ryan Wilcox on Google
Dec 07, 2020
Clean park friendly service
- Denise E Ortiz on Google
Oct 10, 2019
Nice camp ground centrally located and the amenities you could want.
- Jessica Nation on Google