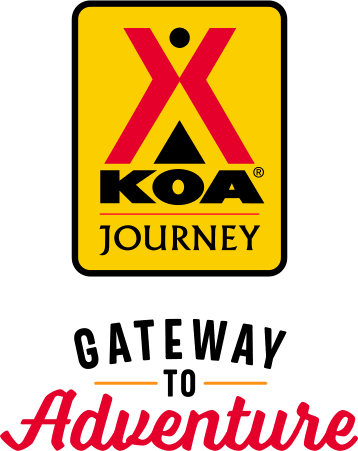 KOA Journey Campgrounds
KOA Journey campgrounds are the perfect oases after a day on the road. Whether it's along the way or a quick getaway, they've got you covered. Located near the highways and byways of North America with long Pull-thru RV Sites, they deliver convenience to the traveling camper. Pull in, ease back and take a load off.
KOA Journeys Feature:
Pull-through RV Sites with 50-amp service
Premium Tent Sites
Well lit after hours check-in service
Directions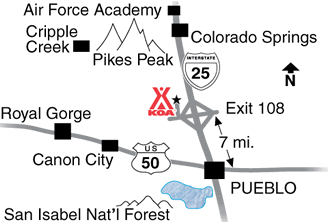 7 miles north of Pueblo at Exit 108. Take road next to Southbound exit ramp. Do not rely on GPS to find us.  Call or use these GPS coordinates: N38.40952, W104.61642
Get Google Directions
Oct 06, 2018
This was our "maiden voyage" with our fifth wheel. We had big hiccups with leveling and hookup to the truck when we left. Both times we received help with staff. Shout out, two thumbs up to Dereck and Tom. Many thanks
Oct 06, 2018
not happy fire pits not available unless willing to pay for one I do understand paying for wood
Oct 05, 2018
Overnight stay, management was exceptional. All facilities were very nice. Will here again�����
Oct 05, 2018
Very nice people that work there.
Oct 04, 2018
Staff is incredible.
Oct 04, 2018
Enjoyed our stay
Oct 03, 2018
It is a good place to pull in for the night. In comparison to other KOA we have stayed at it is average.
Oct 02, 2018
Nice campground being updated, I would have given it 5 stars but not one blade of grass around.
Oct 01, 2018
We love this park. Very clean, quite and convenient to Pueblo and surrounding activities.
Oct 01, 2018
We stayed in one of the Deluxe Patio sites. It was awesome! Huge site, lots of room. Will recommend to everyone!
Oct 01, 2018
This campground is conveniently located near Interstate and I would not rate it much as a campground but more of a safe overnight parking place.
Sep 29, 2018
Very friendly staff and spacious sites!
Sep 27, 2018
Very nice cabin. Loved the nature trail. Great gift shop. Great Pizza.
Sep 24, 2018
This is a very nice facility and would definitely stay here again.
Sep 24, 2018
The campers next to us did not have a cap for their sewer. I complained twice and nothing was done about it. Fortunately they left. I did not pay $40.00 smell sewer. Other than that it was a nice koa.
Sep 24, 2018
Everyone was sssooooo nice, thank you!!! Really liked the trees and shade.
Sep 24, 2018
short stay but it was a very nice place. will definitely go again .
Sep 20, 2018
Nice facility but hard to get to and no food near by. Great for overnughting while on the move but not so much of you want to settle in for a few days.
Sep 20, 2018
Everything was neat and tidy. Sites could be more level. Hook-ups are in an odd spot. Bathrooms need remodeling. We've been here before and will come back.
Sep 18, 2018
Staff was helpful, quiet place
Sep 18, 2018
This is where I go to unwind. Very helpful staff. I go whenever I can!
Sep 17, 2018
Loved our site..lwish we could have stayed longer!
Sep 17, 2018
Upgrade.your bathroom and add another.
Sep 17, 2018
A very hot place to tent camp, but when there is nothing else, you will be taken care of.
Sep 17, 2018
It was a wonderful experience and the people were so friendly!
Sep 17, 2018
It's a nice campground, but southbound access does not accommodate large motorhome and 5th wheel rigs. There is no area to make turning easier..
Sep 16, 2018
Our stay was great, the only problem was the freight train that run every hour at night and blows the horn four times every time....other then that everything else was perfect.
Sep 16, 2018
It was a nice campsite next to a tree. I was not surrounded by RVs. Everything was clean and neat. The hosts were friendly and escorted me to my site. My reservation was in order when I got there. The dog next to me in the cabin barked a couple of times, but got over it. All was well.
Sep 16, 2018
Too expensive for the location. Was awakened all night because if the train blaring it's horn many times during the time we were there and freeway traffic. There is no grass around our campsite.
Sep 15, 2018
The trains were loud but that was no fault of KOA
Jan 01, 2021
Very nice place to stay by stayed in cabin for New Year's Eve it was very nice. This park is very well kept and the people are very nice here. Very welcoming. They had a very nice bonfire for New Year's Eve. Watched the fireworks from Pikes Peak and had chili. I will stay here again😁
- Ryan Wilcox on Google
Dec 07, 2020
Clean park friendly service
- Denise E Ortiz on Google
Oct 10, 2019
Nice camp ground centrally located and the amenities you could want.
- Jessica Nation on Google