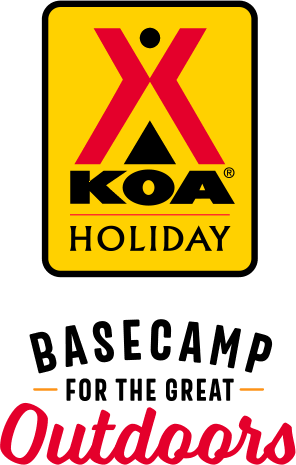 KOA Holiday Campgrounds
Whether you're exploring the local area or hanging out at the campground, KOA Holidays are an ideal place to relax and play. There's plenty to do, with amenities and services to make your stay memorable. Plus, you'll enjoy the outdoor experience with upgraded RV Sites with KOA Patio® and Deluxe Cabins with full baths for camping in comfort. Bring your family, bring your friends, or bring the whole group – there's plenty of ways to stay and explore.
KOA Holidays Feature:
RV Sites with a KOA Patio®
Deluxe Cabins with full baths
Premium Tent Sites
Group meeting facilities
Directions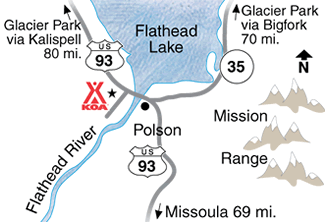 From I-90: North on Hwy 93, stay on Hwy 93 through Polson, then second left after Polson Bridge.
Get Google Directions
Aug 20, 2020
We stayed in a Lodge and it was awesome! Kids loved the pool!
Aug 20, 2020
We really appreciate that they fit us in when almost full. The staff was very helpful.
Aug 19, 2020
Staff was very friendly and helpful. Staff cleaned sites and checked fire pits between visitors. Sites were tight with steep gravel roads. Mini Golf area was in disrepair and full of leaves so not very useable.
Aug 19, 2020
Clean, quiet, friendly that sums it up
Aug 18, 2020
Just a one night stay on my way to Glacier NP, but the facility was super clean, friendly staff, great views, shaded sites, would definitely recommend to any traveler's looking for a nice place to stay.
Aug 18, 2020
I the love KOA in Polson and the cabin - I've stayed in the same cabin twice this year. However, the price is high for a cabin only.
Aug 17, 2020
Very nice. Sites close to each other
Aug 17, 2020
First time staying there! Pool is great! Beautiful and well kept! Definately recommend and look forward to our next stay!
Aug 17, 2020
Beautiful view, campsites and the hospitality was great. Would highly recommend.
Aug 16, 2020
Absolutely loved this KOA as well as the town of Polson and the surrounding Flathead Lake area. Each interaction we had with staff was pleasant, helpful and COVID conscious. The amenities including the pool, hottub, laundry and deck area were well maintained. And yes! You will see us again next year!!
Aug 16, 2020
Very pleasant... nice to have the bbq table and chairs. Our corner spot was a little busy but thanks to the gravel on the road there wasn't a lot of dust. My only complaint was the sewer hook up was at the end of my fifth wheel (my dump is in the middle) and it was uphill. Thankfully I had three sewer hoses to reach but had to keep stopping to empty the hose because of the rise. Good staff !!
Aug 16, 2020
Wonderful, we are new to camping. We will be looking for KOA from now on!
Aug 15, 2020
Very clean and well managed site. Staff is very friendly and helpful. Everyone staying around us was great about respecting the quiet hours. We would definitely go back!!
Aug 15, 2020
Very Disappointed. Camp spot was nice but the staff was very unfriendly and not helpful at all, and the airport that is below the campground will keep you up all hours of the night. I guess I'm just spoiled from the way we were treated at Glacier West KOA. If I do return to Flathead in the future I won't be staying at the Koa
Aug 15, 2020
Not family friendly 1st off, its terrible that kids are banned and not allowed in the rv resort. Ko mini golf would be great but its ridiculous after paying to stay that we have to pay to use mini golf as well.. Dont recommend this place and too posh without being welcoming to families. Been to over 20 koa and ALL have offered free mini golf and amenities. Missoula, Billings, Whitefish/Kalispel
Aug 15, 2020
Nice location overlooking town, the lake and the local airport. The site was clean and well maintained. Staff was friendly and helpful. The laundry facilities were great and accessible. Only an hour's drive to Glacier and with views of beautiful Flathead lake with access to swimming, boat launch, park and shopping only a few minutes away, it made the higher price a little more bearable
Aug 15, 2020
great location and staff is amazing!
Aug 14, 2020
Best 8 nights! Beautiful view of Flathead lake. Well kept grounds. Staff very friendly and welcoming. Laundry room very nice and reasonably priced. Nice camp store. Town of Polson was enjoyable. About 90 minute ride to Glacier National Park. It really deserves more than 5 stars!
Aug 14, 2020
Very enjoyable. Friendly staff, clean facilities, all wearing masks and keeping all in order. Will return and recommend !
Aug 14, 2020
We loved it! Great location and our end deck even had a view. Next time we'll go for a premium site with an even better lake view plus glider and barbecue. We would have booked a longer stay had we known what a nice KOA it was.
Aug 13, 2020
Very nice. The staff is very attentive. Had a mouse in our cabin, but hey - it's the great outdoors!. Laundry room was very clean. Would highly recommend.
Aug 13, 2020
Our stay was great. Wi-Fi signal a little weak. Most times we had to go outside to get a stronger signal but manageab!e. Great resort
Aug 12, 2020
Gorgeous area! Park is layed out oddly and septic in our site ran uphill which made dumping difficult. Park staff constantly drive their carts up the gravel road kicking up dust and breaking up the peacefulness of the setting. Staff is friendly and helpful though. Will stay again but will hope to pick a better site/location.
Aug 11, 2020
You guys are top notch! You deserve all the awards and accolades you are given. What I loved the most is the staff looked you in the eye And smiled when speaking and were very knowledgeable. These qualities seem to be diminishing in customer service these days. Bathrooms were A+.
Aug 11, 2020
We will be back!
Aug 11, 2020
We are so happy to stop here �. Friendly atmosphere, clean facility and great location.
Aug 11, 2020
asked to be put in a better spot but was told they were all full despite the fact that there were empty spot the time we wre there
Aug 11, 2020
We had a party come in late by our tent site and make a lot of noise and there was a light/bulb by the building by the recyclables that kept flashing on and off that was distracting. Not enough bathrooms and extra cost for mini golf/table tennis isn't seen at most KOAs. Great people and wonderful location - I'm guessing due to COVID, that's why no food was offered? Need hot tub for younger folk
Aug 11, 2020
Great accommodations, friendly staff, and clean campground. My only con is that the tent sites do not have water faucets.
Aug 10, 2020
Amazing, welcoming staff from the moment we arrived. Beautiful vistas from the terraced campsites. Quality facility. Our only wish was that the pool and pool area was a little bigger. Enjoyed the charming mini golf course!
Aug 10, 2020
Every staff member was friendly and smiling. The park itself is absolutely gorgeous and so well cared for. We did not want to come home! ;)
Aug 08, 2020
Nice and peaceful.
Aug 08, 2020
The staff were extremely friendly and gave us great ideas for places to visit in the area. We loved sitting on the deck area and just enjoying the view of the mountains.
Aug 07, 2020
as always-very pleasant--great place
Aug 07, 2020
Staff was sooooo friendly. Maintenance guy gave us a rubber ring we needed for our hose. Check out person let us stay longer so grand kids could swim. Had a very pleasant and relaxing time.
Aug 07, 2020
Nicest KOA in the US
Aug 06, 2020
It was great! Campground was lovely and the camp host amazing!
Aug 06, 2020
Excellent facilities and great staff!
Aug 05, 2020
Very friendly staff who went the extra mile to make our stay wonderful. The campground was very clean and quiet. I would highly recommend this campground.
Aug 04, 2020
One of the best RV camp A+
Aug 04, 2020
Awesome views, sites, staff, and amenities! Perfect spot to call home when you are away from home! Very clean!
Aug 04, 2020
I stayed at a tent site. There wasn't access to electricity or water, but I knew that ahead of time. It was an extremely hot day, and the tent sites offered no shade. I found solstice under a pine tree near my site. Paul, the owner, was very nice and accommodating. I would really like to see the price lowered for a tent site (it was $42 for 1 night!)
Oct 07, 2020
Great views from any spot. All the amenities, even a gym, and very solid mini golf!
- Tom Garvey on Google
Sep 22, 2020
Great campground with awesome view! Restrooms were some of the cleanest we have seen. Has individual showers which are always a welcomed treat! Was only there for 1 night and would stop there again
- Jared on Google
Sep 14, 2020
Great place to stay
- Sandra Tordoff on Google