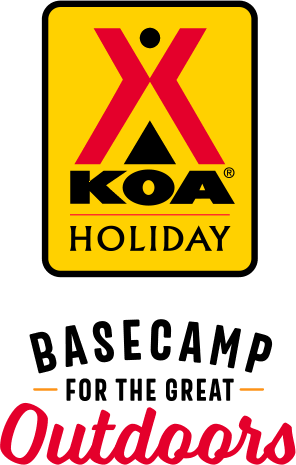 KOA Holiday Campgrounds
Whether you're exploring the local area or hanging out at the campground, KOA Holidays are an ideal place to relax and play. There's plenty to do, with amenities and services to make your stay memorable. Plus, you'll enjoy the outdoor experience with upgraded RV Sites with KOA Patio® and Deluxe Cabins with full baths for camping in comfort. Bring your family, bring your friends, or bring the whole group – there's plenty of ways to stay and explore.
KOA Holidays Feature:
RV Sites with a KOA Patio®
Deluxe Cabins with full baths
Premium Tent Sites
Group meeting facilities
Directions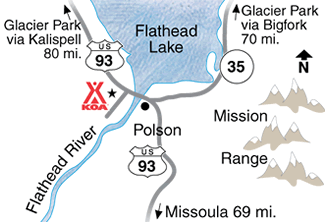 From I-90: North on Hwy 93, stay on Hwy 93 through Polson, then second left after Polson Bridge.
Get Google Directions
Sep 05, 2020
Nice Campground. The people are very friendly and helpful. Beautiful view of the lake from the campground.
Sep 05, 2020
It was great. Staff was friendly. Amenities were ok.
Sep 04, 2020
Very nice, clean,friendly park.
Sep 04, 2020
we thought the campground was ok,however.....our site 29 was unlevel and we had a difficult time making sure our rv was level. we feel they need to go in and level the spots ...other than that,the bathrooms etc were spotless and the checkin people were very nic eand acommodating...we will stay here in the future but will reserve a spot with a patio...we stayed the end of august for 4 n
Sep 03, 2020
Nice park, friendly and helpful staff.
Sep 01, 2020
Amazing place Best staff EVER!!! Can't wait to come back next year! Thanks
Sep 01, 2020
It was just very expensive for what we got.
Sep 01, 2020
Our stay was pleasant in an immaculate environment. We hope to stay again. We appreciate their courtesy and personal service.
Sep 01, 2020
Perfect beautiful
Aug 31, 2020
Cust srv was great. Grnds were clean. Cabin was cmftble. Only issue was that my car had been hit by the sprinklers ,which had dried on my cars paint . Leaving hard water spots over the entiire surface of the car including the windows. As a professional auto detailer, I know the cost to remedy this would be around $200-$300 dollars. The hard water minerals don't come off easily.It has to be buffed.
Aug 30, 2020
Very nice and clean park, Nice views
Aug 30, 2020
Best KOA I've stayed in this!
Aug 29, 2020
Very clean, well cared, great location and incredible surroundings.
Aug 29, 2020
We stayed in the deluxe cabin, they are extremely nice ,very clean and comfortable. We had an awesome vacation. Two thumbs way up.
Aug 28, 2020
Everything was great. The only downside was the playground being closed �
Aug 28, 2020
Loved our stay and will come again!
Aug 27, 2020
Of the 5 KOA's we stayed at in 6 days Polson ranks towards the top. We loved the view from the hill and the facilities were very nice. Staff was friendly and accommodating.
Aug 27, 2020
Really enjoyed it
Aug 27, 2020
Wonderful place to stay with beautiful views and a friendly staff. My 7 year old loves the pool!
Aug 26, 2020
I found the campsite beautiful, clean and very organized.
Aug 25, 2020
Clean and courteous staff
Aug 24, 2020
Beautiful property. Everything perfect except WiF- somewhat sketchy.
Aug 24, 2020
Warmly welcomed, clean facility, beautiful scenery. They seem to go above and beyond. Would definitely come back!
Aug 24, 2020
Campground itself was nice. One desk person that worked the weekend mornings was not particularly kind, seemed put out when dealing with customers. Deterred us from going into the store at all. Did not like the fact that mini golf was an additional charge. There was dog poop on our site.
Aug 24, 2020
Wonderful staff, nice location, great amenities. We would stay again!!
Aug 23, 2020
It was very nice however, you should have a later check out time, like 1 so your stay can be at least 24 hours. Maybe Check in at 3, check out at 1, or 12 noon.
Aug 23, 2020
The park was very clean and staff was friendly. The site we stayed at had a great view of the lake.
Aug 23, 2020
Large, beautiful site. Overlooked Flathead Lake. Playground was closed due to covid. Staff very friendly and helpful.
Aug 22, 2020
This review has been removed by KOA due to profanity.
Aug 21, 2020
I arrived late and left early as I was just passing through but I appreciate the late arrival system. It was easy to find my spot and everything was as I expected.
Aug 21, 2020
Beautiful area. Cabin exceeded expectations. Wow. Impressive store on site. Friendly staff. I hope to return soon.
Aug 21, 2020
Very clean, Friendly , Laundry Room very well kept up
Aug 20, 2020
Deck was nice, but because of our RV steps we had to stay back in the site. We had to walk down our steps then up the deck steps, just a little awkward. We couldn't move further to the left because of trees. So, I would say the sites are a bit narrow. We bought wood at the office, only to realize if we used the fire pit it would have been too close to our truck & the neighbor's RV. Otherwise, nice
Aug 20, 2020
Camp sites and staff were all great! Only thing I would change would be the wood chips at campsites. They get carried into trailer!
Oct 07, 2020
Great views from any spot. All the amenities, even a gym, and very solid mini golf!
- Tom Garvey on Google
Sep 22, 2020
Great campground with awesome view! Restrooms were some of the cleanest we have seen. Has individual showers which are always a welcomed treat! Was only there for 1 night and would stop there again
- Jared on Google
Sep 14, 2020
Great place to stay
- Sandra Tordoff on Google