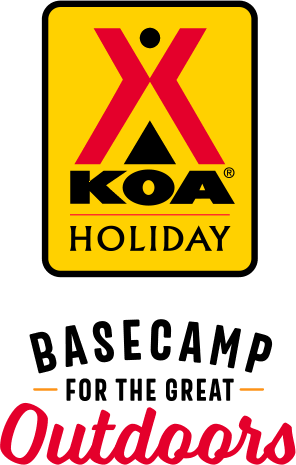 KOA Holiday Campgrounds
Whether you're exploring the local area or hanging out at the campground, KOA Holidays are an ideal place to relax and play. There's plenty to do, with amenities and services to make your stay memorable. Plus, you'll enjoy the outdoor experience with upgraded RV Sites with KOA Patio® and Deluxe Cabins with full baths for camping in comfort. Bring your family, bring your friends, or bring the whole group – there's plenty of ways to stay and explore.
KOA Holidays Feature:
RV Sites with a KOA Patio®
Deluxe Cabins with full baths
Premium Tent Sites
Group meeting facilities
Directions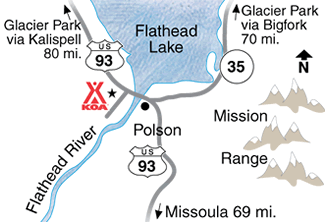 From I-90: North on Hwy 93, stay on Hwy 93 through Polson, then second left after Polson Bridge.
Get Google Directions
Sep 22, 2020
Everyone we dealt with made us feel very welcome and made sure we had everything we needed. We will definitely stay here again.
Sep 21, 2020
We loved the view and the wood deck, that makes camping cleaner. My husband loved using the hot tub. It was very nice to have a pull through as well. And our spot had a nice mix of sun and shade.
Sep 21, 2020
Very enjoyable
Sep 21, 2020
Wonderful weekend . . . your site is absolutely beautiful.
Sep 21, 2020
Everything was just great and Tina was very accommodating considering the short request for a sight for our travel trailer.
Sep 20, 2020
all was good except when the sprinklers came on,
Sep 19, 2020
We came at off season and during covid19 and extremely Smokey so it probably wasn't the best time but very clean extremely polite staff and Avery nice location. We had a 24 ft trailer pulled by a truck so the space was to small but we made do . We like a little more spacing between RVs but all and all a very very nice place.
Sep 19, 2020
Very clean facilities with amazing & personable groundskeepers. Showers and laundry areas are also spotless. Great small heated pool & hot tub. Wish it were open later! My only complaint was the notice to not walk your dogs through camp, there's a small off leash area but you are up on a dead end hill off a road so there's very little chance to walk your dog around.
Sep 19, 2020
Good location Price kinda high for gravel sites and roads
Sep 18, 2020
Wonderful resort. So glad I was able to stay here. I highly recommend it. All the staff was so helpful and friendly.
Sep 17, 2020
Very nice campground and the campground folks, owners and all were very accommodating
Sep 17, 2020
Nice sites, friendly staff, beautiful facilities. We were very pleased to see the pool and jacuzzi remained open even though it was 2 weeks after Labor Day.
Sep 17, 2020
Great site and wonderful stay. Even played a round of Miniture Golf.
Sep 17, 2020
Nice place and centrally located.
Sep 17, 2020
Beautiful, very clean, organized. All the workers are very helpful and keep the Park running smoothly. We will be back.
Sep 16, 2020
Absolutely beautiful area. However, wildfire smoke prevented us from enjoying the view. The campground is beautiful! Very nice store. Gliding chairs, wrought iron table, grill and concrete pad were provided at our site. Nice!
Sep 16, 2020
I'm use to tent sites at other KOA Campground, where I park on level ground by the tent site, either on grass or not. Basic Tent sites here seemed to be an afterthought. Pads were not level, neither were the parking areas. Campground appears build for RV's / trailers with hookups. Campground was clean, staff was friendly. Would recommend if you have a RV or trailer, not for basic tent.
Sep 15, 2020
The Staff was great. We really enjoyed our stay. Look forward to coming back in the near future. The astro turf on the golf course needs a little work but we still had a great time playing miniature golf. Mr. Fix it and cowboy John were great �
Sep 15, 2020
The Polson KOA has a great location, and the Kottage is well situated for privacy. The staff is professional and friendly, especially Karen at the front desk and "Gator Bait" Roger from maintenance..
Sep 15, 2020
It was our first time here and we will be back!!
Sep 15, 2020
This review has been removed by the moderator for inappropriate or incorrect content.
Sep 15, 2020
Super accommodating, very clean and beautiful spot!
Sep 13, 2020
Very nice park, very nice site and very friendly staff. We stayed 4 nights in a Motorhome. Plan to return.
Sep 13, 2020
Very peaceful & employees were very accommodating. Will be back next year for a few days!! ��
Sep 13, 2020
Nice place, people were very friendly.
Sep 12, 2020
The staff was great! John "Mr. Fix It" helped me get set up. Roger too. Didn't really like the picnic table location. The pool was great. Everything was clean.
Sep 11, 2020
Tha Campground was beautiful and well maintained. Beautiful view of Flathead lake. Staff was very friendly and the sites are very nice.
Sep 11, 2020
We have stayed at 6 KOAs. This one was the most disappointing. Aside from the "over the top" covid cleaning, the mandatory $150 refundable cleaning deposit was very off putting. The staff was the least friendly and helpful we have encountered. Maybe it is because they also run the class A only motorcoach park next door. And we aren't in that crowd. It was clean.
Sep 10, 2020
Our stays at the KOA in Polson are always great. Great staff, easy to locate, will be back.
Sep 10, 2020
The staff was extremely helpful to me with my trailer! I really appreciated it!
Sep 09, 2020
Gorgeous campground with great staff!
Sep 09, 2020
Still the best view of the lake in Montana.
Sep 08, 2020
We loved our spot. Easy check in/ out. Pool and hot tub were great. The only thing was an advertisement for a pancake breakfast on the outside board. We had gone and then was told it had be cancelled all summer. I do understand why they would cancel. My issue was why even advertise it.
Sep 07, 2020
Great facilities, views and location. Great personnel maintaining the grounds and providing assistance to the camping crowd.
Sep 07, 2020
Polson/Flathead Lake Koa is a very relaxing and beautiful place for camping. The same are very friendly and willing to do most anything to help make camping experience great.
Sep 06, 2020
Beautiful grounds, very clean, great showers!
Sep 06, 2020
All staff was very friendly and professional. Great facility with beautiful views. The common areas were clean, and in very good condition. We would love to return.
Sep 06, 2020
My only complaint was that we were told by Aleta that there was not a playground, when the truth was that there is a playground. Per government regulations in accordance with COVID-19, the playground was closed. I would have appreciated Aleta telling us the truth instead of a falsehood because my 2.5 year old spotted the playground IMMEDIATELY & couldn't understand why he couldn't go on slide.
Sep 05, 2020
nice facilty, friendly staff.
Sep 05, 2020
We stayed in a deluxe cabin for 3 nights. It was great. We loved the views, even though the RVs blocked most of it from our cabin at the resort below. Wish that they weren't there. Pool and hot tube were awesome with equally awesome views. Staff was friendly and helpful throughout. We would definitely stay again.
Oct 07, 2020
Great views from any spot. All the amenities, even a gym, and very solid mini golf!
- Tom Garvey on Google
Sep 22, 2020
Great campground with awesome view! Restrooms were some of the cleanest we have seen. Has individual showers which are always a welcomed treat! Was only there for 1 night and would stop there again
- Jared on Google
Sep 14, 2020
Great place to stay
- Sandra Tordoff on Google