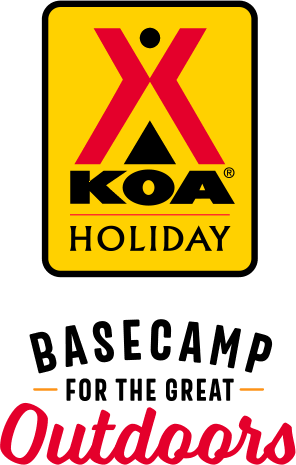 KOA Holiday Campgrounds
Whether you're exploring the local area or hanging out at the campground, KOA Holidays are an ideal place to relax and play. There's plenty to do, with amenities and services to make your stay memorable. Plus, you'll enjoy the outdoor experience with upgraded RV Sites with KOA Patio® and Deluxe Cabins with full baths for camping in comfort. Bring your family, bring your friends, or bring the whole group – there's plenty of ways to stay and explore.
KOA Holidays Feature:
RV Sites with a KOA Patio®
Deluxe Cabins with full baths
Premium Tent Sites
Group meeting facilities
Directions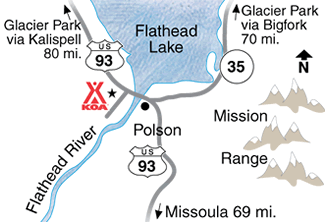 From I-90: North on Hwy 93, stay on Hwy 93 through Polson, then second left after Polson Bridge.
Get Google Directions
Oct 19, 2020
There were some minor confusion about pymt amt within the new system but the staff handled it efficiently n things were fine. The staff was very friendly and easy to talk to. The grounds were beautiful, it was disappointing that some of the typical services were unavailable due to Covid but that is obviously out of anyone's control. We do hope to return again in the future!
Oct 17, 2020
Friendly staff and beautiful setting.
Oct 15, 2020
Very nice and real friendly.
Oct 15, 2020
We found it to be pleasant along with the customer service, great gift shop. They had a dog park that was great for our dogs. I would like to come back again next year and stay longer than one night.
Oct 14, 2020
We had a very lovely stay.
Oct 14, 2020
Incredibly helpful and welcoming staff, first and foremost. This was my first ever RV experience and they made it a fantastic stay! Incredibly accommodating and helpful. The site has great views of Flathead Lake and the surrounding hills. Absolutely beautiful location. The pull-through RV spaces are nicely sized and have full hookups. Not one single issue on my first RV experience.
Oct 14, 2020
Well, they are closing down for the season on October 15th. The guy leading us to our campsite kept laughing while talking with me about the site. I am not sure if this is a professional camp resort.
Oct 12, 2020
Lovely hospitality. Accommodations are super clean!!! Loved the camp store. They set a fine example!!!
Oct 12, 2020
This KOA is staffed by a friendly, attentive group of people and the view of the lake was spectacular right from our site. We enjoyed a quiet, peaceful stay and enjoyed it very much. We were away when the wind picked up. We got a call from the KOA telling us that they were concerned about our awning, which we had left out. They offered to take care of it for us. Great experience!
Oct 12, 2020
Return Customer and another great stay!
Oct 10, 2020
Great place! Clean and beautiful view of Flathead lake!
Oct 09, 2020
If I could give more stars I would . This campground is the best I've stayed at . The people at the desk were the best I've seen. The people that worked outside were great, everyone always had a smile and was helpful . We will visit again . Thanks for a special trip ��
Oct 08, 2020
Site 29 needs to be improved as it is very slanted. The view of the Lake was a slightly redeeming factor and the helpfulness of the "guide" in providing us with an extra plank to help level our trailer was wonderful.
Oct 08, 2020
Very pleasant staff
Oct 07, 2020
Our 8 day stay was pleasant. Sites have decent space and the campground is very clean.
Oct 07, 2020
very nice people all the way around
Oct 06, 2020
Welcoming and inviting.
Oct 06, 2020
Nice campground it would be nice to have sewer connections, at the sites
Oct 05, 2020
Everyone was so nice and polite during our stay. The cabin was very clean and cozy. We liked the hot tub and the privacy of the yard. We loved it and our dogs found it very relaxing also.
Oct 04, 2020
Very comfortable, clean park. Beautiful view of the lake and mountains. Loved Having the deck at our end site. Nice place!
Oct 03, 2020
Loved the stay. Everyone was friendly and our cabin was delightful. Made friends with a juvenile Great Horned owl that I named Micah, Awesome.
Sep 29, 2020
Beautiful park! We had a pretty view of the lake. Easy to get in site! Nice putt putt course! We will be back to stay longer and spend more time in the area. The owners are very kind!
Sep 29, 2020
Probably the nicest campground we have stayed in. Our site was a bit spendy but the view and amenities made it worth it.
Sep 29, 2020
Enjoyed the Kottage very much. It's cozy, but sleeps 3 well enough. Great views and yard space.
Sep 29, 2020
Absolutely beautiful views and sites. I loved the clean bbqs and table and chairs.
Sep 29, 2020
Besides the time of year, cool and breezy. It was really nice. The park was clean and has everything you could want. Thank you
Sep 29, 2020
Beautiful campground--the view was amazing. I appreciated the cleanliness of the campground (showers, bathrooms, grounds) and the friendliness of the staff. Loved the items for sale in the little store (we purchased more than we should have!!!)
Sep 28, 2020
Usually we are just passing through but this is a wonderful stop and everyone is helpful and friendly.
Sep 28, 2020
We will be back!
Sep 28, 2020
Awesome stay, good facilities. We ended up staying another night after hiking Glacier National Park. Thanks for a great stay!
Sep 27, 2020
Cons:Our trailer is low to the ground, but it's difficult to drain uphill. Drain pipe didn't have threads to secure our connector & draining caused end to pop out and spill on ground. Quiet rule means nothing. Group of 10+ teenagers in cabin were loud, drinking and roaming the RV area with flashlights til midnight. $5 for Mini golf, but carpet is ripped, needs replaced and too much $ for condition
Sep 27, 2020
Bummed that the pool was not very well taken care of (lots of bugs), and it closed before 7:00pm. The playground was blocked off, but the other KOA near Glacier was open.
Sep 27, 2020
Being very excited to Stay at Polson KOA we checked in and were escorted to our camp site.. We were in the process of unhooking and while another camper was being escorted to the spot ahead of us one of the camp employees came out of her trailer stating that we holding up the parking of a COACH... Seriously this was VERY rude and we were trying to get unhooked as fast as we could... Not Welcoming!
Sep 26, 2020
Great stay- quiet and relaxing.
Sep 25, 2020
Beautiful location, very friendly and helpful staff, clean and well stocked cabin. Loved our personal jacuzzi! Thanks for a great stay!
Sep 25, 2020
Everything beautiful, lack of Cable the only Minus
Sep 24, 2020
Always an awesome stay. Friendly staff, quiet and very clean. Come here at least twice a year.
Sep 24, 2020
This is a beautiful KOA. Everything is clean, well cared for. Staff extremely helpful and friendly. We definitely will be returning and staying for a longer time.
Sep 24, 2020
Great location and view. Only complaint is that dewar hookup was on extreme end of my spot and not usable for my 5th wheel.
Sep 24, 2020
Enjoy the campground. Only issue was the bark used at the picnic tables.
Sep 24, 2020
Bathrooms unavailable in a.m. Charged for miniature golf course. Should be free for guests.
CAMPGROUND RESPONSE / COMMENTS:
Bathroom is closed 1 hour for cleaning from 11am-12pm.
Sep 23, 2020
Fabulous View site was amazing. Like the table, chairs and BBQ. We'll be back.
Sep 23, 2020
Stayed 4 days this time. Love the park. Staff is outstanding. Only two areas of concern. 1. Site 10 was not long enough to unhook and still park tow rig without parking at an angle with a tire on the grass. 2. Sewer dumps are positioned at the back of the spaces even though most rv's connections are located at a midway point. Sewer dumps are about six inches above grade making flow difficult.
Oct 07, 2020
Great views from any spot. All the amenities, even a gym, and very solid mini golf!
- Tom Garvey on Google
Sep 22, 2020
Great campground with awesome view! Restrooms were some of the cleanest we have seen. Has individual showers which are always a welcomed treat! Was only there for 1 night and would stop there again
- Jared on Google
Sep 14, 2020
Great place to stay
- Sandra Tordoff on Google