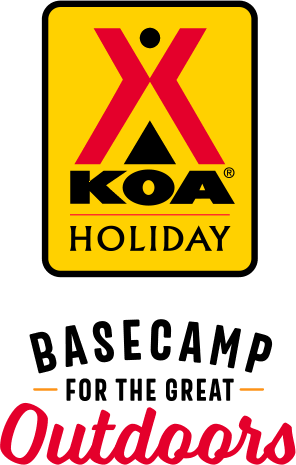 KOA Holiday Campgrounds
Whether you're exploring the local area or hanging out at the campground, KOA Holidays are an ideal place to relax and play. There's plenty to do, with amenities and services to make your stay memorable. Plus, you'll enjoy the outdoor experience with upgraded RV Sites with KOA Patio® and Deluxe Cabins with full baths for camping in comfort. Bring your family, bring your friends, or bring the whole group – there's plenty of ways to stay and explore.
KOA Holidays Feature:
RV Sites with a KOA Patio®
Deluxe Cabins with full baths
Premium Tent Sites
Group meeting facilities
Directions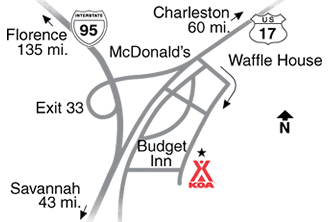 I-95 (Exit 33) at US 17 turn at the Waffle House 
GPS Info. (Latitude, Longitude): N32.625278, W80.882222
Get Google Directions
Sep 18, 2021
Always good. Works great for us.
Sep 17, 2021
We were passing through with our dogs. We stayed in a cabin and it was wonderful. Made us wish we were staying longer! The cabin was great, with a front and back porch. Long walking trail for the dogs. We had a wonderful time and would stay there again. Ben and Sue were GREAT hosts.
Sep 17, 2021
Everyone was extremely friendly and helpful. We had some issues with our RV, and the maintenance guys pitched in and helped us out tremendously. Will stay again!
Sep 17, 2021
We have stayed there twice now. Our site was right on an open corner no privacy. Wish there was more trees. Food was really good. Staff great.
CAMPGROUND RESPONSE / COMMENTS:
Choose the other deluxe patio site #52 it's wooded or back into patio site #50. Call and let us know what you want instead of letting online choose it for you. Make reservation early as they book fast. Jennifer~
Sep 16, 2021
People very helpful and courteous ground is well maintained and beautiful
Sep 16, 2021
Very nice park
Sep 15, 2021
Staffing very good and just a wonderful place to stay.
Sep 15, 2021
The staff is outstanding. Personable, handling any matters and answering questions with a great attitude. It seems they ALL love their jobs. The sites were clean and well maintained. Amenities are cared for. It was a very enjoyable visit.
Sep 15, 2021
Very clean and helpful.good takeout food.excellent bathrooms.dog run and booknook.love this place.
Sep 15, 2021
Usually stay one night but it's always a wonderful stay. Friendly, kind and courteous, all the time.
Sep 15, 2021
We only stayed one night but it was very nice and clean. The staff was nice the pizza was good!!!
Sep 15, 2021
Tent site #56 was the perfect location for Jeep camping! The friendly staff, pool, and exceptionally clean facilities were beyond my expectations.
Sep 14, 2021
Almost magical! Everything was perfect and the staff were the best!
Sep 14, 2021
Love the pizza and the wine tasting.
Sep 14, 2021
Very enjoyable staying there next Sunday
Sep 13, 2021
great campground
Sep 13, 2021
Very nice park. All hookups centrally located for ease of use. They make and deliver a great pizza. All personnel very friendly and courteous. Highly recommend.
Sep 13, 2021
Great place!!! Homey.
Sep 13, 2021
While this was only a one night passing through visit, we found the campground to be very clean and well spaced, staff friendly, and service outstanding. I will deifinitely kepp this KOA on my radar for future stays.
Sep 13, 2021
I hesitate to tell the truth because I don't it want it to be all booked up when I want to go back, but this place is absolutely wonderful! Feels like you're in some nice family's back yard - it's very well-cared for with little garden accents everywhere. Lots to do, beautiful pool, great staff - and they deliver pizza to your site. Love, love, love this KOA!
Sep 13, 2021
Beautiful place. Very shady loved our site. Very nice staff. We will be staying here a lot.
Sep 13, 2021
We have stayed at this KOA 4 times and have always had a great time. Love the walking trail, the pizza, the wine tasting, the pool. The staff and groundsmen are always friendly and helpful. We only live 25 miles away, but this is one of our favorite short getaways!!
CAMPGROUND RESPONSE / COMMENTS:
Thank you so much for making us one of your go to staycation locations. It is such a pleasure to host your stays. We truly appreciate your patronage. Happy Camping. Jennifer ~
Sep 12, 2021
Very nice well kept park
Sep 12, 2021
Only overnight but didn't have a reservation and they accommodated my needs very well and mad sure that I was hooked up without any problems. My unit is a 31 foot class C and my site was a pull-through.
Sep 11, 2021
Excellent camping experience! This KOA offers more than a check in, check out. Many amenities including great 'home made' take out pizza, beer and wine. Very friendly staff plus clean grounds and well-maintained restrooms.
Sep 11, 2021
Excellent service in a well-run establishment. The staff was friendly and helpful, the facility is well kept and attractive. We will stay here again.
Sep 11, 2021
Very friendly staff- escorted us to our site. The site was very roomy and level. Pizza and wings were good too and coming from Buffalo- that's quite a compliment!! We will stay here again next time we are in this area.
Sep 11, 2021
Super friendly staff
Sep 10, 2021
Very nice campground nestled in the trees with exceptionally friendly staff. A great place to stay.
Sep 10, 2021
Spent 3 nights in early September 2021. Enjoyed the pizza and beer. Staff was nice as well as professional. Entire facility is clean and very well maintained. Close enough to Charleston to visit and explore. Worth the trip. I would recommend this place and will stay here again in the future.
Sep 10, 2021
Did not get site we had requested when we made reservation almost 5 months ago. Person who took us to site said "under no circumstances should any tire be on HIS grass. Made it a bit hard to park long bed pickup. If we had site we requested this would not have been a problem. Office staff was amazing! Very friendly, accomadating and helpful. We will stay again, but need longer space.
CAMPGROUND RESPONSE / COMMENTS:
Divots in grass are so hard to clear and unsightly for the next guest in the site when people park in the yard area. Site 30 holds a 45' mh with a 20' tow so your 40' fifth wheel must be longer plus your long bed truck. There was no note or payment for select a site. Sorry for misunderstanding. Jen~
Sep 09, 2021
We had a one night stay and liked the campground amenities and wanted to return. Our next stay was for three nights and it was great. Great customer service, a nice pool, an espresso machine, smooth jazz playing in the bathrooms, a life size chess board! Additionally, it is close to the lovely city of Beaufort, SC
Sep 09, 2021
Friendly staff!
Sep 09, 2021
This is one of my favorite RV campgrounds! Clean, charming and everyone is so nice. We will be back!
Sep 09, 2021
Close to 95. Spacious and quiet even though close to highway.
Sep 08, 2021
The folks at this campground were extremely nice. The pizza that they make on property and some of the best I've had. Customer service was excellent. We will be back
Sep 08, 2021
The campground is very nice. The kids loved the playground.
Sep 07, 2021
Great staff and clean restrooms
Sep 07, 2021
Unfortunately, this was our last camping fishing trip of the season. Info showed fishing and other KOASweve gone to recently in SC, have fishing on site. Staff was very helpful. Arrived Friday afternoon and left Sunday morning. Disappointed.
CAMPGROUND RESPONSE / COMMENTS:
Sorry we weren't a match for you. Google would have revealed places in Beaufort, Hilton Head and Bluffton beyond the pier/boat launch I mentioned in Yemassee 5 minutes away. We offer a lot as noted in our reviews but can't be all to everyone. Happy travels, Mr. and Mrs. Davidson. Jennifer~
Sep 07, 2021
Excellent service and lovely camping grounds.
Sep 07, 2021
We only stayed 1 night but would definitely come here again. Very nice, well maintained KOA. Everyone we encountered were extremely friendly
Sep 07, 2021
Very friendly very clean would come back for sure
Oct 19, 2021
Beautiful well appointed campground, just off I95 SC exit 33, easy in easy out. Great for a overnight passing through, or stay a few and explore Beaufort, Charleston, Hilton Head, Savannah Ga., and surrounding areas. The Swimming Mermaid offers a lovely cafe, Speciality Coffees, Local Wines, Pizza, Wings, and Gifts
- carmellab219 on Trip Advisor
Oct 19, 2021
Absolutely loved it and will be back for a longer stay. Clean level sites. Extremely friendly staff that take great pride in this park. Good pizza and upscale beer and wine served at the cute bar. Clean pool and gem mining for the kids. This is how all koa's should be run.
- cindywM319XO on Trip Advisor
Oct 16, 2021
This is one of the nicest KOAs we have been to. Have stopped here 3 times since May 2021. The staff is so friendly and helpful. The grounds are beautifully kept. Had a problem when we stopped in September. They offered to let us have one of the cabins for the night. Turned out we didn't need it but we're very grateful for the offer. We will stay here every time we are heading through. Customer service is A++++
- Kathy Gabel on Google