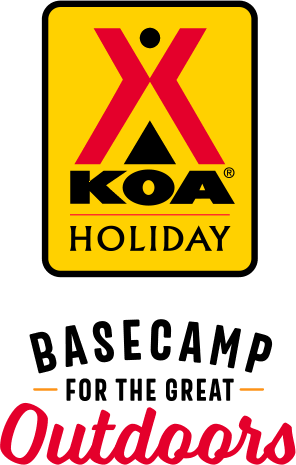 KOA Holiday Campgrounds
Whether you're exploring the local area or hanging out at the campground, KOA Holidays are an ideal place to relax and play. There's plenty to do, with amenities and services to make your stay memorable. Plus, you'll enjoy the outdoor experience with upgraded RV Sites with KOA Patio® and Deluxe Cabins with full baths for camping in comfort. Bring your family, bring your friends, or bring the whole group – there's plenty of ways to stay and explore.
KOA Holidays Feature:
RV Sites with a KOA Patio®
Deluxe Cabins with full baths
Premium Tent Sites
Group meeting facilities
Directions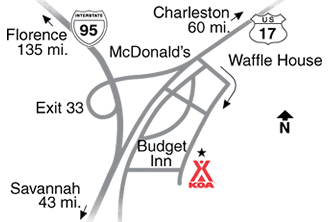 I-95 (Exit 33) at US 17 turn at the Waffle House 
GPS Info. (Latitude, Longitude): N32.625278, W80.882222
Get Google Directions
Oct 12, 2021
Beautiful location, close to I-95 so easy access but traffic noise is barely noticeable. The staff is absolutely outstanding. From reservation to check in to check out everyone made our stay so nice. Mary, Jennifer and Bill went above and beyond to help us out when we had RV trouble. The property is beautifully kept and a small slice of paradise. I would recommend this KOA to everyone.
Oct 11, 2021
When we arrived the site we were given was not acceptable. Large bushes in front of our door and another one where our slide would go. We were going to leave and go to another campground but the office staff was able to find us a site that would work with our camper. All the staff was super nice and very accommodating. We will definitely go back.
Oct 11, 2021
Great RV Park. The owner of staff are wonderful the wine tasting is great pizza was also very good how can you complain.
Oct 11, 2021
Very friendly and helpful staff. Pizza was wonderful
Oct 11, 2021
We stayed in the Deluxe cabin - it was beautiful - spotlessly clean and so pretty inside. Well stocked with basic supplies. Loved the fire pit and the grill. Spent most of our time outside enjoying the great outdoors. But the highlight in my mind was the staff. Every single person we dealt with was so friendly and so helpful. Definitely an outstanding KOA!!
Oct 11, 2021
The staff was very friendly and helpful. We stayed in a cabin which was very clean and ready for us when we arrived. The only thing that was a bit disappointing was that the grounds and landscaping needed a bit of attention.
Oct 11, 2021
Upon arrival they guided us to our spot and helped us get parked. What a great way to greet travelers! We also loved the coffee bar. The pizza was a welcome relief after traveling. Shaded sites and well maintained grounds was very appealing.
Oct 10, 2021
Nice site. Quiet.
Oct 10, 2021
Nice pull through site. Friendly and helpful staff. Clean restrooms, laundry, and pool. Enjoyed dinner. Quiet.
Oct 10, 2021
Very nice, clean and pleasant staff.
Oct 10, 2021
Easy stop overnight on way to Florida. Great pizza and wings. Have stayed there before and will stay there again.
Oct 10, 2021
Our second time staying there. We will be back! We love the area and the staff is first rate.
Oct 10, 2021
We stopped there to see if we could camp for one night because we were totally unhappy with the place where we were scheduled to stay. Thankfully they had a spot for us. The staff members we saw the most were so helpful & kind. When we had a bit of an emergency in our motorhome, the staff helped rescue us! They made us feel like family, & we camped there the rest of the week! Thank you!
Oct 10, 2021
we stay here instead of the oaks where we could stay at no cost.
Oct 09, 2021
Very Convenient and easy to access on our trips .... Have used this campground 12+ times before and never had any issues.... Very friendly staff and facilities
Oct 09, 2021
Ground are well kept. The staff is really nice. Central to Savannah, Hilton Head and Charleston. On-site pizza, coffee shop and beer were a nice touch too. Very unique place. Could use a heated pool.
Oct 09, 2021
always a joy. see you in the spring.
Oct 09, 2021
I stay here going northbound and again going southbound. Very friendly and helpful staff. Facilities are clean and well maintained. The pizza tasted great after a long drive, too!
Oct 09, 2021
Love the beer/wine/coffee bar and the pizza.
Oct 09, 2021
The Staff was Great Very Nice Campground Will stop in again Thanks Again
Oct 08, 2021
Stayed one night. Nice sites, good wifi and cable. The pizza delivered to site is a great idea especially for tired travelers!
Oct 08, 2021
Super nice, clean bath house! Nice size camp sites Very shady and beautifully landscaped facility.
Oct 07, 2021
Top notch staff. Very helpful. Site was satisfactory. Good water pressure. Very good cable TV and WiFi. Would definitely stay here again.
Oct 07, 2021
Nice pull through - was able to leave car on dolly. Very level ground. Nice shower.
Oct 07, 2021
Quiet campground off of I95. Nice pool, laundry, small store. They will prepare and deliver pizza to your site. We will return if the opportunity arises.
Oct 07, 2021
I arrived late Tuesday night at 11 pm. I was told my rate would be $48.00 and tax when I spoke with staff in the office Tuesday night. I called at 8:50 PM before office closed. I was told to take site 4 and pay in the morning on my way out. Morning staff did not agree and charged $62 plus tax. I travel between Hollywood Florida and the north east..Pennsylvania, New Jersey..ect. never stay again.
CAMPGROUND RESPONSE / COMMENTS:
We will refund the difference . We have some new staff and must have not recalled That portion of the training. The only person who doesn't make a mistake is someone who isn't doing anything. The staff was happy to assist 13 hours a day. A simple call would have sufficed instead of an upset review.
Oct 06, 2021
it was great all the way around
Oct 06, 2021
We arrived late and still got pizza.
Oct 05, 2021
Very nice campground. Great staff. Easy to get in and out. Wide roads and campsites. Pretty woods makes you feel like its really camping...not parked in shopping center lot. Nice. We would stay again in our 45 ft motorhome
Oct 05, 2021
Very friendly, clean and nice place. Wish I could have spent more time.
Oct 04, 2021
Was just a stop over to our destination. Campground was clean and staff super friendly. Only downfall was seedy motels you have to pass to the entrance and the noise from highway.
Oct 04, 2021
Had a great time! Loved the Caboose! The KOA had some great stuff.
Oct 04, 2021
LOVED IT! Thank you for all the local information, did a lot site seeing. Plus the wine and pizza was delicious!
Oct 04, 2021
It was wonderful!
Oct 04, 2021
We didn't feel welcomed as soon as we get to the KOA YEmassee campground . We booked a back in campsite online. After driving to the campground for a couple of hours, we got there late. To find out, there was not any backing space available for us. One of the personal at the office insisted to give us a refund, then said " go somewhere else".
CAMPGROUND RESPONSE / COMMENTS:
That is completely unacceptable and not our policy, culture or norm. We are so sorry! I will make this right. The person on Sept 22nd during your stay is no longer with us. We hope your travels bring more joy. As you see from our reviews across all platforms this is not our protocol. Jennifer~
Oct 04, 2021
Disappointed. Made reservations online. Paid $62.29 after reward card. Site had NO sewer and my tanks almost full. Never seen a KOA that expensive w/o sewer. They had no sites available. Had to use dump station in morning. Employees very nice. Great amenities. But they cost too much and probably have 20% of their sites w/o sewer.
CAMPGROUND RESPONSE / COMMENTS:
8% have no sewer. The sewer sites had been booked since you made your reservation on 9/27. We have a dump station driving in and out for your convenience. We would have given you 100% money back within an hour if that unhappy. 87% of 1650 reviews give us 5 stars finding exceeding value. Jennifer ~
Oct 03, 2021
Great stay, staff was incredible. Especially Sue.
Oct 03, 2021
Exactly staff
Oct 03, 2021
The folks working here are so nice. We enjoyed a local beer at the Mermaid Bar and chatted with the gal who mans the counter, and another couple enjoying two flights of wine. Everyone is helpful and attentive, and the location is perfect for a long distance drive from New England to Florida.
Oct 03, 2021
The park is very clean and well maintained. The staff are friendly and helpful. We have stayed here multiple times, and are likely to return in the future.
Oct 03, 2021
This was a one night stay. This KOA is convieniently located near Interstate-95. Great pizza can be purchased and they deliver to your camp site
Oct 02, 2021
Enjoyable stopover. People and RV sites were excellent
Oct 19, 2021
Beautiful well appointed campground, just off I95 SC exit 33, easy in easy out. Great for a overnight passing through, or stay a few and explore Beaufort, Charleston, Hilton Head, Savannah Ga., and surrounding areas. The Swimming Mermaid offers a lovely cafe, Speciality Coffees, Local Wines, Pizza, Wings, and Gifts
- carmellab219 on Trip Advisor
Oct 19, 2021
Absolutely loved it and will be back for a longer stay. Clean level sites. Extremely friendly staff that take great pride in this park. Good pizza and upscale beer and wine served at the cute bar. Clean pool and gem mining for the kids. This is how all koa's should be run.
- cindywM319XO on Trip Advisor
Oct 16, 2021
This is one of the nicest KOAs we have been to. Have stopped here 3 times since May 2021. The staff is so friendly and helpful. The grounds are beautifully kept. Had a problem when we stopped in September. They offered to let us have one of the cabins for the night. Turned out we didn't need it but we're very grateful for the offer. We will stay here every time we are heading through. Customer service is A++++
- Kathy Gabel on Google