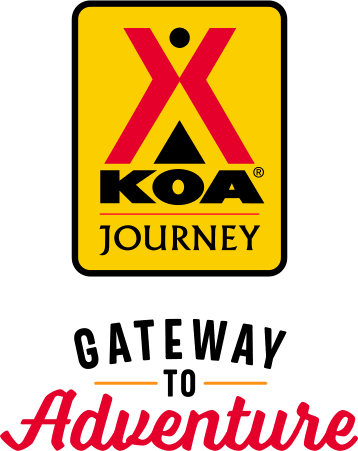 KOA Journey Campgrounds
KOA Journey campgrounds are the perfect oases after a day on the road. Whether it's along the way or a quick getaway, they've got you covered. Located near the highways and byways of North America with long Pull-thru RV Sites, they deliver convenience to the traveling camper. Pull in, ease back and take a load off.
KOA Journeys Feature:
Pull-through RV Sites with 50-amp service
Premium Tent Sites
Well lit after hours check-in service
Directions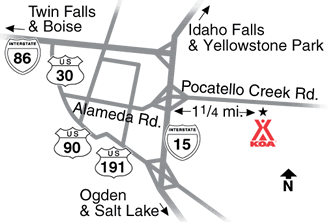 from I-15: Take Exit 71 Pocatello Creek Rd. East 1-1/4 miles. From I-86 W: Take Salt Lake Jct to Pocatello Creek Exit 71.  Please get into the middle lane and stay there do not go to your left or right stay in the middle lane and we are on the right hand side.Then east 1-1/4 miles.
Summer hours are from 8 A.M. -  8 P.M.. Winter Hours are 8 A.M. - Dusk. we do have a night registration booth for after hours, with a true map of all our sites with a notice of what sites are available for you to choose from.
Get Google Directions
Jul 31, 2020
Great staff and a very nice campground.
Jul 29, 2020
Easy to get in and out of. Staff was friendly and informative
Jul 29, 2020
We arrived later and were grateful to get a site, but, the site was extremely unlevel and right in the path of the throughfare of the park. Dirty, dusty and the incline made it difficult to enter, exit and sleep. It was impossible to level our trailer. Otherwise, the staff was polite and professional and went out of their way. Just wish it was a better site! Maybe not rent until leveled?!
Jul 28, 2020
It was a nice clean place. The little store had everything we needed that we didn't have. The wife and grandkids liked the ice cream cones there.
Jul 28, 2020
Stay was awesome and the people working there were very helpful in meeting our needs as a family. Would recommend staying there as we will be staying there again!!!
Jul 28, 2020
Clean. Easy access from freeway. Love the gas station convenience.
CAMPGROUND RESPONSE / COMMENTS:
Thank you for taking the time to let us know how your stay was and hope to see you again.
Jul 27, 2020
Been on road for almost a month and this was the most unlevel site yet.
Jul 27, 2020
Everyone was so kind and accomidating. Even offered me a better, and cheaper, spot.
CAMPGROUND RESPONSE / COMMENTS:
We are glad you enjoyed your stay and hope you have a safe and care free fall.
Jul 26, 2020
When we checked in he had all he paperwork ready to give us with directions to our site. Was great for a one nights stay while traveling. Wish we could have stayed loner to enjoy the area.
Jul 25, 2020
friendly staff, very nice grounds away from freeway and noise which is nice! shady with trees and grass to please your furry friends. sites mostly level making set up easy!
Jul 25, 2020
The camp was perfectly fine. The camp attendant was not wearing a mask or using safety social distancing protocols, I did not feel safe there. I would not recommend this to others during this pandemic time.
Jul 25, 2020
The campgrounds and our cabin were clean, shady, and comfortable. We would stay there again during our travels any time! The playground was great for getting the wiggles out too! We only wish it had a pool or hot tub.
Jul 24, 2020
I will never stay at this campground again, nor will I recommend it to anyone. The "lady" inthe office when we checked in projected an attitude of "now what do you want", said I did not have a full hookup site when that is what I paid for, then when she finally figured it out had me move. It was also very hard to drive through to get out, almost wrecked my 42' 5th wheel trying to maneuver.
Jul 23, 2020
Nice campground, friendly staff. The bathrooms were really small. Only two showers and they were kinda small. Other than that it was great..
Jul 22, 2020
The staff is excellent. Friendly and great customer service. One opportunity for facilities would be small grass "islands" between sites. Having a grass area or concrete pad is so desirable rather than tracking the gravel dust inside RV. The staff is great, the campground is good and would be great with the addition with grass "islands".
Jul 22, 2020
Everything went well, the management was very helpful to us because we had a dead battery on our car.
Jul 22, 2020
The Lasy who checked me in was very friendly and helpful as well as clear about directions and the basic information. I was very comfortable here :)
Jul 22, 2020
Quick overnight. Great place!
Jul 22, 2020
We got into the campsite late and the office was closed. The site and paper work was easy to find and the Campground was quiet. When we pulled into the campground there was a unit of Utah county firefighters around taking up various campsites. They were just sitting in sites using phones, and the bathrooms but they definitely did not belong there. They made me and my family feel very uncomfortable
Jul 22, 2020
Loved the shade trees.
Jul 22, 2020
We received great customer service from Rose. She is an absolute rock star. The facilities were clean and functional.
Jul 21, 2020
Rose, the manager, runs a very tight ship. She is extremely cautious about cleanliness and keeps the campground very well. Her staff are always out working and keeping the grass green, the trees trimmed, and helping clients. You can be assured that it will be clean as well as receive friendly service. The views are beautiful and you feel like you are camping. There are shady spots and WIFI too!
Jul 21, 2020
No full hookups was only drawback. They do offer free dump upon departure, but this is inconvenient when trying to make a quick exit and get on the road
Jul 21, 2020
This campground is very much in need of a total upgrade. The staff tried hard, but sites unlevel, shower area a mess, paths to get to your site was narrow. Unlikely to comeback again.
Jul 21, 2020
Not welcoming and we did not have a sewer.
Jul 21, 2020
Nice campground. Friendly staff and people. Off leash dog are was small is the only reason for the 4 stars instead of 5
Jul 21, 2020
My father and I had to place to stay in Wyoming so we decided to stop by the KOA and stay their for 2 nights they only had 1 night available the very next morning Tom from the office called us the very next morning and offered us the next day to stay because they had a cancelled for one of the spot so he gave it to us What a great and quite place to stay and close to town We will stay again.
Jul 21, 2020
The manager Tom was very HAPPY...Friendly...Helpful...very enjoyable place...thank you !!!!
Jul 19, 2020
Very Rude at check in. (Said we are here to check in.. response was .. maybe not your early then we asked about military or disabled vet discount.. was sternly told no as if they thought it was rude of us to ask. However we stayed at a lot of koa's on our trip all except this one saluted service members. 3) they did not escort you to camp/ they had a sewer pumped and filled our camper with s/sme
Jul 19, 2020
Clean and well kept. Pleasure to camp there.
Jul 18, 2020
We were only planning to stay one night on our way through Idaho, but an emergency landed my husband in the hospital. Rose was so wonderful in making sure we could stay until my husband was released and we could head home (despite our site being booked up).
Jul 16, 2020
Tent camped for 2 nights. Very clean and well kept site. Bathrooms/showers immaculate. Staff was friendly and helpful, followed social distancing but did not wear masks. Enjoyed our stay!
Jul 16, 2020
Only one night stay this time but we will be back!
Jul 16, 2020
Spent 3 nights in a 40' towing. Staff was very pleasant and helpful. Flat gravel sites but no grass at space. No sewage hookups and dump site inconvenient. Quiet. Good dog run area. We would stay here again.
Jul 14, 2020
The camp sites were very cramped
Jul 14, 2020
Woman staff was not friendly. Put us on site which was infringed upon by neighbor. His slide was over pedestal which prevented me opening my slide. Male staff Member moved me to another site.
CAMPGROUND RESPONSE / COMMENTS:
Sorry you where not happy with your site. you made this online and when you arrived we gave you a description of your reservation and asked if this was correct.if this was not what you wanted we would have moved you to another site if possible or given you a refunded to seek another place.
Jul 13, 2020
Pocatello KOA has excellent green-grass tent spaces, just the softest, prettiest grass anywhere. Very nice for a tent. Staff was nice and it has a dog park.
Jul 13, 2020
The staff were very helpful in answering questions and accomadating last minute changes in plans. Bathroom area was spotless !
Oct 27, 2020
One of the best KOAs we have stayed at... not because of the location but because of the service and kindness we were shown by Rose and the staff! We were having RV problems and she helped explain some useful stuff to us and provided us with what was necessary to fix it. The showers here were great- nice, clean, warm, and spacious! Thanks again for your help, Rose! Sincerely- Newbie Campers 🙂
- Chelsea Abbott on Google
Oct 25, 2020
Great location. Quiet and good people running it. Glad it is open into November.
- Jim Herron on Google
Dec 30, 2020
Great location, not far off interstate. Nice bathroom/shower house, very clean!! Little gas station has quite the selection of goodies,treats and other household/camping needs, very convenient!
- Danielle Wickham on Google