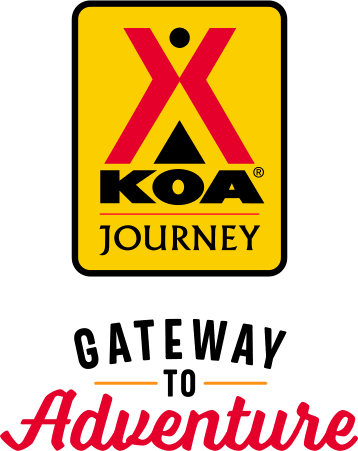 KOA Journey Campgrounds
KOA Journey campgrounds are the perfect oases after a day on the road. Whether it's along the way or a quick getaway, they've got you covered. Located near the highways and byways of North America with long Pull-thru RV Sites, they deliver convenience to the traveling camper. Pull in, ease back and take a load off.
KOA Journeys Feature:
Pull-through RV Sites with 50-amp service
Premium Tent Sites
Well lit after hours check-in service
Directions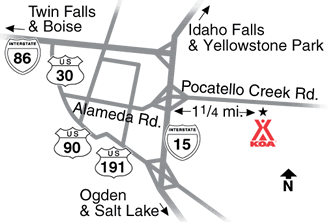 from I-15: Take Exit 71 Pocatello Creek Rd. East 1-1/4 miles. From I-86 W: Take Salt Lake Jct to Pocatello Creek Exit 71.  Please get into the middle lane and stay there do not go to your left or right stay in the middle lane and we are on the right hand side.Then east 1-1/4 miles.
Summer hours are from 8 A.M. -  8 P.M.. Winter Hours are 8 A.M. - Dusk. we do have a night registration booth for after hours, with a true map of all our sites with a notice of what sites are available for you to choose from.
Get Google Directions
Sep 12, 2020
Wish we had known the park was terraced. Would have preferred a site that was not on the down side- very difficult to work with the hookups when you are standing on a slant. Also it would be nice if park management personnel would set the example to follow the 5 mph that is posted! One gentleman employee? (he had on the familiar yellow shirt) drove both his truck and the cart at a higher speed.
Sep 12, 2020
Stay was very good. Office staff got us in at the last minute because of high winds. Wish office staff had been wearing masks. We are in our 70's and are high risk.
Sep 12, 2020
Very enjoyable; well run, friendly staff. Love KOA
CAMPGROUND RESPONSE / COMMENTS:
Thank you for the comments and please come and see us again. Tom
Sep 11, 2020
Tom and Edie were great. Thank you so much for making us feel so welcome. We will be back on our next trip up here������
Sep 11, 2020
The campground is small, and the sites were not very level. Our sewer was on a hill, which was above the motorhome. We were unable to empty our tanks, but we paid for full hook up. This campground should only take 30 ft and lower.
Sep 10, 2020
Felt like a sardine for the area we were in.
Sep 09, 2020
A very nice, quiet and clean campground. Just outside of town, yet close to everything. Rose and Tom were very helpful and friendly. Would definitely recommend to others and will stay again when in the area.
CAMPGROUND RESPONSE / COMMENTS:
We appreciate your comments and we hope you will come back and see us soon. Be safe. Tom
Sep 07, 2020
The Loa workers helped a nearby, they have a niceday dog park,, kids playground, store and even gasoline. It is a small park but is well. Marinated and cleanup quiet We are planning to stay again it's not the Ritz but for a journey It is better than I expected K
Sep 07, 2020
Paid too much for dirt and didn't have full hook-ups.
Sep 06, 2020
Not very good for pets. Hookups for water and electric were up a steep embankment.
Sep 05, 2020
Rosie was very nice. The site we were in was a big pull thru. The bathrooms/ showers very very nice n clean n smelled great. This was only our 3rd loa we've ever stayed at n by far the best. Jackson koa bout 12 miles from town was a complete joke. Pocatello koa by far out did it
Sep 05, 2020
We got in late and woke up early. Very clean and nice. The manager and staff were very nice and attentive to our needs with our first experience on owning an Rv. Thank you very much for all your help and support. We will be staying again next year. Awesome experience
Sep 05, 2020
When leaving I pulled to the dump station. I used this facility about a year ago and everything was fine. However this time there was not a hose provided to flush the dark matter tank. The KOA employee said there was nothing he could do and that is no reason to flush the tank!! The employee was rude, confrontational, and NO HELP. I regret not getting his name. I'll never camp here again!!
CAMPGROUND RESPONSE / COMMENTS:
I am sorry that you had a bad experience with our dump station, we have the hose to clean out your sewer hose, but we have never had a hose to flush the tank at our dump station. I don't know who you were talking to, but all of our employees wear a yellow shirt and a name tag so you can identify the
Sep 04, 2020
Have stayed there in the past nice park but the internet sucks
Sep 04, 2020
Great improvement to the restrooms.
Sep 03, 2020
Tentsites were small and so close to campground roads that when people walked their dogs, etc it sounded like they were going to walk into our tent. In general, campground seemed too crowded together.
Sep 01, 2020
Love the shop. Found many goodies that I needed and saved me a trip to Camping World.
Sep 01, 2020
The neighbor was plugged into our outlet so I had to disturb them right off the bat. It was very nice. We stayed a second night due to wind/red flag warnings. Convenient location. The doggy park is not in the best location. Too close to the road and cars speed by. Even though it's fenced it can be frightening for the doggies. An area near the rear of the park would be more amenable. Enjoyed it.
Aug 31, 2020
The park was what we expected. On both visits we arrived about 30 minutes before checkin and staff processed us with no problems. We used the laundry on one visit and everything worked as expected.
Aug 31, 2020
Love the staff and the fact that when we are on our way in, we get a welcome phone call since we stay there so often! Thank you guys for running a top notch campground!
Aug 31, 2020
Very nice staff. Quiet campground. Very clean.
Aug 31, 2020
Nice people, quiet campground. Terrible WiFi for video, very limited sites with full hookups. Would stay there again, but will look for Parks with better WiFi and hookups for first choices.
Aug 31, 2020
Grounds are clean with mostly gravel areas. Very simple park and served as a decent place to spend the night while on the road. Manager was rude and obstinate which is what a lot of the yelp and google reviews said. I was surprised to find they were accurate. The managers attitude sort of ruined the experience for us and we will not be back.
Aug 31, 2020
It was an overnight stay. They were so friendly and completely accommodated us. We had a 30 amp site but they found a 50 atop site for us.
Aug 29, 2020
The man in the office was very nice and professional. I think he did the best with what he had. The camp ground itself was not what we are use to in a KOA at all. We have stayed in KOA for years on the Oregon and Washington coast and they are wonderful. This one was depressing. No grass that was green. Dirty unkept trailers surrounded the park and gave it a very sketchy over all feel.
Aug 28, 2020
The staff were very friendly and helpful. Very shady, but trees were all trimmed up so they didnt interfere with slides or canopies. Bathrooms spotless.
Aug 28, 2020
Very friendly and we were able to keep our toad attached (we stayed one night). They also have a gas pump right there on site.
Aug 27, 2020
I was great. The staff was very helpful.
Aug 27, 2020
Excellent! Thanks!
CAMPGROUND RESPONSE / COMMENTS:
Thank you. We enjoy it when you let us know how your stay was.
Aug 25, 2020
Great campground
Aug 24, 2020
The campground is convenient to the interstate and access to each site is good. Staff was very helpful. I don't like that your door faces your neighbor but at least there was more room between the sites then other similar setups. No grass except for tent sites. Overall, a good choice.
Aug 24, 2020
Small camp ground but well maintained. Playground was freshly painted. Staff was very friendly.
Aug 24, 2020
This is a super clean and cute little KOA! One of the first ever built. Very shady and far enough off the beaten path, but close to town conveniences. We will be stopping again, for sure!
Aug 24, 2020
Wish they had a pool so my kids could go swimming
Aug 23, 2020
Nice campground
Aug 23, 2020
Warm welcome. Nice clean campground.
Aug 22, 2020
It was a good place to stay I thought the sewer was far away from my tank. The employees were pleasant to be around although they didn't ware mask. The one big thing for me and my family is there is no pool , the grass in the playground was great and nice and green, over I would stay there again.
Aug 21, 2020
Very good and shady spot for our RV- Friendly and helpful staff! Convenient location to go to and from National Parks.
Oct 27, 2020
One of the best KOAs we have stayed at... not because of the location but because of the service and kindness we were shown by Rose and the staff! We were having RV problems and she helped explain some useful stuff to us and provided us with what was necessary to fix it. The showers here were great- nice, clean, warm, and spacious! Thanks again for your help, Rose! Sincerely- Newbie Campers 🙂
- Chelsea Abbott on Google
Oct 25, 2020
Great location. Quiet and good people running it. Glad it is open into November.
- Jim Herron on Google
Dec 30, 2020
Great location, not far off interstate. Nice bathroom/shower house, very clean!! Little gas station has quite the selection of goodies,treats and other household/camping needs, very convenient!
- Danielle Wickham on Google