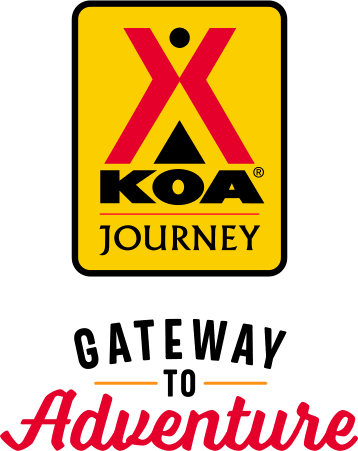 KOA Journey Campgrounds
KOA Journey campgrounds are the perfect oases after a day on the road. Whether it's along the way or a quick getaway, they've got you covered. Located near the highways and byways of North America with long Pull-thru RV Sites, they deliver convenience to the traveling camper. Pull in, ease back and take a load off.
KOA Journeys Feature:
Pull-through RV Sites with 50-amp service
Premium Tent Sites
Well lit after hours check-in service
Directions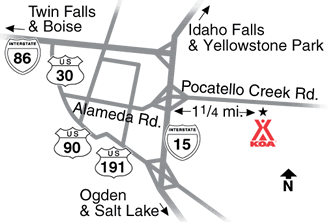 from I-15: Take Exit 71 Pocatello Creek Rd. East 1-1/4 miles. From I-86 W: Take Salt Lake Jct to Pocatello Creek Exit 71.  Please get into the middle lane and stay there do not go to your left or right stay in the middle lane and we are on the right hand side.Then east 1-1/4 miles.
Summer hours are from 8 A.M. -  8 P.M.. Winter Hours are 8 A.M. - Dusk. we do have a night registration booth for after hours, with a true map of all our sites with a notice of what sites are available for you to choose from.
Get Google Directions
Oct 04, 2020
Very friendly and helpful staff
CAMPGROUND RESPONSE / COMMENTS:
We are always glad you take the time to let us know how we are doing and if there is any thing we can do to improve your stay with us here at the pocatello koa.
Oct 04, 2020
Very little water pressure. No sewer hook ups, No grass at sites, no grill, packed in like sardines. Picnic table literally balanced on a rock retaining wall...unusable. Several permanent residents with very messy sites. "Pull thru" only if sites across from you is unoccupied, otherwise you are backing in to your pull-thru. Not big rig friendly...possible but not easy. Pass on this place.
Oct 03, 2020
Pleasant staff nice grounds and clean bathrooms/showers.
CAMPGROUND RESPONSE / COMMENTS:
We are glad that you took the time to let us know how your stay was and how we are going to make sure you have a great stay here at the pocatello koa.
Oct 02, 2020
Nice people, great wifi, great water pressure
CAMPGROUND RESPONSE / COMMENTS:
We are glad you came and stayed with us. Have a great fall.
Oct 02, 2020
The area was clean and well maintained
CAMPGROUND RESPONSE / COMMENTS:
Thank you for your comments and please come back and see us again. Tom
Oct 01, 2020
The camp is all dirt and rocks and unlevel ground for RV. The dog park was very small, not big enough for our dogs much less if anyone else wanted to use it too. The woman at the counter at check in was snooty. I didn't get her name. We won't be back.
Sep 29, 2020
This isn't some gorgeous campsite full of the wow factor but it is a decent place to stay on your way from here to there. We would stay here again in our RV. It is the desert so there's some dust but there are grassy places and lots of trees. RV sites are pretty much gravel and dirt. Tom was pleasant & helpful. Loved that they sell gas at the pump. Laundry clean. Good mdse selection in store.
Sep 29, 2020
Great management, clean restrooms/showers, close to Pocatello. Looking forward to going back and staying again.
Sep 29, 2020
Very fun & relaxing.
CAMPGROUND RESPONSE / COMMENTS:
Thank you for taking time to leave your comments.We are glad you enjoyed your stay with us. Be safe and drop back in to see us. Tom
Sep 28, 2020
Very easy pull through sites, clean bathrooms and showers, very quiet at night, the neighbors do have a rooster so no need to set an alarm clock!
Sep 28, 2020
Only stayed one night, but was quiet and seemed like a nice KOA.
Sep 27, 2020
Park is clean & maintained. It is just a place to stay, no real amenities such as pool, games area, etc., (but has a K9 Corral) which is all I think it a 'Journey' park is supposed to be. It's out of town and away from highways & trains, nice and quiet.
Sep 27, 2020
Unable to get level in a pull-thru site.
Sep 24, 2020
Clean, well maintained campground and staff were very friendly. Only a few minutes from Interstate, but far enough we didn't have road noise all night long.
Sep 24, 2020
Short stay overnight
Sep 23, 2020
Good over night place. Terrible WIFI.
Sep 23, 2020
Nice spot in tent site w/electric. Clean restrooms, well maintained campground.
Sep 23, 2020
Not as Fancy as many of the other KOA's but very nice. . I dont think they had any upgraded patio spots that I saw. I believe no camp fires as everyone is pretty close. At least no campfire pits where we were. The Bathrooms are very nice. The store is very nice and the managers were friendly and helpful. We would stay again. They do have a pump out and gas pumps . Gravel pads .
Sep 23, 2020
Just an overnight. No amenities. But, people were very professional and friendly.
Sep 23, 2020
We were very pleased with our stay. It is very easy to get to and the staff are great. The campground is neat and clean. They even sell gas (no diesel) there so you don't have to stop anywhere else. We would definitely stay there again.
Sep 22, 2020
Tom was very helpful. Sewer hookups would be nice. Spaces were easy to access, clean, and quiet.
Sep 21, 2020
Clean restrooms friendly staff
Sep 21, 2020
Excellent place to stay. Would highly recommend staying here. I will definitely remember the Pocatello KOA and stay there again.
Sep 20, 2020
outstanding, great place for pets and people, super helpful will positively be back great place and unbelievably CLEAN... when my daughter calls it clean it is better than new.. great caretakers and staff
Sep 20, 2020
The staff was extremely friendly and accommodating. The bathrooms were very clean ww will definitely come back here again!
Sep 19, 2020
Old park and no satellite reception due to big trees. Spot not level. Too many problems to recommend this park to anyone unless it is one night only and no other option.
Sep 19, 2020
Great little place to stay...friendly folk
Sep 18, 2020
Great campground. People running it were so nice and friendly. Thank you for making us feel right at home.
Sep 17, 2020
I had a good one night stay. Slot 41 is not level And needs to be re-leveled. That's why I gave it a 4.
Sep 16, 2020
Nice park, clean. But please pay attn to the length of tow vehicles. It was so tight trying not to hit a tow vehicle on a trailer, we bent one of our jacks on the rocks lining the road our site was on.
Sep 16, 2020
Conveniently located, friendly staff, and very clean showers and bathrooms! Sites are well marked and easy to access. Great place , l would stay there again and recommend to those I know.
Sep 16, 2020
Tom in the office was very nice and the place has improved since last time we were there about 7 years ago
CAMPGROUND RESPONSE / COMMENTS:
Thank you for letting us know how we are doing, Tom loves his customers. And, yes, we have been busy working to get this place back in shape we are under new owner for the last 7 years.
Sep 14, 2020
Need more 50 amp sites but other wise good. Very friendly staff!
Sep 13, 2020
rose is the best. grounds are fab.
Sep 12, 2020
Nice clean bathrooms, laundry rooms, and very helpful staff. The store was well stocked and offered a variety of items. The playground was one of the better ones we have played at. They also offer gas and propane for easy fill ups.
Oct 27, 2020
One of the best KOAs we have stayed at... not because of the location but because of the service and kindness we were shown by Rose and the staff! We were having RV problems and she helped explain some useful stuff to us and provided us with what was necessary to fix it. The showers here were great- nice, clean, warm, and spacious! Thanks again for your help, Rose! Sincerely- Newbie Campers 🙂
- Chelsea Abbott on Google
Oct 25, 2020
Great location. Quiet and good people running it. Glad it is open into November.
- Jim Herron on Google
Dec 30, 2020
Great location, not far off interstate. Nice bathroom/shower house, very clean!! Little gas station has quite the selection of goodies,treats and other household/camping needs, very convenient!
- Danielle Wickham on Google