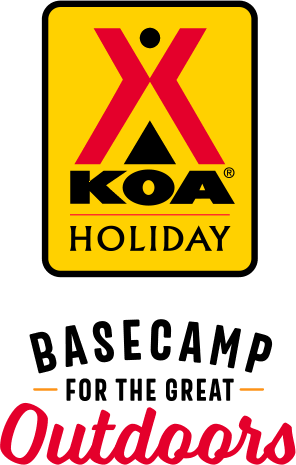 KOA Holiday Campgrounds
Whether you're exploring the local area or hanging out at the campground, KOA Holidays are an ideal place to relax and play. There's plenty to do, with amenities and services to make your stay memorable. Plus, you'll enjoy the outdoor experience with upgraded RV Sites with KOA Patio® and Deluxe Cabins with full baths for camping in comfort. Bring your family, bring your friends, or bring the whole group – there's plenty of ways to stay and explore.
KOA Holidays Feature:
RV Sites with a KOA Patio®
Deluxe Cabins with full baths
Premium Tent Sites
Group meeting facilities
Directions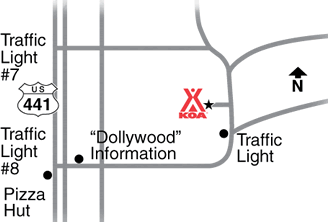 Directions from I-40: Take exit 407 and go south on Highway 66/Winfield Dunn Parkway for 8.4 miles.Turn left on 411 north/Dolly Parton Parkway.Continue on Dolly Parton Parkway and turn right on 449/Veterans Blvd.Go 5.8 miles and KOA is on the right.
Directions from Cherokee, North Carolina: Take US 441 North through the Great Smoky Mountains National Park for 31 miles. Continue straight through Gatlinburg for 5 miles. Once in Pigeon Forge, turn right at traffic light #8 onto Dollywood Lane, go through the next traffic light and KOA will be on the left.
In Pigeon Forge: Turn east off US 441 at traffic light #8 onto Dollywood Lane, go through the next traffic light and KOA will be on the left.
GPS: N35.786321. W83.550096
Get Google Directions
Nov 17, 2020
Everything was amazing, every one that works there was very helpful and the location was perfect.
Nov 17, 2020
It was a magnificent stay. The cabin was excellent and the service from the KOA employees was excellent. We are already looking to come again at some point in the future.
Nov 17, 2020
Great job as always. Kids liked the restrooms up in the 150s loop with the separate showers. Disappointed with the closure of the pool area on Sunday when the wind was higher.
Nov 17, 2020
It was absolutely perfect. This is our third time staying and we love the atmosphere. You guys decorate for all holidays make it even better.
Nov 17, 2020
Sites are clean and well set up. Easy connections to water, sewer, power and cable. Very convenient to Pigeon Forge and Gatlinburg.
Nov 17, 2020
Area is always clean. The location is easily accessible to restaurants and entertainment venues. The only complaint I had is the wifi signal tends to be weak. We have stayed here many times!
Nov 17, 2020
Great customer service and clean campground.
Nov 16, 2020
Everything was great but we had no septic at our lot #134.
Nov 16, 2020
We had plenty of room in our campsite, especially compared to other campgrounds. We got one of the mid-range sites and paid around $57 a night and were very pleased with it. Our stay was during Halloween so the campground had many activities. The heated pool and lazy river was nice to be able to still go swimming on cold nights. We're definitely coming back soon
Nov 16, 2020
New campers, our site was very muddy, didn't know you could request straw. Showers were best yet from previous 2 koa sites. Camp store was nice but firewood not dry. I'm a fireman and couldn't get them to burn using kindling and charcoal lighter fluid. All staff were very courteous.
Nov 16, 2020
We had a great site by the river. Staff was very helpful! Beautiful place
Nov 16, 2020
Pool was nice, warm & clean. Campground has been redesigned since our last stay several years ago. Sites are very crowded together. Several pieces of the playground equipment need repair. Many of the other guests lack courtesy we have found at other campgrounds. Loud talking until after 12am & campers packing and cranking motor homes to leave at 4am. Will choose somewhere next trip. Too crowded.
Nov 16, 2020
Friendly staff very clean campground and facilities. Would definitely recommend to my friends. I will be coming back and stay again.
Nov 16, 2020
The cabin was very nice and we enjoyed the time around the fire pit. The campground is just so tightly packed in together abs hard to navigate around in the dark. We've camped in a camper and now stayed in a cabin there.
Nov 16, 2020
Awesome ... very nice clean and peaceful definitely will be coming back
Nov 16, 2020
Loved the cabin
Nov 16, 2020
Did not like where they stuck us. Too close to highway traffic and noise.
Nov 16, 2020
I have to say I was not looking forward to camping with so many people, my 6 year old grandson always begs to go there every time we pass. We are locals. I must say I was pleasantly surprised, during the day most people are gone. We had the pool with a few other folks and the play not as many people as I expected. We had a fantastic time. WE made great memories this weekend. The employees ROCK!
Nov 16, 2020
Except for the barking dogs on our last night there, it was wonderful.
Nov 16, 2020
Wonderful as always! The campground is fabulous, so much for families to do.
Nov 16, 2020
Easy walk to shops, food while abutting river and patriot park gives it "away from crowds" feel. Best bathhouse ever. Large outdoor heated pool is sparkling clean; the lazy river, very shallow waterfall area (great for nonswimmers) and plenty lounge chairs are rare finds.Camp store well stocked, good prices.RV sites very close but given location I understand why. Positives far outweigh.
Nov 16, 2020
Loud!!! And cramped. Bathrooms and showers were very clean, store, pool and dog park area were excellent.
Nov 16, 2020
We had to share a septic tank. Not very fun. Then on Saturday we had to loose power due to the neighbors.
Nov 16, 2020
New heated pool very nice. Was swimming outdoors in November! Hot tub and fire pit very nice as well. However campsite price was $75 and did not have a concrete pad at all. Cable also somewhat snowy. Could use some improvement in those areas but overall we had a nice stay.
Nov 16, 2020
This review has been removed by KOA due to profanity.
Nov 15, 2020
This was our first time to stay at this KOA and it not only was beautiful, but the staff was very professional and courteous. We had to cut our trip short and they had no issue refunding our money. We will be back to this KOA. We highly recommend this KOA. Another thing your just around the corner from the main drag and down the street from Dollywood.
Nov 15, 2020
Loved being on the river, next to Veterans Park. The tree that sat at the rear of our RV when we backed in should probably be taken down. It has a big hole in it and may be rotten. If it broke it would have landed on our RV. We did hear branches on another tree breaking but they were on the other side of the fence in the park.
Nov 15, 2020
Great hospitality from staff and excellent campground! Heated pool and attached lazy river. Biking/walking path to park next door and shops on the other side. Conveniently located.
Nov 15, 2020
I would not recommend to stay with an RV. Your sites are too small and it's too tight. The handicap cabin, 301, for the most part it was great. Some suggestions: bed is too high, take microwave and put on shelf where dishes are. Put a cabinet in where the microwave is and put dishes and pots and pans in there. Mom could not reach pots and drawers on floor were to hard to get to.
Nov 14, 2020
Awesome site friendly staff
Nov 14, 2020
It was awesome in all aspects! The Campground was immaculate and the service was fantastic. We thoroughly enjoyed ourselves and will return.
Nov 14, 2020
Very nice campground! Friendly staff! Only reason I didn't give it 5 stars was because sometimes it's extremely hard to get out of the campground drive due to traffic!!
Nov 14, 2020
my site had sewerage back up had to run 4 sections up hill to next inlet had to constantly lift sections to drain the staff concern was I was ouy by 11 friday
Nov 14, 2020
We absolutely love it there!
Nov 14, 2020
really enjoyed your campground only complaint is the high price to rent golf cart also campground needs adult bikes to rent
Nov 14, 2020
If you like camping very close to others and noise, you would like this campground. What shocked us was the open dumping station with toilet paper., etc very visible. Surprised this passes inspections.
Nov 13, 2020
Everything about our stay was exceptional. Staff was friendly and helpful, location was great and my grandkids loved the large playground.
Nov 13, 2020
Beautiful campground, clean bath house and friendly staff. Conveniently located in the heart of everything. Loved having the trolley right there . And Old Mills food was delicious � and the river view is amazing!
Nov 13, 2020
Spent 3 nights at this location, great amenities, friendly staff. Kids had a blast.
Jan 08, 2021
Friendly staff, clean cabin overlooking Patriot Park. Will definitely stay here again in the near future!!
- James Gregory on Google
Jan 04, 2021
Friendly staff. Beautiful cabins. Very clean.
- Kristie Dixon on Google