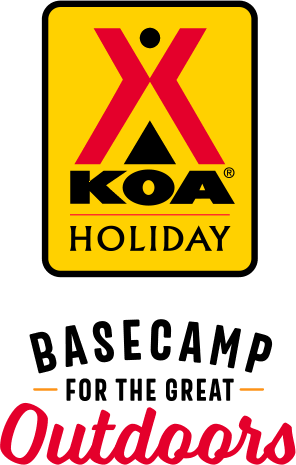 KOA Holiday Campgrounds
Whether you're exploring the local area or hanging out at the campground, KOA Holidays are an ideal place to relax and play. There's plenty to do, with amenities and services to make your stay memorable. Plus, you'll enjoy the outdoor experience with upgraded RV Sites with KOA Patio® and Deluxe Cabins with full baths for camping in comfort. Bring your family, bring your friends, or bring the whole group – there's plenty of ways to stay and explore.
KOA Holidays Feature:
RV Sites with a KOA Patio®
Deluxe Cabins with full baths
Premium Tent Sites
Group meeting facilities
Directions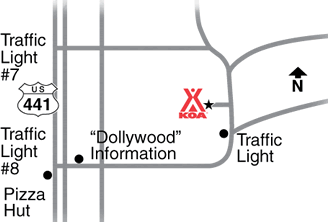 Directions from I-40: Take exit 407 and go south on Highway 66/Winfield Dunn Parkway for 8.4 miles.Turn left on 411 north/Dolly Parton Parkway.Continue on Dolly Parton Parkway and turn right on 449/Veterans Blvd.Go 5.8 miles and KOA is on the right.
Directions from Cherokee, North Carolina: Take US 441 North through the Great Smoky Mountains National Park for 31 miles. Continue straight through Gatlinburg for 5 miles. Once in Pigeon Forge, turn right at traffic light #8 onto Dollywood Lane, go through the next traffic light and KOA will be on the left.
In Pigeon Forge: Turn east off US 441 at traffic light #8 onto Dollywood Lane, go through the next traffic light and KOA will be on the left.
GPS: N35.786321. W83.550096
Get Google Directions
Oct 28, 2020
The only problem was the sites were way to tight. I undestand that the campgrounds were layed out many years ago before the large campers with slideouts.
Oct 28, 2020
It was awesome. Had the time of my life. Great koa family. Everyone was so nice thank you
Oct 28, 2020
This is the 2nd visit to the Pigeon Forge KOA. The campground is close to all the activity, the staff is very friendly and the facilities are very clean. This last visit was during the fall and we were able to get one of the last reservations available that was located near the front of the park (lot 153) and it was very tight. The back of the park was not as tight to maneuver around.
Oct 28, 2020
Great location and amenities for the family, my kids loved the pool and playground. There is a sidewalk that will allow you to walk to Dolly Parton's Stampede or other locations in that area. We will definitely be back next year!
Oct 28, 2020
Always a great stay, very nice and helpful staff.
Oct 28, 2020
Campsites are too close together and small. Cabins in the way to back in to your site. Wouldn't stay here again.
Oct 28, 2020
Love the easy access to the trolley system! Lots of fun things for kids to do too.
Oct 28, 2020
Great campground! Very clean. Cabin was perfect for our stay.
Oct 27, 2020
Love Pigeon Forge Koa. Only complaint would be the cable TV and wifi. We have always used our antenna because cable is always fuzzy and wifi keeps kicking you off.
Oct 27, 2020
Very nice campground and almost full every night. Very good location. Camp sights are a little tight and very pricey.
Oct 27, 2020
We stayed for a week in your "beautiful" area. The park was so convenient to everything that we did. We loved that it was a short walk out back to the Old Mill Restaurant but will remember to take a flashlight next time. We appreciated the escort into the park (at check in) and assistance getting lined up for setting up camp. We hope to stay again in the future.
Oct 27, 2020
Like all KOA'S The sites are small and very close together (it is a business not a state park). It is very clean and well run with lots of amenities. Only complaint is cable is poor and wifi non existant.
Oct 27, 2020
We absolutely loved our stay! We stayed 3 nights in a pet friendly deluxe cabin. The cabin was so clean and had every comfort of home!! The campground was absolutely immaculate! The entire staff and maintenance team was amazing, welcoming, and helpful!! Better than any hotel we have ever stayed at!!
Oct 27, 2020
Really nice staffing was really nice
Oct 27, 2020
Location is great! Pull-thru sites are big and roomy. Other sites are a little too close together. Clean bathhouses and employees were great.
Oct 27, 2020
Really enjoyed the stay and all the staff was very friendly
Oct 27, 2020
Everything was great! The bathrooms were always very clean never any debris or dirty. The pool/jacuzzi was amazing! Staff was very pleasant and helpful. I liked that there was someone there 24/7. We did have an issue with the electricity but it was fixed immediately. Will definitely be back to camp. We tent camped and I have 0 complaints about this KOA. You have done an amazing job!
Oct 27, 2020
Slightly disappointed in the new creek front sites. The pad for the trailer was nice. Unfortunately there was no pad or anything level to sit on and with the rain it was really muddy. Only other complaint would be the length of the wait for someone to guide you to your site. We sat for 15 minutes waiting to get to our site.
Oct 26, 2020
Only reason I couldn't do 5 star rating this trip was the construction noise coming from Patriot Park. One of my favorite campgrounds. Friendly staff, fast check-in, always super clean, and new pool area and lazy river are amazing.
Oct 26, 2020
Loved it. Have stayed there many years. Sad entrance to Patriot park was moved though.
Oct 26, 2020
This was the 2nd year that we stayed here and we have already booked for next year. The staff is so very friendly and everything is kept clean. There is so much for the kids to do!
Oct 26, 2020
We have stayed there the last three years...It was so convenient to patriot park...my wife is fighting cancer and we could walk to the trolleys. When I made the reservation I ask if the craft show in the park was still on...was told yes....we arrived and no show plus the park was closed and we could not walk to tollies..to say my wife and I agreed....we were let down.....disappointed......very.
Oct 26, 2020
We always enjoy our time here. We normally get a pull thru, as our fifth wheel is 42 feet, however, there was non available for this stay. The site we had was rather tight. I just wish there was more space in some of the back in spots. But we had a good time and it's always clean. The pool water felt FANTASTIC!!!
Oct 26, 2020
Staff was very nice and the playground was awesome. Heated pool and hot tub were great. Some of the sites were small so make sure to check map or call for larger sites.
Oct 26, 2020
This was our first time at KOA and the experience was great. Planning our next trip already.
Oct 26, 2020
We stayed 7 nights at your campground. Everything was great. We will plan another trip next year! The concierge was able to help us plan another route home that was much better with the camper. Thank you.
Oct 26, 2020
Very good and always love coming there. Everybody is always friendly and nice and sweet can't ask for a loving family then what y'all have.
Oct 26, 2020
The problems we had were that there was poop on the toilet when my son lifted up the seat. So obviously the toilet hadn't been cleaned properly. There was also dust on the headboard at the back of the bed. And when we got back to our cabin from Dollywood at 9:30 pm, there was no parking. There was one handicapped spot left, so we had to park there, because there was nowhere else to park.
Oct 26, 2020
Perfect as always! Fabulous site and wonderful view! Staff are so friendly and helpful!! We love it here!! Fabulous amenities!
Oct 26, 2020
We encountered a technical issue with our house battery and the site technician came and went way above his call of duty and had his brother Ed Jolly pick up a new battery for me. I truly appreciate the service. Will definitely be returning in the future.
Oct 26, 2020
Easy friendly check in. Sites were pretty tight and the roads were thin. Great proximity and walkable to lots of downtown and a beautiful park. Some sites on the river. Would stay again.
Oct 25, 2020
Overall our stay was very nice. Only complaints were WIFI was poor at best and sites were a little tight Other things not KOA's fault were people parking their vehicles partially in the road which made it difficult in places to get around. The other thing was there were 2 group camping beside each other that was loud. We were 3 sites away from them. It was like we were in the site with then.
Oct 25, 2020
We have stayed at this KOA many times. We love the location and the improvements that have been made at the campground.The staff are always friendly and helpful.
Oct 25, 2020
First time here and campground was beautiful. Campsite was nice but the location of our campsite was less than desired. I got in on a cancelation so didn't get much choice. However the campsites along Veterans Blvd are noisy. It is like camping next to an interstate. We will return but look for a site that doesn't back up to the road.
Oct 25, 2020
great location. very tight and crowded camp sites. barely had room to park my truck off the road. was noisey in our area as it was near the entrance and the main highway. internet was very slow, probably due to the size of the park. will say that campsites in other parks in the area appeared to be just as tight.
Oct 25, 2020
Very awesome
Nov 25, 2020
Great place will be back for sure
- David Porter on Google
Nov 24, 2020
Great place!!
- monica longest on Google
Nov 24, 2020
Always Great.
- Loring Jones on Google