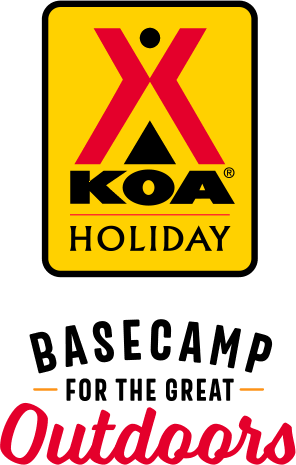 KOA Holiday Campgrounds
Whether you're exploring the local area or hanging out at the campground, KOA Holidays are an ideal place to relax and play. There's plenty to do, with amenities and services to make your stay memorable. Plus, you'll enjoy the outdoor experience with upgraded RV Sites with KOA Patio® and Deluxe Cabins with full baths for camping in comfort. Bring your family, bring your friends, or bring the whole group – there's plenty of ways to stay and explore.
KOA Holidays Feature:
RV Sites with a KOA Patio®
Deluxe Cabins with full baths
Premium Tent Sites
Group meeting facilities
Directions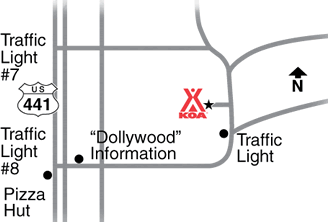 Directions from I-40: Take exit 407 and go south on Highway 66/Winfield Dunn Parkway for 8.4 miles.Turn left on 411 north/Dolly Parton Parkway.Continue on Dolly Parton Parkway and turn right on 449/Veterans Blvd.Go 5.8 miles and KOA is on the right.
Directions from Cherokee, North Carolina: Take US 441 North through the Great Smoky Mountains National Park for 31 miles. Continue straight through Gatlinburg for 5 miles. Once in Pigeon Forge, turn right at traffic light #8 onto Dollywood Lane, go through the next traffic light and KOA will be on the left.
In Pigeon Forge: Turn east off US 441 at traffic light #8 onto Dollywood Lane, go through the next traffic light and KOA will be on the left.
GPS: N35.786321. W83.550096
Get Google Directions
Dec 02, 2020
We love this Koa and have already made our next reservations
Dec 02, 2020
Extremely tight layout. Made it difficult to see when coming in during dark hours.
Dec 02, 2020
Fun, clean and all around great campground. Loved it so much made reservations for July 4.
Dec 02, 2020
Campground was clean and neat as always. Staff very pleasant and helpful.
Dec 02, 2020
We had another great stay here. It is always clean and the people are friendly and ready to help if needed. This was the 2nd trip here for us this year (total of 19 days) and we are planning to come back again in the spring. Highly recommended!
Dec 02, 2020
We had a great cabin and great service. Would differently go back
Dec 02, 2020
Nice campground and staff. Look forward to coming back. Thanks KOA
Dec 02, 2020
Real clean and great wonderful
Dec 01, 2020
Very convenient to everything we like to do. We stayed there the week of Thanksgiving. Very crowded. The sites are too close together. Lots of water puddles.
Dec 01, 2020
Friendly staff. Super clean showers and restrooms. Plenty to do for all ages. Might want to bring in more gravel or consider paving all the sites. The rain puddles and stays.
Dec 01, 2020
Love the pool and playground. Shower houses were clean and updated. Cable tv was very fuzzy and didn't scan any digital channels. May have been an issue with my TV but I triple checked everything. Office staff was nice enough to send a maintenance person to check but they never showed. All staff was nice and courteous.
Dec 01, 2020
It was great as always. The one thing that concerned me is allowing under aged juveniles to drive golf carts around the camp ground with out an adult. We had several close calls with our vehicle and while walking our pet.
Dec 01, 2020
The campground is great! The staff was very friendly. The showers and bathrooms are superb.
Dec 01, 2020
This was our second time here and we've already booked for 2021, so yes, we like this campground. It has a lot of fun options for our kids, is kept clean and the grounds are well tended. The laundry was very clean (they cleaned several times while I was doing laundry) and the staff were all very friendly. While the sites are somewhat close, the spot we had (65) didn't feel over cramped.
Dec 01, 2020
We loved our stay. We will be back.
Dec 01, 2020
A very kind and helpful staff. A relaxing stay in a perfect location. Can't wait to return next year.
Dec 01, 2020
We really enjoyed our stay. The location is wonderful!
Nov 30, 2020
Excellent location very good service and facilities
Nov 30, 2020
great campground always stay here whether in our motorhome or renting a cabin. close to everything
Nov 30, 2020
The only issue that I had was that the garbage can in the K9 camp wasn't changed for 5 days. The trash was very full and smelled. Other than that, we had a great experience!
Nov 30, 2020
Always love our stay!
Nov 30, 2020
We had an amazing week!! We will be returning next year!! All of the staff were friendly & helpful. The bathhouse were all nice & clean. The heated pool & playground were both a big hit with our kids. The camp sites are very close together but we made friends with our neighbors & had so much fun!!
Nov 30, 2020
We were there for Thanksgiving weekend and it was very nice. The pool was open and we went swimming everyday we were there. Loved that it was heated. The staff was very helpful and would deliver firewood and ice to your site. We are already planning our next trip back.
Nov 30, 2020
The best KOA under the stars!
Nov 30, 2020
Enjoyed it. The only thing I would like different is space between campers.
Nov 30, 2020
This stay was great! Huge playground for the children, heated pool with lazy river, very friendly staff and perfect location for all the attractions.
Nov 30, 2020
Every morning the bathrooms near our site were closed for cleaning around 8. Not good when everyone is getting up and needs to use the restroom. Also it was really crowded and I felt like the cabins were too close together. You could hear everything if someone was outside and you were in your cabin: Bathhouse needs updating & better heating. Still a nice campground overall.
Nov 30, 2020
We stayed in cabin 332, a one room cabin with no bathroom. The cabin was fine, the patio area was great. Bathhouse could've been closer. It was a nice surprise to see outdoor pool was open year round. Cabin area was nice, some rv sites seemed a little tight.
Nov 30, 2020
Lovely stay always is staff is super friendly. Only down fall is sites are getting extremely pricey
Nov 30, 2020
Everything is great except that some of the sites easily flood a few inches and makes everything a mess if it rains.
Nov 30, 2020
Perfect location to go out and about. Excellent playground and pool if you want to just stay in. Had to pull the kids away from the playground to go out
Nov 29, 2020
Just in town for a few days. Did a few hikes did Ober and Anakeesta and walked Gatlinburg town. Had as much fun at KOA as did in town
Nov 29, 2020
Great place, only issue is it is very tight to navigate to get in and out of site.
Nov 29, 2020
Great stay, but the bathrooms in the building where the office is need updating. The shower heads aren't moveable and you have to bend way down to wash your hair. also- they closed for cleaning at 8ish in the morning when people are trying to get ready for the day. It seems like some kids activities could be phased back in even during covid 19.
Nov 29, 2020
Very nice place, nice dog Park, clean bathrooms and showers , sights are very close together and it is very crowded, yet it was quiet very friendly and helpful staff! Would stay there again.
Nov 28, 2020
It was nice need to redo the mulch but it was clean and everyone was friendly
Nov 27, 2020
It was our first time staying at KOA. & first time coming to the area. I rented an RV concrete pad & 2 deluxe cabins for family. It was perfect! Location of RV spot on little river & next to park was convenient. The two deluxe cabins were super clean & lots of room (we had 2 in each). It was so nice to have Weber Grill & patio area to spend time outside & social distance! Staff fabulous. Ginny!!
Jan 08, 2021
Friendly staff, clean cabin overlooking Patriot Park. Will definitely stay here again in the near future!!
- James Gregory on Google
Jan 04, 2021
Friendly staff. Beautiful cabins. Very clean.
- Kristie Dixon on Google