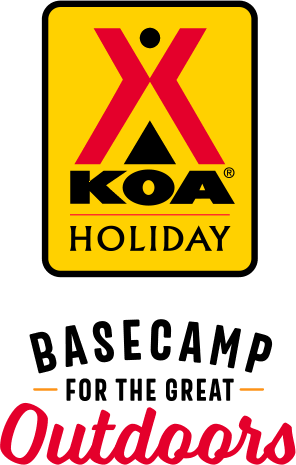 KOA Holiday Campgrounds
Whether you're exploring the local area or hanging out at the campground, KOA Holidays are an ideal place to relax and play. There's plenty to do, with amenities and services to make your stay memorable. Plus, you'll enjoy the outdoor experience with upgraded RV Sites with KOA Patio® and Deluxe Cabins with full baths for camping in comfort. Bring your family, bring your friends, or bring the whole group – there's plenty of ways to stay and explore.
KOA Holidays Feature:
RV Sites with a KOA Patio®
Deluxe Cabins with full baths
Premium Tent Sites
Group meeting facilities
Directions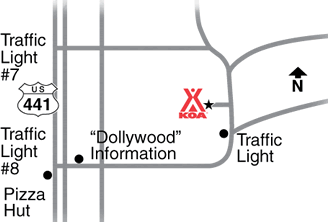 Directions from I-40: Take exit 407 and go south on Highway 66/Winfield Dunn Parkway for 8.4 miles.Turn left on 411 north/Dolly Parton Parkway.Continue on Dolly Parton Parkway and turn right on 449/Veterans Blvd.Go 5.8 miles and KOA is on the right.
Directions from Cherokee, North Carolina: Take US 441 North through the Great Smoky Mountains National Park for 31 miles. Continue straight through Gatlinburg for 5 miles. Once in Pigeon Forge, turn right at traffic light #8 onto Dollywood Lane, go through the next traffic light and KOA will be on the left.
In Pigeon Forge: Turn east off US 441 at traffic light #8 onto Dollywood Lane, go through the next traffic light and KOA will be on the left.
GPS: N35.786321. W83.550096
Get Google Directions
Nov 06, 2020
Nice property, close to everything you might need.
Nov 06, 2020
I WAS DISAPOINTED WITH THE SPOT IT HAD NO CONCRETE OR GRAVEL
Nov 06, 2020
The cabin we rented was clean and well stocked with anything that we might have needed for our short stay everybody at the office was pleasant and friendly and helpful and that's pretty much it we will stay there again next time we're there
Nov 06, 2020
My husband and I are first time campers and we could not have picked a more perfect place for our trip. Lots to do onsite and close to many other attractions. We are already making plan to return.
Nov 06, 2020
Excellent rv park. Nice amenities. Spaces in part of the park are a little tight for a 40' 5th wheel but this is not unusual in an area full of trees. My only problem was a tree stump to the left of my space (H) which made it a little tricky pulling out of the space. The stump looks lilke it could be cut closer to the ground. We really enjoyed the hot tub.
Nov 05, 2020
Always have a great time there. The Halloween festivities were great.
Nov 04, 2020
We come every year, its our favorite trip!
Nov 04, 2020
Great place and great people
Nov 04, 2020
Our new rig is too big for how close everything is and there are too many drop offs of the main road and not enough parking, which leads to very tedious and stressful arrival and departure. We have always loved this KOA, but that may be our last visit.
Nov 04, 2020
Stay was great. I appreciate that your campground is very clean and well maintained. The only drawback might be for large campers and RV's depending on the section of the campground. The roads in one section of the campground were only designed for one way travel and some tight hairpin turns. The campers seemed to be very packed in.
Nov 04, 2020
Great location and services.
Nov 04, 2020
The campground was very nice and at a great location! Had a very nice playground and pool if you have kiddos.
Nov 04, 2020
Clean,grounds awesome, friendly staff
Nov 04, 2020
Perfect, as always! Couldn't ask for a better place to camp! Fabulous amenities!!
Nov 03, 2020
Our site was not what we expected. No patio. Just wet clay with straw over it. Made for a real mess especially when it rained. For the price charged we expected better.
Nov 03, 2020
We had a great time. We had 2 sites we plan on making reservations again for next year.
Nov 03, 2020
We we're placed at the new sites by Veterans Blvd. We have never stayed at these sites, we've always stayed down in the campground. I have to say it was our worse stay ever. The noise was terrible! We couldn't sleep, the traffic NEVER stopped! There needs to be some type of noise barrier..trees, noise fence, something! We won't stay again if this where we have to stay. Sad, because we loved it her
Nov 03, 2020
Great stay even though the park was packed ! Suggestion- please keep laundry open! It's unfortunate that the laundry closes so early. This means campers have to do laundry during the day instead of being out sightseeing. Laundry facility was excellent. Maybe consider credit card as an option to operate machines.
Nov 03, 2020
Wish the office would stay open till at least 8:30pm.
Nov 03, 2020
Awesome family Campground! Clean bath houses and great staff. 2nd time staying and we will be back!
Nov 03, 2020
This was our third weekend with Pigeon Forge/Gatlinburg KOA-we LOOOOOVE this campground! It is always family friendly and clean-we stayed in the new deluxe cabins, then the camping cabins, then pulled our camper-very enjoyable every time!
Nov 03, 2020
Absolutely impressed with the Halloween festivities and deluxe cabin area. Well done! Love the landscaping and cabin itself. The attention to detail in the deluxe cabin section made the area feel secluded and immersed in nature. Quality table and chairs plus stone fire pit were such a bonus!
Nov 03, 2020
Great time ,Great stay friendly people.
Nov 02, 2020
I think that KOA members should not have to pay a fee to guarantee a site. It is just another way of sticking it to the customer.
Nov 02, 2020
Campground clean, staff doing everything Covid requires. Lots of fun Halloween weekend.
Nov 02, 2020
great place and great people the only thing is to have better wifi
Nov 02, 2020
Hello,We were a bit disappointed in our site on the river..We were told when we booked this site back in February that the sites on the river were redone and had nice cement patios.So you can imagine the disappointment when we got to our site and it was clay dirt and hay.Other than the clay dirt and hay it is a very nice CG.People were very nice and we do hope to visit again.
Nov 02, 2020
Great place to camp, especially Halloween Weekend!
Nov 02, 2020
The camp site location was a tripping hazard the ground was very uneven. Also it had rained recently and the spot was not covered with gravel so we were constantly tracking red clay in on our cabin floor. If you weren't so packed I would have requested another location. The spot also was so small it didn't really have enough space to pak our truck without it sticking out.
Nov 02, 2020
The campground is great! We have stayed there multiple times this year. The staff are great.
Nov 02, 2020
Was a really beautiful place to stay. The people working here where all extremely nice and helpful. Will be back again during summer time to visit again.
Nov 02, 2020
Had a great time! The staff was always there to assist. The park is lovely. We'll definitely be back!
Nov 02, 2020
Great Halloween weekend camping at KOA.
Nov 02, 2020
Very nice but need to put arrows on roads
Nov 02, 2020
It was a good experience.
Nov 02, 2020
We stayed in a cabin & had so much fun all weekend! The only complaint I have is the beds in the cabins are extremely hard!!
Nov 02, 2020
Its very tight. Its very loud. The constant barking dogs really ruined the stay. Both our neighbors and myself reported it but that dog barked all weekend. It gave my wife a migrane. More needs to be done at check In when people have dogs to set expectations. We have dogs. We love dogs but untrained dogs need to be asked to leave.
Nov 02, 2020
We really enjoyed our weekend getaway and stay at the Pigeon Forge koa! Everyone was very friendly and we had great neighbors! Thank you!
Nov 02, 2020
We always enjoy our stays at this KOA! So much stuff to do and other events keep my lil ones busy and happy. Staff here is wonderful and pleasant.
Nov 02, 2020
Had a great week! Staff was awesome. Great location. Just need to put some gravel in the low spots around the entrances of the less expensive campsites. Overall, great campground!
Nov 25, 2020
Great place will be back for sure
- David Porter on Google
Nov 24, 2020
Great place!!
- monica longest on Google
Nov 24, 2020
Always Great.
- Loring Jones on Google