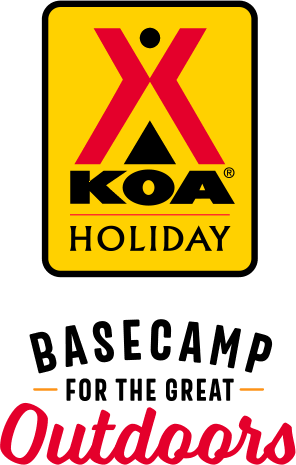 KOA Holiday Campgrounds
Whether you're exploring the local area or hanging out at the campground, KOA Holidays are an ideal place to relax and play. There's plenty to do, with amenities and services to make your stay memorable. Plus, you'll enjoy the outdoor experience with upgraded RV Sites with KOA Patio® and Deluxe Cabins with full baths for camping in comfort. Bring your family, bring your friends, or bring the whole group – there's plenty of ways to stay and explore.
KOA Holidays Feature:
RV Sites with a KOA Patio®
Deluxe Cabins with full baths
Premium Tent Sites
Group meeting facilities
Directions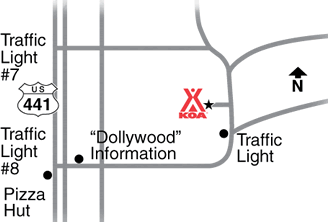 Directions from I-40: Take exit 407 and go south on Highway 66/Winfield Dunn Parkway for 8.4 miles.Turn left on 411 north/Dolly Parton Parkway.Continue on Dolly Parton Parkway and turn right on 449/Veterans Blvd.Go 5.8 miles and KOA is on the right.
Directions from Cherokee, North Carolina: Take US 441 North through the Great Smoky Mountains National Park for 31 miles. Continue straight through Gatlinburg for 5 miles. Once in Pigeon Forge, turn right at traffic light #8 onto Dollywood Lane, go through the next traffic light and KOA will be on the left.
In Pigeon Forge: Turn east off US 441 at traffic light #8 onto Dollywood Lane, go through the next traffic light and KOA will be on the left.
GPS: N35.786321. W83.550096
Get Google Directions
Oct 25, 2020
Cabin is well designed and staff always helpful to answer questions and provide support.
Oct 25, 2020
We stayed in a Deluxe cabin and it was great. Pet friendly with a great view of the river. We will definitely be back.
Oct 25, 2020
The staff was very friendly. My site was disappointing. Too tight. I almost didn't have room for my truck. Too much $ for what I got.
Oct 25, 2020
We had a wonderful stay at the KOA in Pigeon Forge, TN! We'll see you in April 2021!
Oct 25, 2020
It was great. Loved our spots. Thanks and God bless!
Oct 25, 2020
Awesome amenities! The heated pool and lazy river were top notch! Enjoyed the fire pit too!! Great location !
Oct 25, 2020
Friendliest staff...close to the trolley station
Oct 24, 2020
Great place! The only thing I would recommend is replace the cushions on the patio chairs (pretty minor!). We will definitely return.
Oct 24, 2020
Love the new heated pool. Wish some of the visitors would have followed the rules to make everybody safe. We saw the staff working hard to make everyone safe as possible
Oct 24, 2020
Highly recommend the river front lots....they seem less crowded than the others. Also, KUDOS to the staff for the escort to our site and assist in getting into the spot! That was really going above and beyond!
Oct 24, 2020
We have stayed here the past 7 years and have enjoyed our past experiences. This years stay was hampered by the construction and heavy equipment noise along the Patriot Park fence line that begins earlier than I would like while on vacation. I believe we will be looking for a different camp ground for next years vacation.
Oct 24, 2020
Campground was nice, but - 1. Sites are too close together. 2. Roads need repairs. 3. Middle restrooms need work on faucets. No pressure and water is cold.
Oct 24, 2020
Everything is nice about this campground except it can be really tight.
Oct 24, 2020
On the good side, if it's location you're looking for, you can't do better than this KOA. On the down side...All of the sites were extremely close together. The hookups we were functional, but in serious need of repair.
Oct 24, 2020
Good location. A little noise in the morning from nearby business. Staff was excellent. Pool area was great.
Oct 24, 2020
Absolutely delightful. We've stayed here a handful of times, but this was our first time since 2012 and the first time in an RV. The campground has grown into a very beautiful place. Perfect location for anyone who stays in Pigeon Forge.
Oct 24, 2020
Very nice. We were able to upgrade to full service on arrival. Really appreciated being able to do that. Staff and facilities were top notch.
Oct 24, 2020
Very clean, very nice, store was well stocked and everyone there was extremely helpful and friendly! We will definitely be back!
Oct 24, 2020
Great place to stay, close to just about every thing in Pigeon Forge and close to Gatlinburg. Just wish we weren't so close to the road in front of KOA!
Oct 23, 2020
Good stay and friendly staff
Oct 23, 2020
Great RV park. Lots of trees for shade
Oct 23, 2020
The campground was great and we enjoyed our stay. Only negative's was the noise factor... large trash bins being emptied at 5 in the morning with loud sounds from bins closing and construction noise nearby. The campground does not have control over the construction, so we are not faulting them for this. Convenient location and well kept grounds. Great place to stay!!! Staff were great.
Oct 23, 2020
Loved everything about the stay.
Oct 23, 2020
This is a clean and friendly campground.
Oct 23, 2020
Nice bathrooms, the pool is cool, fun places for the kids to play! Our spot was nice and shady with trees. The only thing we weren't fond of is how tight the spots are. Other than that we had a great time.
Oct 23, 2020
Campsite very clean.
Oct 23, 2020
Cabin #198 was great, especially for travelers with pets as the doggy park was close by. The KOA is very clean and well maintained. My family and I have stayed at this KOA four times now and we will be back. Thanks for a great experience as always.
Oct 23, 2020
Nice campground. Only issue was with the cable tv. Very few hi-def channels and analog channels were very snowy.
Oct 23, 2020
Very nice and helpful staff. Especially appreciated theconcierge and his help.
Oct 23, 2020
Location, location, location!! This KOA is in a perfect location; walking distance to Old Mill, trolley stop, little shops & desserts. The large dog run area is a lifesaver for folks that have puppies & dogs that need to run around a bit. Just perfect. Tip: RV utilities are in back of site so make sure you have enough length to reach.
Oct 23, 2020
Had a great trip!! Kept adding extra days to stay longer!!
Oct 22, 2020
Cable tv was not clear at all at our location but people we were traveling with had good cable
Oct 22, 2020
We had a very nice stay in Gatlinberg-everyone was friendly, nice amenities and pretty river walk area for strolling and walking our dog. It's situated next to a park too.
Oct 22, 2020
To express my opinion of the camp grounds KOA in pigeon forge: the camp grounds were very clean and maintained. People and staff were very friendly. Very conveniently located with lots of amenities. However the sites were very small and hard for back-Ins with vehicles parked in front of respected campers. Campfire wood bought there was green and hard to ignite and burn.
Oct 22, 2020
Way to crowded.
Oct 21, 2020
Very Comfortable. Helpful and Friendly staff. I would recommend it to anyone. We have two reservations already for 2021.
Oct 21, 2020
Very pleased with our stay----clean and tidy facility---quiet and friendly atmosphere---only glitch was the concierge, he was no help whatsoever, just a guy taking up space, I am 70 and more prone to help than he was.
Oct 21, 2020
So much to do without leaving the KOA - playground, both dog parks, pool and hot tub, yard games. Super close to Dollywood. Site was clean. Only complaint was our cabin faced a construction site, so we were awakened by 6am each day as the trucks started moving, it was so loud we couldn't sit on the deck until late afternoon when the construction stopped, and at times it smelled like a landfill.
Oct 21, 2020
We had a new campsite, which had a new large concrete pad with a built in fire pit. it also had a table and chairs instead of a picnic table which we liked. A beautiful view of the river in front of us. very clean. it was very relaxing to sit outside. We will stay there again and tell our family about KOA in Pigeon Forge.
Jan 08, 2021
Friendly staff, clean cabin overlooking Patriot Park. Will definitely stay here again in the near future!!
- James Gregory on Google
Jan 04, 2021
Friendly staff. Beautiful cabins. Very clean.
- Kristie Dixon on Google