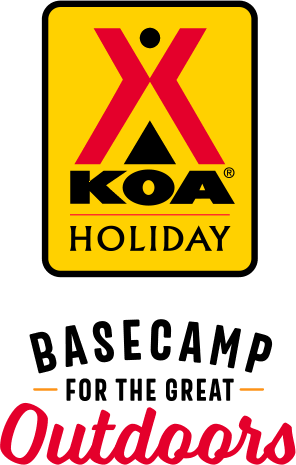 KOA Holiday Campgrounds
Whether you're exploring the local area or hanging out at the campground, KOA Holidays are an ideal place to relax and play. There's plenty to do, with amenities and services to make your stay memorable. Plus, you'll enjoy the outdoor experience with upgraded RV Sites with KOA Patio® and Deluxe Cabins with full baths for camping in comfort. Bring your family, bring your friends, or bring the whole group – there's plenty of ways to stay and explore.
KOA Holidays Feature:
RV Sites with a KOA Patio®
Deluxe Cabins with full baths
Premium Tent Sites
Group meeting facilities
Directions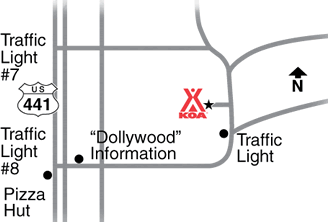 Directions from I-40: Take exit 407 and go south on Highway 66/Winfield Dunn Parkway for 8.4 miles.Turn left on 411 north/Dolly Parton Parkway.Continue on Dolly Parton Parkway and turn right on 449/Veterans Blvd.Go 5.8 miles and KOA is on the right.
Directions from Cherokee, North Carolina: Take US 441 North through the Great Smoky Mountains National Park for 31 miles. Continue straight through Gatlinburg for 5 miles. Once in Pigeon Forge, turn right at traffic light #8 onto Dollywood Lane, go through the next traffic light and KOA will be on the left.
In Pigeon Forge: Turn east off US 441 at traffic light #8 onto Dollywood Lane, go through the next traffic light and KOA will be on the left.
GPS: N35.786321. W83.550096
Get Google Directions
Oct 10, 2020
Excellent location, nice clean campground and bath houses were top notch. Camp store was well Maintained and kept nicely stocked and clean
Oct 10, 2020
Absolutely loved the brand new deluxe tiny cabin! The double bathrooms and full kitchen were both great amenities!
Oct 10, 2020
Its is truly amazing how clean and well run the campground is for as busy as it is. Already making plans to go back.
Oct 10, 2020
Bathrooms were clean. Sites were terrible. Packed in like sardines. Our camper looked directly into the neighbor behind us. Campers overlapped and were 6 inches apart. Sites were at 90 degrees to the road so neighbors would have to move trucks to allow campers room to back in.
Oct 10, 2020
Well maintained with good clean facilities
Oct 10, 2020
It was perfect for us, a little tight getting into our spot, with 3 slide outs, but the guy who showed us to our spot, was very patience and kind, and helped us, until we was satisfied. Easy getting out, close to downtown, staff VERY friendly. They worked daily keeping it clear , and clean,picked up garbage 2xs daily. Very nice place!
Oct 10, 2020
Fantastic place to stay! Very clean and relaxing! Easy access to the surrounding area's.
Oct 10, 2020
The campground was great and the facilities were clean. However, many of the amenities that were listed on the website were misleading. Movie night was only one night of the week. The train rides were only certain days and times. I would say having the schedule of the events on your website so it wasn't a surprise upon arriving would be beneficial. Many events we couldn't partake in. Disappoin
Oct 10, 2020
We always enjoy our stay there the one thing you could do is please try to time the cleaning of your bathrooms so it is not first thing in the morning and you're not doing multiple bathrooms at exactly 8 a.m.
Oct 10, 2020
Wonderful week at a beautiful, clean and friendly campground! Staff was knowledgeable and very welcoming. We will be back!
Oct 10, 2020
We had a premium site on the river but it was pretty muddy even the straw was down I'd rather of had more gravel
Oct 10, 2020
The firepit on Lot 201 was not well designed. Sides are way too tall, thus no campfires to enjoy this week.
Oct 10, 2020
Bathrooms were great. The place was clean. Out picnic table felt as though it was going to break. Campground is WAY overpriced.
Oct 10, 2020
To many people crammed into spots. Excellent location. Spot not cleaned well enough. There was a metal piece on the ground and someone stuck a used bandage on top of the picnic table. Could make this place excellent if they wanted but it is just ok. We stayed for location.
Oct 10, 2020
Couldn't have been better, great place to visit.
Oct 10, 2020
I was not told the very high rate when i reserved. I was not given other options. The camp is very crowded, but the staff works hard to be pleasinf.
Oct 10, 2020
We arrived at Primitive Tent Site at 9pm. We wanted to set up quickly, get a good nights rest before heading back home to Louisiana before Hurricane Delta hit our are. We found ants all over the picnic table and tent ground area. We had to eat & sleep in the car. Worse experience ever experienced. We won't return.
Oct 09, 2020
Always like staying there
Oct 09, 2020
All the staff is very nice and professional.
Oct 09, 2020
Nice folks nice stay
Oct 09, 2020
We loved the property and had a wonderful stay! Can't wait to come back!
Oct 09, 2020
Great location, central to everything in area. Lots of amenities in the park.
Oct 09, 2020
Very nice and friendly place to stay and very clean we loved our stay thank you
Oct 09, 2020
Everyone was very friendly and helpful. It was easy to check-in. The facilities were constantly cleaned and the campground had everything we needed and wanted. We will be back!
Oct 08, 2020
It was wonderful loved the campgrounds and the little house
Oct 08, 2020
Lots of construction beside the campground. Very noisy beginning about sun up. Otherwise clean and well maintained campground.
Oct 08, 2020
Clean bathrooms very important ,nice crew taking care of the campers. mini store with everything you may need for your stay love the kids park and the pool 86 degrees, awesome overall!!!!
Oct 08, 2020
Great time wonderful people
Oct 08, 2020
We were there one night passing through, we spent one day in Gatlinburg have fun, then was wore out - time to relax, spent the night at this KOA and was very impressed will definitly be staying here again. Great atmosphere, great bath and shower facilities, well taken care of.
Oct 07, 2020
Had a great spot ...friendly staff...we loved it. We will be back
Oct 07, 2020
We enjoyed the site. Most looked very tight without paying $100 and up for a signature site. Ours was great. Pool was fantastic. Jumping pillow was broken and no train ride for the kids. Disappointed in that as that was 2 reasons we came. Is the campground worth it compared to others in the area? If you have the Koa discount card maybe so. Otherwise probably not.
Oct 07, 2020
Our camper is 32 feet, add the length of your truck. If you arrive and there are already campers in the spaces next to and across from you, good luck trying to back in your camper. Roads are too narrow, not marked one way which creates a problem. Very frustrating. Only positive is campground is in a great location.
Oct 07, 2020
Love the proximity to local attractions and shopping! With the trolley station next door there is no need to fight traffic or find parking. Sites are a bit on the small side and some are a tricky back-in (90 degree). Staff is great and are very helpful with any questions or services needed. It's our go to campground for the area.
Oct 07, 2020
Loved the site we were on but I think it was to small for the length of camper we have. Someone had scraped the nose of our camper while we were gone to shop. Next time we stay I will get a bigger site other than that we absolutely loved being on the river. Best campground for being close to everything & walking distance from the Old Mill restaurant.
Oct 07, 2020
We stayed three nights in a deluxe cabin overlooking Patriot Park. The cabin was very clean and was equipped with everything we needed during our stay. We built a fire each night in the stone fireplace on the deck with bundles of wood delivered by the staff. The staff members were all very helpful and friendly. We would definitely consider returning to this campground and recommend it to everyone.
Oct 07, 2020
Would have appreciated a dumpster closer to the tent sites. Bathrooms were very clean!!!
Nov 25, 2020
Great place will be back for sure
- David Porter on Google
Nov 24, 2020
Great place!!
- monica longest on Google
Nov 24, 2020
Always Great.
- Loring Jones on Google