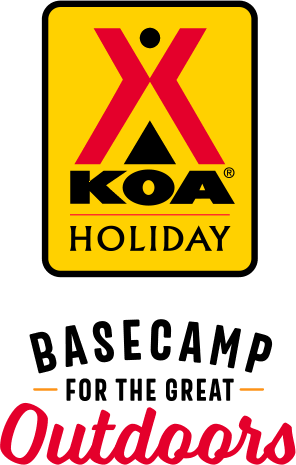 KOA Holiday Campgrounds
Whether you're exploring the local area or hanging out at the campground, KOA Holidays are an ideal place to relax and play. There's plenty to do, with amenities and services to make your stay memorable. Plus, you'll enjoy the outdoor experience with upgraded RV Sites with KOA Patio® and Deluxe Cabins with full baths for camping in comfort. Bring your family, bring your friends, or bring the whole group – there's plenty of ways to stay and explore.
KOA Holidays Feature:
RV Sites with a KOA Patio®
Deluxe Cabins with full baths
Premium Tent Sites
Group meeting facilities
Directions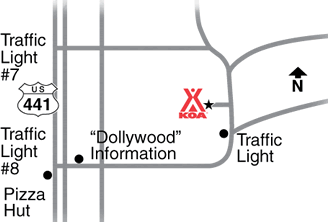 Directions from I-40: Take exit 407 and go south on Highway 66/Winfield Dunn Parkway for 8.4 miles.Turn left on 411 north/Dolly Parton Parkway.Continue on Dolly Parton Parkway and turn right on 449/Veterans Blvd.Go 5.8 miles and KOA is on the right.
Directions from Cherokee, North Carolina: Take US 441 North through the Great Smoky Mountains National Park for 31 miles. Continue straight through Gatlinburg for 5 miles. Once in Pigeon Forge, turn right at traffic light #8 onto Dollywood Lane, go through the next traffic light and KOA will be on the left.
In Pigeon Forge: Turn east off US 441 at traffic light #8 onto Dollywood Lane, go through the next traffic light and KOA will be on the left.
GPS: N35.786321. W83.550096
Get Google Directions
Oct 14, 2020
It was pouring rain but they had a really nice covered shelter area with picnic tables, a fireplace, and an electric outlet to charge my device. It was a great place to hang out and be out of the rain.
Oct 13, 2020
Our second stay at KOA Pigeon Forge was delightful, convenient and memorable. The proximity to LeConte Center was largely the reason I chose your KOA. I would return.
Oct 13, 2020
Everything was wonderful. Friendly and helpful staff.
Oct 13, 2020
We have been coming to this KOA for about 36 years. The last time was in 7/2016. Great changes since then. We spent the extra money to have the special pet area and patio. The pet area at our site needed mowing bad-grass was way too high. The patio furniture pads were ripped. We had just come from Nashville KOA where we got the same site with pet area &patio. There furniture was 100% better.
Oct 13, 2020
Fantastic stay! We loved our cabin. The staff were friendly and check in/out was a breeze.
Oct 13, 2020
Very clean, pet friendly and lots to do for the kids
Oct 13, 2020
Short one night stay on way home from 5 week trip. Very quiet and peaceful. So different than many of the other KOAs we stayed at on our trip. Forgot our personal site sign and they called us and returned to us same day. Great staff. Thank you.
Oct 13, 2020
This was the first time we had stayed at the Pigeon Forge/Gatlinburg KOA and we enjoyed the two-night stay. All employees were exceptionally friendly and helpful. The two 15 year-old boys with us had a very good time.
Oct 13, 2020
I would love to rate the location 5 stars. Most every thing was perfect and beyond our expectations. The women's showers in the bath house near our site was lacking.
Oct 13, 2020
It was great also for me to pull thru
Oct 12, 2020
Rained a lot. Some sections could use a little rick but overall a very positive experience
Oct 12, 2020
Campground is difficult to exit.
Oct 12, 2020
Everyone is very helpful and friendly. The campsites are really good and clean, and easily accessible.
Oct 12, 2020
Great job cleaning the bathrooms and cabins!
Oct 12, 2020
A few hiccups with the cabins in our group being ready but considering the was the first trip where there was accommodations to fit all our needs, it was a true success! Our family had an awesome time and loved the cabins. Beds were comfortable. Planning another and will use KOA again. Especially Pigeon Forge! We did not let rain stop us!
Oct 12, 2020
Great park and camping area
Oct 12, 2020
Check in is 3....There was a 2 and a half hour wait until our cabin was ready. 10% was given...should have been more. We did not receive a call....came to the office several times to see if cabin was ready. The stay was nice with family though. Thank You Melinda
Oct 12, 2020
Great campground with lots of amenities for all ages. It offers different types of sites to attract tent campers to high end Big rig coaches. Tourist town so it's pricey with lots of traffic. Enjoyed our stay and nice campsite.
Oct 12, 2020
Staff was extremely Helpful, cabin was super clean!
Oct 12, 2020
Site was clean, the staff were nice and well organized, and polite. We appreciated the staff member guiding us to our site.
Oct 12, 2020
Staff was wonderful. Restrooms were very clean
Oct 12, 2020
During this visit I was in a camp cabin and this is the only review I can offer. The remaining stay was excellent. As for the cabin the lighting was poor and there was nothing to sit on other than the bed and that was uncomfortable because of its rustic design. The staff I encountered and the overall KOA were excellent.
Oct 12, 2020
Friendly staff. clean.
Oct 12, 2020
Clean campground and friendly and helpful staff. Only complaint is sites are so small.
Oct 12, 2020
Stayed 2 nights and it was very nice as we have stayed here a number of times. It is a close walk to the Mill Creamery Restaurant which we always eat. They have wonderful deserts and there home made bread is great
Oct 11, 2020
Love staying here. Close to areas we can walk to. Safe and clean. We have stayed here many times and plan to each time we are in the area
Oct 11, 2020
The people here were great but back in sites are just too tight AND if you are near the showers the campers just walk thru the 4 sites in front 24/7. Very annoying to have that happen.
Oct 11, 2020
This was our fourth trip at this campground, it gets better every time we are there. We stayed a week at our favorite spot, (162). We love this one because it was the first area we stayed at. The people working were always nice and they keep the whole campground clean and easy to talk to. We will be back many more times. Thank you to all employees for another great trip.
Oct 11, 2020
We had a great time and are looking forward to returning soon. Everyone was so friendly and helpful!
Oct 11, 2020
Wonderful and relaxing stay. Staff was great and had all the amenities one would want. There is a bit of a siren issue but nothing they could do about that. � Kids are planning the next trip back as are we!
Oct 11, 2020
We had an excellent stay. Beautiful weather. Friendly staff and service. Especially loved the curbside service. Excellent site. Will definitely be staying here again. Jack and Lisa Musselman
Oct 11, 2020
Great, loved the lazy river
Oct 11, 2020
Crit the maintenance man extremely kind and respectful told me and my family everything we needed to know about KOA, and the area.
Oct 11, 2020
Cable sucks. For the money you charge it should be way better
Oct 11, 2020
I booked on line and there was a mix up with reservation. When we got there ,there wasn't electricity or water on our site. We were moved to another site but had to cut our stay short because they didn't have any sites available for the whole time we were supposed to stay. We love this KOA the people are super friendly and helpful. We will be back after the first of the year. THANK YOU. PENNY
Oct 10, 2020
Excellent service and great amenities, just wish the camp sites were a little larger
Oct 10, 2020
Very nice facility we really enjoyed our stay. We will be back next year.
Oct 10, 2020
I really like this campsite. It's in the heart of everything or just a trolley ride away. I would give it a 5 but it seems the cleanup in October is not like it was in June. I say that but it's the cleanest KOA I've been to, however they set a high bar in June. This is a great campsite if you're looking to be in the mist of the action. Good job!!!!!
Oct 10, 2020
My favorite Kia to go to. Staff has always been very friendly. Lots of shopping just hope on the tram don't have to worry about traffic l love it
Nov 25, 2020
Great place will be back for sure
- David Porter on Google
Nov 24, 2020
Great place!!
- monica longest on Google
Nov 24, 2020
Always Great.
- Loring Jones on Google