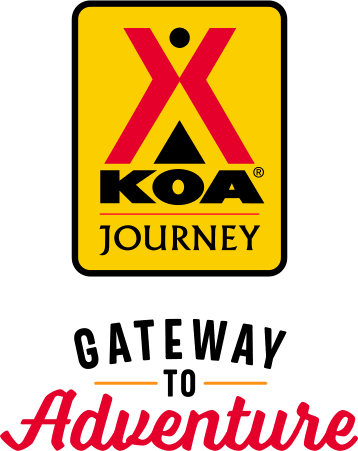 KOA Journey Campgrounds
KOA Journey campgrounds are the perfect oases after a day on the road. Whether it's along the way or a quick getaway, they've got you covered. Located near the highways and byways of North America with long Pull-thru RV Sites, they deliver convenience to the traveling camper. Pull in, ease back and take a load off.
KOA Journeys Feature:
Pull-through RV Sites with 50-amp service
Premium Tent Sites
Well lit after hours check-in service
Directions
Located on M-28 in Wetmore: 3.5 miles east of Munising. The campground is approximately 125 miles from Mackinac Bridge and 45 miles from Marquette.  GPS: N46.3773, W86.5915
Get Google Directions
Sep 10, 2020
A very pleasant and nice campground in the woods.
Sep 10, 2020
The campsites are literally on top of each other. Could hear every conversation of the people camping behind me and next to me. Not very relaxing of an experience.
Sep 09, 2020
The campground did not have any pad so it was very dirty and muddy the sites were close together and the staff were not very friendly
Sep 09, 2020
Had a great time, wonderful cabin
Sep 08, 2020
Friendly staff. Our fire pit did not have a grate. Women's bathroom was in bad shape. Getting out of the shower onto tiles that are not secured down is not safe. The tile would pop up. Broken grout was in chunks on top of the tile & could hurt. Shower drains full of hair. I have stayed at many KOAs and their bathrooms are clean. Revving up loud snowmobiles in the morning was extremely unpleasant.
Sep 08, 2020
Campground was nice but the bathrooms were not great.
Sep 08, 2020
Bathrooms old and falling apart, no ranger for loud partying 4 wheeling neighbors. Sites small, very uneven. All dirt, no grass on sites
Sep 08, 2020
The staff was very friendly and helpful, and the campground overall was nice. BUT we were placed in Site 8, which has the entrance to an ATV trail at the rear. SO we had people walking and riding right through our campsite--right next to the table where we were trying to eat--constantly! I will book elsewhere next time.
Sep 08, 2020
Aside from the fact that when we arrived our campsite was given to the group checking in ahead of us because there was a puddle on their site the gentlemen that was working there by himself was very accommodating. They could use some fly trips in the ladies bathroom and the tiles in the shower need to be redone (stubbed my toe on a few loose ones. We will be back
Sep 08, 2020
Although it seemed to be a nice campground, it was hard to get to our spot. All the manager said was "go this way until you get to the sign, make a right until you get to this point". It was a very tree lined campground and it was easy to miss a turn, no one lead us to our spot. The fire pit was full of burnt out logs from the previous campers, no one cleans the fire pits.
Sep 08, 2020
Was a nice experience. It is close to most of the touristic places. The sports are really close to each other. That's the only thing I didn't like. But in general was nice.
Sep 08, 2020
The campgrounds were very close to the things we planned to do and see while we were in the area. Very friendly staff.
Sep 07, 2020
We have a membership with KOA. When we booked our stay here 2 months prior, we saw other reviews about the bathroom situation. We thought that by the time we would be there, those issues would have been addressed. They where not! We understand they just took over, but cleanliness, paint and TLC doesn't take much money! They don't deliver wood to site. Our cabin was comfortable.
Sep 06, 2020
Staff are very nice and very accommodating. Nice trees. Pricing is high. The sites are too close together. Fire pits are either next to the road or behind the camper(nice) but so close to the neighbor's fire pit that you can hear all their conversations. We had 5 days of continuous dog barking on two sides of us because people left their dogs in their campers unattended.
Sep 06, 2020
Our cabin was clean and the fire pit was in good condition with a grill attachment. The campground has a small playground but nice volley ball and basketball play area. The pool is clean and well kept. Staff was friendly and helpful. Our stay was great.
Sep 05, 2020
Nice treed camping spots. Employees EXTREMELY helpful at check in. We had originally been assigned a very tiny, noisy spot between two huge motor homes that were right out by the entrance and the highway. I asked the nice gentleman if he could put us in a bit remote location. He willingly found something that worked out perfectly for us. One negative - restrooms/ showers not well maintained. Upgra
Sep 04, 2020
A perfect stay close to Pictured Rocks National Lakeshore. Well maintained facility.
Sep 04, 2020
Bathrooms were disgusting. Mold on the walls and ceilings, broken tiles in the women's showers, broken door latches and not regularly cleaned as they were suppose to be. Campsite was uneven and no grass at most. Also dealt with the unpleasant smell of the landfill across the street. Would never stay here again.
Sep 04, 2020
The staff and campground itself was nice but the proximity to the landfill is less than desirable due to the odor. The wind must've been blowing in an unfavorable direction when we were there.
Sep 04, 2020
Place hasn't been renovated in 40 years other than having a nice office / store ... Only has one dump station hole that is in poor conditions ... No paths to get to pool and play grounds which forces people to walk thru other camp sites or walk way around ... Site I reserved did not exist and was placed right next to playground and pool when I purposely choose a site type that wasn't near this are
CAMPGROUND RESPONSE / COMMENTS:
Thank you for taking the time to do the survey. Yes this is an old campground. Every year we make improvements as we will continue to do. You were placed in an electric site as you requested, I am sorry it did not meet your standards. Once again thank you.
Sep 03, 2020
I loved how many trees there were! It felt much more nature-y than a lot of the KOA's I've stayed in the past, and that was a big plus for me! My kids loved the pool as well.
Sep 03, 2020
Very nice place the site was large except it was a sharing site. Everyone in the office was very nice to deal with.
Sep 03, 2020
Over priced. Terrible interior roads.
Sep 03, 2020
It was nice to have electricity and wifi! The place was clean and convenient to where we wanted to go. And it was very quiet at night.
Sep 02, 2020
Bathrooms very dirty - camp too busy and almost overcrowded. Camp is next to the road and a hotel - very very noisy.
Sep 02, 2020
Good stay. The bathrooms weren't the cleanest but provided a nice hot shower. The heated pool was awesome for the kids along with the lawn games available for them. Site was nice and level and clean. We will stay again.
Sep 02, 2020
We had a wonderful time! This is a beautiful and very well maintained campground friendly staff from atmosphere and all around great stay. Thank you to everyone.
Sep 01, 2020
Some money needs invested in paved road for the entrance and one path around the park. Then gravel for the numerous holes in the roads as well as gravel for the sites. Happened to rain when we were there and everything was very, very muddy and cold. Still would have been difficult even without the rain.
Sep 01, 2020
The personel changed our stay from the 10 nights to 7. Claimed I called and spoke to this male Manager?? When gave me date I alledgedly called was during period, in area previous week. See I do NOT get any CELL service at all. This is Michigan's UP. Not sure why they would do this except rates did go UP since we had made our reservation and we had a pull thru site but only a 25 ft unit???
Sep 01, 2020
The receptionist was very friendly and helpful, the office was clean and modern. Campgrounds were adequate and facilities appeared nice and in good order. Hookups were in good proximity to the RV and functioned properly. Biggest and most outstanding issue was with the bathroom/shower facility - they were very dirty and desperately in need of attention. Showers were small, filthy, poorly lit.
Sep 01, 2020
Staff was AMAZING! bathrooms need to be updated. Barely room to move in the stalls. Clean tho. My site was a pond after it rained thank goodness I have a camper and not a tent. Alot of sites are very close to main road which didnt help with a camping atmosphere. But I usually stay at state parks, so i think i will stick with that from now on.
Aug 31, 2020
Wet. But had a great time
Aug 31, 2020
Nice staff, nice pool, nice sites, a few broken door latches in the bathrooms but overall a nice place to camp.
Aug 31, 2020
We booked a site with water but the water is so far from the camper we couldn't hook up our hose. It's a back site so there was nothing we could do. The site was pure mud. I realize that you can't control the weather but more rocks or building up the site so it doesn't become a pool would have been nice. The staff was very friendly. But overall I feel that the grounds were not the best.
Aug 31, 2020
Nothing special , I get in that area you are not really there to stay at the campsite all day as there is a ton of site seeing to do! But the showers were gross, broken floor tiles, my daughter cut her foot on the broken tile. There were cigarette butts in the changing part of the shower stall. I am not generally picky on things but when you get out of the shower not feeling clean, not good!
Aug 31, 2020
Staff are very nice. Camp sites are very close together and all dirt. Site flooded when it rained. Good cable and WiFi Nice grass sites in front by road.
Oct 13, 2020
What a beautiful location.
- Alicia Purser on Google
Oct 10, 2020
We stayed here for two weeks. Very quiet with friendly staff.
- Mike Bristol on Google
Oct 02, 2020
Beautiful campground all around!! Plus lots of sights to see in town!!
- Caitlyn Moore on Google