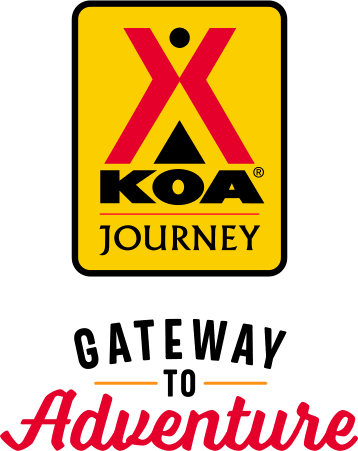 KOA Journey Campgrounds
KOA Journey campgrounds are the perfect oases after a day on the road. Whether it's along the way or a quick getaway, they've got you covered. Located near the highways and byways of North America with long Pull-thru RV Sites, they deliver convenience to the traveling camper. Pull in, ease back and take a load off.
KOA Journeys Feature:
Pull-through RV Sites with 50-amp service
Premium Tent Sites
Well lit after hours check-in service
Directions
Located on M-28 in Wetmore: 3.5 miles east of Munising. The campground is approximately 125 miles from Mackinac Bridge and 45 miles from Marquette.  GPS: N46.3773, W86.5915
Get Google Directions
Sep 06, 2021
I had to call twice to fix my reservation, the bathroom's are absolutely horrible. If you are paying 60 plus dollars a night there should not be mold on the door in the shower, I should not have to clean the shower before taking a shower, and you should not be out of toilet paper in 2 bathroom stalls 3 hours after you cleaned the bathroom when each stall hold's 4 rolls of toilet paper.
CAMPGROUND RESPONSE / COMMENTS:
I'm sorry to hear that you didn't enjoy the stay and the restrooms didn't meet your standards. Unfortunately the showers are used by many guests and get a deep clean daily 12-2. The paper product we received isn't standard and a bit smaller for the 3 holder dispensers & checked often to avoid this-
Sep 05, 2021
Everything was awesome! The host, Steve was very friendly and helpful. It's located by the best beach and a lot of waterfalls.
Sep 05, 2021
We loved that there were trees all over the property providing shade,and privacy.
Sep 05, 2021
Spacious sites but the electric pedal were kind of screwy. We shared with one that had us so far away from the sewer hookup that we had to wait til the day we left to back up and dump. Other than that a nice camp.
Sep 04, 2021
Campground was decent, Staff was friendly and helpful, they could use some maintenance around the place, nothing major, just things like the water spigot in our site leaked, in the men's showers some of the hooks were broken so no place to hang towels or clothes, the rv dump station lid was broken. Both Mon.and Wed.morning we were woke by a garbage truck at around 5:30 a.m. emptying the dumpster
CAMPGROUND RESPONSE / COMMENTS:
Thank you for taking the time to complete the survey, we appreciate the feedback.
Sep 03, 2021
We had the most wonderful time making this our base camp for visiting the Upper Peninsula. Sites were spacious and private and laundry was clean. We didn't use the bath houses so I can't comment on the cleanliness of those.
Sep 03, 2021
Always a great time here at Munising Koa and the staff are great!! Looking forward to seeing them next year
Sep 02, 2021
Very quiet and peaceful
Sep 02, 2021
Great pull through sites with trees separating sites creating a lot of shade. Great location to Pictured Rock trails, beaches and sites.
Sep 02, 2021
Check in was easy, informative, and felt very welcomed. Site was accommodating and plenty wide with tress/shrubs providing some privacy between camp sites. All in all was a nice stay.
Sep 02, 2021
Bathroom floors are extremely dirty. Sand and dirt tracked in and then get wet. Toilet paper is the worst I have found anywhere, falls apart in your hand before you can even ust it. Very beautiful. Good wi-fi.
Sep 02, 2021
Absolutely loved it here! The campgrounds close to everything, right off the main road but you're so tucked back it feels like you're in the woods! Great showers! The area is so gorgeous, theres so much to do! We will 1000% be back! Thanks for a wonderful time and a great place to stay!
CAMPGROUND RESPONSE / COMMENTS:
We appreciate the kind words and feedback. We are happy to hear you enjoyed your stay and will be back!
Sep 02, 2021
The folks in the reception area were kind and helpful. Our camp site was near the road and very loud at night.
CAMPGROUND RESPONSE / COMMENTS:
We appreciate the feedback.
Sep 02, 2021
Had reserved a full hook site, was put on a electric / water site. called when I received my notice. called 2 times, left message to return call, never received a call back. on 3 call someone answered. tried to get moved to a full hook up site, but could not get one till 2nd and 3rd night. was told to enter my first lot the wrong way. had my door facing wrong. left it since I was moving.
CAMPGROUND RESPONSE / COMMENTS:
Thank you for the feedback. Unfortunately it looks like the site you reserved online was for an electric and water spot. I am happy to hear the staff was able to arrange a full hook up site for you the second two nights of your stay.
Sep 01, 2021
We have been camping at Wandering Wheels for over 20 years and have never had a bad experience. July and August of this year were no exception. Wonderful time! We are coming back on September 17 for another 8 nights. Can't wait!
Sep 01, 2021
Young man checking us in was very helpful and friendly. Campground is very very wooded and damp under the trees! But it was what we needed and glad it was there!! FYI we needed propane and the gas stations would not refill our RV. The superior gas company next door did…please share with your guests. No one in the office knew!
CAMPGROUND RESPONSE / COMMENTS:
Happy to hear you enjoyed your stay! Thanks for taking time to complete the survey.
Aug 31, 2021
Nice park, clean bath house and showers 5' deep pool for kids or adults. I was a little annoyed I could not check in early at 1:30 they made me wait until 3 so I got to set up in the poring rain instead of dry weather, not how you really want to start you camping trip. They lots are narrow , if you have the awning out you have to move your fire ring to the front or back of the lot.
Aug 31, 2021
We stayed in a cabin and it was great. Plenty of space for our family of four.
Aug 31, 2021
We stayed 3 nights. The staff were fabulous in helping us and accommodating our request to be as close to our family as possible. The staff were super friendly and the full hook up sites in the back in the woods were great! The park was quiet but had all the amenities we could want!
Aug 31, 2021
Restrooms were filthy no matter if went 1st thing in am , noon or evening!!! 1 hook in each shower stall and no bench? My clothes and towels got wet Pool area needs cleaning as well. Sites themselves were clean but way too close. For 60.00 a night not with the stay
Aug 31, 2021
Very pleasant host for check in. Nice accomodations for the overflow lot. Happy they found room for us at the last minute.
Aug 31, 2021
We loved the privacy the individual sites offerred. They were large and well shaded. CABLE TV WAS A NICE SURPRISE BUT SO MUCH TO DO WE DIDN'T WATCH MUCH. REGISTRATION WAS EASY WITH POLITE STAFF. UNFORTUNATELY WE HAD TO CUT OUR WEEK 2 DAYS SHORT DUE TO A DEATH IN OUR FAMILY. THE MAN IN REGISTRATION WAS EXTREMELY HELPFUL AND QUICK TO OFFER A REFUND FOR MISSED DAYS. HOPE TO BE ABLE TO RETURN IN THE
CAMPGROUND RESPONSE / COMMENTS:
Thank you for taking the time to complete the survey. We are happy you enjoyed your stay and hope to see you again!
Aug 31, 2021
Way too noisy. There are several sites along a very busy and loud highway and unfortunately we stayed in one. If you plan to stay here, must stay in back.
CAMPGROUND RESPONSE / COMMENTS:
Sorry to hear you didn't enjoy the site. If you decide to stay with us again please call and we can reserve a site in the back with the 50 amp hook up if available.
Aug 30, 2021
Camp site was very nice, well maintained and spacious! Staff were great and the accommodations there were nice, especially for the dogs.
Aug 30, 2021
Nice camping experience, very friendly staff and well stocked store. Level trailer site.
Aug 30, 2021
First time here...loved how close we were to the pool and the playground so we didn't have to leave our site to watch our kids.
Aug 30, 2021
Facilities were very nice and clean. Walking around the property all of the plots were well done. Only wish that when I called to reserve a location that they would have explained that the available tent spot was going to be the "over fill" next to the main road.
Aug 30, 2021
Pretty confortable, friendly staff, wish you would've had a dump station, price just a bit high.
CAMPGROUND RESPONSE / COMMENTS:
Happy to hear you enjoyed your stay. We do have a dump station on the property, sorry you missed it.
Aug 29, 2021
great loved it
Aug 29, 2021
The staff was very nice, polite and helpful! I was pleasantly surprised by the staff and the modern amenities. The kids enjoyed the pool and gift shop. However, the location is not desirable, the spots were not private at all and it was very crowded. The showers were not clean. It suited our needs because it was a close drive to Munising and Pictured Rocks, but we will not be staying here again.
Aug 29, 2021
Just need a dumpster didnt see one for campers but mughtve just missed it! Young woman in charge has fanominal customer service, cant rememeber name.
CAMPGROUND RESPONSE / COMMENTS:
Thank you for completing the survey and the kind words. We do have two dumpsters on the property that are fenced in for customers use.
Aug 29, 2021
Was told we had full hookup, found out they lied, terrible sites not well managed having small popups on a large pull through and large RVs on back in small sites. Won't be back
CAMPGROUND RESPONSE / COMMENTS:
Thank you for the feedback and sorry to hear you won't be returning . We apologize for the misunderstanding on the type of site reserved. We do repeat reservations and also send out a confirmation email to ensure whats reserved is clear.
Aug 28, 2021
The park was great, the Pictured Rocks Sea Spray tour was awesome. I especially appreciate the dog kennels provided by the tour.
Aug 28, 2021
We had reservations at another campground we arrived and it was atrocious we could not stay. After a night in our truck we are just going to turn around drive back home vacation ruined until we called your campground and talked to Kelsey. She totally saved our vacation and not only worked us in but worked it where we would not have to change spots after a few days. Campground was amazing and clean
Aug 28, 2021
Loved it. CAYLEE was the young lady that helped me on the phone and Check in. She is a asset to your koa campground. Hope to stay for longer next year!
CAMPGROUND RESPONSE / COMMENTS:
Thank you for the kind words - happy to hear you enjoyed your stay!
Aug 28, 2021
The shower didn't have any hooks or shower seat the floor was really dirty toilet paper all over the place I bin to many KOA this one war the dirtiest
CAMPGROUND RESPONSE / COMMENTS:
Sorry to hear the bathroom cleanliness wasn't to your standards. We check them frequently and do a deep clean in the afternoon daily. All of our showers have hooks and a bench in the hall area that may have been moved to a shower.
Aug 27, 2021
Nice property. Friendly staff.
Aug 27, 2021
We stayed in one of the cabins. Very clean. Wasn't perfect, such as duct tape on the torn screen. But we chuckled about it. The campground is beautiful with many mature trees! As we would take walks, the camp spots seem to have a lot of room and semi private due to all of the trees. Good size outdoor pool. Nice showers. Washer / dryer, if needed. We would definitely stay there again!
Aug 27, 2021
When we booked we said we wanted a full hookup, did not get it. The lots are ok but not very level. Water pressure was very low. Internet was terrible. The bath house was awesome, clean and we'll kept up.
CAMPGROUND RESPONSE / COMMENTS:
Sorry to hear you didn't enjoy your stay and the site type wasn't available at the time of your reservation. We have several WIFI extenders throughout the property to meet everyone's WIFI needs. We appreciate you taking the time to complete the survey.