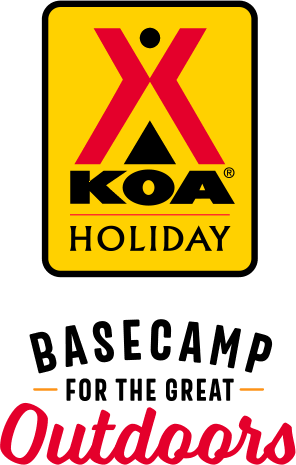 KOA Holiday Campgrounds
Whether you're exploring the local area or hanging out at the campground, KOA Holidays are an ideal place to relax and play. There's plenty to do, with amenities and services to make your stay memorable. Plus, you'll enjoy the outdoor experience with upgraded RV Sites with KOA Patio® and Deluxe Cabins with full baths for camping in comfort. Bring your family, bring your friends, or bring the whole group – there's plenty of ways to stay and explore.
KOA Holidays Feature:
RV Sites with a KOA Patio®
Deluxe Cabins with full baths
Premium Tent Sites
Group meeting facilities
Directions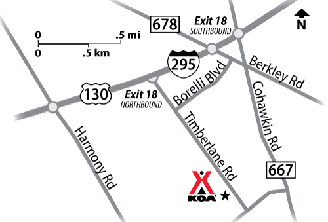 Traveling Southbound on I-295: Go to exit 18. Take the first right off the exit. Take Rt. 667 South (approximately 1 mile) and turn right onto Friendship Road. Go one block and turn right onto Timberlane Road.  GPS: N39.8077, W75.2367
Get Google Directions
Aug 10, 2021
Very friendly and accommodating. Excellent staff who are very polite and helpful. Nice playground and pool too.
Aug 09, 2021
We stayed in a deluxe cabin for the weekend, and had the best time. Everything we needed was included and it was the perfect size campground for small children and to have access to all the amenities.
Aug 09, 2021
We loved having our RV back right into the field with the playground and jumping pillow! And the kids loved the kiddie pool and the larger swimming pool!
Aug 09, 2021
Good location for a quick visit to Philadelphia. We took a ride share into/out of the city, about $40 each way. Way easier than trying to find a place to park our tow vehicle. Campground staff was very helpful and friendly. We were on site 6 with a 36' TT. A bit tight, but doable.
Aug 09, 2021
Nice place! Clean and quiet. Our site was such a nice size too! Would definitely go back.
Aug 09, 2021
Always willing and able to help. From picking up and filling gas tank to dropping off fire wood at my site. The ladies in the office are the best!!! Thank you for making us feel at home while we are here for work
Aug 09, 2021
Everything but one item was very good, but a washer that didn't spin dry the clothes was a huge issue especially considering the $71 nightly charge. At that rate everything should work.
Aug 09, 2021
Beautiful park, extremely friendly and helpful staff. Facilities were top notch.
Aug 09, 2021
Nice camp, nice neighbors, great location with easy access to Cherry Hill and Philly downtown. Terrible WiFi though, not really acceptable for this day and age especially when we're not boondocking and winging it.
Aug 09, 2021
Very friendly environment. Well then care of site
Aug 09, 2021
Very clean and well organized campground!
Aug 08, 2021
This park is very clean. Pull thru site long enough for a 40' MH with tow
Aug 08, 2021
Friendly staff.. the sites are level with some shade and full hookups.. easy access from interstate…clean and modern restrooms/showers.. would stay again if passing thru..
Aug 08, 2021
I wouldn't recommend this campground. The spots are very tight. They put us in a spot too small for our camper, so small that a tree limb that stuck out ripped off our awning while we were parking it. And it wasn't the first time that limb was hit. We also had to ask the camper next to us to put in their awning so we could put our slide out.
Aug 07, 2021
The deluxe cabin was the best we've ever stayed in! Great dog park with plenty of running room for dogs with pent up energy from traveling. Wish we had stayed longer.
CAMPGROUND RESPONSE / COMMENTS:
Thank you for your review. We hope to see you again.
Aug 06, 2021
There are zero benefits for campers who use efficient, small sized teardrop trailers. I do not need any hookups whatsoever, but am forced to pay the same price as these oversized, excessive RVs that need electric, tv, water, and sewer. That is just asinine. I have solar panels, a 7 gallon road shower, and a MaxFan! I don't need your hookups nor do I want to pay for something I don't use. Please fi
CAMPGROUND RESPONSE / COMMENTS:
Thank you for your review. Happy trails.
Aug 06, 2021
Great neighbors, wonderful staff. Perfect stop for our trip.
Aug 05, 2021
Easy in and out. Very pleased!
CAMPGROUND RESPONSE / COMMENTS:
Thank you for your review. We hope to see you again.
Aug 04, 2021
Thanks see ya again next year���
Aug 04, 2021
This KOA is in the top 10 of the 50 I have stayed at since 1980. It is clean, well maintained, well run, the staff is friendly and the tent sites are in deed shaded! I like how you are taken to your site so you don't get lost and that you can have ice and firewood delivered to your site. It was one of the smallest KOA's I have stayed at but that didn't take away from all it has to offer!
Aug 04, 2021
Great park. Nice and clean!
Aug 04, 2021
A beautiful location. We stayed two nights and loved it!
Aug 03, 2021
Quiet and close to the highway. We had a great stay!
Aug 03, 2021
We had a great time! We had a few problems with the induction cooker inside the cabin but it was sorted out by providing us with a small portable one. Great service!
Aug 03, 2021
Nice clean campground with level spots and easy access.
Aug 03, 2021
A total surprise of a Campground! A JEM of a KOA, secluded, away from traffic noise, surrounded by vegetation and great staff.
Aug 03, 2021
Spent only a couple of hours at the camp but the bathroom and shower were clean
Aug 02, 2021
We stayed in one of the cabins and had a wonderful experience! The cabin was unique and very clean! We enjoyed spending most of our time out front with a fire and walking around the well-kept campground!
Aug 02, 2021
Friendly, helpful staff. Beautiful, comfy park. Clean bathhouse and pool. Live entertainment and jumping pillow. What more would you need?
CAMPGROUND RESPONSE / COMMENTS:
Thank you for your review, we hope to see you again.
Aug 02, 2021
passing thru
Aug 02, 2021
My family and I absolutely loved it and will most definitely be returning. It was such a nice, clean and peaceful environment. Everyone was super friendly and we are not even going to mention how beautiful the Deluxe Cabin was! The kids enjoyed the pool, the park and the jumping pillow. We all had a great time.
Aug 02, 2021
My site was not level. I had to use 3 2x12 high to level camper. They have a back hoe they can drag the bucket and level sites, don't even have to add stone, just level what's there. Also the row of sites I was in where tight 2 foot between awnings to slides from camper to camper in the whole row. I had a fire pit, but I was afraid to use since there was no room.
CAMPGROUND RESPONSE / COMMENTS:
Thank you for your review. Sorry that you were unsatisfied with your stay. Please let us know next time and we will be pleased to move you, if possible. We strive to make our guests happy.
Aug 02, 2021
Excellent as always! Kind workers, clean facilities, and a nice crowd of other campers.
Aug 02, 2021
Great, friendly staff. As a new owner, pulling a 32 foot trailer, I appreciate all the pull thru sites, wide roads and spacious sites. The pool and bathrooms are always clean. I've stayed here 4 weekends and always had a great time.
Aug 01, 2021
Very peaceful cabin. Nice staff. But one of the smaller koa store selections which made for trips to the store instead of just to the office area. Just need some updates to the store!
Aug 01, 2021
We will definitely be back. Great park.
Aug 01, 2021
The campgrounds were very clean and quiet. The cabin we rented was awesome, it had everything we needed. The pool was nice my son enjoyed it. The whole staff was very friendly. We will definitely stay again.
CAMPGROUND RESPONSE / COMMENTS:
Thank you. We look forward to seeing you soon.
Jul 30, 2021
It's the staff that makes the difference in any campground stay, and Philly South has the best of any!
Jul 30, 2021
Convenient location to Philadelphia. Clean & comfortable bathrooms. Friendly & helpful staff.
Jul 30, 2021
Overall the campground is very nice. Sites are level. Older sites have cracked patios, which can be a tripping hazard.
Jul 30, 2021
Lots of great amenities for kids - new playground, jumping pillow, clean pool. Bathrooms could be cleaner - on our stay I noticed it was not cleaned all day (evident on the floor/counter and the checklist on the clipboard was blank).
Nov 01, 2021
Beautiful and serene location...quick 40 minute ride from Philadelphia. Just have to risk your life on that Walt Whitman (the driving is abysmal)! Lol
- Michelle Wilson on Google
Oct 30, 2021
Philadelphia is close and one of my favorite cities. Even though it's Halloween weekend were able to get a reservation at last minute. The park is very well organized and plenty of trees for shade if needed. Located in a guilt residential neighborhood. Close to grocery stores and much what one may need. Laundry and bathroom with showers as one should be able to expect. Store on site with essentials. To many extras to mention. The park couldn't be any better. It has it all.
- John O'Carroll on Google
Oct 26, 2021
Loved it so much this spring I booked a deluxe cabin for my honeymoon in 2 weeks!!
- Melanie Murray on Google