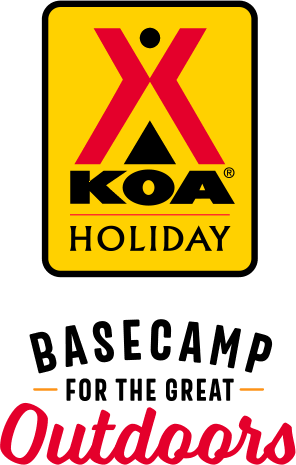 KOA Holiday Campgrounds
Whether you're exploring the local area or hanging out at the campground, KOA Holidays are an ideal place to relax and play. There's plenty to do, with amenities and services to make your stay memorable. Plus, you'll enjoy the outdoor experience with upgraded RV Sites with KOA Patio® and Deluxe Cabins with full baths for camping in comfort. Bring your family, bring your friends, or bring the whole group – there's plenty of ways to stay and explore.
KOA Holidays Feature:
RV Sites with a KOA Patio®
Deluxe Cabins with full baths
Premium Tent Sites
Group meeting facilities
Directions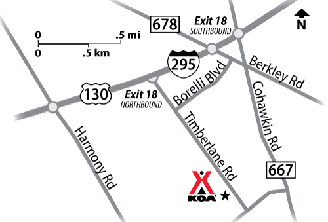 Traveling Southbound on I-295: Go to exit 18. Take the first right off the exit. Take Rt. 667 South (approximately 1 mile) and turn right onto Friendship Road. Go one block and turn right onto Timberlane Road.  GPS: N39.8077, W75.2367
Get Google Directions
Aug 21, 2021
Convenient to the highway but far away that we couldn't hear any road noise. Nice stopover when traveling long distances as it was quiet, had nice trees and was well kept and clean. Activities were great.
Aug 20, 2021
Great location, close to Philadelphia. Didn't use amenities, but RV's a little close. Clean. If you are staying and leaving to see Philadelphia, I give it a five star. If you are staying and enjoying facilities, a little lower.
Aug 20, 2021
very very nice loved everything
Aug 20, 2021
Nice clean little park. Easy on/off from interstate. Not sure about all sites but site we had was a bit tight for big rigs to my liking.
Aug 20, 2021
Cons - Site was very tight. Picnic table was right next to next site's sewer line. Camp store was out of bottled water. Pros - Pool was very nice and convenient hours. Enjoyed walking through the park and past the pond where you can fish. Most sites had trees for shade.
Aug 20, 2021
It was fine. I was very disappointed that there was no electric available at the tent sites. I must have misread the information about the campground. The bathrooms were fine, but the showers were very small with no place to sit and get dressed. It was nice that because I added a note in my reservation that we were coming in late that information was left for us by name.
Aug 19, 2021
Lots of flies around the sites by the dumpster. Narrow, crowded sites near the store. Beautiful sites in the back but very poor lighting for evening walks. Spotty wi-fi. Pool was nice. Location was awesome.
Aug 19, 2021
Great location and very friendly staff.
Aug 17, 2021
Cabins, Staff and grounds were wonderful. Thank you for your hospitality!
Aug 17, 2021
Easy to get in and out. Very clean.
Aug 17, 2021
We had a wonderful stay for the weekend. the site was clean and roomy. We will be returning back to here again.
Aug 17, 2021
Very clean, big rig friendly, nice amenities!!!
Aug 17, 2021
The grounds were very nice as were staff and our accommodations. We just didn't appreciate that our site was not cleaned or ready until 30 min after our 3:40 arrival when check in was at 3pm. We were only staying one night so the time set back really put a nail in our overnight stay.
Aug 17, 2021
The site we had had a private dog cage that all other campers wanted to use. One camper actually said something about our dog in the cage and we should share the space. When we arrived we needed to clean and dispose of others dog waste. Site was dirty. The site next to us had a large dog barking all night. Couldn't leave fast enough the next morning.
CAMPGROUND RESPONSE / COMMENTS:
Thank you for your review. Sorry that your stay feel short of expectations. I wish you had let us know about your site when you were here, we would have been happy to have cleaned it. Sorry that it was not done before your arrival.
Aug 16, 2021
Sites were close but all in all a nice campground
Aug 16, 2021
It's was the first time that the family got away since my husband passed in October 2020. We had cabin 304 and 305. It was so nice to relax
Aug 16, 2021
Enjoyed every minute of our stay! The location is beautifully landscaped and taken care of. Facilities are sparkling clean. We stayed at a tent and glamping sites which are the most private/secluded sites in beautiful shaded area . Dog park is maintained better than some private backyards! We will definitely come back and recommend Clarksboro KOA to friends and family.
Aug 16, 2021
Great place to stay. Huge dog park. Bathrooms and showers were very clean. Would stay again
Aug 16, 2021
It was fantastic the dogs left at my kids loved it my sister came to visit and she loved it it's just quiet and peaceful and dog friendly. The staff was amazing
CAMPGROUND RESPONSE / COMMENTS:
Thank you for your review. We hope to see you again.
Aug 16, 2021
This was our first time here and it was simply the best bday wkend for my son :) my kids enjoy every moment! cabin stay was beautiful & clean :) on the day of check out I realize I had a flat :( as a single mom I needed help! I went into the office & explain my situation and in just mins the Maintenance guy was there to help me and fix my flat tire in less than five minutes :) we really appreciate
CAMPGROUND RESPONSE / COMMENTS:
Thank you for your review. Glad we could be of help. We look forward to seeing you again.
Aug 16, 2021
Needed a stop before returning our RV in NYC the next day. This was the closest CG with availability. Glad we came and stayed. Welcoming staff, beautiful grounds .... would definitely stay again.
Aug 15, 2021
Very clean, staff was friendly and knowledgeable. Really enjoyed our stay!
Aug 15, 2021
Very nice playground area. Clean and well kept. I liked the paved roads throughout which were nice for my grandkids riding bikes. The only thing I disliked were the 100 degree days. Wow. It was hot the week we were there but campground is only a little over an hour away from the beaches! Convenient location.
Aug 14, 2021
Employees were very helpful.
Aug 14, 2021
Great location for visiting Philadelphia and surrounding area. Well kept campground. Would come again.
Aug 14, 2021
Super friendly staff! Sparking clean bathrooms, pool and fun activities for the kids close to Philadelphia. Flat, pull in sites are easy to navigate and to top it off our trailer locked jammed and we couldn't get In, but KOA Chris, one of the crew, helped us immediately! It was 99 degrees outside. Highly recommend!
Aug 14, 2021
Mostly ok but both visit we got a campsite that was small. The first was on 4 and the last was 24. We could not open our awning on 24.
Aug 13, 2021
When we 1st arrived we had a small problem we did not get the cabin that we booked but they did rearrange things and we were able to get it which I was thankful for. The biggest problem was our Cap'n had fleas I am bitten up so bad and my sister's husband we left A-day early. I called the next day and talked to the manager Her response was That's not hard to believe And she's sorry and that was it
CAMPGROUND RESPONSE / COMMENTS:
Thank you for your review. Glad we were able to help when you made an error in your reservation. Happy trails.
Aug 13, 2021
We had a wonderful time and can't wait to come back in September. My only recommendation is to replace the full size mattress in the Rustic cabin.
CAMPGROUND RESPONSE / COMMENTS:
Thank you for your review. We will pass your comments onto the GM.
Aug 11, 2021
Was very happy with my location up front, near the dog park (huge and awesome for my puppies) and pool (I didn't spend enough time there because, puppies). Guests and staff were friendly.
Aug 11, 2021
It was one of the best campgrounds we have stayed at.
CAMPGROUND RESPONSE / COMMENTS:
Thank you for your review. We are glad you enjoyed the campground.
Aug 11, 2021
A 3 night visit was quiet and great.
Aug 10, 2021
wonderful overnight stay - easy off and on the freeway, staff very courteous.
Nov 01, 2021
Beautiful and serene location...quick 40 minute ride from Philadelphia. Just have to risk your life on that Walt Whitman (the driving is abysmal)! Lol
- Michelle Wilson on Google
Oct 30, 2021
Philadelphia is close and one of my favorite cities. Even though it's Halloween weekend were able to get a reservation at last minute. The park is very well organized and plenty of trees for shade if needed. Located in a guilt residential neighborhood. Close to grocery stores and much what one may need. Laundry and bathroom with showers as one should be able to expect. Store on site with essentials. To many extras to mention. The park couldn't be any better. It has it all.
- John O'Carroll on Google
Oct 26, 2021
Loved it so much this spring I booked a deluxe cabin for my honeymoon in 2 weeks!!
- Melanie Murray on Google