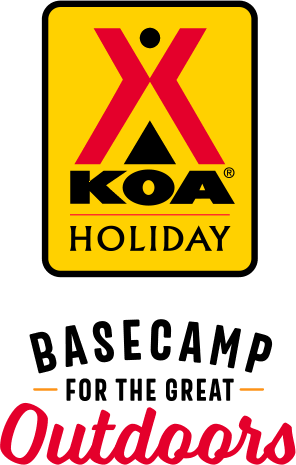 KOA Holiday Campgrounds
Whether you're exploring the local area or hanging out at the campground, KOA Holidays are an ideal place to relax and play. There's plenty to do, with amenities and services to make your stay memorable. Plus, you'll enjoy the outdoor experience with upgraded RV Sites with KOA Patio® and Deluxe Cabins with full baths for camping in comfort. Bring your family, bring your friends, or bring the whole group – there's plenty of ways to stay and explore.
KOA Holidays Feature:
RV Sites with a KOA Patio®
Deluxe Cabins with full baths
Premium Tent Sites
Group meeting facilities
Directions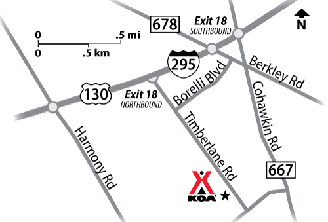 Traveling Southbound on I-295: Go to exit 18. Take the first right off the exit. Take Rt. 667 South (approximately 1 mile) and turn right onto Friendship Road. Go one block and turn right onto Timberlane Road.  GPS: N39.8077, W75.2367
Get Google Directions
Sep 13, 2021
Good site as advertised
Sep 13, 2021
Squeezed in a quick weekend trip. Has everything for adults and kids to enjoy a relaxing weekend. Friendly staff. Great value. Will be back in a few weeks.
Sep 13, 2021
Park was nice but our table was right up against the neighbors sewer line. Not nice to look at nevermind trying to sit out and eat.
Sep 13, 2021
Our stay was great, we loved our site nice, big and shady! We will definitely be back next year!
CAMPGROUND RESPONSE / COMMENTS:
Thank you for your review. We look forward to seeing you again.
Sep 12, 2021
Our stay was clean and comfortable and the staff was excellent. We already booked another stay
Sep 12, 2021
As always, the campground was clean and the staff was very helpfull.
Sep 10, 2021
We stayed here last year also. This year was a little different due to a flat tire. I waited over 90 minutes for road service that never arrived. Here's where my hat goes off to Kelly who changed my tire, made sure my spare had air. I've had abdominal cancer surgery and couldn't do it myself. Kelly made our stay so much better and I really appreciate it. Please tell him THANKS again.
Sep 09, 2021
We were very impressed with this campground. Too bad more campgrounds are not run as well as the Philadelphia South/Clarksboro KOA! The amenities (especially the playground) were a plus; our daughter & family stayed in a cabin & it was clean & nicely appointed. Staff were very nice & helpful. We extended our stay one day to relax & had friends from Philly visit, & everything was well done. Kudos!
Sep 09, 2021
Our 5 day stay had a terrible beginning, but after that, it improved. Our mistake was in arriving 45 minutes before check in time. We were told that we would have to pay $25 for earlier arrival. We declined and said we would wait the 45 min. We were then told that there was nowhere we could wait that wouldn't be in the way and told we would have to leave the campground until the 1pm checking time.
Sep 09, 2021
Campsite was clean and laundry was great and accessible. The only problem we had was getting there due to heavy traffic, construction, and detours coming from the north. Our GPS did not recognize the address, and then took us on an indirect route. It was nice that the office allowed us to stay till noon the next day!
Sep 09, 2021
Enjoyed our stay very much. The staff was very welcoming and friendly. Stayed in the glamping tent and loved it. It was very clean and comfortable. The only issue we had was the campers at a neighboring site were very loud and disruptive in the evening hours, playing loud music and yelling. However, KOA staff handled the issue adequately when complaints were made.
Sep 09, 2021
Friendly staff, very clean bathrooms!! Very nice pool!
Sep 08, 2021
Awesome employees at your KOA Clarksboro
Sep 07, 2021
Loved the campground, not a huge fan of the city. Thanks for a great stay!
Sep 07, 2021
Wasn't fan of our site #102 faced the construction garage, after walking around I saw other sites that were also pull through I'd request them next time. There was no schedules of events we notice live music Sat. night while walking around, wish we would have known. The campground was clean and staff was very friendly.
Sep 07, 2021
The campground was clean & employees were friendly & helpful. We enjoyed the "woodsy" feel & still being close to the city. We had a ginormous pull-thru site with a paw pen, fire pit, patio & picnic table. All of those things made it great stay!
Sep 07, 2021
Campground is well maintained and the staff is friendly and accommodating. We camp there several times a year.
Sep 07, 2021
It was wonderfull! Relaxing, closes to all I needed to get to, friendly and helpful employees, clean everything.
Sep 07, 2021
We had a great time at this KOA. The staff was friendly which made it enjoyable. The grounds were kept up as well as great amenities. The staff was routinely out around the grounds maintaining them and ensuring it was clean. The facilities were newly renovated. There was a large K9 park as well as poop stations around the walking trail. We have no complaints! We will stay there again!
Sep 07, 2021
Nearest c.grnd to M.W.Center in Cherry Hill for my 2 days of med.appts./lab work. After traveling 3.5 hrs from home, we were thrilled/relieved that a dog park greeted our entry! Before check-in, our 2 aussies (ages 7 yrs. & 7 mos.) enjoyed it! PERFECT! After registering, a man escorted us to site 67, & gave directions to Wawa's. We were tired & hungry! Quiet, friendly, caring community! Well kept!
Sep 07, 2021
Very nice campground, exceptionally clean restrooms. Showers were small, extremely small, but very clean. We tent camped and found they enforced the quiet rules which we really appreciated. Saw staff emptying the trash and cleaning the grounds. I would definitely stay here again. This was really a 4.5 rather than a 4 star but the small shower just didn't deserve a full 5.
Sep 06, 2021
We had a great stay! Very clean park with super friendly staff. Stayed for 3 weeks for work and had a great time. Plenty for kids to do and keep busy. Staff was amazing at helping accommodate us.
Sep 05, 2021
Cabin was nice but put the bed on the outside wall opposite from where it is so you have more room to get around the bed. And move the clothes area in the corner next to the air conditioner. The amenities for kids is great. Some RV lots are packed to tight and more room is need between them. The store can be updated to carry more items. All in all a very clean cabin and park and we will stay again
Sep 04, 2021
We enjoyed this campground very much. As the first two nights in a long road trip, it set a good start! It's smaller, but that worked great for us because it allowed our son to explore! Would come again.
Sep 04, 2021
Just an overbite in a value site. Park is pretty ..staff is very nice...bathrooms clean and up to date, wifi & cable both solid. Site was pull thru & level but muddy. I have a difficult time with 60 bucks for a value site! Good stop though.4
Sep 04, 2021
Couple comments- 1. Wifi is almost none existent, IF you can even connect, it drops off in 5-10 minutes. I wasn't surprised over the weekend, but it continued on during the entire week even at 6am. 2. We were in site 40. To the right of us we had space, but to the left was incredibly tight. We couldn't unhook Friday morning because they were cooking and eating and we didn't want to be rud
Sep 03, 2021
Nice park, well kept and plenty of folks actively taking care of guests. Easy access to I-95 and to Philadelphia. We were there during Ida passing though, despite the abundance of rain…the campground did not come close to flooding.
Sep 03, 2021
Very nice park. Nicely spaced out, especially in the back section. Got to visit the bathrooms with a lot of neighbors when Hurricane Ida decided to spin off a tornado very close to us. The tornado missed and the sun came out the next morning. Prayers to all that was effected by the storm.
Sep 03, 2021
Love this Park. Good location and friendly staff. Large sites and great amenities.
Sep 02, 2021
Had a wonderful pull through site right next to the pond, listened to the fountain all night. Bathrooms were exceptionally clean, whole campground very well maintained, friendly staff.
Sep 02, 2021
Just a quick overnight stop. Convenient to the Highway.
Sep 02, 2021
The sites are tight at this KOA.
Sep 01, 2021
Alicia and Ryan are SPECTACULAR. This location is absolutely immaculate - kudos to those running the show. I've already booked my return stay in a few months!
Sep 01, 2021
Very helpful operator
Aug 31, 2021
I understand how difficult it is to keep the grass cut but i ended up with grass clippings all over the side of my unit.
Aug 31, 2021
The electric is dated like so many other campgrounds today, be sure to use a low voltage protection device. They do not pick up your trash like the other Holiday KOA's we have been at. I only went in their store once when signing in as I saw no food, drink nor supplies of any kind like other Holiday KOA's, but its a beautiful well manicured campground with lots of stuff for kids! Will go again!
Nov 01, 2021
Beautiful and serene location...quick 40 minute ride from Philadelphia. Just have to risk your life on that Walt Whitman (the driving is abysmal)! Lol
- Michelle Wilson on Google
Oct 30, 2021
Philadelphia is close and one of my favorite cities. Even though it's Halloween weekend were able to get a reservation at last minute. The park is very well organized and plenty of trees for shade if needed. Located in a guilt residential neighborhood. Close to grocery stores and much what one may need. Laundry and bathroom with showers as one should be able to expect. Store on site with essentials. To many extras to mention. The park couldn't be any better. It has it all.
- John O'Carroll on Google
Oct 26, 2021
Loved it so much this spring I booked a deluxe cabin for my honeymoon in 2 weeks!!
- Melanie Murray on Google