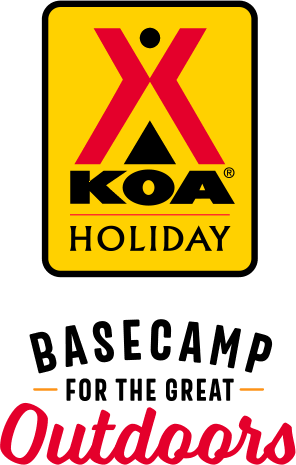 KOA Holiday Campgrounds
Whether you're exploring the local area or hanging out at the campground, KOA Holidays are an ideal place to relax and play. There's plenty to do, with amenities and services to make your stay memorable. Plus, you'll enjoy the outdoor experience with upgraded RV Sites with KOA Patio® and Deluxe Cabins with full baths for camping in comfort. Bring your family, bring your friends, or bring the whole group – there's plenty of ways to stay and explore.
KOA Holidays Feature:
RV Sites with a KOA Patio®
Deluxe Cabins with full baths
Premium Tent Sites
Group meeting facilities
Directions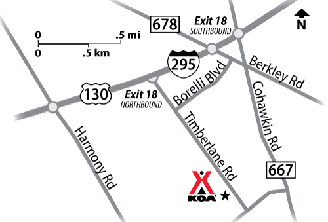 Traveling Southbound on I-295: Go to exit 18. Take the first right off the exit. Take Rt. 667 South (approximately 1 mile) and turn right onto Friendship Road. Go one block and turn right onto Timberlane Road.  GPS: N39.8077, W75.2367
Get Google Directions
Sep 02, 2021
Had a wonderful pull through site right next to the pond, listened to the fountain all night. Bathrooms were exceptionally clean, whole campground very well maintained, friendly staff.
Sep 02, 2021
Just a quick overnight stop. Convenient to the Highway.
Sep 02, 2021
The sites are tight at this KOA.
Sep 01, 2021
Alicia and Ryan are SPECTACULAR. This location is absolutely immaculate - kudos to those running the show. I've already booked my return stay in a few months!
Sep 01, 2021
Very helpful operator
Aug 31, 2021
I understand how difficult it is to keep the grass cut but i ended up with grass clippings all over the side of my unit.
Aug 31, 2021
The electric is dated like so many other campgrounds today, be sure to use a low voltage protection device. They do not pick up your trash like the other Holiday KOA's we have been at. I only went in their store once when signing in as I saw no food, drink nor supplies of any kind like other Holiday KOA's, but its a beautiful well manicured campground with lots of stuff for kids! Will go again!
Aug 31, 2021
This campsite is beautiful and the staff were very nice and friendly. Very clean, nice pool, big dog park and very quiet in the evenings.
Aug 31, 2021
very peaceful and clean. staff was very nice.
Aug 30, 2021
What fun! Nice facilities, great group of people in the office and the campers around me were very pleasant! Just wish the pool stayed open a little later.
CAMPGROUND RESPONSE / COMMENTS:
Thank you for your review. We hope to see you again.
Aug 29, 2021
I would rate 5 stars if the customer service was like other KOA campgrounds. I can see why other ratings say the customer service wasn't good. I had a cabin which had 4 Keurig coffees but only 2 cream and 2 sugars. I went to the office to see if I could have more and they said no. Our friends arrived 1 hour early the day after and they wouldn't let them check in even though their cabin was ready.
Aug 29, 2021
People were great especially Ryan.
Aug 29, 2021
The back half was shady and well planned. Amenities were nice. Fishing pond and bouncey thing were used tons. Staff was friendly, courteous and prompt to requests.
Aug 29, 2021
Great location to get into Philly.
Aug 28, 2021
Clean bathrooms, convenient laundry, quiet campground. Staff was helpful with information on getting into Philly with public transportation.
Aug 28, 2021
We were having some work done on our home in Philly and needed somewhere to take the kids and our dog to get out of the house. We booked a cabin for a few nights. The cabin was awesome! Very clean, with a well equipped kitchen, linens, outdoor furniture, fire pit and a grill. It was 95 degrees all week so we really appreciated the pool and the AC. Kids loved the jumping pad as well!
Aug 28, 2021
We spent two nights while visiting the sites in Philly. Great staff Great atmosphere. This is a come back campground. See you guys again soon!!
CAMPGROUND RESPONSE / COMMENTS:
Thank you for your review. We look forward to seeing you again.
Aug 28, 2021
Campground very clean but, RV'S on top of each other. Pool extremely small for amount of campers there. Price for one night was $101.00. We'll we staying in Delware next year.
CAMPGROUND RESPONSE / COMMENTS:
Thank you for your review. Sorry that you misunderstood when we explained your extra charges were for the four guests that came to swim with you for the day and not for your site. Happy trails.
Aug 27, 2021
Great campground
Aug 27, 2021
Great campground
Aug 27, 2021
Helpful staff, take you right to your site. Shaded sites but trees are trimmed and safe to maneuver around and under. Close to interstate, gas and grocery store.
Aug 26, 2021
The camp ground is small, but very nice. The facilities are clean and very well maintained. There are a few nice hiking/walking trails within a 15 minute drive. My kids really enjoyed the banana peel bikes. We stayed in a deluxe cabin and it was perfect for the 6 of us. Customer service was great. There was a hornet's nest in the eve of our cabin and the staff came by to take care of it ASAP
Aug 26, 2021
Philly/Clarksboro KOA is one of the best campgrounds we've stayed at. The grounds are well taken care of, the bathrooms and laundry room are very clean. And the campground is close for a day trip into Philadelphia.
CAMPGROUND RESPONSE / COMMENTS:
Thank you for your review. We look forward to seeing you again.
Aug 26, 2021
Stayed at one of the deluxe cabins which had everything we needed for my family. Next to our cabins, were nice little pond, playground, jump pad and other games available for everyone. Swimming pool was great for kids. My kids had so much fun and my family would love to come back. Nice little campground with everything that you can ask for. Highly recommend for the family with kids and pets.
CAMPGROUND RESPONSE / COMMENTS:
Thank you for your review. We hope to see you again.
Aug 26, 2021
Very happy with stay and staff. Had a small snafu with pool something about the chemicals and inspection but no big deal. Dog was scared when they were cutting trees behind our camper but she'll most certainly survive .
Aug 26, 2021
Clean and well kept grounds in nice area. Only negative is that camp store was sold out of firewood and closed relatively early at 8
Aug 25, 2021
The staff was extremely friendly and the grounds around our cabin was nicely landscaped and well kept. We had a wonderful time!
Aug 25, 2021
Deluxe cabins were nice and our family was able to reserve five in a row. No planned activities like we've seen at other KOAs that we've stayed at. Staff in the store and office are not the friendliest people at all. The office and golf cart guys were great but the younger and older women were abrupt and seemed annoyed, so much that we went out to the store instead of going in there to bu
Aug 25, 2021
Great location. Everyone was friendly and helpful. There was a small problem with ants but traps were already in the cabin.
Aug 25, 2021
Every thing was nice and clean
Aug 25, 2021
Workers not the friendliest but overall clean cabin and nice stay
Aug 25, 2021
Great campground. Lots of fun things to do for the grandkids!!! Pool is very nice/clean.
Aug 25, 2021
We travel North - South…South - North a couple of times a year. Will make this a stop along the way. �
Aug 25, 2021
Enjoyed the stay and amenities. Toll booths sucks.15 dollars to cross the bride to Philly. P
Aug 24, 2021
Very well maintained and cleaned
Aug 24, 2021
Campground and staff were great but our 2nd night in the cabin we had an ant infestation crawling all over us while we were asleep we had to leave at around 11pm and go stay at the beat western up the street which cost us an extra $150 so I probably won't be staying in the cabin again
Oct 14, 2021
Clean well kept campground . Well stocked store.
- Timothy Pilla on Google
Oct 14, 2021
I stayed in delux cabin and it was super clean and nice. And the staffs were very helpful and kind.
- Kim Michelle on Google
Oct 14, 2021
We stopped here on our way up to Maine, and absolutely loved this little gem. Super easy to get to from the interstate. It was delightfully quiet and clean and nice. We stayed in the Glamping Tents and if you haven't, you absolutely should!!! What a great experience!!!
- SarahandJeff2013 on Trip Advisor