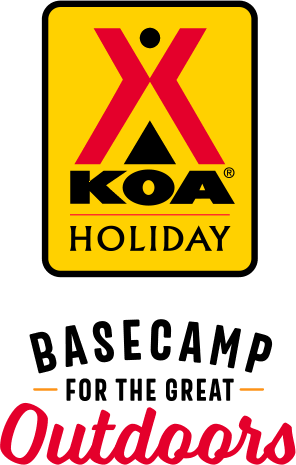 KOA Holiday Campgrounds
Whether you're exploring the local area or hanging out at the campground, KOA Holidays are an ideal place to relax and play. There's plenty to do, with amenities and services to make your stay memorable. Plus, you'll enjoy the outdoor experience with upgraded RV Sites with KOA Patio® and Deluxe Cabins with full baths for camping in comfort. Bring your family, bring your friends, or bring the whole group – there's plenty of ways to stay and explore.
KOA Holidays Feature:
RV Sites with a KOA Patio®
Deluxe Cabins with full baths
Premium Tent Sites
Group meeting facilities
Directions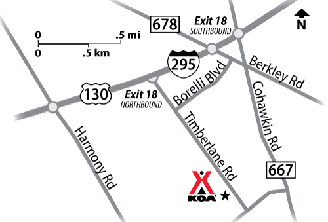 Traveling Southbound on I-295: Go to exit 18. Take the first right off the exit. Take Rt. 667 South (approximately 1 mile) and turn right onto Friendship Road. Go one block and turn right onto Timberlane Road.  GPS: N39.8077, W75.2367
Get Google Directions
Sep 21, 2021
Stayed one night. Family was happy and we enjoyed our stay. Highly recommend this campground.
Sep 21, 2021
Clean bathrooms & showers, but sewer did not work and was not addressed until after we left. Weekend staff on Saturday was totally ineffective and Sunday staff said it would be addressed, but it was not.
CAMPGROUND RESPONSE / COMMENTS:
Thank you for your review. Hopefully the discount we gave you made up for some of the issues. Our staff did try and find the problem, we shall endeavor to fix it before our next guest.
Sep 21, 2021
It was the second time we stayed at the Philadelphia South/Clarksboro KOA. Last time we had a wonderful space in the back of the campground near the restrooms. This time we were not happy about the space we had. It was very narrow and we had ( as the other campers in same row) a space with grass and table on the opposite side of the door ( weird) We were very attached to the other campers.
CAMPGROUND RESPONSE / COMMENTS:
Thank you for your review. Make sure if you have a preferred area in the park to ask us when making your reservation. We are happy to oblige, if we can.
Sep 20, 2021
We had site #11. It was close to the entrance and easy to come and go. It was a pull through with plenty of room. The only negative was that the table and fire pit were on the back side, which often happens with an end site. We did not use that area do it didn't matter to us and we like being on the end.
Sep 20, 2021
Nice campground. Friendly staff. No issues. Sites are a little close but not a reason to not stay again if we're in the area. Great place to stay if you want to visit Philly.
Sep 20, 2021
Very nice quiet campground in a pleasant setting, but still close to tourist sites in Philly and New Jersey.
Sep 20, 2021
Very clean grounds. Great people working there.
Sep 20, 2021
Stop over on our trip from MA to NC, didn't get to utilize all the offerings of the campground but enjoyed the location and hospitality offered by your team. Will come back.
Sep 20, 2021
Very clean, organized campground. We've been going here for years and they never disappoint!
CAMPGROUND RESPONSE / COMMENTS:
Thank you for your review, we hope to see you again.
Sep 19, 2021
great place , staff very friendly and helpful , easy in and out
Sep 18, 2021
We had an amazing time ! The staff was fantastic, property was beautiful. Our experience was a 10 out of 10. One of the staff members in particular was EXTRA amazing " Tom" , not sure what his last name is. We looking forward to returning very shortly !
Sep 18, 2021
Very friendly, efficient, staff. Thank You
Sep 17, 2021
A great campground in a great location.
Sep 16, 2021
Good stay for traveling thru, spaces are a little tight, but overall it's doable
Sep 16, 2021
Nice clean campground, close to phili
Sep 15, 2021
Read review on TripAdvisor
Sep 15, 2021
Had an awesome time! The cabin was perfect and the staff were all helpful and courteous! Cant wait to book another stay!
Sep 14, 2021
Loved the facilities! Staff was wonderful. Location is fantastic for a wide variety of activities in South Jersey, Philadelphia and Delaware. Lots of on site things to do as well. Will certainly visit again!
Sep 14, 2021
Everything was great except for some reason now they have gas maintenance buggies going back and forth all day long which was very annoying. Other then that it was great
Sep 14, 2021
Nice level sites. Staff friendly and helpful. Almost everyone in the campground was friendly. very pleasant stay
Sep 14, 2021
Some trouble with the wifi otherwise great location.
Sep 14, 2021
Nice park and nice staff
Sep 14, 2021
Our tattoo shop was in Philly for the tattoo convention. We couldn't find a safe place to park our 25ft toy hauler. And you guys came to the rescue. We truly appreciate it. The grounds were clean and pretty. Wish we could have had more time to enjoy it. Thanks again. War Horse Ink
Sep 14, 2021
We were extremely disappointed as we made our reservations six months ago, and upon arrival we were not given the unit that was on our reservation. We were supposed to have a two bedroom with two queen beds, they gave us a two bedroom, which one of them had four bunkbeds, which did not suit our needs. I was told by the staff that the other units we're already reservedAnd that they could not swit
CAMPGROUND RESPONSE / COMMENTS:
Thank you for your review. Please be sure to check your reservations when you book online. A cabin with bunks is what was chosen and, unfortunately, by that time we were full and could not move you. Calling to make reservations always ensures you get the correct lodging.
Sep 14, 2021
Loved it. Nice sized lots. Very flat. No hills to walk up and down. The best and tiniest treats were the text messages of when the pool will open and what time the band will start. East access off the highway with many places to eat with a 10-15 minute drive.
CAMPGROUND RESPONSE / COMMENTS:
Thank you for your review. We hope to see you again soon.
Sep 13, 2021
Excellent and relaxing for my birthday weekend
Sep 13, 2021
Very clean, beautiful, and quiet. The staff was friendly and had activities for the kids. Loved site 57. Beautiful view of the fishing pond. Close enough to Philadelphia so a great jumping off point
Sep 13, 2021
Good site as advertised
Sep 13, 2021
Squeezed in a quick weekend trip. Has everything for adults and kids to enjoy a relaxing weekend. Friendly staff. Great value. Will be back in a few weeks.
Sep 13, 2021
Park was nice but our table was right up against the neighbors sewer line. Not nice to look at nevermind trying to sit out and eat.
Sep 13, 2021
Our stay was great, we loved our site nice, big and shady! We will definitely be back next year!
CAMPGROUND RESPONSE / COMMENTS:
Thank you for your review. We look forward to seeing you again.
Sep 12, 2021
Our stay was clean and comfortable and the staff was excellent. We already booked another stay
Sep 12, 2021
As always, the campground was clean and the staff was very helpfull.
Oct 14, 2021
We stopped here on our way up to Maine, and absolutely loved this little gem. Super easy to get to from the interstate. It was delightfully quiet and clean and nice. We stayed in the Glamping Tents and if you haven't, you absolutely should!!! What a great experience!!!
- SarahandJeff2013 on Trip Advisor
Oct 11, 2021
We had a beautiful pull through site at this KOA RV Park. We even had a view of the pond with a water fountain in it. This would be a great place to stay if you want to explore Philadelphia. Excellent Park
- Rebecca Monk on Google
Oct 08, 2021
Prefect location and a beautiful place to stay! Would come here again.
- Helene Douglas on Google