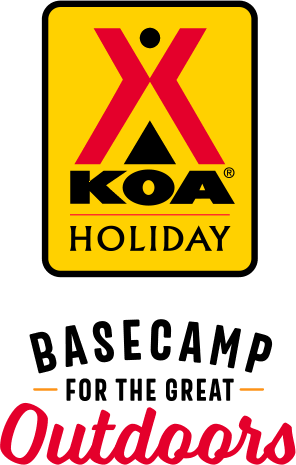 KOA Holiday Campgrounds
Whether you're exploring the local area or hanging out at the campground, KOA Holidays are an ideal place to relax and play. There's plenty to do, with amenities and services to make your stay memorable. Plus, you'll enjoy the outdoor experience with upgraded RV Sites with KOA Patio® and Deluxe Cabins with full baths for camping in comfort. Bring your family, bring your friends, or bring the whole group – there's plenty of ways to stay and explore.
KOA Holidays Feature:
RV Sites with a KOA Patio®
Deluxe Cabins with full baths
Premium Tent Sites
Group meeting facilities
Directions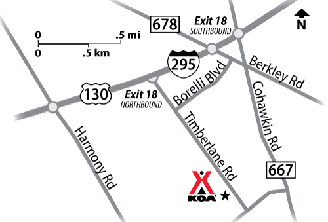 Traveling Southbound on I-295: Go to exit 18. Take the first right off the exit. Take Rt. 667 South (approximately 1 mile) and turn right onto Friendship Road. Go one block and turn right onto Timberlane Road.  GPS: N39.8077, W75.2367
Get Google Directions
Oct 04, 2021
We had a very good time this weekend. We will certainly be back in the very near future.
Oct 04, 2021
Welcoming, friendly and comforting, especially when we arrived thinking we screwed up our reservation! All was aok with our late, or rather now early morning, arrival! Clean facilities, neat sites, meticulous common areas. Definitely will be coming back!
CAMPGROUND RESPONSE / COMMENTS:
Thank you for your review. We hope to see you again.
Oct 04, 2021
Terrible site - this should have been a half price transient site - nit a site for a 5 night stay.
CAMPGROUND RESPONSE / COMMENTS:
Thank you for your review. I am sorry you did not want to move into a better site that was offered to you. Happy trails.
Oct 04, 2021
Staff-friendly, bathrooms-clean, store-fun to browse, texts-great! Unfortunately, an important part of our stay was unacceptable. We did not have a concrete pad like other sites. Most importantly, our awning was 21" from being able to be fully extended due to a tree. Our mat was only out 2/3 due to the same tree. Tripping on the same tree's roots! Trailer couldn't be adjusted due to sewer hook-up.
CAMPGROUND RESPONSE / COMMENTS:
Thank you for your review. Sorry we did not meet your expectations in all aspects of your stay. We hope to see you again.
Oct 04, 2021
When we initially checked in, the staff wasn't very welcoming. We felt like we were bothering them to have them check us in. The gentlemen there that escorts you to your site, huffed and puffed with being so irritated i though he was going to explode mentally. The campground itself was nice, Dog park was FULL of poop!
CAMPGROUND RESPONSE / COMMENTS:
Thank you for your review. I shall pass your comments on to our staff, we sahll try harder. I am sorry that fellow dog owners do not pick up after their pets.
Oct 03, 2021
Super clean!! Very nice staff! Reasonable price!!
Oct 02, 2021
Nice place. Clean
Oct 01, 2021
Everyone was so nice & helpful! Cabins are very nice & super clean!
Oct 01, 2021
Due to my May cancer surgery, we make 2-day appts. per month for treatments @ NJ Wellness Center, staying at KOA w/our 2 Aust. Shep. dogs, 1 being 9 mos. old. Perfect = end site #10, next to dog park w/ fewer distractions for impulsive pup-in-training! Want site 10 each month. Other c.g's do not charge extra $15 to reserve a specific site #. Future dates we want to reserve: Oct. 18-20; Nov. 8-10.
CAMPGROUND RESPONSE / COMMENTS:
Please be sure to call as soon as possible to make your reservations, we are still very busy at the campground.
Sep 30, 2021
What a great find. Campground is immaculate and staff very friendly and informative.
Sep 30, 2021
When we arrived we were assigned site 23 for a 5 nite stay. It was narrow, one side of our picnic table was under our neighbor slide out. I called and complained. i was told we could leave and would get a full refund. she called a bit later and said #35 had opened up - very nice wide end site. That is the only thing that saved you from not getting a 1 star review.
Sep 29, 2021
Our sight was next to a dumpster. Not only did it smell and make it difficult to enjoy sitting outside and having a campfire, but there was a constant flow of people emptying their trash practically in our sight.
Sep 29, 2021
We had another great stay at the Philadelphia South/Clarksboro KOA! They have a very welcoming and friendly staff, nice roomy level sites and very clean and comfortable bath houses. The grounds are very clean and well payed out. One of the nicest stays we have had on the east coast. I highly recommend you give them a try when in the area!
CAMPGROUND RESPONSE / COMMENTS:
Thank you for your kind review. We look forward to seeing you again if you are ever in the area.
Sep 29, 2021
Fabulous time…..hosted 11 women on a weekend to Koa and it was more than we expected good discussion, food , fishing hoping to making it an annual event
CAMPGROUND RESPONSE / COMMENTS:
So glad you had a good time, we hope to see you again soon.
Sep 28, 2021
Site was clean, level and easy to use. Campground was well organized and staff was very friendly and helpful. We only stayed one night but our pull through site was easy to access and easy to exit. We would definitely stay here again.
Sep 28, 2021
Sites are way too small. When we opened our slides there was 6 inches on one side to the electrical post and the other side it wasn't much more than that to a tree limb that has obviously been hit multiple times already. In our three days there two guests pulled in next to us and immediately changed sites because of the size. When I specify four slides I would assume i would be put where i fit.
Sep 28, 2021
Very quite and clean campground. No activities if your looking for a place that does that but very relaxing, which worked for us!! Front has playground area for kids and dog park. Back is more quiter as there isn't anything in the back. This was our 2nd time here, we'll definitely be back!!!
Sep 28, 2021
Our stay was very pleasant. The campground is close to Philadelphia which is a real plus. Staff was very friendly. We were escorted to our site which I've always like.
Sep 28, 2021
First site 23 was ridiculously close on both sides. When I turned on the water it sprayed on my neighbors mat. Had to move the picnic table to open the door. Sewer was so far back hose wouldn't reach. Moved to a better site. Grounds are beautiful and most sites look ok. Don't stay in the row they assigned.
Sep 28, 2021
We stayed on site #94 at the very back of the campground from 9/23-9/27/21. The grounds were well maintained and the restrooms clean. Our site had a Paw Pen which was a welcome change to tying our 2 dogs to the picnic table. Though I did not see the inside, the cabins looked lovely and each had their own BBQ grill, firepit and Adirondack chairs. Liked this KOA so much, we stayed an extra night!
CAMPGROUND RESPONSE / COMMENTS:
Thank you for your review, we hope to see you again.
Sep 27, 2021
Great weekend. I want to give your field staff an extra thumbs up with regards to delivering firewood and while they drive around, they ask if we need anything. On Saturday evening 9/12/21, one of the crew was making his rounds and asked if we needed more firewood as ours was dying down. This is above and beyond excellent customer service. I don't know the gentleman's name, I want to commend him.
Sep 27, 2021
We only stayed 2 nights but it was a very pleasant stay. Staff is friendly. Bathrooms and showers are clean. Laundry room is great!! Our site was spacious. What else can I say?!!!
Sep 27, 2021
Everything was. As expected especially the WiFi! Campgrounds need to beef up their WiFi, there are more and more people "working from home" Or where ever their laptops end up! It would really be in your best interest to get some high speed internet, can't justify the cost, get rid of cable TV!
Sep 27, 2021
Really enjoyed our stay. It was nice and quiet, and well maintained. We will book again.
Sep 27, 2021
Very friendly staff, very friendly neighbors, great playground/etc/etc. The sites are just WAY too small. We couldn't breathe without being on top of our neighbor. The neighbor's sewer was inches from our picnic table, at no fault to them. Completely unreasonable to pack sardines and charge as much as you do.
CAMPGROUND RESPONSE / COMMENTS:
Thank you for your review. The site that you booked online was a value site, these all tend to be slightly smaller and tighter than other sites. We look forward to seeing you again.
Sep 26, 2021
Your staff always makes our stay easy. Great camp ground, always clean.
Sep 25, 2021
Friendly staff. Attractive campground. Very clean bathrooms.
Sep 24, 2021
We liked the location close to the hwy. Our site was good. Cable was good. Bathrooms were good. Our dogs really liked the dog park. The pool and jacuzzi were closed so can't comment. They are really close to Philly and it would be helpful if they had some info on things .to do in Philly some info.
Sep 24, 2021
This is what I have to say about this KOA. Every single employee here is EXCELLENT. They all have the right personality to be a Clarksboro KOA team member. The campground is well kept and the sites are very nice. My wife and I and our Golden Retriever love it here and recommend it to everyone we run into. Try it you will like it. It is also close to the city of Philadelphia and the sports complex.
Sep 23, 2021
Nice overnight stay. A bit close together, but not too bad. Dog park was a nice bonus. Our furbabies loved it. Site was level and park was very clean.
Sep 23, 2021
One of the best KOA Holidays we've visited.
Sep 23, 2021
Very helpful staff, bathrooms clean. Pleasant site. Showers were very cramped
Sep 23, 2021
The hours posted and provided by phone were incorrect! The showers were difficult to use. Shower heads were very high with a tiny shower stall. Would work well for 7 ft tall skinny person. I am tall and thin but the showers were difficult. Also, in some of the showers, the hot and cold faucets were reversed. No recycling opportunity.
CAMPGROUND RESPONSE / COMMENTS:
Thank you for your review. We have recycling located at the front dumpster marked on your site map.
Sep 22, 2021
Pretty park with all the amenities
Sep 22, 2021
We like to stay at this CG when we travel south and they are always pleasant and accomodating!
Sep 22, 2021
Very pretty campground. My only negative is that the employees working around the park were unfriendly. Also the dog poop garbage cans could be emptied more often. The smell is overpowering. Great location to Philadelphia!
CAMPGROUND RESPONSE / COMMENTS:
Thank you for your feedback. We look forward to seeing you again.
Sep 22, 2021
Absolutely beautiful setting. Great level stops and we had a great view of the pond with the fountain. We should have booked more days. I highly recommend this KOA.
CAMPGROUND RESPONSE / COMMENTS:
Thank you for your review, we look forward to seeing you again.
Sep 21, 2021
Nice place to stay but the fly were very bad
Sep 21, 2021
Everything was perfect and your staff is top notch!!
Oct 14, 2021
We stopped here on our way up to Maine, and absolutely loved this little gem. Super easy to get to from the interstate. It was delightfully quiet and clean and nice. We stayed in the Glamping Tents and if you haven't, you absolutely should!!! What a great experience!!!
- SarahandJeff2013 on Trip Advisor
Oct 11, 2021
We had a beautiful pull through site at this KOA RV Park. We even had a view of the pond with a water fountain in it. This would be a great place to stay if you want to explore Philadelphia. Excellent Park
- Rebecca Monk on Google
Oct 08, 2021
Prefect location and a beautiful place to stay! Would come here again.
- Helene Douglas on Google