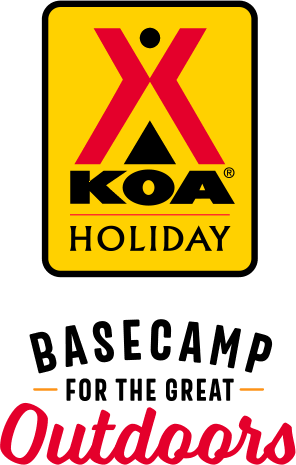 KOA Holiday Campgrounds
Whether you're exploring the local area or hanging out at the campground, KOA Holidays are an ideal place to relax and play. There's plenty to do, with amenities and services to make your stay memorable. Plus, you'll enjoy the outdoor experience with upgraded RV Sites with KOA Patio® and Deluxe Cabins with full baths for camping in comfort. Bring your family, bring your friends, or bring the whole group – there's plenty of ways to stay and explore.
KOA Holidays Feature:
RV Sites with a KOA Patio®
Deluxe Cabins with full baths
Premium Tent Sites
Group meeting facilities
May 08, 2021
Very nice and clean Excellent camp ground
May 07, 2021
Super clean and very friendly staff
May 06, 2021
Super clean throughout the campground. Very friendly staff. Being very early in the season, many of the amenities were not open or available. The only thing that was slightly annoying was the constant truck noise during the day working on what looks like a large expansion to the campground (short-term pain... long-term gain)
May 06, 2021
Sites are very close together. Lot's of noise from all the construction going on. We had #13 which was a nice patio end site. Our sewer hook-up was on the edge of the neighbors patio.
May 03, 2021
Super clean and nice staff
Oct 23, 2020
We stayed three nights. The bathrooms and showers were always clean. The campground was well manicured and organized. It was nearing the end of the season so the cafe was already closed but we found a neat coffee shop downtown.
Oct 23, 2020
A very nice KOA. Campsites are laid out well with paved RV spots. Cable TV and Wifi were both excellent.
Oct 22, 2020
We had a great stay but didn't care for the closeness of the fire pits to where we had to park our truck. We weren't fans of the in ground pits either- they were a first for us. Loved the location and the shower was clean and hot water!
Oct 19, 2020
Clean, lots of activities, well maintained bath houses, friendly staff
Oct 17, 2020
Nice clean campground. Close to downtown. Secure entrance gate. However, the wi-fi was useless as it was so slow. Don't advertise wi-fi if it doesn't work.
Oct 17, 2020
We stayed in the fall. It was a nice campground with full hookup, but not what I prefer. Lots were small. But staff was outstanding, very friendly.
Oct 16, 2020
Enjoyed our brief 2 night stay while enjoying fall colors. Friendly, helpful staff, very clean, well kept property. Will definitely visit again.
Oct 15, 2020
all the employees were very helpful
Oct 15, 2020
The staff was very friendly and helpful! The park is beautiful!
Oct 15, 2020
Cabin was great. Clean and cozy. Did not use playground or other amenities because of time of year and COVID. Wish they'd had firewood in the camp store but we found some close by at a gas station.
Oct 15, 2020
End of season stay showed no decease in service and courtesy. Nice amenities.
Oct 15, 2020
Very nice campground. Sites are rather close together.
Oct 14, 2020
First time there. Staff friendly & helpful. Place very pleasant & we will be back. However I thought prices were steep for end of season & also that the camp store closed so early. Later arrival could not get wood nor ice. But overall a nice place
Oct 13, 2020
This is an annual trip for us and we are never disappointed. I would however suggest you be more strategic about how you place your big yellow signs. We scratched the back of our fifth wheel on one of them. We were greeted by an assistant manager who looked at the damage and said they would follow up before we left however they did not. The site we were on had a sign on on both sides. G.Smagacz
Oct 13, 2020
Campgrounds was well kept, however I felt the Gal at checkin was not welcoming and Not accommodating.
Oct 13, 2020
We stayed in a cabin, which was very clean and close to restrooms and office. All of the employees we dealt with were friendly. Great location, close to many site-seeing and shopping areas.
Oct 13, 2020
We booked Friday and Saturday nights. Came up to see if Sunday night was available and it was! Thank you! I liked the curbside trash pickup too. The park is beautiful! We had four campers with lots of friends! We had a fantastic weekend! Go Petoskey KOA! The Bakers
Oct 13, 2020
Loved the cabin!!! It was nice and tucked away. Everything we needed for a Relaxing weekend Away.
Oct 13, 2020
Loved the bathroom doors you can open with your foot. Great idea
Oct 13, 2020
Went up to enjoy a color tour. Beautiful everywhere. Very nice campground.
Oct 12, 2020
This is our 3rd year up there we will be back next year wish you were open during the winter months would be cool.
Oct 12, 2020
Wonderful as always. We have been going to this KOA for 12 years and will go back again next year. I had to complain about people not picking up after their dogs and they have a quiet time of 10 PM but motorcycles coming and going into the campground at all hours of the night. Very friendly and accommodating staff. One of our favorite RV parks.
Oct 12, 2020
The staff was friendly and helpful.
Oct 12, 2020
Enjoyed the campground and the surrounding area. Excited to see what the new addition will look like.
Oct 12, 2020
This was our first visit, but definitely not our last. The campground was clean and well laid out. The staff was very friendly and helpful.
Oct 12, 2020
Nice clean campground, friendly staff.
Oct 12, 2020
I had a really good time, it was clean .I plan on coming back next year,I love that I can have my dog in the cabin.�
Oct 12, 2020
Very friendly staff! LOVED our deluxe cabin, it was so well stocked. Really liked the wood delivery services too. First time staying at a KOA and it made a great impression!
Oct 12, 2020
The BEST campground we stayed at this year!!!! Staff was very, very friendly and helpful! Park is clean and well maintained. We would, and will, recommend Petoskey KOA to all of our camping friends!!!
Oct 12, 2020
Nice place had fun be back next year
Oct 12, 2020
Personal is friendly, wears masks, campground is clean and each camper has plenty of space. Clean bathrooms and showers. Close to downtown and other attractions.
Oct 12, 2020
Everyone there was sooo nice...the facility was very nice...we stayed in a camping cabin that was just perfect...the restroom and the showers were very clean and they made staying safe during covid very easy...will DEFINITELY be back...