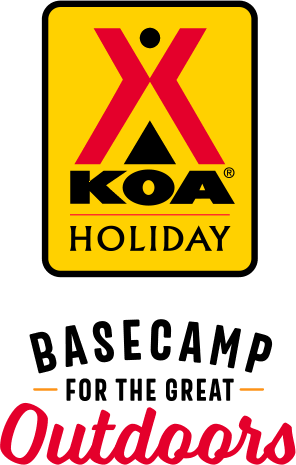 KOA Holiday Campgrounds
Whether you're exploring the local area or hanging out at the campground, KOA Holidays are an ideal place to relax and play. There's plenty to do, with amenities and services to make your stay memorable. Plus, you'll enjoy the outdoor experience with upgraded RV Sites with KOA Patio® and Deluxe Cabins with full baths for camping in comfort. Bring your family, bring your friends, or bring the whole group – there's plenty of ways to stay and explore.
KOA Holidays Feature:
RV Sites with a KOA Patio®
Deluxe Cabins with full baths
Premium Tent Sites
Group meeting facilities
Oct 19, 2021
Everyone was very nice and so helpful! We felt we had an excellent stay and would recommend this KOA to anyone coming to the area! Thank you to the dedicated staff!
Oct 19, 2021
Great place to stay, very clean, Great camp sites, all employees we talked to were very polite.
Oct 18, 2021
Great Campgrounds! Clean and everyone is so very nice! See you next year for the tunnel of trees!
Oct 18, 2021
Very nice campground with newer amenities. Stayed at one of their "camping cabins." Cabin was nearly new and really well equipped. Easy access to all the local attractions.
Oct 18, 2021
Great campground and staff
Oct 18, 2021
Our stay was great but had 1 small problem. We had to arrive after dark because of the distance we had to drive from home. When we got there the sign by the road was not lit up. Thankfully we had the GPS on. Spoke with a lady the next day and she said she would make note of it.
Oct 18, 2021
Was a very nice campground, would definitely stay here again, nice people
Oct 18, 2021
Staff was great and the campground was spotless and clean. Beautiful setting and close to everything in Petosky
Oct 18, 2021
My husband and I were very impressed with this campground. Everything was very clean (the facilities, cabin, campground) and it was very peaceful and quiet. We would definitely stay here again.
Oct 18, 2021
It was great. Very well kept campground.
Oct 17, 2021
We enjoyed our 2 day stay. First time we have been there. Everyone was very friendly. The staff was very nice & let us switch cabins so that we could have a canopy over the picnic table because it rained a little. We will definitely go back.
Oct 17, 2021
Very nice park. The grounds were spotless. This was our first time at the Petosky KOA and we will definitely be back.
Oct 17, 2021
Great time at the park. It was late season, so no pool, and not very crowded. Still, it seems like even if high season, the park would be a fun place to be.
Oct 17, 2021
Extreme helpful and well maintain campsite.
Oct 16, 2021
Ken helped me get my TV working. He is a great asset to your staff. Very kind and friendly.
Oct 16, 2021
Very nice site. Friendly staff. Great location
Oct 16, 2021
Beautiful, peaceful, & immaculately maintained.
Oct 15, 2021
We stayed in one of the new cabins, It was clean and loved the covered porch. Everyone was very friendly; we look forward to next year.
Oct 15, 2021
Awesome, beautiful campground. Super friendly staff always a smile or a wave. Check in lady was so nice and knowledgeable and very helpful. This was our first stay and will differently be back.
Oct 15, 2021
Very courteous staff. Very small spots in some areas(where I camped). Doggy Bag Trashcan overflowing.
Oct 15, 2021
Stayed two nights. Staff was very helpful and friendly.
Oct 15, 2021
Awesome Only thing I noticed was a light to illuminate your sign would be helpful. Hard to see as approaching. Other than that I loved my stay
Oct 15, 2021
This was the best KOA we have ever stayed at.
Oct 15, 2021
awesome! Great ck-in, and ck-out. Great site, except our site #90 seemed to have a "dead " spot for wifi, hard to get online at times .Everything is kept very clean.
Oct 14, 2021
Thank you for another great week! Already looking forward to next year. And after returning home, sharing our stay with others, two different families tell us they know the owners!!! Love it.
Oct 14, 2021
The campground was immaculate and staff very friendly.
Oct 14, 2021
Beautiful, well maintained CG. Have stayed many times, and doesn't disappoint.
Oct 14, 2021
Very nice camp ground. All amenities were nice as well. It was end of the season so much was closed but what was open is nice. The front desk and camp help were very helpful! We rented the RV we camped in. We learned alot from the help this day, I didn't get his name but he was great!!
Oct 14, 2021
This is a beautiful park in a great location. Very nice staff. We stayed on one of the brand new full hook up sites and they laid out this section perfectly. Large paved sites with brick fire pits and grass between sites - with plenty of room. Older section of park is closer together...but still very nice. Lots of cabins and cottages too if family/friends want to come along. We'll be back!
Oct 13, 2021
We always enjoy our stay at the Petoskey KOA. The staff is always helpful and friendly. I realize their is a lot of new development being done. I really hope that will include a new K9 area as the current conditions are really bad! We will be back next year any way!
Oct 13, 2021
What a well managed and clean camp, average to larger size sites. Staff is overtly friendly and sincere which always make a stay that much better. Definitely be back next year; Nice amenities, game room, clean/modern laundry, and if you have kids or grandkids like us, playground, pool, hot tub, and game room are all in excellent condition. We recommend this camp in the most relaxing town in MI.
Oct 13, 2021
We come back every year at this time and have a great time. We especially appreciate the clean bathrooms and nice staff. The only problem we had was that our neighbors were having a party outside at 1am and woke us up and we didn't know who to call. See you next year!
Oct 13, 2021
I didn't have a reservation and arrived later on a Sunday night. Tried to stay that night but no instructions on how to do that. Called 800 number and was told he was only after hours answering service and couldn't help. Had to go somewhere else for that night and come back the next day.
Oct 12, 2021
It would have been nice for the hot tub to have still been open, I was a bit disappointed that it wasn't. It would also be nice to not have to pay an extra $15, per reservation, to guarantee the site you pick is the site you get when you specifically have a site chosen and reserved. The park is nice and clean though & the staff is friendly and helpful.
Oct 12, 2021
We had a great stay. We arrived after dark and couldn't find our site so parked in the new section. The next morning when we checked in the office allowed us to stay where we had parked. It was roomy and beautiful. Office staff were friendly and accommodating.
Oct 12, 2021
staff was awesome, park was very clean. my only complaint is my lot was down hill a bit to much were my jacks couldnt level properly. plus the septic area was up hill so that was my only challenge. otherwise everything was perfect. definitely would stay again.
Oct 12, 2021
Great time! The new area is incredible!
Oct 12, 2021
We had a terrific two weeks at the park. We traveled with our two sons that wanted to camp in a tent. Staff was amazing to accommodate our arrangements. Super friendly and helpful staff. The grounds are emasculate and offers all and then some for campers. The area is awesome. Great stores and restaurants. Going back three weeks next year! Great park!
Oct 12, 2021
Great cabin, nice bathroom, showers with hot water, will definitely go again!