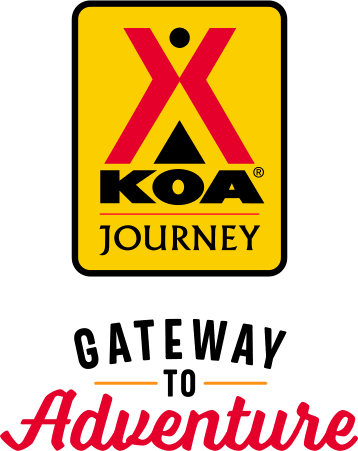 KOA Journey Campgrounds
KOA Journey campgrounds are the perfect oases after a day on the road. Whether it's along the way or a quick getaway, they've got you covered. Located near the highways and byways of North America with long Pull-thru RV Sites, they deliver convenience to the traveling camper. Pull in, ease back and take a load off.
KOA Journeys Feature:
Pull-through RV Sites with 50-amp service
Premium Tent Sites
Well lit after hours check-in service
Directions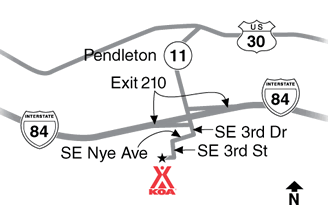 I-84: Take Exit 210.

Head uphill (South)

Take the first right (SE Nye St.)

And then the first left (SE 3rd St.)

Get Google Directions
Sep 17, 2019
Always quiet, shower and restrooms always clean. Friendly and helpful. Thank you
Sep 17, 2019
wagon site was large and private with a beautiful view, only good site. Propane fire was empty and only light was dead.They did come and fix the problems but, they should have checked this and made sure it was good before we arrived. need a bathroom by the tent sites. bathroom was too far and they were freezing! Door to bathroom needs better hinges it slammed into my moms finger and my kids head.
Sep 16, 2019
Great facilities, very clean! Only downside was the loud dumpster truck trash pickup at 4 A.M. on Sunday morning!
Sep 13, 2019
Staff was fantastic and grounds were very well maintained.
Sep 11, 2019
We stayed in the wagon campsite. It was spacious with a great view and the wagon was very roomy. It rained the 3 days we stayed and the wagon kept up dry and warm. My only complaint was the mattress being quite firm but it beat sleeping on the ground!
Sep 05, 2019
Well kept site, friendly staff, not ideal for tents as the spacing between sites needs to bigger or better barriers such as hedges between
Sep 02, 2019
The wagon tent site was great. It is unfortunate that you don't have a bathroom or at least a toilet near the tent sites. Park was well mai gained and hosts were friendly.
Aug 28, 2019
We stayed in the wagon which was awesome. It is on a large lot and offers some privacy from the other campsites. The host was also very nice. The restrooms were well kept. The location in general is just ok. Seems like many long term residents at the campground.
Aug 26, 2019
I loved the Pendleton KOA, so well sited, organized, maintained, and managed. Thank you!
Aug 24, 2019
Easy check in/out, comfortable space, great value
Aug 23, 2019
The covered wagon area was really quite neat. It exceeded expectations and would be a great spot for spending a few days in town. Only downside was having to kill a few wasps inside the wagon. Great experience tho.
Aug 16, 2019
We stayed here as a last minute plan and got to stay in the covered wagon. The view was incredible and a really neat experience.
Aug 15, 2019
We stayed in the covered wagon and it was great! There was a huge storm and we stayed dry and cozy in the wagon. The staff was friendly and accommodating.
Aug 14, 2019
Great campsite with the wagon, very private, but the wagon only sleeps 2 so you will need a tent for anyone else. However the limited washrooms can be a problem in the morning since toilets and showers share the same space. Great staff make up for all though
Jul 20, 2021
What a park! My in laws had the pull through site in the end with a patio, gas fireplace, and lots of seating along the grass. After a long drive day, it was a wonderful place to sit and relax while the kids were able to play close by. Kana is just a gem and was so kind and helpful. We enjoyed doing parts of the charm trail the following morning. Would absolutely stay here in the future!
- Christian Parris on Google
Jul 18, 2021
Beautiful place
- Me You on Google
Jul 11, 2021
Very quiet park. Very nice and helpful staff. There were lots of trees for shade. Clean restrooms and laundry. Nice recreation room. Good view of the valley below. Close to freeway.
- Roy and Tracy Boling on Google