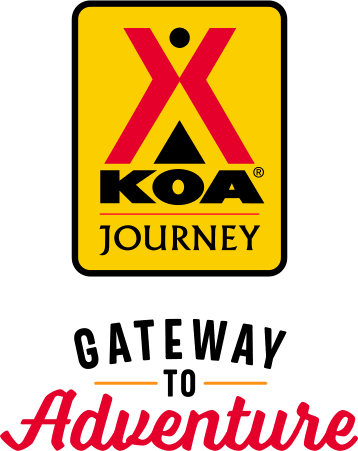 KOA Journey Campgrounds
KOA Journey campgrounds are the perfect oases after a day on the road. Whether it's along the way or a quick getaway, they've got you covered. Located near the highways and byways of North America with long Pull-thru RV Sites, they deliver convenience to the traveling camper. Pull in, ease back and take a load off.
KOA Journeys Feature:
Pull-through RV Sites with 50-amp service
Premium Tent Sites
Well lit after hours check-in service
Directions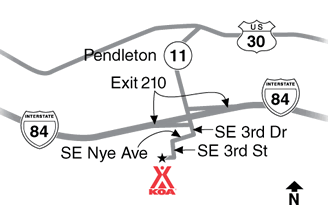 I-84: Take Exit 210.

Head uphill (South)

Take the first right (SE Nye St.)

And then the first left (SE 3rd St.)

Get Google Directions
Nov 07, 2020
Staff was very courteous. All utilities worked well. Site was clean and level.
Nov 02, 2020
So clean, so quiet, so organized. Great views from the back-ins. Great customer service. I will stay here every time I am even near Pendleton.
Nov 02, 2020
It was nice even if we're not able to talk to anyone. We wanted an upgraded spot but there was no one to ask. I appreciate safety as much as anyone. But it was odd to see it done that completely. Everything was clean and nice.
Nov 01, 2020
I was in Pendleton to work on my rentals, the Pendleton KOA was a great place to stop for a week with my RV. Everyone had great customer service and helped me with all my needs.
Oct 30, 2020
Convenient but far enough from the highway to be quiet. Very nice shaded and level sites. Beautiful view from the campground.
Oct 25, 2020
Very helpful and friendly staff!!! Makes you feel at home.. thank you.
Oct 25, 2020
Absolutely great, two of the staff went out of their way to go out and get me a part for my 5th wheel. It is always a great stay at this Park ����.
Oct 24, 2020
My wife, a bit of a germaphobe due to working in the dental field, commented these are the cleanest KOA bathrooms I've been in! Props to the crew! I've stayed here five times, always clean, comfortable, friendly!! Most likely always my first night stop headed south!
Oct 22, 2020
Excellent .... stay here every time in area
Oct 22, 2020
very comfortable Park to stay in. The staff personel are great nd the campground is kept very neat and clean. Thank You
Oct 22, 2020
Easy check in. We ordered pizza to be delivered. Walked the neighborhood as soon as we got set up. Would stay there again.
Oct 21, 2020
We were lucky to get a spot on the back row overlooking the mountains and valley. Magnificent sunset. Personnel very helpful. Nice park.
Oct 20, 2020
Even though our reservation got jumbled and we were not able to get the deluxe site we booked, Kana the owner was so gracious to allow us to use the fire pit on the property with our kids and discounted our stay for the mix it. The views from the back sites of the mountains were breathtaking! Would definitely stay again!
Oct 19, 2020
Great place to stay everything was very clean and quiet
Oct 19, 2020
Neat, clean very well kept. I have stayed here a few times and it is always consistently a great place.
Oct 19, 2020
Very clean and helpful stay thank you!
Oct 18, 2020
Easy check in
Oct 17, 2020
We just pulled in for one night on our way south. I've stayed here several times, always a good experience. I had a problem with the cable, self inflicted , but the camp host was very responsive and offered us a loan of a cable. Will stay here again.
Oct 17, 2020
Immaculate grounds. Every lawn, tree and drive is picture perfect. The bathrooms are the cleanest we've ever seen. And even though Covid regulations had a choke hold on person to person hosting, you could feel the host's charm and care in her note of welcome. The reservation system was simple and warm.
Oct 17, 2020
very pleasant, contactless checkin was great.
Oct 16, 2020
We were bringing a new RV home and thanks to issues with it, we had to move our stay one night. Kana was friendly and helpful with the move, and with questions we had upon arrival. Sites are clean and easy to access, the campground was quiet, views off to the side are breathtaking. It's a small campground as described, but perfect for a night on the road home. Thanks to Kana and staff!
Oct 13, 2020
This is a journey but felt like a holiday KOA. Loved the entire thing. Great staff, perfect view, everything was concrete, asphalt, neater-than-a-pin with pretty trees stuffed in every spot they could. Super internet. Highly recommend.
Oct 13, 2020
Friendly, helpful staff
Oct 13, 2020
Clean, convienent, easy, friendly staff, beautiful view!
Oct 13, 2020
Got in late so we enjoyed having the map and site number waiting for us on the self check-in board. Nice and quiet although the sites are closer together than we prefer. Perfect for a one night stay while passing through. Easy pull in site that was almost perfectly level.
Oct 12, 2020
Lovely spot, nice amenities, helpful staff!
Oct 11, 2020
Easy enough. My first visit to an RV park. Pull in, hook up, clean up then roll out. So easy a millennial can do it n
Oct 11, 2020
It was perfect stop from our late start from home. ReceptionIt's was friendly, very quit camp Very clean
Oct 10, 2020
Your T.V. Reception needs lots of help.
Oct 10, 2020
Very clean. Love the concrete sites. Makes leveling a breeze. The view from the southern sites is awesome in the morning. Kana was on-the-spot ready when we showed up later than expected. Will return and will recommend.
Oct 09, 2020
Beautiful vistas in an immaculately tended campground.
Oct 08, 2020
Campground is on a hill. Our site #52 was a narrow, level pull-thru near the back. Self check-in due to Covid; not very clear, but someone helped with questions. Space barely fit us when hooked up (41' 5er + F350 DRW = 60 ft); apart, left 2 ft gap when unhooked. Grassy strips on space margins. Friendly staff very identifiable with yellow shirts. Didn't use facilities as just passing through.
Oct 07, 2020
Very nice campground
Oct 07, 2020
Due to "the virus " the office was closed. We arrived without a reservation and you had really easy to follow directions for how to find a site and register. The showers were very clean (which is what determines if I'll be back or not.) Thank you! We'll be back �
Oct 07, 2020
Didn't even stay-sites very close together, no views as advertised, lousy location
Oct 05, 2020
a great place to stay. hard working people keeping place neat, clean, and safe. i would recommend to all traveling through. Great sites and amenities.
Oct 05, 2020
Nice place to stay-would stay again.
Oct 05, 2020
It was an overnight stop and the arrangement was perfect for that. The information at the pick-up kiosk was clear and easily understood; the site pad was level, hookups worked fine, and the campground was clean and orderly. We would stay again if in the area.
Jun 06, 2021
Very clean and well taken care of.
- Bob Walsh on Google
Jun 05, 2021
Very nice, clean RV park with a great view of rolling hills and valleys. Level gravel sites with a picnic table for each, and each site has an outdoor night light at the end of each site. Nice little fenced dog park. We did not use the restrooms or showers. The cable was a little fuzzy, but we were just overnighting, so no big deal. Nice playground and a gas grill for RV'ers use. We would definitely recommend this KOA park.
- Kim Seguin on Google
May 31, 2021
Quiet place easy access directly off the highway. We had a relaxing stay and nice shower. On to the next place!
- Steven Prakin on Google