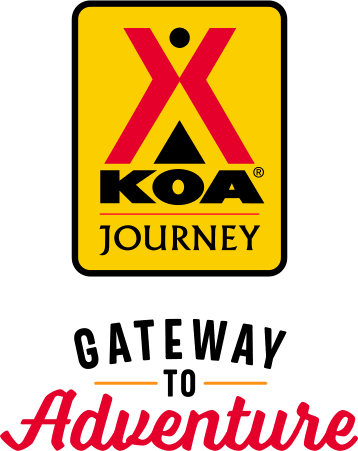 KOA Journey Campgrounds
KOA Journey campgrounds are the perfect oases after a day on the road. Whether it's along the way or a quick getaway, they've got you covered. Located near the highways and byways of North America with long Pull-thru RV Sites, they deliver convenience to the traveling camper. Pull in, ease back and take a load off.
KOA Journeys Feature:
Pull-through RV Sites with 50-amp service
Premium Tent Sites
Well lit after hours check-in service
Directions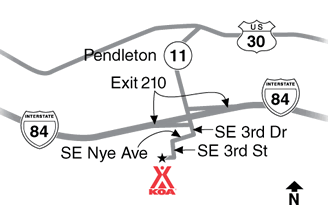 I-84: Take Exit 210.

Head uphill (South)

Take the first right (SE Nye St.)

And then the first left (SE 3rd St.)

Get Google Directions
Apr 08, 2021
Nice folks. Great spaces
Apr 07, 2021
Pendleton Journey KOA was clean, quiet and the view sites are totally worth it. Pendleton is in a beautiful valley - huge variety of birds. Super clean bathrooms. There is a really cool looking wagon you could stay in - looked like fun. Keep in mind this is a KOA Journey - sites are close, but level. Conveniently located hook ups. Tent sites on grass. Beautifully maintained campground.
Apr 04, 2021
Beautiful view. Enjoyed Pendleton
Mar 31, 2021
We stayed on the end spot with a fenced privacy yard, pergola, patio furniture, BBQ grill, and a firepit! The only thing was that the fire pit ran out of propane within 5-10 min and I had to switch the tank from the BBQ grill. Other than that no complaints! Would highly recommend!!
Mar 31, 2021
Very nice campground.
Mar 31, 2021
There wasn't much to tell with high winds coming we were pretty much hunkered down because of high winds. Seemed like a good campground will stay again when in the area
Mar 31, 2021
People are very nice.
Mar 28, 2021
The people that work there are awesome. The facility is very kept up and beautiful. Can't wait to go again
Mar 28, 2021
Staff was friendly, site had great views, would recommend staying here again!
Mar 25, 2021
Arrived late in the evening after 10pm. Had everything all ready for us. Very clean place. Excellent clean bathrooms!!!
Mar 23, 2021
3/21/2021, back-in, the patio had outdoor seating available. It was raining so we couldn't use, wish we could have, the view was beautiful. Well maintained.
Mar 13, 2021
Awesome stay as always. We love KOA!!!
Mar 13, 2021
We had an unexpected extension to our stay and the staff was helpful in getting us a spot.
Mar 12, 2021
Very nice and friendly and clean.
Mar 10, 2021
We enjoyed the park and the staff was awesome. We had truck issues and they were helpful in letting us move to another spot so our truck could be towed to Hermiston for repairs. This is a nice place to come and see the snow on the mountains in March.
Mar 10, 2021
Clean, friendly, easy in and easy out!
Mar 05, 2021
My stay was handled very well, staff friendly. The park is very clean.
Feb 25, 2021
EZ in and out, came in late, simple check in.
Feb 20, 2021
Was not scheduled to stay there but was forced to because of I84 weather shut down. Was well pleased with camp ground and very clean laundry. All staff members we met were VERY friendly and accommodating.
Feb 19, 2021
We had a delay in our trip because of bad weather. Michelle was so wonderful with following up with us and making sure we had what we needed.
Feb 17, 2021
Nice place to camp
Feb 12, 2021
Great place, and friendly staff!
Feb 05, 2021
Easy parking for our 31 foot travel trailer with side parking with plenty of room beside the travel trailer for our one ton crew cab long bed truck. Easy hook ups with a 50 amp plug or 110 plug.....no 30 amp plug. They gave me a conversion plug however so I plugged it into the 50 amp and then my 30 amp plug into that. Easy and nice the camp will provide that to you if needed. Great view too.
Feb 03, 2021
I have stayed at many RV parks during the winter months and this is the first place that has required me to protect the park's own facilities from freezing under threat of charging me money if their facilities freeze and break. That is absolutely outrageous, especially with the the quantity and availability of full time staff that seem to hover and roam about looking for things to nit pick.
CAMPGROUND RESPONSE / COMMENTS:
Yes, we ask our MONTHLY guests to winterize their own water-stand to prevent pipes freezing & breaking (expensive to replace--and difficult when the ground freezes!)--I've done so in every RV park I'VE lived in. We've provided the materials for a few folks in need--most are not so outraged over $40.
Jan 26, 2021
The reservation process online was easy and the on-site manager was very nice. But would be better if verification email included lot Number assigned. We were in a class A 40' with a tow vehicle. The route and lot suggested were both too tight on turning radius. Would not re on end for a class A motor home or any rig larger than 50.
Jan 23, 2021
Very nice place to stay! Very helpful with all your needs.
Jan 10, 2021
Great place to stay. Great hosts
Dec 24, 2020
The site we stayed at was nice but the hook ups are in a strange position. We ended up having to move our camper twice in order to get the hooks up to connect since they were at the front right of the site and all our hook ups are on the back left of our camper. They do have concrete fire pits, so those with small children beware. Overall we would definitely stay again though
Dec 21, 2020
It's nice and clean and easy check in check out. Great spot for a quick overnighter but this KOA is mostly full timers. Not much for kids to do. Everything was clean and we felt safe.
Dec 21, 2020
Very nice campground facilities with beautiful views. Friendly helpful staff. Thank you!
Dec 19, 2020
Even though we were there for a short time, the staff were super helpful when we had questions about hookup and tank dumping (first time trailer camping). They made it super easy to enjoy ourselves. Thank you.
Dec 14, 2020
Very nice place and helpful friendly staff.
Dec 07, 2020
Your staff at the Pendleton KOA are the most awesome of any campground we stay at. It's also the quietest campground anywhere — it's always a pleasure to stay with you folks. Thanks for the quick pickup, filling and delivery of our propane tanks this trip we were running on empty. Your guys even offered to reinstall the tanks for me! Site 47 was totally level too!
Dec 03, 2020
I was looking for a zero-contact way of staying overnight while driving through during a high Covid infection period of time. Plus, I was arriving late in the evening after the office was closed. The ability to choose a spot and pay for it with contact with anyone was wonderful, and a pull-through was available with the hookups I needed. Easy to find, perfect.
Nov 30, 2020
Internet was poor
Nov 14, 2020
We have stayed at this KOA a few times over the past 5 years on trips between Boise & Portland. The owners are fantastic and the park is situated right off I-84 which makes it great for either downtown Pendleton or a quick drive to the west end. Great for travelers and very quiet. Narrow sites if you are thinking of spreading out would be the only issue for some, but plenty of length.
Nov 09, 2020
Great place to stay. We've been there a few times now. Great as always.
Nov 08, 2020
Lovely place to stay, very helpful, kind folks. Facility is excellent in every way we experienced.
Nov 08, 2020
Kana was very cordial and helpful on the phone when we called earlier the same day for a reservation. I needed to host a Zoom Board meeting, so she placed us near the WiFi signal source and it came off just fine. Clean restrooms. Cozy all night in our Roadtrek RS Adventurous with the light rain falling.
Jun 06, 2021
Very clean and well taken care of.
- Bob Walsh on Google
Jun 05, 2021
Very nice, clean RV park with a great view of rolling hills and valleys. Level gravel sites with a picnic table for each, and each site has an outdoor night light at the end of each site. Nice little fenced dog park. We did not use the restrooms or showers. The cable was a little fuzzy, but we were just overnighting, so no big deal. Nice playground and a gas grill for RV'ers use. We would definitely recommend this KOA park.
- Kim Seguin on Google
May 31, 2021
Quiet place easy access directly off the highway. We had a relaxing stay and nice shower. On to the next place!
- Steven Prakin on Google